Abstract
A survey of high temperature die-attach solutions for lithium niobate (LiNbO3) single crystals was conducted and based on that three promising approaches; i.e. eutectic solder, silver sinter-paste and silver-loaded conductive adhesive; were proposed and investigated. A relatively low pressure span (0–4 MPa) was employed, aiming to mitigate the risk of fracture in the brittle die. The mechanical properties of the corresponding die-attach assemblies was examined by a die-shear tester and the reliability of the joints was assessed after isothermal aging at 300 °C. The micro-structural integrity of the bonding was also analyzed by cross-sectional microscopy. The results revealed that silver sinter paste die-attach possesses superior shear strength in comparison to the two other techniques. Cross-sectional failure analysis also indicated a ductile fracture mode throughout the bonding layer for silver-paste and adhesive joints, whereas in soldered assemblies a brittle fracture mode along the interfacial intermetallic compound layer was predominant.
This is a preview of subscription content, log in to check access.
Access options
Buy single article
Instant access to the full article PDF.
US$ 39.95
Price includes VAT for USA
Subscribe to journal
Immediate online access to all issues from 2019. Subscription will auto renew annually.
US$ 199
This is the net price. Taxes to be calculated in checkout.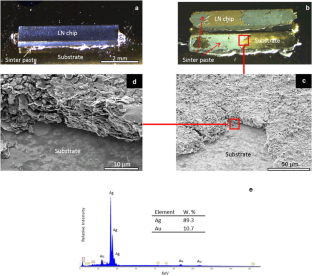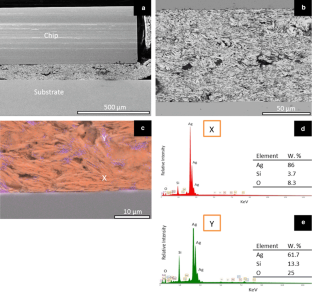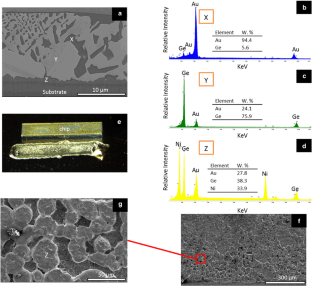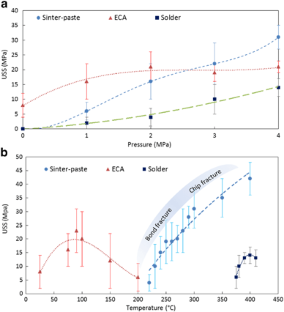 References
1.

J.H. Lau et al., Advanced MEMS packaging. (McGraw-Hill, New York, 2010)

2.

G.R. Blackwell ed., The electronic packaging handbook. Vol. 4. (CRC Press, Boca Raton, 1999)

3.

Z. Zhang, G.-Q. Lu, Pressure-assisted low-temperature sintering of silver paste as an alternative die-attach solution to solder reflow."IEEE Trans. Electron. Packag. Manuf. 25(4), 279–283 (2002)

4.

K. Geshi et al., "Wafer bonding of polycrystalline spinel with LiNbO 3/LiTaO 3 for temperature compensation of RF surface acoustic wave devices." 2012 IEEE International ultrasonics symposium. IEEE, (2012)

5.

X. Jiang, K. Kim, S. Zhang, J. Johnson, G. Salazar, High-temperature piezoelectric sensing. Sensors 14(1), 144–169 (2013)

6.

K.K. Wong, Properties of lithium niobate (No. 28) IET (2002)

7.

G. Zeng, S. McDonald, K. Nogita, Development of high-temperature solders: review. Microelectron. Reliab. 52(7), 1306–1322 (2012)

8.

F.Q. Lang, H. Yamaguchi, H. Nakagawa, H. Sato, Solid-state interfacial reaction between eutectic Au–Ge solder and Cu/Ni (P)/Au metalized ceramic substrate and its suppression. J. Mater. Sci. Technol. 31(5), 445–452 (2015)

9.

Y.X. Gan, F.W. Dynys, Joining highly conductive and oxidation resistant silver-based electrode materials to silicon for high temperature thermoelectric energy conversions. Mater. Chem. Phys. 138(1), 342–349 (2013)

10.

K.S. Siow, Y.T. Lin, Identifying the development state of sintered silver (Ag) as a bonding material in the microelectronic packaging via a patent landscape study. J. Electron. Packag. 138(2), 020804(2016)

11.

K.S. Siow, Mechanical properties of nano-silver joints as die attach materials. J. Alloys Compd. 514, 6–19 (2012)

12.

T. Zhou, T. Bobal, M. Oud, J. Songliang, Au/Sn solder alloy and its applications in electronics packaging. (Coining Inc, 1999)

13.

N. Weyrich, C. Leinenbach, Low temperature TLP bonding of Al2O3–ceramics using eutectic Au–(Ge, Si) alloys. J. Mater. Sci. 48(20), 7115–7124 (2013)

14.

T.G. Lei et al., Low-temperature sintering of nanoscale silver paste for attaching large-area chips. IEEE Trans. Compon. Packag. Technol. 33(1), 98–104 (2010)

15.

M. Knoerr, A. Schletz, "Power semiconductor joining through sintering of silver nanoparticles: evaluation of influence of parameters time, temperature and pressure on density, strength and reliability." Integrated Power Electronics Systems (CIPS), 2010 6th International Conference on. IEEE, 2010

16.

A. Hu et al., "Low temperature sintering of Ag nanoparticles for flexible electronics packaging." Appl. Phys. Lett. 97(15), 153117 (2010)

17.

MIL-STD-883E, Test method standard—Microcircuits, USA, 1996)

18.

Y. Guan et al., Study on the curing process and shearing tests of die attachment by Ag-epoxy electrically conductive adhesive." Int. J. Adhes. Adhes. 30(2), 80–88 (2010)

19.

Aremco Pyroduct 597-A, Aremco Products Inc., Valley Cottage, NY.

20.

A. Roshanghias, G. Khatibi, A. Yakymovych, J. Bernardi, H. Ipser Sn-Ag-Cu Nanosolders, solder joints integrity and strength. J. Electron. Mater. 45, 4390–4399 (2016)
Acknowledgements
This project has been supported by the COMET K1 center ASSIC (Austrian Smart Systems Integration Research Center). The COMET (Competence Centers for Excellent Technologies) Program is supported by BMVIT, BMWFW and the federal provinces of Carinthia and Styria. SEM investigations were carried out using the facilities at the University Service Center for Transmission Electron Microscopy at the Vienna University of Technology.
About this article
Cite this article
Roshanghias, A., Bruckner, G. & Binder, A. High temperature MEMS packages: die-attach solutions for LiNbO3 under low bonding pressures. J Mater Sci: Mater Electron 28, 8784–8792 (2017). https://doi.org/10.1007/s10854-017-6605-3
Received:

Accepted:

Published:

Issue Date:
Keywords
Shear Strength

Lithium Niobate

Conductive Adhesive

Eutectic Solder

Lithium Niobate