Abstract
Researchers have been working for some times to develop a Pb-free substitute for high-Pb containing solders in electronics. In this study the effect of Mg content on microstructure, melting behavior, thermal, electrical and mechanical properties of a new high-temperature Pb-free solder based on binary Zn–Mg alloy were investigated. The nominal compositions of Zn–xMg (x = 0.5–6.0) alloys were synthesized by conventional melting and casting route. The microstructures of the solders changed significantly on adding Mg content. Higher Mg containing alloys were found rich in intermetallic phases. The formation of the Mg2Zn11 and metastable MgZn2 intermetallic phases were identified and were also quantified by X-ray diffraction analysis. The presence of higher amount of intermetallic compounds in hypereutectic Zn–Mg systems deteriorated the tensile properties of the binary alloy. The results of electrical resistivity test indicated that the Mg could elevate the resistivity of newly developed Zn–Mg alloys. The melting behavior of the solder alloys studied by differential thermal analysis (DTA) analysis revealed that the melting temperature range of the solder alloys narrowed with Mg addition. Thermal mechanical analysis (TMA) analysis revealed that the co-efficient of thermal expansion (CTE) decreased on increasing Mg content.
Access options
Buy single article
Instant access to the full article PDF.
USD 39.95
Price excludes VAT (USA)
Tax calculation will be finalised during checkout.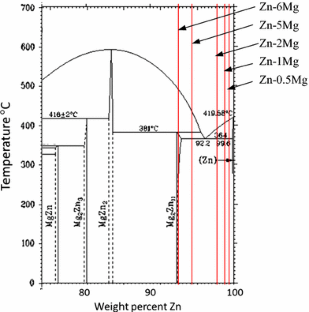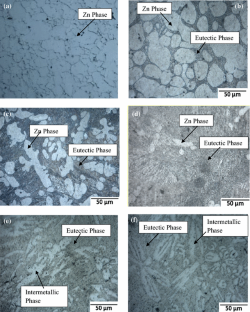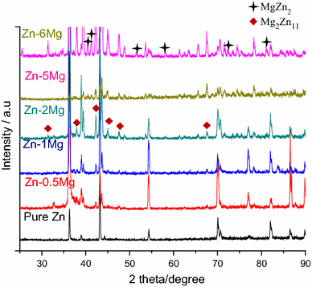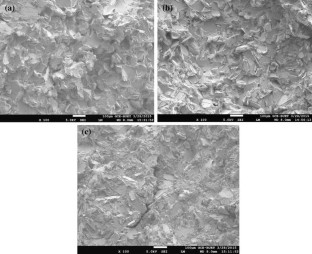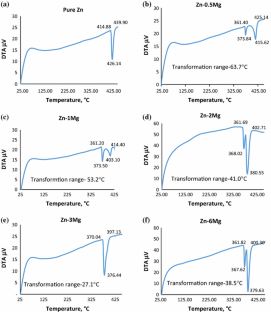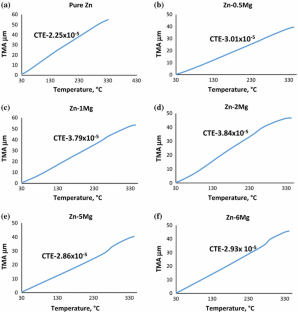 References
K.N. Tu, A.M. Gusak, M. Li, Physics and materials challenges for lead-free solders. J. Appl. Phys. 93(3), 1335–1353 (2003)

S. Menon, E. George, M. Osterman, M. Pecht, High lead solder (over 85%) solder in the electronics industry: RoHS exemptions and alternatives. J. Mater. Sci. Mater. Electron. 26(6), 4021–4030 (2015)

S. Park, S. Nagao, T. Sugahara, K. Kim, K. Suganuma, Retarding intermetallic compounds growth of Zn high-temperature solder and Cu substrate by trace element addition. J. Mater. Sci. Mater. Electron. 24(12), 4704–4712 (2013)

G. Zeng, S. Mcdonald, K. Nogita, Development of high-temperature solders: review. Microelectron. Reliab. 52(7), 1306–1322 (2012)

J.W. Jang, S. Hayes, J.K. Lin, D.R. Frear, Interfacial reaction of eutectic AuSi solder with Si (100) and Si (111) surfaces. J. Appl. Phys. 95(11), 6077–6081 (2004)

V. Chidambaram, J. Hald, J. Hattel, Development of Au–Ge based candidate alloys as an alternative to high-lead content solders. J. Alloys Compd. 490(1), 170–179 (2010)

V. Chidambaram, J. Hattel, J. Hald, Design of lead-free candidate alloys for high-temperature soldering based on the Au–Sn system. Mater. Des. 31(10), 4638–4645 (2010)

J.Y. Tsai, C.W. Chang, Y.C. Shieh, Y.C. Hu, C.R. Kao, Controlling the microstructure from the gold–tin reaction. J. Electron. Mater. 34(2), 182–187 (2005)

H.G. Song, J.P. Ahn, J.W. Morris, The microstructure of eutectic Au–Sn solder bumps on Cu/electroless Ni/Au. J. Electron. Mater. 30(9), 1083–1087 (2001)

S. Kim, K.S. Kim, K. Suganuma, G. Izuta, Interfacial reactions of Si die attachment with Zn–Sn and Au-20Sn high temperature lead-free solders on Cu substrates. J. Electron. Mater. 38(6), 873–883 (2009)

Y. Shi, W. Fang, Z. Xia, Y. Lei, F. Guo, X. Li, Investigation of rare earth-doped BiAg high-temperature solders. J. Mater. Sci. Mater. Electron. 21(9), 875–881 (2010)

J.M. Song, H.Y. Chuang, T.X. Wen, Thermal and tensile properties of Bi–Ag alloys. Metall. Mater. Trans. A 38(6), 1371–1375 (2007)

A. Sharif, C.L. Gan, Z. Chen, Transient liquid phase Ag-based solder technology for high-temperature packaging applications. J. Alloys Compd. 587, 365–368 (2014)

S.Y. Zhao, X. Li, Y.H. Mei, G.Q. Lu, Study on high temperature bonding reliability of sintered nano-silver joint on bare copper plate. Microelectron. Reliab. 55(12), 2524–2531 (2015)

S. Mallick, M. Kabir, A. Sharif, Study on the properties of Zn–xNi high temperature solder alloys. J. Mater. Sci. Mater. Electron. (2015). doi:10.1007/s10854-015-4198-2

J.E. Lee, K.S. Kim, K. Suganuma, M. Inoue, G. Izuta, Thermal properties and phase stability of Zn–Sn and Zn–In alloys as high temperature lead-free solder. Mater. Trans. 48(3), 584–593 (2007)

A. Haque, B.H. Lim, A.S.M.A. Haseeb, H.H. Masjuki, Die attach properties of Zn–Al–Mg–Ga based high-temperature lead-free solder on Cu lead-frame. J. Mater. Sci. Mater. Electron. 23(1), 115–123 (2012)

N. Kang, H.S. Na, S.J. Kim, C.Y. Kang, Alloy design of Zn–Al–Cu solder for ultra high temperatures. J. Alloys Compd. 467(1), 246–250 (2009)

T. Takahashi, S. Komatsu, H. Nishikawa, T. Takemoto, Improvement of high-temperature performance of Zn–Sn solder joint. J. Electron. Mater. 39(8), 1241–1247 (2010)

Y. Xiao, M. Li, L. Wang, S. Huang, X. Du, Z. Liu, Interfacial reaction behavior and mechanical properties of ultrasonically brazed Cu/Zn–Al/Cu joints. Mater. Des. 73, 42–49 (2015)

T. Gancarz, J. Pstruś, P. Fima, S. Mosińska, Thermal properties and wetting behavior of high temperature Zn–Al–In solders. J. Mater. Eng. Perform. 21(5), 599–605 (2012)

T. Shimizu, H. Ishikawa, I. Ohnuma, K. Ishida, Zn–Al–Mg–Ga alloys as Pb-free solder for die-attaching use. J. Electron. Mater. 28(11), 1172–1175 (1999)

X. Yang, W. Hu, X. Yan, Y. Lei, Microstructure and solderability of Zn–6Al-xSn solders. J. Electron. Mater. 44(4), 1128–1133 (2015)

J. Feng, X. Songbai, D. Wei, Reliability studies of Cu/Al joints brazed with Zn–Al–Ce filler metals. Mater. Des. 42, 156–163 (2012)

A. Tharumarajah, P. Koltun, Is there an environmental advantage of using magnesium components for light-weighting cars? J. Clean. Prod. 15(11), 1007–1013 (2007)

C. Yao, Z. Wang, S.L. Tay, T. Zhu, W. Gao, Effects of Mg on microstructure and corrosion properties of Zn–Mg alloy. J. Alloys Compd. 602, 101–107 (2014)

J. Shen, Y.C. Chan, S.Y. Liu, Growth mechanism of Ni 3 Sn 4 in a Sn/Ni liquid/solid interfacial reaction. Acta Mater. 57(17), 5196–5206 (2009)

A.C. So, Y.C. Chan, Reliability studies of surface mount solder joints-effect of Cu–Sn intermetallic compounds. Compon., Packag., Manuf. Technol., Part B Adv. Packag., IEEE Trans. 19(3), 661–668 (1996)

Joint Committee on Powder Diffraction Standards, Powder Diffraction File No 00-004-0831 (for Zn), # 03-065-1853 (for Mg2Zn11) and # 01-071-9623 (for MgZn2)

S. Brennan, K. Bermudez, N. Kulkarni, Y. Sohn, Diffusion couple investigation of the Mg–Zn system. Magnes. Technol. 2012, 323–327 (2012)

B.A. Cook, I.E. Anderson, J.L. Harringa, R.L. Terpstra, Effect of heat treatment on the electrical resistivity of near-eutectic Sn–Ag–C–Pb-free solder alloys. J. Electron. Mater. 31(11), 1190–1194 (2002)

H. Mehrer, Diffusion in intermetallics. Mater. Trans., JIM 37(6), 1259–1280 (1996)

L. Li, Y. Liu, H. Gao, Z. Gao, Phase formation sequence of high-temperature Zn–4Al–3Mg solder. J. Mater. Sci. Mater. Electron. 24(1), 336–344 (2013)
Acknowledgments
The authors would like to thank the Bangladesh University of Engineering and Technology (BUET) in funding the present research.
About this article
Cite this article
Galib, R.H., Hasan, R.A. & Sharif, A. Study of off-eutectic Zn–xMg high temperature solder alloys. J Mater Sci: Mater Electron 27, 8734–8744 (2016). https://doi.org/10.1007/s10854-016-4896-4
Received:

Accepted:

Published:

Issue Date:

DOI: https://doi.org/10.1007/s10854-016-4896-4
Keywords
Solder Alloy

Eutectic Phase

Hypereutectic Alloy

Hypoeutectic Alloy

Eutectic Transformation