Abstract
Cadmium telluride (CdTe) thin films have been deposited on glass/conducting glass (FTO) substrates using low-cost two electrode system and aqueous electrodeposition method. The glass/FTO substrates were used to grow the CdTe layers at different deposition voltages. The structural, electrical, optical and morphological properties of the resulting films have been characterized using X-ray diffraction (XRD), Photoelectrochemical (PEC) cell measurements, optical absorption spectroscopy and Scanning Electron Microscopy (SEM). The XRD results indicate that at voltages less than or higher than 1.576 V, crystallinity is poor due to presence of two phases. When CdTe is grown at 1.576 V, the composition is stoichiometric, and the (111) peak has the highest intensity in the XRD diffractogram indicating a high degree of crystallinity. SEM studies showed that all layers had pin-holes and gaps between the grains. These openings seem to be more common in the samples grown at voltages away from the stoichiometric voltage (1.576 V). The linear I–V curves of glass/FTO/CdS/CdTe/Au structures fabricated using stoichiometric CdTe showed efficiency of 10.1 % under AM 1.5 illumination.
This is a preview of subscription content,
to check access.
Access this article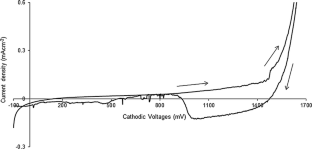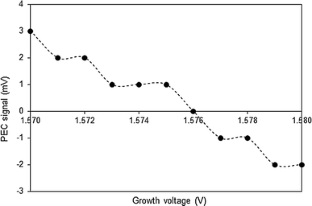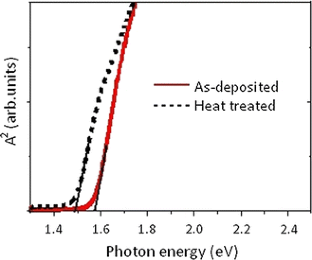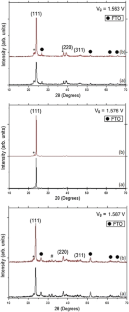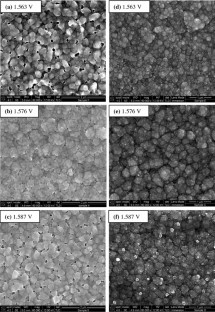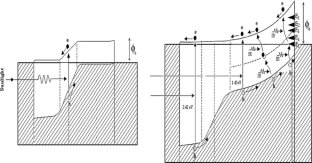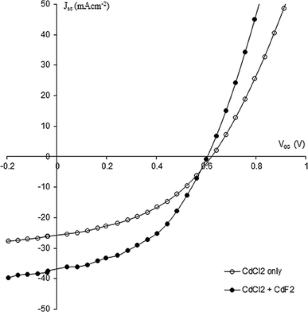 Similar content being viewed by others
References
A.M.D. Ede, E.J. Morton, P. DeAntonis, Nucl. Instrum. Methods Phys. Res. A 458, 7 (2001)

J. Britt, C. Ferekides, Appl. Phys. Lett. 62, 2851 (1993)

http://www.firstsolar.com/en/about-us/research. Accessed on 11 Oct 2014

A. Guptaa, A.D. Compaan, Appl. Phys. Lett. 85, 684 (2004)

Y.H. Lee, W.J. Lee, Y.S. Kwon, G.Y. Yeom, J.K. Yoon, Thin Solid Films 341, 172 (1999)

E.W. Jones, V. Barrioz, S.J.C. Irvine, D. Lamb, Thin Solid Films 517, 2226 (2009)

P.J. Dean, G.M. Williams, G. Blackmore, J. Phys. D Appl. Phys. 17, 2291 (1984)

N. Romeo, A. Bosio, A. Romeo, Sol. Energy Mater. Sol. Cells 94, 2 (2010)

I.M. Dharmadasa, A.P. Samantilleke, J. Young, N.B. Chaure, Semicond. Sci. Technol. 17, 1238 (2002)

D. Lincot, Thin Solid Films 487, 40 (2005)

I.M. Dharmadasa, J. Haigh, J. Electrochem. Soc. 153, G47 (2006)

D. Cunningham, M. Rubcich, D. Skinner, Prog. Photovolt. Res. Appl. 10, 159 (2002)

B.M. Basol, J. Appl. Phys. 55, 601 (1984)

S.K. Das, C.G. Morris, Sol. Energy Mater. Sol. Cells. 28, 305 (1993)

J. Baker, S. J. Calif, R. J. Marshall, M. Sadeghi, US Patent 5,478,445 (1995)

S. Dennison, J. Mat. Chem. 4, 41 (1994)

D.G. Diso, G. Muftah, V. Patel, I.M. Dharmadasa, J. Electrochem. Soc. 157, H647 (2010)

G.E.A. Muftah, Research and Development of CuInTe2 and CdTe Based Thin Film Solar Cells. Ph.D. Thesis, Sheffield Hallam University, United Kingdom, (2010)

J.S. Wellings, Electrodeposition of Semiconductors for Applications in Thin Film Solar Cells. Ph.D. Thesis, Sheffield Hallam University, United Kingdom, 2009

S.Y. Yang, J.C. Chou, H.Y. Ueng, Thin Solid Films 518, 4197 (2010)

G. Sasikala, R. Dhanasekaran, C. Subramanian, Thin Solid Films 302, 71 (1997)

I.M. Dharmadasa, Advances in Thin Film Solar Cells, 1st edn. (Pan Stanford Publishing, Singapore, 2013), p. 72

N. Romeo, A. Bosio, A. Romeo, S. Mazzamuto, V. Caniveri, in Proceedings of 21st European Photovoltaic Solar Energy Conference, Dresden, Germany, (2006), pp. 1857

O.K. Echendu, F. Fauzi, A.R. Weerasinghe, I.M. Dharmadasa, Thin Solid Films 556, 529 (2014)

P.M. Amirtharaj, F.H. Pollak, Appl. Phys. Lett. 45, 789 (1984)

S.H. Shin, J. Bajaj, L.A. Moudy, T.D. Cheung, Appl. Phys. Lett. 42, 68 (1983)
Acknowledgments
The principal author wishes to acknowledge the financial support given by Kano University of Science and Technology, Wudil—Nigeria. Mr. S. Creasy from Materials and Engineering Research Institute, Sheffield Hallam University, UK was also thanked for SEM measurements. The contributions made by Hussein Salim, Nor Azlian Abdul Manaf and Muhammad Madugu are gratefully appreciated.
About this article
Cite this article
Diso, D.G., Fauzi, F., Echendu, O.K. et al. Optimisation of CdTe electrodeposition voltage for development of CdS/CdTe solar cells. J Mater Sci: Mater Electron 27, 12464–12472 (2016). https://doi.org/10.1007/s10854-016-4844-3
Received:

Accepted:

Published:

Issue Date:

DOI: https://doi.org/10.1007/s10854-016-4844-3
Keywords