Abstract
Polycrystalline GaFe1−xTixO3 (x = 0, 0.05, 0.10, 0.15) samples were synthesized by solid state reaction. The effect of substitution of Ti at the Fe site on the structural parameters, dielectric and magnetic was studied. The monophasic compounds crystallized in the orthorhombic space group pc21n and the unit cell volume decreases with increasing Ti content. The dielectric constant has increased while the dielectric loss has decreased at higher temperature as compared to parent compound GaFeO3 after doping Ti ions at the Fe site. Doping of Ti has also decreased the ferrimagnetism.
This is a preview of subscription content, log in to check access.
Access options
Buy single article
Instant access to the full article PDF.
US$ 39.95
Price includes VAT for USA
Subscribe to journal
Immediate online access to all issues from 2019. Subscription will auto renew annually.
US$ 199
This is the net price. Taxes to be calculated in checkout.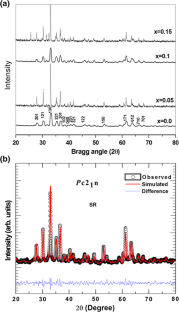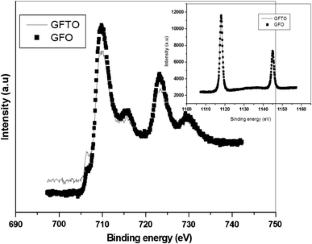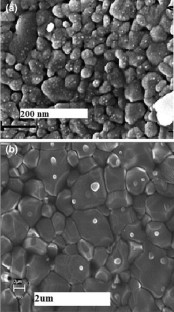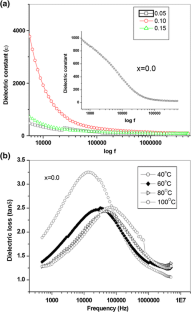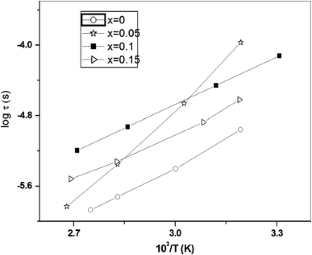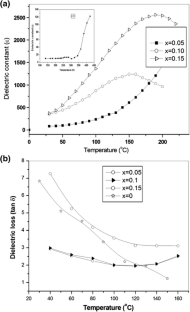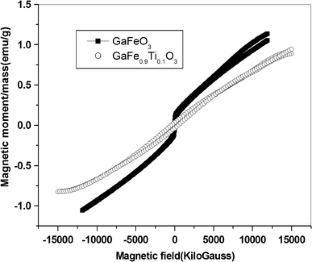 References
1.

S.W. Cheong, M. Mosstovoy, Nat. Mater. 6, 13 (2007)

2.

R. Ramesh, N.A. Spaldin, Nat. Mater. 6, 21 (2007)

3.

W. Eerenstein, N.D. Mathur, J.F. Scott, Nature 442, 759 (2006)

4.

J.F. Scott, Nat. Mater. 6, 256 (2007)

5.

G.T. Rado, Phys. Rev. Lett. 13, 335 (1964)

6.

T. Arima, D. Higashiyama, Y. Kaneko, J.P. He, T. Goto, S. Miyasaka, T. Kimura, K. Oikawa, T. Kamiyama, R. Kumai, Y. Tokura, Phys. Rev. B 70, 064426 (2004)

7.

S. Mukherjee, V. Ranjan, R. Gupta, A. Garg, Solid State Commun. 152, 1181 (2012)

8.

Y. Kaneko, T. Arima, J.P. He, R. Kumai, Y. Tokura, J. Magn. Magn. Mater. 272–276, 555 (2004)

9.

S. Mukherjee, R. Gupta, A. Garg, AIP Adv. 3, 052115 (2013)

10.

J. Atanelov, P. Mohn, Phys. Rev. B 10(92), 104408 (2015)

11.

L. Chao, N.M. Afsari, S. Okkoshi, J. Appl. Phys. 117(17), 17B324 (2015)

12.

D.L. White, Bull. Am. Phys. Soc. 5, 189 (1960)

13.

M.B. Mohamed, H. Fuess, J. Magn. Magn. Mater. 323, 2090 (2011)

14.

M.B. Mohamed, H. Wang, H. Fuess, J. Phys. D Appl. Phys. 43, 455409 (2010)

15.

R. Saha, A. Shireen, N. Shirodkhar, U.V. Waghmare, A. Sudaresan, C.N.R. Rao, J. Solid State Chem. 184(3), 2353 (2011)

16.

M. Bakr Mohamed, M. Hinterstein, H. Fuess, Mater. Lett. 85, 102 (2012)

17.

A. Shireen, R. Saha, P. Mandal, A. Sundaresan, C.N.R. Rao, J. Mater. Chem. 21, 57 (2011)

18.

V.B. Nayek, R. Mahendiran, J. Appl. Phys. 106, 123910 (2009)

19.

Y. Xu, Ferroelectric materials and their applications (North-Holland, Amsterdan, 1991)

20.

K.R. Chakraborty, B. Paul, V. Grover, M.D. Mukadam, A. Roy, S. Basu, A.K. Tyagi, S.M. Yusuf, J. Appl. Phys. 117, 123915 (2015)

21.

Z. Chaodan, Y. Jun, Z. Duanming, Y. Bin, W. Yunyi, W. Longhai, W. Yunbo, Z. Wenli, Integr. Ferroelectr. 94, 31 (2007)

22.

S. Sen, N. Chakraborty, P. Rana, S.K. Md Mursalin, D.K. Pradhan, A. Sen, Ceram. Int. 41(8), 10110 (2015)

23.

A. Dutta, T.P. Sinha, Phys. B 405, 1475 (2010)

24.

M. Idress, M. Nadeem, M.M. Hassan, J. Phys. D Appl. Phys. 44, 155401 (2010)

25.

M. Tanaka, K. Siratori, N. Kimizuka, J. Phys. Soc. Japan 53, 760 (1984)

26.

G.H. Jonker, Phys. B 22, 707 (1956)
About this article
Cite this article
Sen, S., Chakraborty, N., Rana, P. et al. Effect of Ti doping on the structural, electrical and magnetic properties of GaFeO3 . J Mater Sci: Mater Electron 27, 4647–4652 (2016). https://doi.org/10.1007/s10854-016-4342-7
Received:

Accepted:

Published:

Issue Date:
Keywords
Dielectric Loss

BiFeO3

Remnant Magnetization

Gallium Oxide

Appreciable Research