Abstract
2 % Cr doped ZnS nanoparticles were synthesized using chemical co-precipitation technique. Powder X-ray diffraction reveals that Cr incorporates into the ZnS crystal lattice without troubling the original cubic structure. Transmission electron microscopy measurements show that the average size of these nanoparticles is in the range 3–4 nm. Room temperature photoluminescence studies show the increase in defects with increase in nitrogen co-doping. 2 % Cr doped ZnS exhibit hysteresis loop at room temperature indicating the magnetic behavior with diamagnetic contribution with increase in applied field. Increase in nitrogen co-doping along with Cr in ZnS shows enhanced ferromagnetism with saturated magnetization.
Access options
Buy single article
Instant access to the full article PDF.
USD 39.95
Price excludes VAT (USA)
Tax calculation will be finalised during checkout.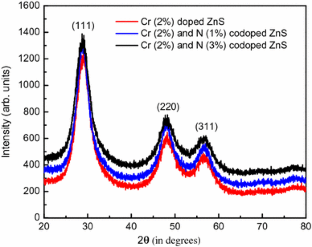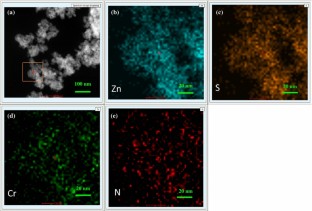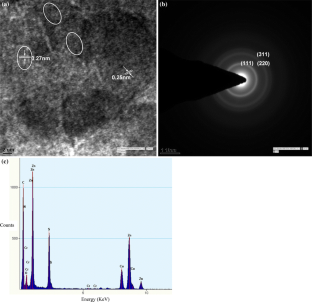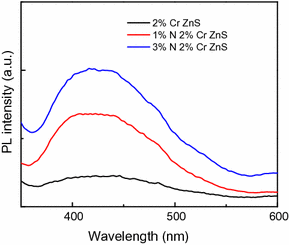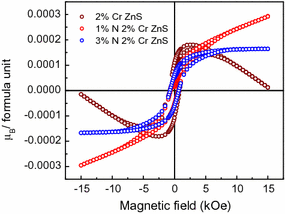 References
L. Brus, J. Phys. Chem. 90, 2555–2560 (1986)

A. Sobhani, M. Salavati-Niasari, M. Sobhani, Mater. Sci. Semicond. Process. 16, 410 (2013)

A. Sobhani, M. Salavati-Niasari, Superlattices Microstruct. 59, 1 (2013)

M. Salavati-Niasari, A. Sobhani, F. Davar, J. Alloys Compd. 507, 77 (2010)

D.A. Reddy, G. Murali, R.P. Vijayalakshmi, B.K. Reddy, AIP Conf. Proc. 1391, 588 (2011)

K. Sato, H.K. Yoshida, Semicond. Sci. Technol. 17, 367 (2002)

P.V.B. Lakshmi, K.S. Raj, K. Ramachandran, Cryst. Res. Tech. 44, 153 (2010)

S. Sambasivam, D.P. Joseph, J.G. Lin, C.J. Venkateswaran, Solid State Chem. 182, 2598 (2009)

F.J. Owens, L. Gladczuk, R. Szymczak, P. Dluzewski, A. Wisniewski, H. Szymczak, A. Golnik, Ch. Bernhard, Ch. Niedermayer, J. Phys. Chem. Solids 72, 648 (2011)

S. Sambasivam, D.P. Joseph, D.R. Reddy, B.K. Reddy, C.K. Jayasankar, Mater. Sci. Eng. B 150, 125 (2008)

S. Kumar, C.L. Chen, C.L. Dong, Y.K. Ho, J.F. Lee, T.S. Chan, R. Thangavel, T.K. Chen, B.H. Mok, S.M. Rao, M.K. Wu, J. Alloys Comp. 554, 357 (2013)

S. Wageh, S.L. Zhao, X.R. Xu, J. Cryst. Growth 255, 332 (2003)

M. Zigone, M. Vandevyver, D.N. Talwar, Phys. Rev. B 24, 5763 (1981)

J.P. Borah, J. Barman, K.C. Sarma, Chalcogenide Lett. 5, 201 (2008)

Y. Huang, Z. Zhang, F. Ma, P.K. Chu, C. Dong, X. Wei, Comput. Mater. Sci. 101, 1 (2015)

Z. Zhang, J. Li, J. Jian, R. Wu, Y. Sun, S. Wang, Y. Ren, J. Li, J. Cryst. Growth 372, 39 (2013)

X. Zeng, J. Zhang, F. Huang, J. Appl. Phys. 11, 123525 (2012)

D.A. Reddy, G. Murali, R.P. Vijayalakshmi, B.K. Reddy, Appl. Phys. A Mater. Sci. Process. 105, 119 (2011)

D.A. Reddy, G. Murali, B. Poornaprakash, R.P. Vijayalakshmi, B.K. Reddy, Solid State Commun. 152, 596 (2012)

P. Kaur, S. Kumar, A. Singh, C.L. Chen, C.L. Dong, T.S. Chan, K.P. Lee, C. Srivastava, S.M. Rao, M.K. Wu, Superlattices Microstruct. 83, 785–795 (2015)

D.A. Reddy, G. Murali, B. Poornaprakash, R.P. Vijayalakshmi, B.K. Reddy, Appl. Surf. Sci. 258, 5206 (2012)

D.A. Reddy, S. Sambasivam, G. Murali, B. Poornaprakash, R.P. Vijayalakshmi, Y. Aparna, B.K. Reddy, J.L. Rao, J. Alloys Compd. 537, 208 (2012)

D.A. Reddy, C.L. Liu, R.P. Vijayalakshmi, B.K. Reddy, Ceram. Int. 40, 1279 (2014)

P. Kaur, S. Kumar, N.S. Negi, S.M. Rao, Appl. Nanosci. 5, 367 (2015)

L.B. Duan, X.R. Zhao, J.M. Liu, T. Wang, G.H. Rao, Appl. Phys. A 99, 679 (2010)

C. Bi, L.Q. Pan, M. Xu, L.Q. Qin, J.H. Yin, in 9th IEEE Conference on Nanotechnology (IEEE-NANO), p. 874 (2009)

N.A. Dhas, A. Zaban, A. Gedanken, Chem. Mater. 11, 806 (1999)

K. Sooklal, B.S. Cullum, S.M. Angel, C.J. Murphy, J. Phys. Chem. 100, 4551 (1996)

W.G. Becker, A.J. Bard, J. Phys. Chem. 87, 4888 (1983)

L.L. Liu, Y. Lin, P. Yunti, X. Dingquan, Z. Jianguo, Mater. Lett. 66, 121 (2012)

N. Murase, R. Jaganathan, Y. Kanematsu, M. Watanabe, A. Kurita, H. Hirata, T. Yazawa, T. Kushida, J. Phys. Chem. B 103, 754 (1999)
About this article
Cite this article
Kaur, P., Kumar, S., Singh, A. et al. Improved magnetism in Cr doped ZnS nanoparticles with nitrogen co-doping synthesized using chemical co-precipitation technique. J Mater Sci: Mater Electron 26, 9158–9163 (2015). https://doi.org/10.1007/s10854-015-3605-z
Received:

Accepted:

Published:

Issue Date:

DOI: https://doi.org/10.1007/s10854-015-3605-z
Keywords
Room Temperature Ferromagnetism

Sodium Sulphide

Chromium Acetate

High Resolution Transition Electron Microscope

Free Delocalized Carrier