Abstract
CdSe nanowires were grown in polycarbonate track etched membrane with pore diameter of 80 nm by an electrochemical deposition technique. The mechanism of the growth was studied during the potentiostatic deposition of nanowires. X-ray photoelectron spectroscopy and energy dispersive spectrometry results showed binding of fragments and fraction of atoms for the CdSe nanowires. Microstructure and morphology of synthesized CdSe nanowires were observed by scanning electron microscopy. Optical spectrophotometry technique was used to determine the energy band gap of CdSe nanowires. It was found that the nanowires were resistive in the dark and exhibited a pronounced visible light photoconductivity. Photoconductivity of CdSe nanowire-based nanodevice (an integrated multilayer nanodevice of Cu/CdSe nanowire array/Au thin films) was investigated which indicated an enhanced photoconductive response in contrast to the previously reported results. The photosensitivity of this multilayer nanodevice was found to be about 110, which this sensitivity is one order of magnitude greater than that reported in similar works.
Access options
Buy single article
Instant access to the full article PDF.
USD 39.95
Price excludes VAT (USA)
Tax calculation will be finalised during checkout.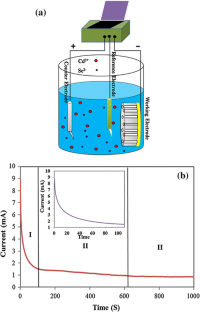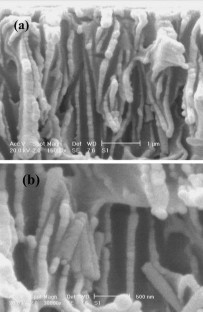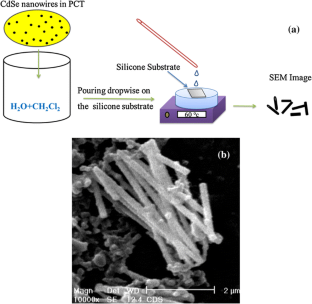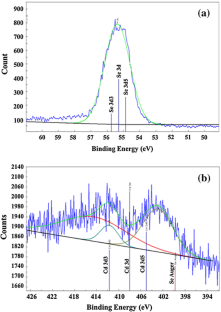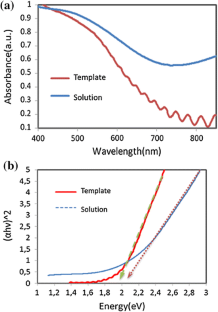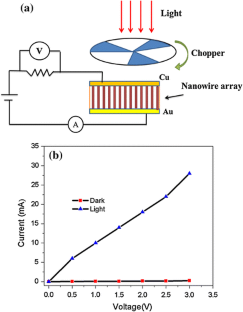 References
D. Xu, X. Shi, G. Guo, L. Gui, Y. Tang, Electrochemical preparation of CdSe nanowire arrays. J. Phys. Chem. B 104, 5061–5063 (2000)

R. Singh, R. Kumar, S. Chakarvarti, Non-galvanic template synthesis of CdSe nanowires using anodic alumina membrane and their optical band gap determination. Mater. Lett. 62, 874–877 (2008)

Y.S. Zhou, K. Wang, W. Han, S.C. Rai, Y. Zhang, Y. Ding, C. Pan, F. Zhang, W. Zhou, Z.L. Wang, Vertically aligned CdSe nanowire arrays for energy harvesting and piezotronic devices. ACS Nano 6, 6478–6482 (2012)

L. Vj, J. Oh, A.P. Nayak, A.M. Katzenmeyer, K.H. Gilchrist, S. Grego, N.P. Kobayashi, S.-Y. Wang, A. Talin, N.K. Dhar, A perspective on nanowire photodetectors: current status, future challenges, and opportunities. IEEE J. Sel. Top. Quantum Electron. 17, 1002–1032 (2011)

H. Choi, M. Kuno, G.V. Hartland, P.V. Kamat, CdSe nanowire solar cells using carbazole as a surface modifier. J. Mater. Chem. A 1, 5487–5491 (2013)

F. Gu, P. Wang, H. Yu, B. Guo, L. Tong, Optical quenching of photoconductivity in CdSe single nanowires via waveguiding excitation. Opt. Express 19, 10880–10885 (2011)

Y. Huang, X. Duan, Q. Wei, C.M. Lieber, Directed assembly of one-dimensional nanostructures into functional networks. Science 291, 630–633 (2001)

Y. Cui, Z. Zhong, D. Wang, W.U. Wang, C.M. Lieber, High performance silicon nanowire field effect transistors. Nano Lett. 3, 149–152 (2003)

F. Qian, S. Gradecak, Y. Li, C.-Y. Wen, C.M. Lieber, Core/multishell nanowire heterostructures as multicolor, high-efficiency light-emitting diodes. Nano Lett. 5, 2287–2291 (2005)

H. Kind, H. Yan, B. Messer, M. Law, P. Yang, Nanowire ultraviolet photodetectors and optical switches. Adv. Mater. 14, 158 (2002)

P. Zhang, C. Cheng, P. Jiao, Y. Li, Z. He, H. Zhang, Well improved photoswitching characteristic of CdSe nanorods via CdS nanoparticle-decoration. Mater. Lett. 62, 1151–1154 (2008)

F. Gu, H. Yu, W. Fang, L. Tong, Broad spectral response in composition-graded CdSSe single nanowires via waveguiding excitation. Appl. Phys. Lett. 99, 181111 (2011)

C. Soci, A. Zhang, B. Xiang, S.A. Dayeh, D. Aplin, J. Park, X. Bao, Y.-H. Lo, D. Wang, ZnO nanowire UV photodetectors with high internal gain. Nano Lett. 7, 1003–1009 (2007)

R. Ashiri, A. Nemati, M.S. Ghamsari, Crack-free nanostructured BaTiO3 thin films prepared by sol–gel dip-coating technique. Ceram. Int. 40, 8613–8619 (2014)

R. Ashiri, A. Nemati, M.S. Ghamsari, M. Dastgahi, Nanothickness films, nanostructured films, and nanocrystals of barium titanate obtained directly by a newly developed sol–gel synthesis pathway. J. Mater. Sci.: Mater. Electron. 25, 5345–5355 (2014)

M. Ranjbar, A.H. Fini, H. Kalhori, P. Kameli, H. Salamati, Gasochromic effect in colloidal nanoparticles of tungsten oxide dihydrate synthesized via a simple anodizing method. Sol. Energy Mater. Sol. Cells 132, 329–336 (2015)

R. Ashiri, A mechanistic study of nanoscale structure development phase transition, morphology evolution, and growth of ultrathin barium titanate nanostructured films. Metall. Mater. Trans. A 45, 4138–4154 (2014)

R. Ashiri, Analysis and characterization of phase evolution of nanosized BaTiO3 powder synthesized through a chemically modified sol-gel process. Metall. Mater. Trans. A 43, 4414–4426 (2012)

R. Ashiri, Analysis and characterization of relationships between the processing and optical responses of amorphous BaTiO3 nanothin films obtained by an improved wet chemical process. Metall. Mater. Trans. B 45, 1472–1483 (2014)

R. Ashiri, A. Moghtada, Carbonate-free strontium titanium oxide nanosized crystals with tailored morphology: facile synthesis characterization, and formation mechanism. Metall. Mater. Trans. B 45, 1979–1986 (2014)

G. Riveros, J. Vasquez, H. Gomez, T. Makarova, D. Silva, R. Marotti, E. Dalchiele, Single-step electrodeposition of polycrystalline CdSe microwire arrays: structural and optical properties. Appl. Phys. A 90, 423–430 (2008)

U. Mohanty, Electrodeposition: a versatile and inexpensive tool for the synthesis of nanoparticles, nanorods, nanowires, and nanoclusters of metals. J. Appl. Electrochem. 41, 257–270 (2011)

A. Ghahremaninezhad, A. Dolati, A study on electrochemical growth behavior of the Co–Ni alloy nanowires in anodic aluminum oxide template. J. Alloy. Compd. 480, 275–278 (2009)

F. Nasirpouri, P. Southern, M. Ghorbani, W. Schwarzacher, GMR in multilayered nanowires electrodeposited in track-etched polyester and polycarbonate membranes. J. Magn. Magn. Mater. 308, 35–39 (2007)

M.P. Zach, K.H. Ng, R.M. Penner, Molybdenum nanowires by electrodeposition. Science 290, 2120–2123 (2000)

K. Yu-Zhang, D. Guo, J. Mallet, M. Molinari, A. Loualiche, M. Troyon, Electrodeposition and characterization of CdSe semiconducting nanowires. J. Nanosci. Nanotechnol. 8, 2022–2028 (2008)

D. Azulai, U. Givan, N. Shpaisman, T.L. Belenkova, H. Gilon, F. Patolsky, G. Markovich, On-surface formation of metal nanowire transparent top electrodes on CdSe nanowire array-based photoconductive devices. ACS Appl. Mater. Interfaces 4, 3157–3162 (2012)

S.-C. Kung, W.E. van der Veer, F. Yang, K.C. Donavan, R.M. Penner, 20 μs photocurrent response from lithographically patterned nanocrystalline cadmium selenide nanowires. Nano Lett. 10, 1481–1485 (2010)

D.J. Pena, J.K. Mbindyo, A.J. Carado, T.E. Mallouk, C.D. Keating, B. Razavi, T.S. Mayer, Template growth of photoconductive metal-CdSe-metal nanowires. J. Phys. Chem. B 106, 7458–7462 (2002)

A. Azarian, A. Dolati, An optical study of cobalt nanowires dispersed in liquid phase. Opt. Commun. 274, 471–476 (2007)

M. Motoyama, Y. Fukunaka, T. Sakka, Y.H. Ogata, S. Kikuchi, Electrochemical processing of Cu and Ni nanowire arrays. J. Electroanal. Chem. 584, 84–91 (2005)

G. Tan, J. Du, Q. Zhang, Structural evolution and optical properties of CdSe nanocrystals prepared by mechanical alloying. J. Alloy. Compd. 468, 421–431 (2009)

R. Ashiri, A. Nemati, M.S. Ghamsari, H. Aadelkhani, Characterization of optical properties of amorphous BaTiO3 nanothin films. J. Non-Cryst. Solids 355, 2480–2484 (2009)

F. Davar, M.R. Loghman-Estarki, M. Salavati-Niasari, R. Ashiri, Synthesis of volcano-like CdS/organic nanocomposite. Int. J. Appl. Ceram. Technol. 11, 637–644 (2014)

S. Baskoutas, A.F. Terzis, Size-dependent band gap of colloidal quantum dots. J. Appl. Phys. 99, 013708 (2006)

R. Ashiri, R. Ajami, A. Moghtada, Sonochemical synthesis of SrTiO3 nanocrystals at low temperature. Int. J. Appl. Ceram. Technol. (2014). doi:10.1111/ijac.12315

R. Ashiri, Detailed FT-IR spectroscopy characterization and thermal analysis of synthesis of barium titanate nanoscale particles through a newly developed process. Vib. Spectrosc. 66, 24–29 (2013)

R. Ashiri, A. Moghtada, A. Shahrouzianfar, R. Ajami, Low Temperature synthesis of carbonate-free barium titanate nanoscale crystals: toward a generalized strategy of titanate-based perovskite nanocrystals synthesis. J. Am. Ceram. Soc. 97, 2027–2031 (2014)

R. Ashiri, A. Nemati, M.S. Ghamsari, S. Sanjabi, M. Aalipour, A modified method for barium titanate nanoparticles synthesis. Mater. Res. Bull. 46, 2291–2295 (2011)

H.B. Yao, Y. Guan, J. Zheng, G. Huang, J. Xu, J.W. Liu, H.P. Cong, S.H. Yu, Chloride anion triggered synthesis and assembly of gold nanoparticle-ultrathin cadmium selenide nanowire networks with enhanced photoconductivity. Part. Part. Syst. Charact. 30, 97–101 (2013)

P. George, A. Sanchez-Juarez, P. Nair, Modification of electrical, optical and crystalline properties of chemically deposited CdS films by thermal diffusion of indium and tin. Semicond. Sci. Technol. 11, 1090 (1996)

H. Zhuang, S. Xue, S. Zhang, L. Hu, B. Li, C. Xue, Growth of GaN nanorods prepared by ammoniating Ga2O3/ZnO films on Si substrates and their properties: structure, morphology, chemical state and photoluminescence. Physica E: Low-Dimens. Syst. Nanostruct. 40, 828–832 (2008)
About this article
Cite this article
Kalhori, H., Irajizad, A., Azarian, A. et al. Synthesis and characterization of electrochemically grown CdSe nanowires with enhanced photoconductivity. J Mater Sci: Mater Electron 26, 1395–1402 (2015). https://doi.org/10.1007/s10854-014-2553-3
Received:

Accepted:

Published:

Issue Date:

DOI: https://doi.org/10.1007/s10854-014-2553-3
Keywords