Abstract
Interdiffusion, intrinsic, tracer and impurity diffusion coefficients are calculated in the Pd–Pt system. Interdiffusion coefficients are more or less insensitive to composition change. Activation energy varies in the range of 324–353 kJ/mol. Impurity diffusion coefficients calculated in this study and available tracer diffusion coefficients in pure elements indicate that Pd has higher diffusion rate compared to Pt in pure Pd, whereas, both the elements have similar diffusion rates in Pt. Kirkendall marker experiments indicate that Pd has much higher diffusion rate in Pd3.5at.%Pt compared to Pt.
Access options
Buy single article
Instant access to the full article PDF.
US$ 39.95
Tax calculation will be finalised during checkout.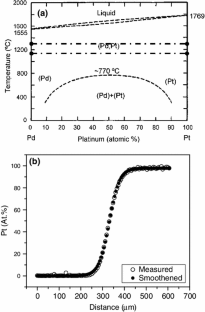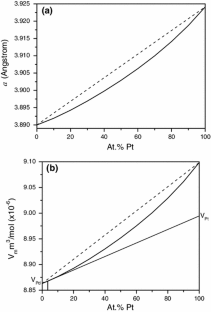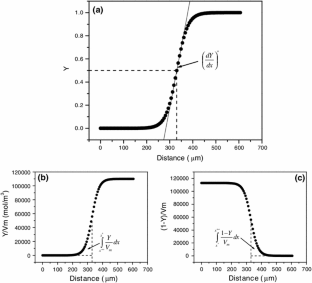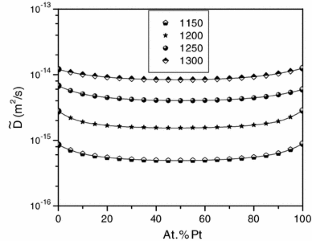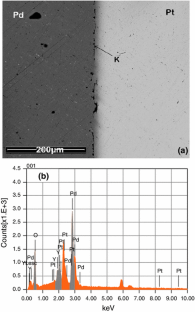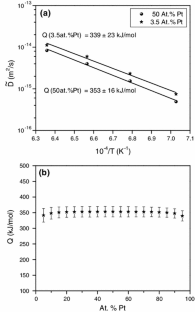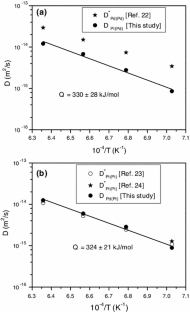 References
1.

S. Nazarpour, M. Chaker, Thin Solid Films 520, 4812 (2012)

2.

S. Thiebaut, A. Bigot, J.C. Achard, B. Limacher, D. Leroy, A. Percheron-Guegan, J. Alloy Compd. 231, 440 (1995)

3.

I. Moysan, V. Paul-Boncour, S. Thiebaut, E. Sciora, J.M. Fournier, R. Cortes, S. Bourgeois, A. Percheron-Guegan, J. Alloy Compd. 322, 14 (2001)

4.

T.B. Massalski ed., Alloy Phase Diagrams, ASM Handbook, 2nd ed. (ASM International, Materials Park, Ohio, United States of America, 1992), 1308

5.

C. Matano, Jpn. J. Phys. 8, 109 (1933)

6.

A. Paul, The Kirkendall Effect in Solid State Diffusion, Eindhoven University of Technology, The Netherlands, 2004 (www.alexandria.tue.nl/extra2/200412361.pdf)

7.

V.D. Divya, U. Ramamurty, A. Paul, Intermetallics 18, 259 (2010)

8.

J.B. Darby, K.M. Myles, Metall. Trans. 3, 653 (1972)

9.

F. Sauer, V. Freise, Z. Electrochem. 66, 353 (1962)

10.

C. Wagner, Acta Metall. 17, 99 (1969)

11.

F.J.J. Van Loo, Prog. Solid State Chem. 20, 47 (1990)

12.

L.S. Darken, Trans. Am. Inst. Min. Metall. Eng. 175, 184 (1948)

13.

A. Vignes, C.E. Birchenall, Acta Metall. 16, 1117 (1968)

14.

R. Ravi, A. Paul, J. Mater. Sci. Mater. Electron. 23, 2152 (2012)

15.

S. Santra, A. Paul, Philos. Mag. Lett. 92, 373 (2012)

16.

V.D. Divya, U. Ramamurty, A. Paul, J. Mater. Res. 26, 2384 (2011)

17.

S. Prasad, A. Paul, Defect Diffus. Forum 323, 491 (2012)

18.

S. Prasad, A. Paul, Metall. Mater. Trans. A 40, 1512 (2009)

19.

V. Divya, U. Ramamurty, A. Paul, Defect Diffus. Forum 312, 466 (2011)

20.

V. Divya, S. Balam, U. Ramamurty, A. Paul, Scripta Mater. 62, 621 (2010)

21.

V. Divya, U. Ramamurty, A. Paul, Defect Diffus. Forum 297, 462 (2010)

22.

N.L. Peterson, Phys. Rev. Gen. Phys. 136, A568 (1964)

23.

G.E. Kidson, R. Ross, Proc. UNESCO Int. Conf. Radioisot. Sci. Res., 1st, Paris p. 185 (1957)

24.

F. Cattaneo, F. Grasso, E. Germagnoli, Philos. Mag. 7, 1373 (1962)

25.

A. Paul, A. Kodentsov, F. Van Loo, J. Alloy Compd. 403, 147 (2005)

26.

V.A. Baheti, S. Roy, R. Ravi, A. Paul, Intermetallics 33, 87 (2012)

27.

S.S.K. Balam, A. Paul, J. Mater. Sci. 46, 889 (2011)

28.

A. Paul, C. Ghosh, W. Boettinger, Metall. Mater. Trans. A 42, 952 (2011)

29.

A. Paul, A. Kodentsov, G. de With, F. Van Loo, Intermetallics 11, 1195 (2003)

30.

J.R. Manning, Phys. Rev. 124, 470 (1961)

31.

J.R. Manning, Metall. Trans. 1, 499 (1970)

32.

J.R. Manning, Acta Metall. 15, 817 (1967)

33.

C.B. Alcock, A. Kubik, Acta Metall. 17, 437 (1969)

34.

J.C. Slater, J. Chem. Phys. 41, 3199 (1964)

35.

T.R. Mattsson, A.E. Mattsson, Phys. Rev. B 66, 1 (2002)

36.

Elastic Modulus, www.periodictable.com/Properties/A/YoungModulus.html

37.

S. Santra, A. Mondal, A. Paul, Metall. Mater. Trans. A 43, 791 (2012)
About this article
Cite this article
Baheti, V.A., Ravi, R. & Paul, A. Interdiffusion study in the Pd–Pt system. J Mater Sci: Mater Electron 24, 2833–2838 (2013). https://doi.org/10.1007/s10854-013-1179-1
Received:

Accepted:

Published:

Issue Date:
Keywords
Diffusion Couple

Partial Molar Volume

Interdiffusion Coefficient

High Diffusion Rate

Tracer Diffusion Coefficient