Abstract
Zn1−xNixO (x = 0, 0.01, 0.02, 0.03, 0.04 and 0.05) nanoclusters have been successfully synthesized by co-precipitation method. The synthesized samples have been characterized by powder X-ray diffraction, energy dispersive X-ray spectra, UV–visible spectrophotometer and Fourier transform infrared spectroscopy. The XRD and SEM measurements reveal that the prepared undoped and Ni-doped nanoclusters have different microstructure without changing a hexagonal wurtzite structure. The calculated average crystalline size from XRD measurement decreases from 37.5 to 26.6 nm for x = 0 to 0.05 which was confirmed by SEM micrographs. The change in lattice parameters, micro-strain, shift of XRD peaks and the blue shift of energy gap from 3.18 to 3.33 eV (ΔEg = 0.15 eV) for Ni = 0–0.02 and red shift of Eg from 3.33 to 3.14 eV (ΔEg = 0.19 eV) for Ni = 0.02 to 0.05 reveal the substitution of Ni2+ ions into Zn–O lattice. The presence of functional groups and the chemical bonding are confirmed by FTIR spectra. The shift of NBE UV emission between 374 and 395 nm, the shift of green band emission between 517 and 531 nm, the change in intensity and the broadening effect in the photoluminescence spectra confirms the substitution of Ni2+ ions into the Zn–O lattice. Ni-doped ZnO system shows a great pledge for the fabrication of nano-optoelectronic devices like tunable light emitting diode in the near future.
Access options
Buy single article
Instant access to the full article PDF.
USD 39.95
Price excludes VAT (USA)
Tax calculation will be finalised during checkout.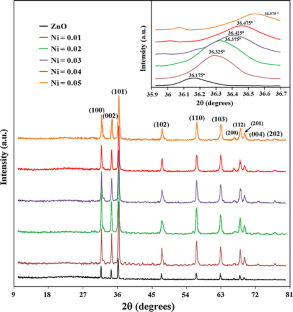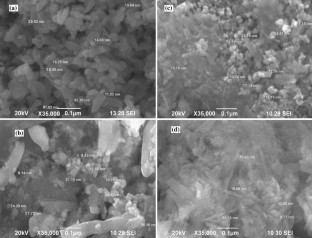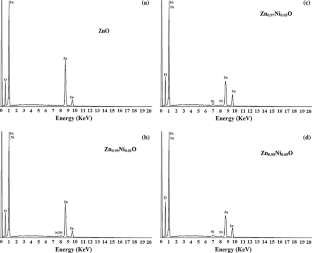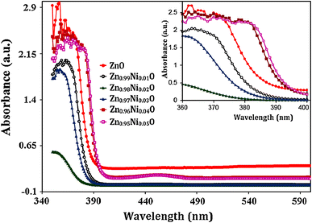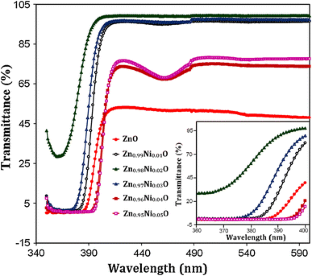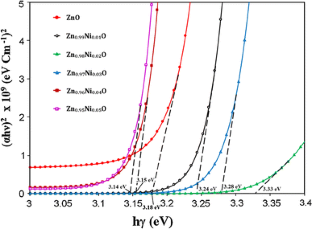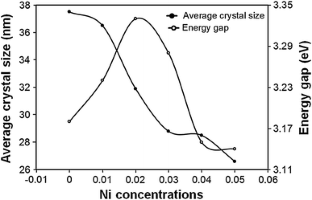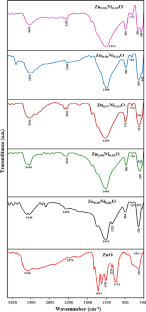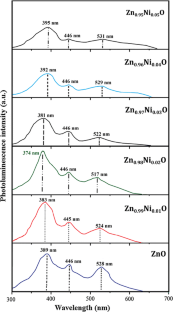 References
S.D. Sarma, Nat. Matters 2, 292 (2003)

S.J. Pearton, C.R. Abernathy, M.E. Overberg, G.T. Thaler, A.F. Hebard, Y.D. Park, F. Ren, J. Kim, L.A. Boatner, J. Appl. Phys. 1, 93 (2003)

T. Dietl, Semicond. Sci. Technol. 17, 377 (2002)

I. Malajovich, J.J. Berry, N. Samarth, D.D. Awshalom, Nature 411, 770 (2001)

H. Ohno, Science 281, 951 (1998)

B. Pandey, S. Ghosh, P. Srivastava, D. Kabiraj, T. Shripati, N.P. Lalla, Physica E 41, 1164 (2009)

U. Ozgur, Y.I. Alivov, C. Liu, A. Teke, M.A. Reshchikov, S. Dogan, V. Vrutin, S.J. Cho, H. Morkoc, J. Appl. Phys. 98, 041301 (2005)

R. Könenkamp, R.C. Word, C. Schlegel, Appl. Phys. Lett. 85, 6004 (2004)

Q. Yan, R. He, J. Pham, P.D. Yang, Adv. Mater. 15, 402 (2003)

D. Deka, P.S. Joy, Appl. Phys. Lett. 89, 032508 (2006)

D.C. Look, Mater. Sci. Eng. B 80, 383 (2001)

J.J. Chen, F. Zeng, D.M. Li, J.B. Niu, F. Pan, Thin Solid Films 484, 257 (2005)

M. El-Hilo, A.A. Dakhel, A.Y. Ali-Mohamed, J. Magn. Magn. Mater. 321, 2279 (2009)

M. Venkatesan, C.B. Fizgerald, J.G. Lunney, J.M.D. Coey, Phys. Rev. Lett. 93, 177206 (2004)

X.X. Liu, F.T. Lin, L.L. Sun, W.J. Cheng, X.M. Ma, W.Z. Shi, Appl. Phys. Lett. 88, 062508 (2006)

P.V. Radovanovic, D.R. Gamelin, Phys. Rev. Lett. 91, 157202 (2003)

E. Liu, P. Xiao, J.S. Chen, B.C. Lim, L. Li, Current Appl. Phys. 8, 408 (2008)

T. Li, H. Qiu, P. Wu, M. Wang, R. Ma, Thin Solid Films 515, 3905 (2007)

K. Ueda, H. Tabata, T. Kawai, Appl. Phys. Lett. 79, 988 (2001)

Z. Zhang, C. Bao, Q. Li, S. Ma, S. Hou, J. Mater. Sci.: Mater. Electron. 23, 376 (2012)

H. Wang, Z. Huang, J. Xu, L. Yang, S. Zhou, J. Mater. Sci.: Mater. Electron. 23, 403 (2012)

K. Tarasov, O. Raccurt, J. Nanopart. Res. 13, 6717 (2011)

A. Yildiz, B. Yurduguzel, B. Kayhan, G. Calin, M. Dobromir, F. Iacomi, J. Mater. Sci.: Mater. Electron. 23, 425 (2012)

C.F. Jin, X. Yuan, W.W. Ge, J.M. Hong, X.Q. Xin, Nanotechnology 14(6), 667 (2003)

H. Udono, Y. Sumi, S. Yamada, I. Kikuma, J. Cryst. Growth 310, 1827 (2008)

T. Tsuzuki, P.G. McCormick, Scr. Mater. 44, 1731 (2001)

Y. Dai, Y. Zhang, Q.K. Li, C.W. Nan, Chem. Phys. Lett. 358, 83 (2002)

C.L. Zhang, W.N. Zhou, Y. Hang, Z. Lu, H.D. Hou, Y.B. Zuo, S.J. Qin, F.H. Lu, S.L. Gu, J. Cryst. Growth 310, 1819 (2008)

S.E. Ahn, J.S. Lee, H. Kim, S. Kim, B.H. Kang, K.H. Kim, G.T. Kim, Appl. Phys. Lett. 84(24), 5022 (2004)

I.R. Collins, S.E. Taylor, J. Mater. Chem. 2, 1277 (1992)

D. Jezequel, J. Guenot, N. Jouini, F. Fievet, J. Mater. Res. 10, 77 (1995)

L. Poul, S. Ammar, N. Jouini, F. Fievet, F. Villain, Solid State Sci. 3, 31 (2001)

L. Poul, S. Ammar, N. Jouini, F. Fievet, F. Villain, J Sol–Gel Sci. Technol. 26, 261 (2003)

S. Lee, S. Jeong, D. Kim, S. Hwang, M. Jeon, J. Moon, Superlattices Microstruct. 43, 330 (2008)

H. Wang, Y. Chen, H.B. Wang, C. Zhang, F.J. Yang, J.X. Duan, C.P. Yang, Y.M. Xu, M.J. Zhou, Q. Li, Appl. Phys. Lett. 90, 052505 (2007)

B.B. Li, X.Q. Xiu, R. Zhang, Z.K. Tao, L. Chen, Z.L. Xie, Y.D. Zheng, Z. Xie, Mater. Sci. Semicond. Proc. 9, 141 (2006)

C.J. Cong, J.H. Hong, Q.Y. Liu, L. Liao, K.L. Zhang, Solid State Commun. 138, 511 (2006)

T. Al-Harbi, J. Alloys Comp. 509, 387 (2011)

R. Elilarassi, G. Chandrasekaran, Mater. Chem. Phys. 123, 450 (2010)

S. Abed, M.S. Aida, K. Bouchouit, A. Arbaoui, K. Iliopoulos, B. Sahraoui, Optical Mater 33, 968 (2011)

JCPDS standard card No. 36-1451

A. Askarinejad, A. Morsali, Ultrason. Sonochem. 16, 124 (2009)

S. Muthukumaran, R. Gopalakrishnan, J. Sol-Gel. Sci. Technol. 62, 193 (2012)

P.P. Hankare, P.A. Chate, D.J. Sathe, P.A. Chavan, V.M. Bhuse, J. Mater. Sci.: Mater. Electron. 20, 374 (2009)

J. Pelleg, E. Elish, J. Vac. Sci. Technol. A20, 754 (2002)

A.J. Reddy, M.K. Kokila, H. Nagabhushan, R.P.S. Chakradhar, C. Shivakumar, J.L. Rao, B.M. Nagabhushan, J. Alloys Compd. 509, 5349 (2011)

V. Goyal, K.P. Bhatti, S. Chaudhary, J. Alloys Comp. 508, 419 (2010)

R.D. Shannon, Acta Crystallogr. A 32, 751 (1976)

S. Thota, L.M. Kukreja, J. Kumar, Thin Solid Films 517, 750 (2008)

H. Colak, O. Turkoglu, J. Mater. Sci. Technol. 27(10), 944 (2011)

D. Wu, M. Yang, Z. Huang, G. Yin, X. Liao, Y. Kang, X. Chen, H. Wang, J. Colloid Interface Sci. 300, 380 (2008)

S. Suwanboon, P. Amornpitoksuk, A. Haidoux, J.C. Tedenac, J. Alloys Compd. 462, 335 (2008)

S.K. Mandal, T.K. Nath, Thin Solid Films 515, 2535 (2006)

A.P. Palomino, O.P. Perez, R. Singhal, M. Tomar, J. Hwang, P.M. Voyles, J. Appl. Phys. 103, 07D121 (2008)

R.B. Bylsma, W.M. Becker, J. Kossut, U. Debska, D. Yoder-Short, Phys. Rev. B 33, 8207 (1986)

I. Hamberg, C.G. Granqvist, J. Appl. Phys. 60, R123 (1986)

F.A. Sigoli, M.R. Davolos, M.J. Jafelicci, J. Alloys Compd. 292, 262 (1997)

S. Hayashi, N. Nakamori, H. Kanamori, J. Phys. Soc. Jpn. 46, 176 (1979)

Sadtler Research Laboratories (ed.), The Infrared Spectra Handbook of Inorganic Compounds (Heyden & Son Ltd., London, 1984)

H. Kleinwechter, C. Janzen, J. Knipping, H. Wiggers, P. Roth, J. Mater. Sci. 7, 4349 (2002)

R.N. Aljawfi, S. Mollah, J. Magn. Magn. Mater. 323, 3126 (2011)

Y. Xi, C. Sudakar, P. Kharel, G. Lawes, J. Phys.: Condens. Matter 19, 026212 (2007)

C.J. Conga, J.H. Honga, K.L. Zhanga, Mater. Chem. Phys. 113, 435 (2009)

K. Nakamoto, Infrared and Raman Spectra of Inorganic and Coordination Compounds, Parts- A and B (Wiley, New York, 1997)

S. Senthilkumar, K. Rajendran, S. Banerjee, T.K. Chini, V. Sengodan, Mater. Sci. Semi. Process. 11, 6 (2008)

C. Karunakaran, P. Gomathisankar, G. Manikandan, Mater. Chem. Phys. 123, 585 (2010)

C.K. Xu, K.K. Yang, Y.Y. Liu, L.W. Huang, H. Lee, J. Cho, H. Wang, J. Phys. Chem. C 112, 19236 (2008)

J.H. Yang, M. Gao, Y.J. Zhang, L.L. Yang, J.H. Lang, D.D. Wang, Y.X. Wang, H.L. Liu, H.G. Fan, M.B. Wei, F.Z. Liu, Chem. Res. Chin. Univ. 24, 1005 (2008)

T.M. Kim, S.L. Cooper, M.V. Klein, B.T. Jonker, Phys. Rev. B 49, 1732 (1994)

A.A.M. Farag, M. Cavas, F. Yakuphanoglu, F.M. Amanullah, J. Alloys Comp. 509, 7900 (2011)

A. Umar, S.H. Kim, Y.S. Lee, K.S. Nahm, Y.B. Hahn, J. Cryst. Growth 282, 131 (2005)

A.K. Pradhan, T.M. Williams, K. Zhang, D. Hunter, J.B. Dadson, K. Lord, U.N. Roy, Y. Cui, A. Burger, J. Nanosci. Nanotechnol. 6, 1985 (2006)

Y.M. Sun, Study on the Synthesis and Physical Properties of ZnO-Based Diluted Magnetic Semiconductors, Ph.D. Thesis, 2000, University of Science and Technology of China, China

C. Li, G. Fang, Q. Fu, F. Su, G. Li, X. Wu, X. Zhao, J. Cryst. Growth 292, 19 (2006)

Y. Sun, N.G. Ndifor-Angwafor, D.J. Riley, M.N.R. Ashfold, Chem. Phys. Lett. 431, 352 (2006)

K. Vanheusden, W.L. Warren, C.H. Seager, D.R. Tallant, J.A. Voigt, B.E. Gnade, J. Appl. Phys. 79, 7983 (1996)

B. Cheng, Y. Xiao, G. Wu, L. Zhang, Adv. Funct. Mater. 14(9), 913 (2004)

U. VeaNislav, R. Emil, Z. Victor, S. Lilian, M. Eduard, T. Ion, Inform. Technol. 5822, 148 (2005)
About this article
Cite this article
Gopalakrishnan, R., Muthukumaran, S. Nanostructure, optical and photoluminescence properties of Zn1−xNixO nanoclusters by co-precipitation method. J Mater Sci: Mater Electron 24, 1069–1080 (2013). https://doi.org/10.1007/s10854-012-0882-7
Received:

Accepted:

Published:

Issue Date:

DOI: https://doi.org/10.1007/s10854-012-0882-7
Keywords
Full Width Half Maximum

Green Band

Hexagonal Wurtzite Structure

Average Crystal Size

Near Band Edge