Abstract
Many emerging photovoltaic technologies, such as silicon heterojunction (SHJ) cells and perovskites, are temperature sensitive and are not compatible with the high sintering temperatures required for commercial screen-printed metallization pastes. Newer, low-temperature reactive silver inks exhibit good electrical conductivity and are compatible with temperature-sensitive substrates. However, preliminary investigations showed that the adhesion and reliability of these metallizations could vary dramatically with ink composition. This work evaluates the adhesion performance of printed reactive inks on indium tin oxide-coated SHJ cells to show that puckering phenomena originating from the porous nature of the printed reactive inks are responsible for lowering the as-printed adhesion strength. Adhesion performance was qualitatively determined using 180° peel test followed by optical imaging to quantify the amount of adhesive failure. Post-print scanning electron microscopy was used to observe the surface morphology. Diluting the reactive ink to reduce silver ion concentration decreased the observed puckering phenomenon and improved adhesion performance. This new understanding enables a more systematic design of reactive inks for novel photovoltaic applications.
This is a preview of subscription content, log in to check access.
Access options
Buy single article
Instant access to the full article PDF.
US$ 39.95
Price includes VAT for USA
Subscribe to journal
Immediate online access to all issues from 2019. Subscription will auto renew annually.
US$ 199
This is the net price. Taxes to be calculated in checkout.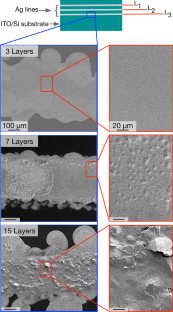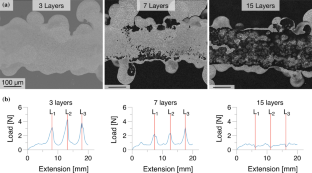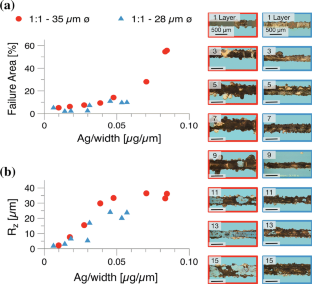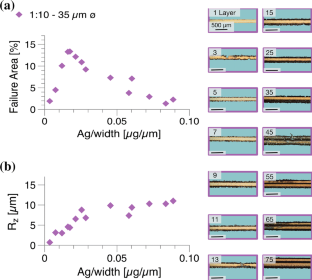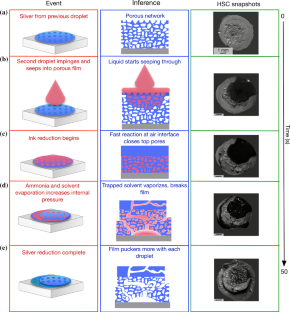 References
1

Teng KF, Vest RW (2004) Application of ink jet technology on photovoltaic metallization. IEEE Electron Device Lett 9:1–2

2

Ebong A, Chen N (2015) Metallization of crystalline silicon solar cells: a review. In: 2012 9th International conference on high capacity optical networks and enabling technologies (HONET). IEEE, pp 102–109

3

Hermans JP, Papet P, Oacheco K, et al. (2014) Advanced metallization concepts by inkjetprinting. pp 1–6. https://doi.org/10.4229/eupvsec20142014-2co.2.3

4

Shaheen SE, Radspinner R, Peyghambarian N, Jabbour GE (2001) Fabrication of bulk heterojunction plastic solar cells by screen printing. Appl Phys Lett 79:2996–2998. https://doi.org/10.1063/1.1413501

5

Teng KF, Vest RW (2004) Metallization of solar cells with ink jet printing and silver metallo-organic inks. IEEE Trans Compon Hybrids Manuf Technol 11:1–7

6

Li ZG, Liang L, Ionkin AS et al (2011) Microstructural comparison of silicon solar cells' front-side Ag contact and the evolution of current conduction mechanisms. J Appl Phys 110:074304–074309. https://doi.org/10.1063/1.3642956

7

Li ZG, Liang L, Cheng LK (2009) Electron microscopy study of front-side Ag contact in crystalline Si solar cells. J Appl Phys 105:066102–066104. https://doi.org/10.1063/1.3086663

8

Rane SB, Khanna PK, Seth T et al (2003) Firing and processing effects on microstructure of fritted silver thick film electrode materials for solar cells. Mater Chem Phys 82:237–245. https://doi.org/10.1016/S0254-0584(03)00236-0

9

De Wolf S, Descoeudres A, Holman ZC, Ballif C (2012) High-efficiency silicon heterojunction solar cells—a review. Green 2:1–19. https://doi.org/10.1515/green-2011-0018

10

Jeffries AM, Mamidanna A, Ding L, Hildreth O, Bertoni MI (2016) Low-temperature drop-on-demand reactive silver inks for solar cell front-grid metallization. IEEE J Photovolt 7:37–43. https://doi.org/10.1109/JPHOTOV.2016.2621351

11

Paretkar D, Glassmaker NJ, Mikeska KR, Blackman G, Jagota A (2016) Adhesion of screen-printed silver metallization to crystalline silicon solar cells. IEEE J Photovolt 6:1141–1151. https://doi.org/10.1109/JPHOTOV.2016.2583792

12

Ndiaye A, Charki A, Kobi A et al (2013) Degradations of silicon photovoltaic modules: a literature review. Sol Energy 96:140–151. https://doi.org/10.1016/j.solener.2013.07.005

13

Walker SB, Lewis JA (2012) Reactive silver inks for patterning high-conductivity features at mild temperatures. J Am Chem Soc 134:1419–1421. https://doi.org/10.1021/ja209267c

14

Lefky C, Mamidanna A, Huang Y, Hildreth O (2016) Impact of solvent selection and temperature on porosity and resistance of printed self-reducing silver inks. Phys Status Solidi A 213:2751–2758. https://doi.org/10.1002/pssa.201600150

15

Talbot EL, Berson A, Brown PS, Bain CD (2012) Evaporation of picoliter droplets on surfaces with a range of wettabilities and thermal conductivities. Phys Rev E 85:061604–061606. https://doi.org/10.1103/PhysRevE.85.061604
Acknowledgements
This work was supported by the National Science Foundation under contract agreement IIP-1602135 and CMMI-1635548. Any opinions, findings, and conclusions or recommendations expressed in this material are those of the author(s) and do not necessarily reflect those of the National Science Foundation.
Ethics declarations
Conflict of interest
The authors declare that there is no conflict of interest.
Electronic supplementary material
Below is the link to the electronic supplementary material.
About this article
Cite this article
Mamidanna, A., Jeffries, A., Bertoni, M. et al. Adhesion of reactive silver inks on indium tin oxide. J Mater Sci 54, 3125–3134 (2019). https://doi.org/10.1007/s10853-018-3017-6
Received:

Accepted:

Published:

Issue Date:
Keywords
Reactive Inks

Peel Test

Adhesion Strength

Silicon Heterojunction (SHJ)

Puckering