Abstract
Elastic moduli (Young's modulus, shear modulus and bulk modulus) of three ultrafine-grained Mg-based alloys AZ31, AE42 and LAE442 were studied by resonant ultrasound spectroscopy. Evolution of these moduli and the corresponding high-frequency internal friction were measured in a temperature cycle between the room temperature and 310 °C, i.e., with heating above the recrystallization threshold temperature. The results reveal that the Li content in the LAE442 alloy has a strong impact on its elastic performance, resulting in a high E/ρ ratio, which is consistent with predictions of ab initio calculations. Simultaneously, the relaxation due to grain boundary sliding has significantly lower activation energy in LAE442 alloy.
This is a preview of subscription content, log in to check access.
Access options
Buy single article
Instant access to the full article PDF.
US$ 39.95
Price includes VAT for USA
Subscribe to journal
Immediate online access to all issues from 2019. Subscription will auto renew annually.
US$ 199
This is the net price. Taxes to be calculated in checkout.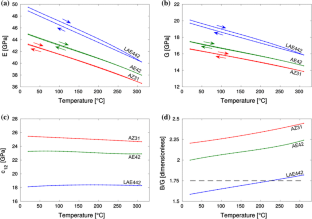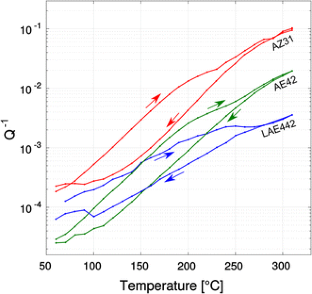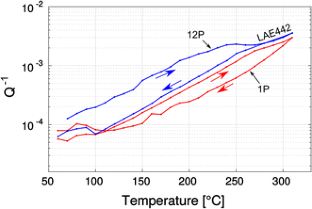 References
1

Yu Q, Qi L, Mishra RK, Li J, Minor AM (2013) Reducing deformation anisotropy to achieve ultrahigh strength and ductility in Mg at the nanoscale. Proc Natl Acad Sci 110(33):13289–13293

2

Janeček M, Popov M, Krieger MG, Hellmig RJ, Estrin Y (2007) Mechanical properties and microstructure of a Mg alloy AZ31 prepared by equal-channel angular pressing. Mater Sci Eng, A 462(1–2):116–120

3

Furui M, Xu C, Aida T, Inoue M, Anada H, Langdon TG (2005) Improving the superplastic properties of a two-phase Mg–8%Li alloy through processing by ECAP. Mater Sci Eng, A 410–411:439–442

4

Phasha MJ, Ngoepe PE (2012) An alternative DFT-based model for calculating structural and elastic properties of random binary HCP, FCC and BCC alloys: Mg–Li system as test case. Intermetallics 21:88–96

5

Dai JH, Wu X, Song Y (2013) Influence of alloying elements on phase stability and elastic properties of aluminum and magnesium studied by first principles. Comput Mater Sci 74:86–91

6

Pavlic O, Ibarra-Hernandez W, Valencia-Jaime I, Singh S, Avendano-Franc G, Raabe D, Romero AH (2017) Design of Mg alloys: the effects of Li concentration on the structure and elastic properties in the Mg–Li binary system by first principles calculations. J Alloy Compd 691:15–25

7

Olsson PAT (2015) First principles investigation of the finite temperature dependence of the elastic constants of zirconium, magnesium and gold. Comput Mater Sci 99:361–372

8

Moitra A (2013) Grain size effect on microstructural properties of 3d nanocrystalline magnesium under tensile deformation. Comput Mater Sci 79:247–251

9

Karewar S, Gupta N, Groh S, Martinez E, Caro A, Srinivasan SG (2017) Effect of Li on the deformation mechanisms of nanocrystalline hexagonal close packed magnesium. Comput Mater Sci 126:252–264

10

Sheng G, Bhattacharyya S, Zhang H et al (2012) Effective elastic properties of polycrystals based on phase-field description. Mater Sci Eng, A 554:67–71

11

Watanabe H, Mukai T, Sugioka M, Ishikawa K (2004) Elastic and damping properties from room temperature to 673 K in an AZ31 magnesium alloy. Scripta Mater 51:291–295

12

Koller M, Sedlak P, Seiner H, Sevcik M, Landa M, Straska J, Janecek M (2015) An ultrasonic internal friction study of ultrafine-grained AZ31 magnesium alloy. J Mater Sci 50:808–818. https://doi.org/10.1007/s10853-014-8641-1

13

Seiner H, Bodnárová L, Sedlák P, Janeček M, Srba O, Král R, Landa M (2010) Application of ultrasonic methods to determine elastic anisotropy of polycrystalline copper processed by equal-channel angular pressing. Acta Mater 58:235–247

14

Leisure RG, Willis FA (1997) Resonant ultrasound spectroscopy. J Phys: Condens Matter 9:6001–6029

15

Sedlak P, Seiner H, Zidek J, Janovska M, Landa M (2014) Determination of all 21 independent elastic coefficients of generally anisotropic solids by resonant ultrasound spectroscopy: benchmark examples. Exp Mech 54:1073–1085

16

Nowick AS, Berry BS (1972) Anelastic relaxation in crystalline solids. Academic Press, New York

17

Minarik P, Kral R, Pesicka J, Danis S, Janecek M (2016) Microstructure characterization of LAE442 magnesium alloy processed by extrusion and ECAP. Mater Charact 112:1–10

18

Chang TC, Wang JY, Chu CL, Lee S (2006) Mechanical properties and microstructures of various Mg–Li alloys. Mater Lett 60:3272–3276

19

Minarik P, Cizek J, Vesely J, Hruska P, Hadzima B, Kral R (2017) Nanocrystalline aluminium particles inside Mg–4Li–4Al–2RE magnesium alloy after severe plastic deformation. Mater Charact 127:248–252

20

Slutsky LJ, Garland CW (1957) Elastic constants of magnesium from 4.2-degrees-K TO 300-degrees-K. Phys Rev 107:972–976

21

Pugh SF (1954) Relations between the elastic moduli and the plastic properties of polycrystalline pure metals. Philos Mag 45:823–843

22

Stráská J, Stráský J, Minárik P, Janeček M, Hadzima B (2017) Continuous measurement of m-parameter for analyzing plastic instability in a superplastic ultra-fine grained magnesium alloy. Mater Sci Eng, A 684:110–114

23

Minárik P, Kral R, Cizek J, Chmelik F (2016) Effect of different c/a ratio on the microstructure and mechanical properties in magnesium alloys processed by ECAP. Acta Mater 107:83–95

24

Koike J, Ohyama R, Kobayashi T, Suzuki M, Maruyama K (2003) Grain-boundary sliding in AZ31 magnesium alloys at room temperature to 523 K. Mater Trans 44:445–451

25

Haferkamp H, Boehm R, Holzkamp U, Jaschik C, Kaese V, Niemeyer M (2001) Alloy development, processing and applications in magnesium lithium alloys. Mater Trans 42:1160–1166
Acknowledgements
This work was financially supported by the Czech Science Foundation Project Nos. 17-13573S and 14-13415S and by ERDF under the project "Nanomaterials centre for advanced applications," Project No. CZ.02.1.01/0.0/0.0/15_003/0000485.
About this article
Cite this article
Janovská, M., Minárik, P., Sedlák, P. et al. Elasticity and internal friction of magnesium alloys at room and elevated temperatures. J Mater Sci 53, 8545–8553 (2018). https://doi.org/10.1007/s10853-018-2136-4
Received:

Accepted:

Published:

Issue Date:
Keywords
Alloy LAE442

Grain Boundary Sliding (GBS)

Resonant Ultrasound Spectroscopy (RUS)

Equal Channel Angular Pressing (ECAP)

ECAP Passes