Synthesis of intertwined Zn0.5Mn0.5Fe2O4@CNT composites as a superior anode material for Li-ion batteries
Abstract
Nanocrystalline ZnFe2O4, Zn0.5Mn0.5Fe2O4, and Zn0.5Mn0.5Fe2O4@CNT composites have been successfully prepared by a facile and high-yield co-precipitation method. All the samples as the anode materials were characterized by X-ray diffraction, thermogravimetry, and electrochemical measurements. It has been found that the appropriate Mn doping and CNTs intertwining actively affect the formation of uniform morphology and improve the cycling stability and rate capability. The Zn0.5Mn0.5Fe2O4@CNT composites exhibit excellent electrochemical performance as the anode material, with enhanced reversible capacity (1374.8 mAh g−1 after 100 cycles at the current density of 100 mA g−1) and good rate capability (933.5 mAh g−1 at 500 mA g−1, 809.9 mAh g−1 at 1000 mA g−1, 634.2 mAh g−1 at 1500 mA g−1). We also present the crystal structure and Li-ion insertion mechanism for the above materials.
Graphical Abstract
Our work displays the Li storage matrix model of the ZMFO electrode which may offer a novel way for the investigation of the LIBs with excellent electrochemical performance and perfect structural stability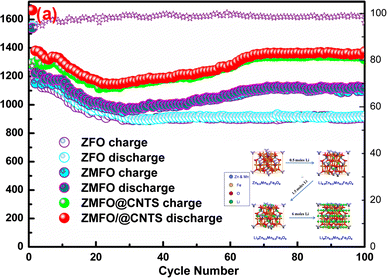 .
Keywords
Discharge Capacity 
Electrochemical Performance 
Anode Material 
ZnFe2O4 
Reversible Capacity 
These keywords were added by machine and not by the authors. This process is experimental and the keywords may be updated as the learning algorithm improves.
Notes
Acknowledgements
This work was financially supported by the National Science Foundation of China (NSFC, Nos. 51201066 and 51171065), the Natural Science Foundation of Guangdong Province (No. S2012020010937), and the Science and Technology Project Foundation of Zhongshan City of Guangdong Province of China (No. 20123A326).
Copyright information
© Springer Science+Business Media New York 2016