Abstract
In aqueous solution at 40 °C, the micellization behavior of the binary mixtures constituted by an amphoteric sodium n-dodecyl diamine sulfonate and a cationic octadecyltrimethyl ammonium bromide has been investigated by the tensiometric technology. The values of critical micelle concentration (cmc) were determined by surface tension measurement of aqueous solution. The experimental data were analyzed according to various mixing thermodynamic models within the framework of the pseudophase separation model. The values of mixed cmc have been predicted successfully by both the Rubingh's and Rodenas's treatments. Various parameters like the mixed cmc, interaction parameters between surfactants (β 12), the compositions and activity coefficients in mixed micelles as well as thermodynamic properties have been determined using Lang, Rubingh, Rodenas, and Rosen approach. Over the entire composition range investigated, the mixed micelle formation, non-ideal or ideal mixing, and synergistic effect or antagonism are explained by the electrostatic interaction between ionic headgroups of surfactants and the steric effect of surfactant. Thermodynamic parameters favor the process of micellization which is found to be entropy-driven.
Access options
Buy single article
Instant access to the full article PDF.
USD 39.95
Price excludes VAT (USA)
Tax calculation will be finalised during checkout.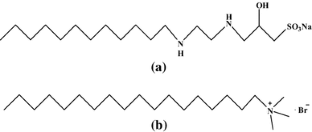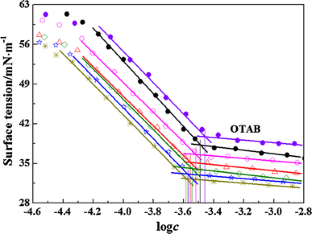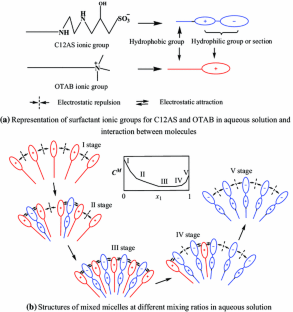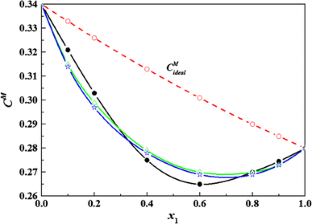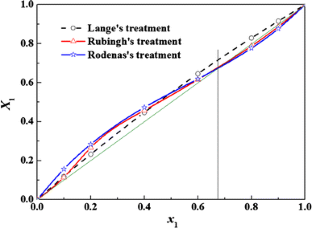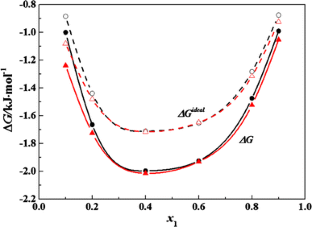 References
Chakraborty T, Ghosh S, Moulik SP (2005) Micellization and related behavior of binary and ternary surfactant mixtures in aqueous medium: cetyl pyridinium chloride (CPC), cetyl trimethyl ammonium bromide(CTAB), and polyoxyethylene (10) cetyl ether (Brij-56) derived system. J Phys Chem B 109:14813–14823

Ren ZH, Luo Y, Shi DP (2013) Mechanism on the interaction between amimo sulfonate amphoteric surfactant and sodium dodecyl benzene sulfonate in aqueous solution. Colloids Surf A 428:18–24

Parekh P, Varade D, Parikh J, Bahadur P (2011) Anionic-cationic mixed surfactant systems: Micellar interaction of sodium dodecyl trioxyethylene sulfate with cationic gemini surfactants. Colloids Surf A 385:111–120

Rosen MJ (2004) Surfactants and interfacial phenomena, 3rd edn. Wiley, Hoboken

Holland PM, Rubingh DN (1983) Nonideal multicomponent mixed micelle model. J Phys Chem 87:1984–1990

Bhat M, Gaikar VG (1999) Characterization of interaction between butyl benzene sulfonates and cetyl trimethylammonium bromide in mixed aggregate systems. Langmuir 15:4740–4751

Danov KD, Kralchevsky PA, Ananthapadmanabhan KP (2014) Micelle–monomer equilibria in solutions of ionic surfactants and in ionic–nonionic mixtures A generalized phase separation model. Adv Colloid Interface Sci 206:17–45

Lu SH, Wu J, Somaundaran P (2012) Micellar evolution in mixed nonionic-anionic surfactant systems. J Colloid Interface Sci 367:272–279

Das C, Chakraborty T, Ghosh S, Das B (2008) Mixed micellization of anionic–nonionic surfactants in aqueous media: a physicochemical study with theoretical consideration. Colloid Polym Sci 286:1143–1155

Moore SE, Mohareb M, Moore SA, Palepu RM (2006) Conductometric and fluorometric investigations on the mixed micellar systems of cationic surfactants in aqueous media. J Colloid Interface Sci 304:491–496

Rub MA, Kumar D, Azum N, Khan F, Asiri AM (2014) Study of the interaction between promazine hydrochloride and surfactant (conventional/gemini) mixtures at different temperatures. J Solut Chem 43:930–949

Nandni D, Mahajan RK (2013) Micellar and interfacial behavior of cationic benzalkonium chloride and nonionic polyoxyethylene alkyl ether based mixed surfactant systems. J Surfactants Deterg 16:587–599

Ruiz CC, Aguiar J (2003) Mixed micellization of octaoxyethylene monododecyl ether and n-alkyltrimethylammonium bromides. Colloids Surf A 224:221–230

Matsubara H, Muroi S, Kameda M, Ikeda N, Ohta A, Aratono M (2001) Interaction between ionic and nonionic surfactants in the adsorbed film and micelle. 3. sodium dodecyl sulfate and tetraethylene glycol monooctyl ether. Langmuir 17:7752–7757

Haque ME, Das AR, Rakshit AK, Moulik SP (1996) Properties of mixed micelles of binary surfactant combinations. Langmuir 12:4084–4089

Chauhan S, Sharma K (2014) Effect of temperature and additives on the critical micelle concentration and thermodynamics of micelle formation of sodium dodecyl benzene sulfonate and dodecyltrimethylammonium bromide in aqueous solution: a conductometric study. J Chem Thermodyn 71:205–211

Khimani M, Vora S (2011) Effect of inorganic additives on a conventional anionic–nonionic mixed surfactants system in aqueous solution. J Surfactants Deterg 14:545–554

Hines JD, Thomas RK, Garrett PR, Rennie GK, Penfold J (1998) Investigation of mixing in binary surfactant solutions by surface tension and neutron reflection: strongly interacting anionic/zwitterionic mixtures. J Phys Chem B 102:8834–8846

Abdel-Rahem R (2009) Synergism in mixed anionic–amphoteric surfactant solutions: influence of anionic surfactant chain length. Tenside Surfactants Deterg 46:298–305

Safonova EA, Alexeeva MV, Smirnova NA (2009) The effect of acidity on micellization in dodecyldimethylamine oxide–sodium dodecyl sulfate aqueous mixtures. Colloid J 71:717–724

Goloub TP, Pugh RJ, Zhmud BV (2000) Micellar interactions in nonionic ionic mixed surfactant systems. J Colloid Interface Sci 229:72–81

Ren ZH (2014) Interacting behavior between amino sulfonate amphoteric surfactant and octylphenol polyoxyethylene ether (7) in aqueous solution and pH effect. J Ind Eng Chem 20:3649–3657

Ren ZH, Luo Y, Zheng YC, Shi DP, Mei P, Li FS (2014) Interacting behavior between amino sulfonate surfactant and octylphenol polyoxyethylene ether (10) in aqueous solution. J Solut Chem 43:853–869

Ren ZH (2014) Interacting behavior between amino sulfonate surfactant and octylphenol polyoxyethylene ether in aqueous solution and effect of hydrophilicity. Ind Eng Chem Res 53:10035–10040

Ren ZH, Luo Y (2013) Dynamic interfacial tension behavior of alkyl amino sulfonate in crude oil-brine system. Tenside Surfactants Deterg 50:369–375

Ren ZH, Chen DJ, Luo Y, Huang J (2010) Investigation of influence of inorganic salt on the critical micelle concentration of sodium octylphenol polyoxyethylenated ethylsulfonate. Acta Chim Sinica 68:1771–1775

Lange H, Beck KH (1973) Zur mizellbildung in mischlösungen homologer und nichthomologer tenside. Kolloid Z Z Polym 251:424–431

Rodenas E, Valiente M, Villafruela MS (1999) Different theoretical approaches for the study of the mixed tetraethylene glycol mono-n-dodecyl etherhexadecyltrimethylammonium bromide micelles. J Phys Chem 87:4549–4554

Sehgal P, Kosaka O, Doe H, Otzen DE (2009) Interaction and stability of mixed micelle and monolayer of nonionic and cationic surfactant mixtures. J Dispers Sci Technol 30:1050–1058
Acknowledgements
Funding for this work was provided by the National Science Foundation of China (51304029).
About this article
Cite this article
Ren, Z.H., Luo, Y., Zheng, Y.C. et al. Micellization behavior of the mixtures of amino sulfonate amphoteric surfactant and octadecyltrimethyl ammonium bromide in aqueous solution at 40 °C: a tensiometric study. J Mater Sci 50, 1965–1972 (2015). https://doi.org/10.1007/s10853-014-8761-7
Received:

Accepted:

Published:

Issue Date:

DOI: https://doi.org/10.1007/s10853-014-8761-7
Keywords
Surfactant

Mixed Micelle

Mixed System

Surfactant Mixture

Gibbs Free Energy Change