Abstract
The introduction of highly volatile fragrances within polymeric nano-scaled fibers is a promising route for efficient and simple encapsulation of temperature-sensitive materials. This work describes the investigation of selected parameters influencing the electrospinning of emulsions of poly(vinyl alcohol) (PVA) and (R)-(+) limonene or hexadecane. Thereby the influence of environmental parameters such as temperature and relative humidity on the fiber structure and encapsulation efficiency (EE) of the fragrance is demonstrated. For that purpose, the electrospinning process was carried out in a climatic cabin in which temperature and relative humidity were controlled. Studied temperatures ranged from 8 to 24 °C and relative humidity varied between 55 and 85 %. The influence of temperature was dependent on the PVA concentration in the emulsion. The relative humidity influenced both the obtained fiber morphology and fragrance EE to a higher extent than the temperature due to the hydrophilic nature of the PVA. This study is of importance when considering the use of emulsion electrospinning for encapsulation purposes.
Access options
Buy single article
Instant access to the full article PDF.
USD 39.95
Price excludes VAT (USA)
Tax calculation will be finalised during checkout.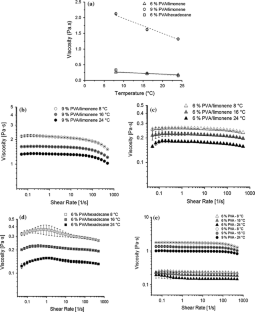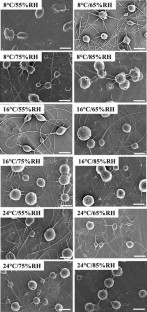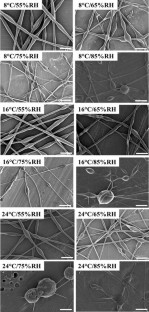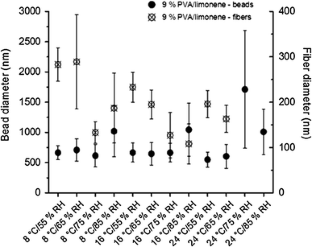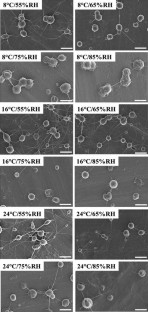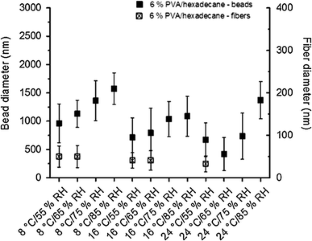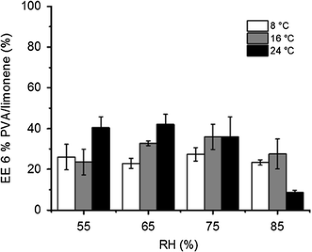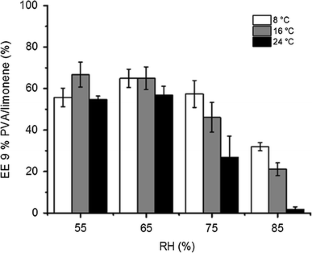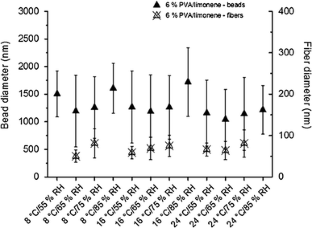 References
Sill TJ, von Recum HA (2008) Electrospinning: applications in drug delivery and tissue engineering. Biomaterials 29(13):1989–2006. doi:10.1016/j.biomaterials.2008.01.011

Zhang L, Aboagye A, Kelkar A, Lai C, Fong H (2014) A review: carbon nanofibers from electrospun polyacrylonitrile and their applications. J Mater Sci 49(2):463–480. doi:10.1007/s10853-013-7705-y

Guex AG, Birrer DL, Fortunato G, Tevaearai HT, Giraud MN (2013) Anisotropically oriented electrospun matrices with an imprinted periodic micropattern: a new scaffold for engineered muscle constructs. Biomed Mater 8(2):021001. doi:10.1088/1748-6041/8/2/021001

Guex AG, Kocher FM, Fortunato G, Korner E, Hegemann D, Carrel TP, Tevaearai HT, Giraud MN (2012) Fine-tuning of substrate architecture and surface chemistry promotes muscle tissue development. Acta Biomater 8(4):1481–1489. doi:10.1016/j.actbio.2011.12.033

Gautam S, Chou C-F, Dinda A, Potdar P, Mishra N (2014) Fabrication and characterization of PCL/gelatin/chitosan ternary nanofibrous composite scaffold for tissue engineering applications. J Mater Sci 49(3):1076–1089. doi:10.1007/s10853-013-7785-8

Yan J, White K, Yu D-G, Zhao X-Y (2014) Sustained-release multiple-component cellulose acetate nanofibers fabricated using a modified coaxial electrospinning process. J Mater Sci 49(2):538–547. doi:10.1007/s10853-013-7733-7

Tripatanasuwan S, Zhong Z, Reneker DH (2007) Effect of evaporation and solidification of the charged jet in electrospinning of poly(ethylene oxide) aqueous solution. Polymer 48(19):5742–5746. doi:10.1016/j.polymer.2007.07.045

Wang C, Chien HS, Hsu CH, Wang YC, Wang CT, Lu HA (2007) Electrospinning of polyacrylonitrile solutions at elevated temperatures. Macromolecules 40(22):7973–7983. doi:10.1021/ma070508n

Mattoso LHC, Offeman RD, Wood DF, Orts WJ, Medeiros ES (2008) Effect of relative humidity on the morphology of electrospun polymer fibers. Can J Chem 86(6):590–599. doi:10.1139/v08-029

De Vrieze S, Van Camp T, Nelvig A, Hagstrom B, Westbroek P, De Clerck K (2009) The effect of temperature and humidity on electrospinning. J Mater Sci 44(5):1357–1362. doi:10.1007/s10853-008-3010-6

Hardick O, Stevens B, Bracewell DG (2011) Nanofibre fabrication in a temperature and humidity controlled environment for improved fibre consistency. J Mater Sci 46(11):3890–3898. doi:10.1007/s10853-011-5310-5

Rodoplu D, Mutlu M (2012) Effects of electrospinning setup and process parameters on nanofiber morphology intended for the modification of quartz crystal microbalance surfaces. J Eng Fibers Fabr 7(2):118–123

Pelipenko J, Kristl J, Jankovic B, Baumgartner S, Kocbek P (2013) The impact of relative humidity during electrospinning on the morphology and mechanical properties of nanofibers. Int J Pharm 456(1):125–134. doi:10.1016/j.ijpharm.2013.07.078

Kim CH, Jung YH, Kim HY, Lee DR, Dharmaraj N, Choi KE (2006) Effect of collector temperature on the porous structure of electrospun fibers. Macromol Res 14(1):59–65

Agarwal S, Greiner A (2011) On the way to clean and safe electrospinning-green electrospinning: emulsion and suspension electrospinning. Polym Adv Technol 22(3):372–378. doi:10.1002/pat.1883

Camerlo A, Vebert-Nardin C, Rossi RM, Popa AM (2013) Fragrance encapsulation in polymeric matrices by emulsion electrospinning. Eur Polym J 49(12):3806–3813. doi:10.1016/j.eurpolymj.2013.08.028

Crespy D, Friedemann K, Popa AM (2012) Colloid-electrospinning: fabrication of multicompartment nanofibers by the electrospinning of organic or/and inorganic dispersions and emulsions. Macromol Rapid Commun. doi:10.1002/marc.201200549

Fong H, Chun I, Reneker DH (1999) Beaded nanofibers formed during electrospinning. Polymer 40(16):4585–4592. doi:10.1016/s0032-3861(99)00068-3

Zhang Z, Lim L-T, Tung MA (2001) Limonene transport and mechanical properties of EVOH and nylon 6,6 films as influenced by RH. J Appl Polym Sci 79(11):1949–1957. doi:10.1002/1097-4628(20010314)79:11<1949:aid-app1002>3.0.co;2-f

Jyothi NVN, Prasanna PM, Sakarkar SN, Prabha KS, Ramaiah PS, Srawan GY (2010) Microencapsulation techniques, factors influencing encapsulation efficiency. J Microencapsul 27(3):187–197
Acknowledgements
The authors would like to thank Karl Kehl and Elisabeth Michel for their help during GC measurements and Dr Patrick Rupper for his advices concerning SEM analysis.
Conflict of interest
The authors declare no competing financial interest. This work was not financially supported.
About this article
Cite this article
Camerlo, A., Bühlmann-Popa, AM., Vebert-Nardin, C. et al. Environmentally controlled emulsion electrospinning for the encapsulation of temperature-sensitive compounds. J Mater Sci 49, 8154–8162 (2014). https://doi.org/10.1007/s10853-014-8524-5
Received:

Accepted:

Published:

Issue Date:

DOI: https://doi.org/10.1007/s10853-014-8524-5
Keywords
Fiber Diameter

Limonene

Hexadecane

Encapsulation Efficiency

High Relative Humidity