Abstract
45S5 bioactive glass powders with the composition of 45 SiO2, 6 P2O5, 24.5 CaO and 24.5 wt% Na2O were melted and quenched in water to obtain a frit. The frit was milled using two different routes: dry milling followed by sieving to obtain glass particles and wet milling followed by spray drying to obtain a powder comprising porous agglomerates. All feedstocks showed adequate characteristics that make them suitable to be deposited by atmospheric plasma spraying. The powders and coatings were characterised by field-emission gun environmental scanning electron microscope and X-ray diffraction. The roughness and the contact angle of the coatings were also determined. The bioactivity of the powders and coatings was assessed by immersion in simulated body fluid. It was found that bioactive glass prepared from bioglass frit by dry milling exhibited similar bioactivity as that of a commercial bioactive glass. All coatings produced showed good adhesion to the substrate as well as suitable surface properties to ensure efficient contact with body fluid. Regardless of the characteristics of the feedstocks or plasma spray conditions used, all coatings were exclusively made up of an amorphous phase. On the other hand, micrographs revealed that the characteristics of the feedstock strongly impact on the final coating microstructure. The most homogeneous microstructure was obtained when the feedstock was prepared by fine dry grinding of the frit. For this coating, the formation of a bioactive layer was also proved by Fourier transform infrared spectroscopy and X-ray diffraction.
Access options
Buy single article
Instant access to the full article PDF.
USD 39.95
Price includes VAT (USA)
Tax calculation will be finalised during checkout.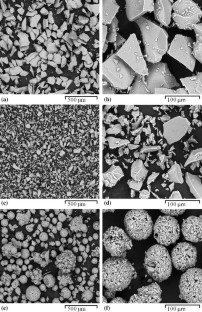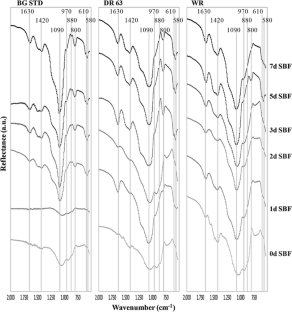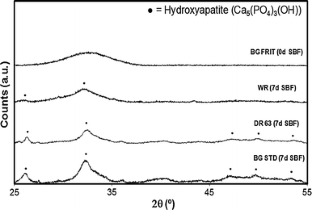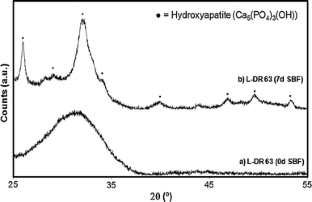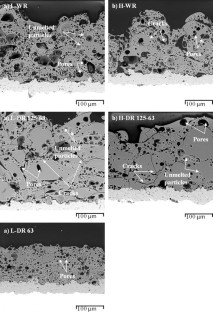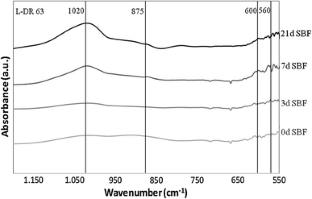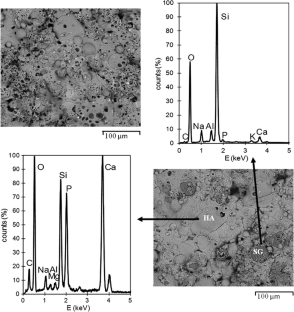 References
1.

Jones JR (2013) Review of bioactive glass: from hench to hybrids. Acta Biomater 9:4457–4486

2.

Hench LL (2006) The story of bioglass. J Mater Sci Mater Med 17:967–978

3.

Gerhardt LC, Boccaccini AR (2010) Bioactive glass and glass-ceramic scaffolds for bone tissue engineering. Materials 3:3867–3910

4.

Cao W, Hench LL (1996) Bioactive materials. Ceram Int 22:493–507

5.

Lucas-Girot A, Mezahi FZ, Mami M, Oudadesse H, Harabi A, Floch ML (2011) Sol–gel synthesis of a new composition of bioactive glass in the quaternary system SiO2-CaO-Na2O-P2O5 comparison with melting method. J Non-Cryst Solids 357:3322–3327

6.

Sepulveda P, Jones JR, Hench LL (2002) In vitro dissolution of melt-derived 45S5 and sol-gel derived 58S bioactive glasses. J Biomed Mater Res 61:301–311

7.

Zhou Y, Li H, Lin K, Zhai W, Gu W, Chang J (2012) Effect of heat treatment on the properties of SiO2-CaO-MgO-P2O5 bioactive glasses. J Mater Sci Mater Med 23:2101–2108

8.

Saboori A, Rabiee M, Moztarzadeh F, Sheikhi M, Tahriri M, Karimi M (2009) Synthesis, characterization and in vitro bioactivity of sol-gel-derived SiO2-CaO-P2O5-MgO bioglass. Mater Sci Eng C 29:335–340

9.

Ma J, Chen CZ, Wang DG, Meng XG, Shi JZ (2010) Influence of the sintering temperature on the structural feature and bioactivity of sol–gel derived SiO2-CaO-P2O5 bioglass. Ceram Int 36:1911–1916

10.

Brink M, Turunen T, Happonen R, Yli-Urpo A (1997) Compositional dependence of bioactivity of glasses in the system Na2O-K2O-MgO-CaO-B2O3-P2O5-SiO2. J Biomed Mater Res 37:114–121

11.

Delben JRJ, Pereira K, Oliveira SL, Alencar LDS, Hernandes AC, Delben AAST (2013) Bioactive glass prepared by sol–gel emulsion. J Non-Cryst Solids 361:119–123

12.

Ding SJ, Su YM, Ju CP, Chern Lin JH (2001) Structure and immersion behavior of plasma-sprayed apatite-matrix coatings. Biomaterials 22:833–845

13.

Lee TM, Chang E, Wang BC, Yang CY (1996) Characteristics of plasma sprayed bioactive glass coatings on Ti-6Al-4 V alloy: an in vitro study. Surf Coat Technol 79:170–177

14.

Vicent M, Sánchez E, Moreno A, Moreno R (2012) Preparation of high solids content nano-titania suspensions to obtain spray-dried nanostructured powders for atmospheric plasma spraying. J Eur Ceram Soc 32:185–194

15.

Vicent M, Sánchez E, Mallol G, Moreno R (2013) Study of colloidal behaviour and rheology of Al2O3-TiO2 nanosuspensions to obtain free-flowing spray-dried granules for atmospheric plasma spraying. Ceram Int 39:8103–8111

16.

Amorós JL, Blasco A, Enrique JE, Negre F (1987) Características de polvos cerámicos para prensado (Characteristics of ceramic powders for pressing). Bol Soc Esp Ceram Vidr 26:31–37

17.

Kokubo T, Takadama H (2006) How useful is SBF in predicting in vivo bone bioactivity? Biomaterials 27:2907–2915

18.

Mackovic M, Hoppe A, Detsch R, Mohn D, Stark WJ, Spiecker E, Boccaccini AR (2012) Bioactive glass (type 45S5) nanoparticles: in vitro reactivity on nanoscale and biocompatibility. J Nanopart Res 14:966

19.

Sepúlveda P, Jones J, Hench LL (2001) Characterization of melt-derived 45S5 and sol–gel derived 58S bioactive glasses. J Biomed Mater Res 58:734–740

20.

Fauchais P, Montavon G, Bertrand G (2010) From powders to thermally sprayed coatings. J Therm Spray Technol 19:56–80

21.

El-Kheshen AA, Khaliafa FA, Saad EA, Elwan RL (2008) Effect of Al2O3 addition on bioactivity, thermal and mechanical properties of some bioactive glasses. Ceram Int 34:1667–1673

22.

Nelson GM, Nychka JA, McDonald AG (2011) Flame spray deposition of titanium alloy-bioactive glass composite coatings. J Therm Spray Technol. doi:10.1007/s11666-011-9674-5

23.

Chen Q, Cordero-Arias L, Roether JA, Cabanas-Polo S, Virtanen S, Boccaccini AR (2013) Alginate/Bioglass® composite coatings on stainless steel deposited by direct current and alternating current electrophoretic deposition. Surf Coat Technol 233:49–56

24.

Peitl Filho O, LaTorre GP, Hench LL (1996) Effect of crystallization on apatite-layer formation of bioactive glass 45S5. J Biomed Mater Res B 30:509–514

25.

Pawlowski L (2008) The science and engineering of thermal spray coatings, 2nd edn. Wiley, Chichester

26.

Poirier T, Planche MP, Landemarre O, Coddet C (2008) Particles spreading phenomena in the case of glass thermal spraying. J Therm Spray Technol 17:564–573

27.

Fauchais P, Montavon G, Lima RS, Marple BR (2011) Engineering a new class of thermal spray nano-based microstructures from agglomerated nanostructured particles, suspensions and solutions: an invited review. J Phys D Appl Phys 44:093001

28.

Costa-Rodrigues J, Fernandes A, Lopes MA, Fernandes MH (2012) Hydroxyapatite surface roughness: complex modulation of the osteoclastogenesis of human precursor cells. Acta Biomat 8:1137–1145

29.

Cattini A, Latka L, Belluci D, Bolelli G, Sola A, Lusvarghi L, Pawlowski L, Canillo V (2013) Suspension plasma sprayed bioactive glass coatings: effects of processing on microstructure, mechanical properties and in vitro behaviour. Surf Coat Technol 220:52–59

30.

Monsalve M, Ageorges H, López E, Vargas F, Bolívar F (2013) Bioactivity and mechanical properties of plasma-sprayed coatings of bioglass powders. Surf Coat Technol 220:60–66
Acknowledgements
Authors wish to acknowledge KMM-VIN European Virtual Institute on Knowledge-Based Multifunctional Materials AISBL by the funding support in a mobility grant and the University Jaume I of Castellón for the support in the project P1 1B2013-69.
About this article
Cite this article
López Calvo, V., Vicent Cabedo, M., Bannier, E. et al. 45S5 bioactive glass coatings by atmospheric plasma spraying obtained from feedstocks prepared by different routes. J Mater Sci 49, 7933–7942 (2014). https://doi.org/10.1007/s10853-014-8519-2
Received:

Accepted:

Published:

Issue Date:
Keywords
Contact Angle

Simulated Body Fluid

Bioactive Glass

Atmospheric Plasma Spray

Hausner Ratio