Abstract
Composite films of nanofibrillated cellulose (NFC), derived from beech wood pulp, and 8 commercial acrylic and alkyd polymeric binders were prepared. Structural and mechanical properties of the composites were assessed by microscopy and tensile tests before and after aging. While the NFC was compatible with acrylate polymers, it formed undesired aggregates during processing with the alkyd polymers. Modulus of elasticity, tensile strength, and elongation at break of prepared films depended on the initial properties of the neat polymers. All composite films were stiffer, stronger, and less extensible than the corresponding neat polymer films. The reinforcing effect increased with increasing NFC content. Aging by artificial weathering strongly affected the mechanical properties of neat polymer and composite films. Alkyd films became, compared to the acrylate films, much stiffer and more brittle after artificial weathering. The results of the mechanical tests are regarded as promising step to use NFC as novel component in wood coatings.
Access options
Buy single article
Instant access to the full article PDF.
US$ 39.95
Tax calculation will be finalised during checkout.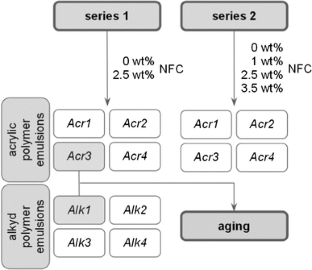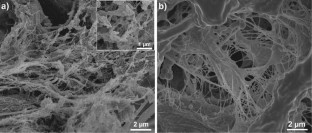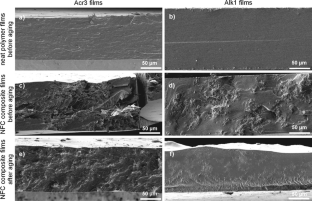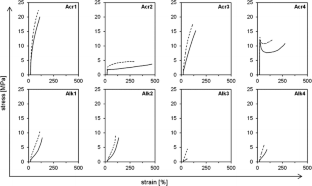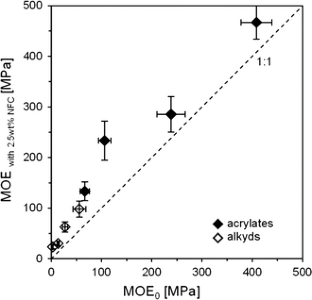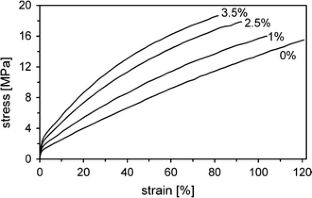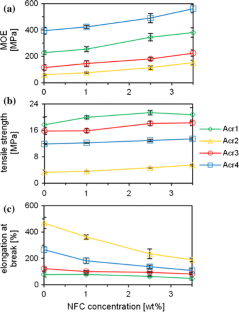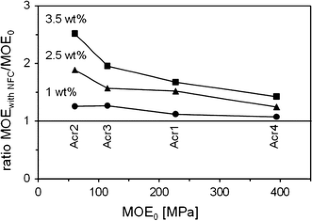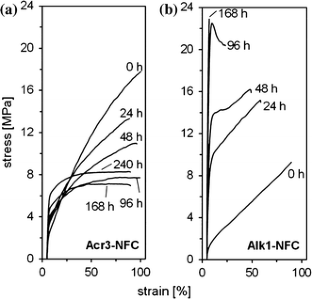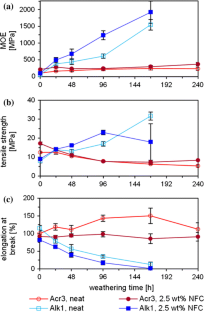 References
1.

Wicks ZW, Jones FN, Pappas SP, Wicks DA (2006) Exterior durability. Organic coatings. Wiley, Hoboken, pp 97–120

2.

Bulian F, Graystone JA (2009) Wood coatings—theory and practice, 1st edn. Elsevier Science, Amsterdam

3.

Sow C, Riedl B, Blanchet P (2011) UV-waterborne polyurethane–acrylate nanocomposite coatings containing alumina and silica nanoparticles for wood: mechanical, optical, and thermal properties assessment. J Coat Technol Res 8(2):211–221

4.

Blanchard V, Blanchet P (2011) Color stability for wood products during use: effects of inorganic nanoparticles. Bioresources 6(2):1219–1229

5.

Schaller C, Rogez D, Braig A (2012) Organic vs inorganic light stabilizers for waterborne clear coats: a fair comparison. J Coat Technol Res 9(4):433–441

6.

Ren G, Hu D, Cheng EWC, Vargas-Reus MA, Reip P, Allaker RP (2009) Characterisation of copper oxide nanoparticles for antimicrobial applications. Int J Antimicrob Agent 33(6):587–590

7.

Zimmermann T, Bordeanu N, Strub E (2010) Properties of nanofibrillated cellulose from different raw materials and its reinforcement potential. Carbohydr Polym 79(4):1086–1093

8.

Helbert W, Cavaille JY, Dufresne A (1996) Thermoplastic nanocomposites filled with wheat straw cellulose whiskers. Part 1: processing and mechanical behavior. Polym Compos 17(4):604–611

9.

Agoda-Tandjawa G, Durand S, Berot S, Blassel C, Gaillard C, Garnier C, Doublier JL (2010) Rheological characterization of microfibrillated cellulose suspensions after freezing. Carbohydr Polym 80(3):677–686

10.

Favier V, Chanzy H, Cavaillé JY (1995) Polymer nanocomposites reinforced by cellulose whiskers. Macromolecules 28(18):6365–6367

11.

Turbak AF, Snyder FW, Sandberg KR (1983) Microfibrillated cellulose, a new cellulose product: properties, uses, and commercial potential. J Appl Polym Sci Polym Symp 37:815–827

12.

Zimmermann T, Pöhler E, Geiger T (2004) Cellulose fibrils for polymer reinforcement. Adv Eng Mater 6(9):754–761

13.

Iwamoto S, Nakagaito AN, Yano H, Nogi M (2005) Optically transparent composites reinforced with plant fiber-based nanofibers. Appl Phys A Mater 81(6):1109–1112

14.

Klemm D, Kramer F, Moritz S, Lindström T, Ankerfors M, Gray D, Dorris A (2011) Nanocelluloses: a new family of nature-based materials. Angew Chem Int Ed 50(24):5438–5466

15.

Favier V, Canova GR, Cavaille JY, Chanzy H, Dufresne A, Gauthier C (1995) Nanocomposite materials from latex and cellulose whiskers. Polym Adv Technol 6(5):351–355

16.

Tingaut P, Zimmermann T, Lopez-Suevos F (2010) Synthesis and characterization of bionanocomposites with tunable properties from poly(lactic acid) and acetylated microfibrillated cellulose. Biomacromolecules 11(2):454–464

17.

Lopez-Suevos F, Eyholzer C, Bordeanu N, Richter K (2010) DMA analysis and wood bonding of PVAc latex reinforced with cellulose nanofibrils. Cellulose 17(2):387–398

18.

Ruiz MM, Cavaillé JY, Dufresne A, Graillat C, Gérard J-F (2001) New waterborne epoxy coatings based on cellulose nanofillers. Macromol Symp 169(1):211–222

19.

Siqueira G, Tapin-Lingua S, Bras J, da Silva Perez D, Dufresne A (2011) Mechanical properties of natural rubber nanocomposites reinforced with cellulosic nanoparticles obtained from combined mechanical shearing, and enzymatic and acid hydrolysis of sisal fibers. Cellulose 18(1):57–65

20.

Seydibeyoglu MO, Oksman K (2008) Novel nanocomposites based on polyurethane and micro fibrillated cellulose. Compos Sci Technol 68(3–4):908–914

21.

Malainine ME, Mahrouz M, Dufresne A (2005) Thermoplastic nanocomposites based on cellulose microfibrils from Opuntia ficus-indica parenchyma cell. Compos Sci Technol 65(10):1520–1526

22.

Yano H, Sugiyama J, Nakagaito AN, Nogi M, Matsuura T, Hikita M, Handa K (2005) Optically transparent composites reinforced with networks of bacterial nanofibers. Adv Mater 17(2):153–155

23.

Eyholzer C, Borges de Couraça A, Duc F, Bourban PE, Tingaut P, Zimmermann T, Månson JAE, Oksman K (2011) Biocomposite hydrogels with carboxymethylated, nanofibrillated cellulose powder for replacement of the nucleus pulposus. Biomacromolecules 12(5):1419–1427

24.

Aulin C, Ström G (2013) Multilayered alkyd resin/nanocellulose coatings for use in renewable packaging solutions with a high level of moisture resistance. Ind Eng Chem Res 52(7):2582–2589

25.

Martins N, Freire C, Pinto R, Fernandes S, Pascoal Neto C, Silvestre A, Causio J, Baldi G, Sadocco P, Trindade T (2012) Electrostatic assembly of Ag nanoparticles onto nanofibrillated cellulose for antibacterial paper products. Cellulose 19(4):1425–1436

26.

Landry V, Blanchet P (2009) Coatings containing nanocrystalline cellulose, processes for preparation and use thereof. WO2011075837 A1

27.

Jämsä S, Kataja K, Takala S, Putkisto K, Vastamäki P, Dyhr H (2010) Method for manufacturing paint or varnish. WO2011124759 A1

28.

Grüneberger F, Künniger T, Zimmermann T, Arnold M (2014) Rheology of nanofibrillated cellulose/acrylate systems for coating applications. Cellulose. doi:10.1007/s10570-014-0248-9

29.

Siro I, Plackett D (2010) Microfibrillated cellulose and new nanocomposite materials: a review. Cellulose 17(3):459–494

30.

Lohmann U (2003) Holz Lexikon. Holz Lexikon, 4th edn. DRW-Verlag Weinbrenner GmbH & Co, Leinfelden-Echterdingen

31.

Favier V, Dendievel R, Canova G, Cavaille JY, Gilormini P (1997) Simulation and modeling of three-dimensional percolating structures: case of a latex matrix reinforced by a network of cellulose fibers. Acta Mater 45(4):1557–1565

32.

Koleske JV (ed) (2012) Paint and coating testing manual, 15th edn. ASTM International, West Conshohocken. doi:10.1520/MNL17-2ND-EB

33.

Samir MASA, Alloin F, Dufresne A (2005) Review of recent research into cellulosic whiskers, their properties and their application in nanocomposite field. Biomacromolecules 6(2):612–626

34.

Trovatti E, Oliveira L, Freire CSR, Silvestre AJD, Pascoal Neto C, Cruz Pinto JJC, Gandini A (2010) Novel bacterial cellulose–acrylic resin nanocomposites. Compos Sci Technol 70(7):1148–1153

35.

Dufresne A (2012) Nanocellulose, from nature to high performance tailored materials. Walter de Gruyter, Berlin

36.

Wypych G (2008) Handbook of material weathering, 4th edn. ChemTec Publishing, Toronto

37.

Nichols M (2002) Anticipating paint cracking: the application of fracture mechanics to the study of paint weathering. J Coat Technol 74(924):39–46

38.

Skaja A, Croll S, Fernando D (2006) Mechanical property changes and degradation during accelerated weathering of polyester–urethane coatings. JCT Res 3(1):41–51

39.

Hofland A (1997) Making paint from alkyd emulsions. In: Glass JE (ed) Technology for waterborne coatings, ACS symposium series, vol 663. American Chemical Society, Washington, pp 183–195

40.

Cangialosi D, Boucher VM, Alegria A, Colmenero J (2013) Physical aging in polymers and polymer nanocomposites: recent results and open questions. Soft Matter 9(36):8619–8630

41.

Mader A, Schirò A, Brischetto M, Pizzo B (2011) Interactions and penetration of polymers and nanolatexes into wood: an overview. Prog Org Coat 71(2):123–135
Acknowledgements
This work was financially supported by the Swiss National Science Foundation (SNF) within the National Research Programme 66 (NRP66) "Resource Wood" Project-Nr 406640-136558). We kindly thank Anja Huch for performing SEM characterization. We are grateful for valuable comments and discussions on the manuscript with Ingo Burgert. We also thank the companies mentioned in the experimental part for providing the coating and cellulose raw materials.
About this article
Cite this article
Grüneberger, F., Künniger, T., Zimmermann, T. et al. Nanofibrillated cellulose in wood coatings: mechanical properties of free composite films. J Mater Sci 49, 6437–6448 (2014). https://doi.org/10.1007/s10853-014-8373-2
Received:

Accepted:

Published:

Issue Date:
Keywords
Composite Film

Bacterial Cellulose

Polymer Emulsion

Neat Polymer

Wood Coating