Abstract
Indium-doped cadmium oxide (CdO:In) films were prepared on glass and sapphire substrates by pulsed filtered cathodic arc deposition (PFCAD). The effects of substrate temperature, oxygen pressure, and an MgO template layer on film properties were systematically studied. The MgO template layers significantly influence the microstructure and the electrical properties of CdO:In films, but show different effects on glass and sapphire substrates. Under optimized conditions on glass substrates, CdO:In films with thickness of about 125 nm showed low resistivity of 5.9 × 10−5 Ωcm, mobility of 112 cm2/Vs, and transmittance over 80 % (including the glass substrate) from 500 to 1500 nm. The optical bandgap of the films was found to be in the range of 2.7 to 3.2 eV using both the Tauc relation and the derivative of transmittance. The observed widening of the optical bandgap with increasing carrier concentration can be described well only by considering bandgap renormalization effects along with the Burstein–Moss shift for a nonparabolic conduction band.
Access options
Buy single article
Instant access to the full article PDF.
USD 39.95
Price excludes VAT (USA)
Tax calculation will be finalised during checkout.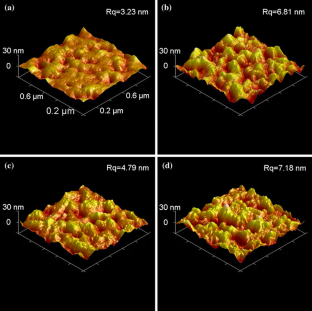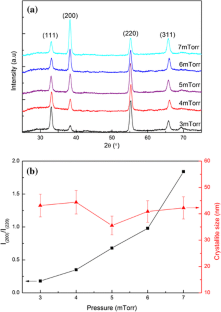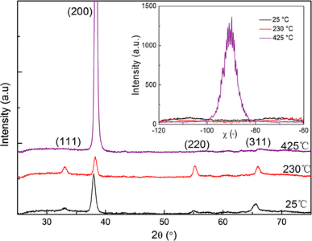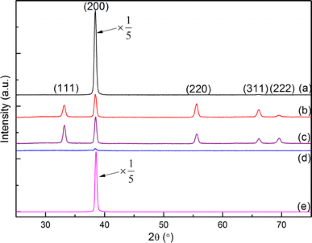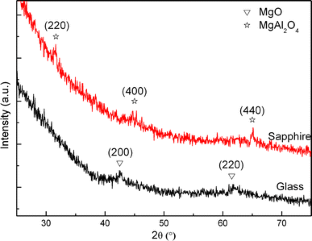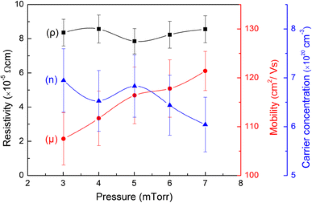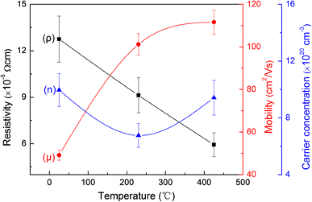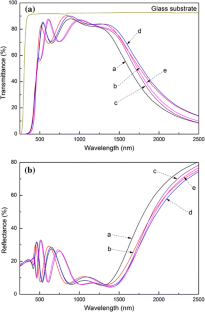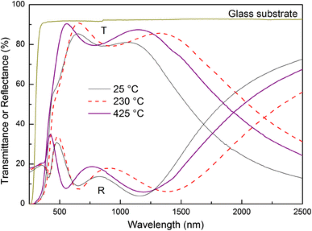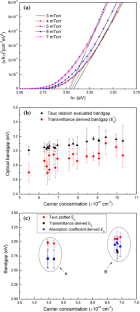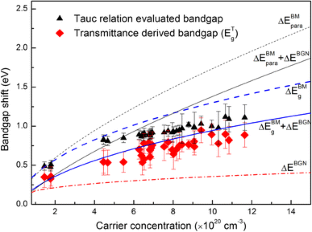 References
Lim JT, Jeong CH, Vozny A, Lee JH, Kim MS, Yeom GY (2007) Surf Coat Tech 201:5358

Santos-Cruz J, Torres-Delgado G, Castanedo-Pérez R, Jiménez-Sandoval S, Márquez-Marín J, Zelaya-Angel O (2006) Sol Energy Mater Sol Cells 90:2272

Anna Selvan JA, Delahoy AE, Guo S, Li Y-M (2006) Sol Energy Mater Sol Cells 90:3371

Wang A (2001) Proc Natl Acad Sci 98:7113

Ueda N, Maeda H, Hosono H, Kawazoe H (1998) J Appl Phys 84:6174

Jin S, Yang Y, Medvedeva JE, Wang L, Li S, Cortes N, Ireland JR, Metz AW, Ni J, Hersam MC, Freeman AJ, Marks TJ (2008) Chem Mater 20:220

Yan M, Lane M, Kannewurf CR, Chang RPH (2001) Appl Phys Lett 78:2342

Gupta RK, Ghosh K, Patel R, Kahol PK (2009) Appl Surf Sci 255:6252

Freeman AJ, Poeppelmeier KR, Mason TO, Chang RPH, Marks TJ (2000) MRS Bull 25:45

Zhu Y, Mendelsberg RJ, Zhu J, Han J, Anders A (2012) Transparent and conductive indium doped cadmium oxide thin films prepared by pulsed filtered cathodic arc deposition. Appl Surf Sci (In Press)

Dakhel AA (2011) J Mater Sci 46:6925. doi:10.1007/s10853-011-5658-6

Ismail RA, Rasheed BG, Salm ET, Al-Hadethy M (2007) J Mater Sci 18:1027. doi:10.1007/s10854-007-9129-4

Dakhel AA (2009) Opt Mater 31:691

Jain SC, McGregor JM, Roulston DJ (1990) J Appl Phys 68:3747

Hamberg I, Granqvist CG, Berggren KF, Sernelius BE, Engström L (1984) Phys Rev B 30:3240

Burstein E (1954) Phys Rev 93:632

Berggren K, Sernelius B (1981) Phys Rev B 24:1971

Lu JG, Fujita S, Kawaharamura T, Nishinaka H, Kamada Y, Ohshima T, Ye ZZ, Zeng YJ, Zhang YZ, Zhu LP, He HP, Zhao BH (2007) J Appl Phys 101:083705

Kim CE, Moon P, Kim S, Myoung JM, Jang HW, Bang J, Yun I (2010) Thin Solid Films 518:6304

Jefferson PH, Hatfield SA, Veal TD, King PDC, McConville CF, Zúñiga–Pérez J, Muñoz–Sanjosé V (2008) Appl Phys Lett 92:022101

Speaks DT, Mayer MA, Yu KM, Mao SS, Haller EE, Walukiewicz W (2010) J Appl Phys 107:113706

Pisarkiewicz T, Zakrewska K, Leja E (1989) Thin Solid Films 174:217

Zhao Z, Morel DL, Ferekides CS (2002) Thin Solid Films 413:203

Zheng BJ, Lian JS, Zhao L, Jiang Q (2010) Appl Surf Sci 256:2910

Deokate RJ, Salunkhe SV, Agawane GL, Pawar BS, Pawar SM, Rajpure KY, Moholkar AV, Kim JH (2010) J Alloys Compd 496:357

Dou Y, Egdell RG, Walker T, Law DSL, Beamson G (1998) Surf Sci 398:241

Saha B, Thapa R, Chattopadhyay K (2008) Solid State Commun 145:33

Segura A, Sánchez-Royo JF, García-Domene B, Almonacid G (2011) Appl Phys Lett 99:151907

Anders A, Lim SHN, Yu KM, Andersson J, Rosén J, McFarland M, Brown J (2010) Thin Solid Films 518:3313

Goldsmith S (2006) Surf Coat Tech 201:3993

Wang L, Yang Y, Jin S, Marks TJ (2006) Appl Phys Lett 88:162115

Anders A, MacGill RA, McVeigh TA (1999) Rev Sci Instrum 70:4532

Mendelsberg RJ, Lim SHN, Zhu YK, Wallig J, Milliron DJ, Anders A (2011) J Phys D Appl Phys 44:232003

Choi CG, No K, Lee WJ, Kim HG, Jung SO, Lee WJ, Kim WS, Kim SJ, Yoon C (1995) Thin Solid Films 258:274

Li X, Yan Y, Mason A, Gessert TA, Coutts TJ (2001) Electrochem Solid-State Lett 4:C66

Li X, Young DL, Moutinho H, Yan Y, Narayanswamy C, Gessert TA, Coutts TJ (2001) Electrochem Solid-State Lett 4:C43

Mendelsberg RJ, Zhu Y, Anders A (2012) J Phys D Appl Phys 45:425302

Ferreira da Silva A, Veissid N, An CY, Pepe I, Barros de Oliveira N, Batista da Silva AV (1996) Appl Phys Lett 69:1930

Veissid N, An CY, Ferreira da Silva A, Pinto de Souza JI (1999) Mat Res 2:279

Sernelius BE, Berggren KF, Jin ZC, Hamberg I, Granqvist CG (1988) Phys Rev B 37:10244

Coutts TJ, Young DL, Li X (2000) J Vac Sci Technol A 18:2646

Jain SC, Roulston DJ (1991) Solid-State Eletron 34:453

Finkenrath H, Von Ortenberg M (1967) Z Angew Phys 23:323
Acknowledgements
The authors would like to thank K.M. Yu and S.H.N. Lim for their contributions to this work. Research was supported by the LDRD Program of Lawrence Berkeley National Laboratory, by the Assistant Secretary for Energy Efficiency and Renewable Energy, Office of Building Technology, of the U.S. Department of Energy under U.S. Department of Energy Contract No. DE-AC02-05CH11231. Additional support was provided by the National Natural Science Foundation of China (Grant No.51072039 and 51222205), and the Ph.D. Programs Foundation of the Ministry of Education of China (20112302110036).
About this article
Cite this article
Zhu, Y., Mendelsberg, R.J., Zhu, J. et al. Structural, optical, and electrical properties of indium-doped cadmium oxide films prepared by pulsed filtered cathodic arc deposition. J Mater Sci 48, 3789–3797 (2013). https://doi.org/10.1007/s10853-013-7179-y
Received:

Accepted:

Published:

Issue Date:

DOI: https://doi.org/10.1007/s10853-013-7179-y
Keywords
Carrier Concentration

Optical Bandgap

Sapphire Substrate

Aluminum Dope Zinc Oxide

PbI2