Abstract
Three types (λ, γ, and β) of MnO2 have been successfully prepared from spent LiMn2O4 electrode materials and utilized as electrode materials for electrochemical capacitors. Experiments show that the obtained λ-MnO2 sample has particle sizes ranging from 0.2 to 3 μm and the as-prepared β-MnO2 and γ-MnO2 samples both exist in nanorods with diameters of about 100 nm. The length of β-MnO2 nanorods varies from 0.2 to 3 μm, while γ-MnO2 nanorods have lengths of 0.2–2 μm. The main results of electrochemical tests indicate that these MnO2 electrodes exhibit good supercapacitive performances which are dependent on their morphology and microstructure. As electrode material, λ-MnO2 sample presents a specific capacitance of 200.55 F g−1, which is higher than those of other two types of MnO2. However, β-MnO2 electrode shows superior long-term cyclic stability and rate performance to other two MnO2 samples. These results indicate that manganese dioxides recycled from spent LiMn2O4 batteries show great potential in application as the active materials for electrochemical capacitors. This study could provide a novel and useful approach to the recovery and reuse of spent LiMn2O4 batteries.
This is a preview of subscription content,
to check access.
Access this article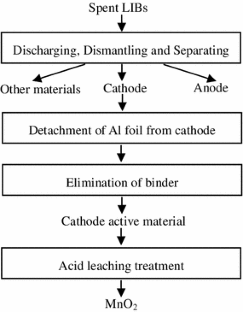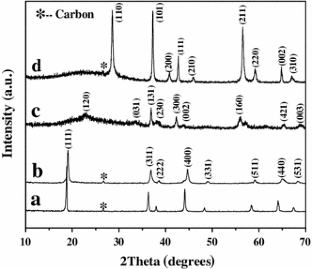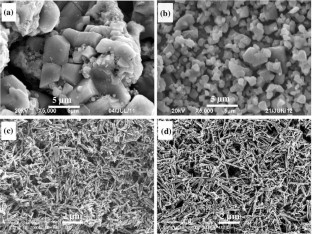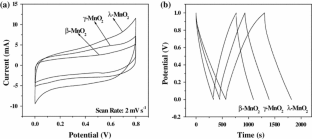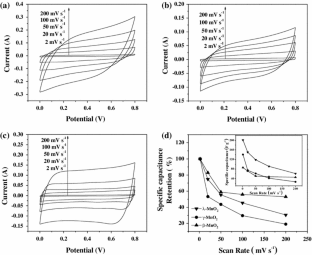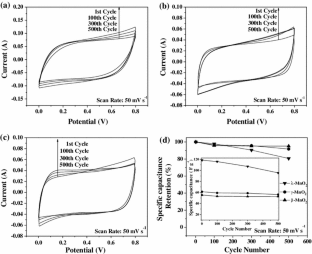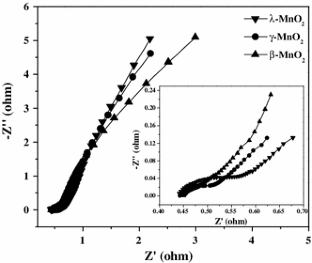 References
Tarascon JM, Armand M (2001) Nature 414:359

Winter M, Brodd RJ (2004) Chem Rev 104:4245

Yang ZG, Zhang JL, Kintner-Meyer MCW (2011) Chem Rev 111:3577

Armand M, Tarascon JM (2008) Nature 451:652

Wen JW, Liu HJ, Wu H, Chen CH (2007) J Mater Sci 42:7696. doi:10.1007/s10853-007-1673-z

Xu J, Thomas HR, Francis RW, Lum KR, Wang J, Liang B (2008) J Power Sources 177:512

Chen L, Tang XC (2011) Hydrometallurgy 108:80

Freitas MBJG, Garcia EM (2007) J Power Sources 171:953

Ra D, Han K (2006) J Power Sources 163:284

Nan J, Han D, Zuo X (2005) J Power Sources 152:278

Castillo S, Ansart F, Robert CL, Portal J (2002) J Power Sources 112:247

Lee C, Rhee K (2002) J Power Sources 109:17

Li L, Ge J, Chen RJ, Wu F, Chen S, Zhang XX (2010) Waste Manag 30:2615

Garcia EM, Taroco HA, Matencio T, Domingues RZ, Santos JAF, de Freitas MBJG (2011) J Appl Electrochem 41:1373

Xin BP, Zhang D, Zhang X, Xia YT, Wu F, Chen S, Li L (2009) Bioresour Technol 100:6163

Yang L, Yan QH, Xi GX, Niu LY, Lou TJ, Wang TX, Wang XS (2011) J Mater Sci 46:6106. doi:10.1007/s10853-011-5574-9

Li L, Chen RJ, Sun F, Wu F, Liu JR (2011) Hydrometallurgy 108:220

Kang JG, Sohn J, Chang H, Senanayake G, Shin SM (2010) Adv Powder Technol 21:175

An HL, Wu NN, Fan MS (2006) Acta Sci Nat Univ Pekinens 42:83

Peng ST, Lei JH, Chen YG, Zhao J (2004) J Wuhan Univ Technol 24:27

Brousse T, Toupin M, Dugas R, Athouël L, Crosnier O, Bélanger D (2006) J Electrochem Soc 153:A2171

Devaraj S, Munichandraiah N (2008) J Phys Chem C 112:4406

Hashem AM, Abuzeid HM, Narayanan N, Ehrenberg H, Julien CM (2011) Mater Chem Phys 13:33

Zhang WX, Yang ZH, Wang X, Zhang YC, Wen XG, Yang SH (2006) Catal Commun 7:408

Huo YQ, Zhang HY, Jiang JY, Yang Y (2012) J Mater Sci 47:7026. doi:10.1007/s10853-012-6654-1

Ragupathy P, Vasan HN, Munichandraiah N (2008) J Electrochem Soc 155:A34

Zolfaghari A, Ataherian F, Ghaemi M, Gholami A (2007) Electrochim Acta 52:2806

Ghodbane O, Pascal JL, Favier F (2009) ACS Appl Mater Interfaces 5:1130

Lang XY, Hirata A, Fujita T, Chen MW (2011) Nat Nanotechnol 6:232

He YB, Li GR, Wang ZL, Su CY, Tong YX (2011) Energy Environ Sci 4:1288

Reddy RN, Reddy RG (2003) J Power Sources 124:330

Pang SC, Anderson MA (2000) J Mater Res 15:2096

Hsieh YC, Lee KT, Lin YP, Wu NL, Donne SW (2008) J Power Sources 177:660

Wang KP, Teng HS (2007) J Electrochem Soc 154:A993

Bao LH, Zang JF, Li XD (2011) Nano Lett 11:1215

Zang JF, Bao SJ, Li CM, Bian HJ, Cui XQ, Bao QL, Sun CQ, Guo J, Lian KR (2008) J Phys Chem C 112:14843
Acknowledegments
The authors are grateful to the financial supports of the National Natural Science Foundation of China (NSFC Grants 20976033, 21176054 and 21271058), the Fundamental Research Funds for the Central Universities (2010HGZY0012), and the Education Department of Anhui Provincial Government (TD200702).
About this article
Cite this article
Yang, Z., Mei, Z., Xu, F. et al. Different types of MnO2 recovered from spent LiMn2O4 batteries and their application in electrochemical capacitors. J Mater Sci 48, 2512–2519 (2013). https://doi.org/10.1007/s10853-012-7040-8
Received:

Accepted:

Published:

Issue Date:

DOI: https://doi.org/10.1007/s10853-012-7040-8
Keywords