Abstract
In this article, we described click chemistry methodology for the incorporation of biocompatible polymer chains to Magnetite nanoparticles (NPs). We used a reduction co-precipitation method to obtain Fe3O4 particles in aqueous solution. As a next step, magnetic NPs surface were modified by a silanization reaction with (3-bromopropyl)trimethoxysilane in order to introduce bromine groups on the particles surface which were converted to azide groups by the reaction with sodium azide. Acetylene functionalized poly(ethylene glycol) (a-PEG) and poly(ε-caprolactone) (a-PCL) were synthesized and grafted onto the surface of azide functionalized NPs via "click" reaction to obtain magnetic NPs. Success of the different functionalization processes at different stages was studied using Fourier Transform infrared spectroscopy (FTIR). The morphologies of magnetic NPs were further investigated by transmission electron microscopy (TEM). The magnetization and superparamagnetic behavior of naked Fe3O4 NPs and coated NPs at room temperature was investigated by the measurement of hysteresis curves using a Vibrating Sample Magnetometer (VSM).
This is a preview of subscription content, log in to check access.
Access options
Buy single article
Instant access to the full article PDF.
US$ 39.95
Tax calculation will be finalised during checkout.
Subscribe to journal
Immediate online access to all issues from 2019. Subscription will auto renew annually.
US$ 199
Tax calculation will be finalised during checkout.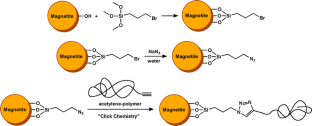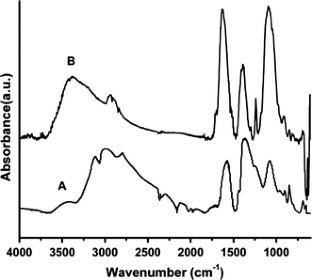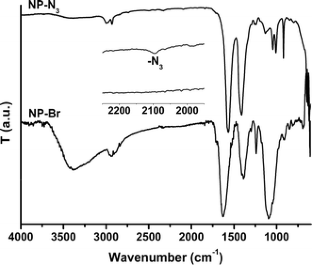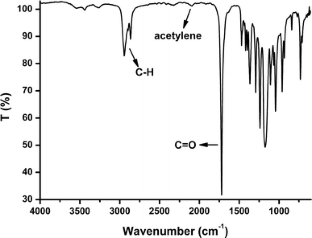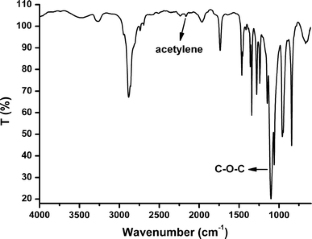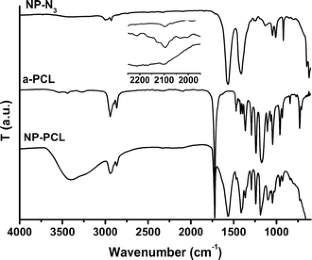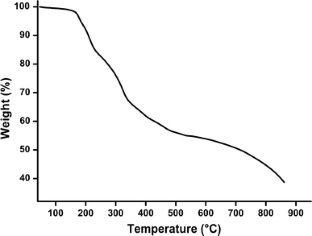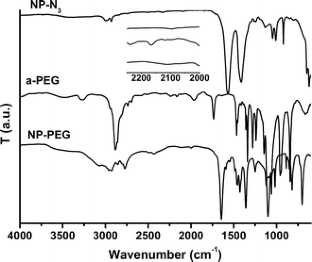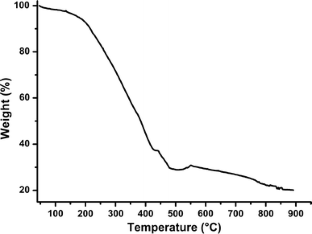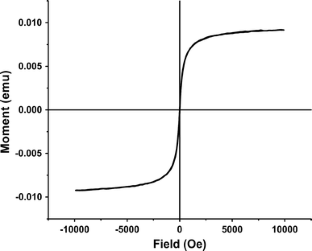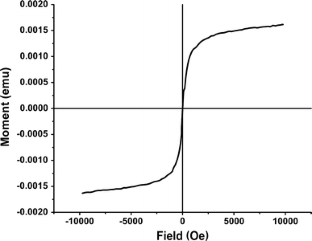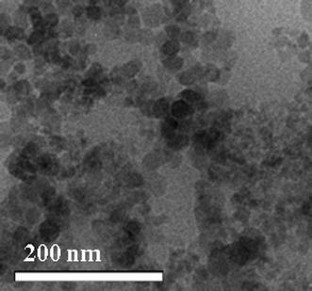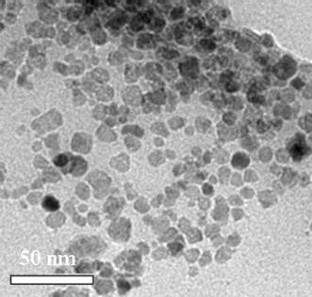 References
1.

Purushotan S, Chang PEJ, Rumpel H, Kee IHC, Ng NTH, Chow PKH, Tan CK, Ramanujan RV (2009) Nanotechnology 20:305101

2.

Gong P, Yu J, Sun H, Hong J, Zhao D, Xu D, Yao S (2006) J Apply Polym Sci 101:1283

3.

Dilnawaz F, Singh A, Mohanty C, Sahoo SK (2010) Biomaterials 31:3694

4.

Bicho A, Pec IN, Roque ACA, Cardoso MM (2010) Int J Pharm 399:80

5.

Guanhua G, Rongrong S, Wenqing Q, Youguo S, Guofu X, Guanzhou Q, Xiaohe L (2010) J Mater Sci 45:3483. doi:10.1007/s10853-010-4378-7

6.

Zhang LY, Zhu XY, Sun HW, Chi GR, Xu JX, Sun YL (2010) Curr Apl Phys I 10:828

7.

Bourlinos AB, Bakandritsos A, Georgakilas V, Tzitzios V, Petridis D (2006) J Mater Sci 41:5250. doi:10.1007/s10853-006-0041-8

8.

Lee J, Lee Y, Youn LK, Na HB, Yu T, Kim H, Lee SM, Koo YM, Kwak JH, Park HG, Chang HN, Hwang M, Park JG, Kim J, Hyeon T (2998) Small 1:143

9.

Arias JL, Reddy H, Couvreur P (2008) Langmuir 24:7512

10.

Sonvico F, Dubernet C, Colombo P, Couvreur P (2005) Curr Pharm Des 11:2091

11.

Alexiou C, Schmid RJ, Jurgons R, Kremer M, Wanner G, Bergemann C, Huenges E, Nawroth T, Arnold W, Parak FG (2006) Eur Biophys J 35:446

12.

Arruebo M, Fernandez-Pacheco R, Ibarra MR, Santamaria J (2007) Nanotoday 2:22

13.

Prijic S, Sersa G (2011) Radiol Oncol 45:1

14.

Sun HW, Zhang LY, Zhu XJ, Kong CY, Zhang CL, Yao SD (2009) Sci China Ser B 52:69

15.

Darwish MSA, Peuker U, Kunz U, Turek T (2011) J Mater Sci 46:2123. doi:10.1007/s10853-010-5048-5

16.

Sun C, Lee JSH, Zhang M (2008) Adv Drug Delivery Rev 60:1252

17.

Portet D, Denizot B, Rump E, Lejeune JJ, Jallet P (2001) J Colloid Interf Sci 238:37

18.

Yang L, Peng XH, Wang YA, Wang X, Cao Z, Ni C, Karna P, Zhang X, Wood WC, Gao X, Nie S, Mao H (2009) Clin Cancer Res 15:4722

19.

Neuberger T, Schopf B, Hofmann H, Hofmann M, von Rechenberg B (2005) J Magn Magn Mater 293:483

20.

Kappiyoor R, Liangruksa M, Ganguly R, Puril IK (2010) J Appl Phys 108:4702

21.

Frickel N, Messing R, Gelbrich T, Schmidt AM (2010) Langmuir 26:2839

22.

Liu TY, Liu K, Liu DM, Chen SY, Chen IW (2009) Adv Funct Mater 19:616

23.

Nan A, Turcu R, Craciunescu I, Pana O, Scharf H, Liebscher J (2009) J Polym Sci Part A 47:5397

24.

Johnson JA, Finn MG, Koberstein JT, Turro NJ (2008) Macromol Rapid Commun 29:1052–1072

25.

Durmaz YY, Sangermano M, Yagci Y (2010) J Polym Sci A 48:2862

26.

Von Maltzahn G, Ren Y, Park JH, Min DH, Kotamraju VR, Jayakumar J, Fogal V, Sailor MJ, Erkki Ruoslahti SN (2008) Bioconjugate Chem 19:1570

27.

Li LY, He WD, Li WT, Zhang KR, Pan TT, Ding ZL, Zhang BY (2010) J Polym Sci A 48:5018

28.

Achatz DE, Heiligtag FJ, Li X, Link M, Wolfbeis OS (2010) Sens Actuators B 150:211

29.

Amici J, Celasco E, Allia P, Tiberto P, Sangermano M (2011) Macromol Chem Phys 212:411

30.

Zhiya M, Huizhou L (2007) Chin Partic 5:1

31.

Stella B, Arpicco S, Peracchia MT, Desmaele D, Hoebeke J, Renoir M, D'Angelo J, Cattel L, Couvreur P (2000) J Pharm Sci 89:1452

32.

Zablotskaya A, Segal I, Maiorov M, Zablotsky D, Mishnev A, Lukevics E, Shestakova I, Domracheva I (2007) J Magn Magn Mater 311:135

33.

Mondini S, Cenedese S, Marinoni G, Molteni G, Santo N, Bianchi CL, Ponti A (2008) J Coll Interf Sci 322:173

34.

Hyeon T (2003) Chem Commun 8:927

35.

Lee Y, Lee J, Jin Bae C, Park J, Noh H, Park J, Hyeon T (2005) Adv Funct Mater 15:503
About this article
Cite this article
Amici, J., Kahveci, M.U., Allia, P. et al. Polymer grafting onto magnetite nanoparticles by "click" reaction. J Mater Sci 47, 412–419 (2012). https://doi.org/10.1007/s10853-011-5814-z
Received:

Accepted:

Published:

Issue Date:
Keywords
Magnetite

Magnetite Nanoparticles

Trimethoxysilane

Fe3O4 Particle

Azide Group