Abstract
In this article, the authors will present a simple way to produce thin solid organic films, with a content of more than 60 wt% photoactive molecules dispersed in a polymeric matrix showing an almost complete and fully reversible photoisomerization. These high filling factors could be achieved by using branched side chains in the molecules, which prevent crystallization. The chromophores were codissolved with the polymer Polymethylmethacrylate (PMMA) of different M w in toluene in various concentrations and spin casted onto the substrate. The effect of the Mw of PMMA on the switching kinetics and the agglomeration tendency of different molecule configurations were investigated.
Access options
Buy single article
Instant access to the full article PDF.
USD 39.95
Price excludes VAT (USA)
Tax calculation will be finalised during checkout.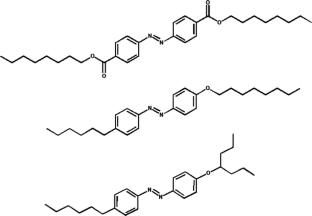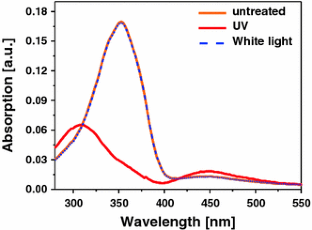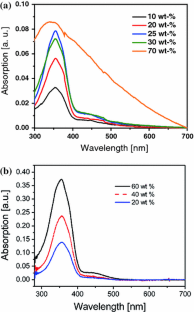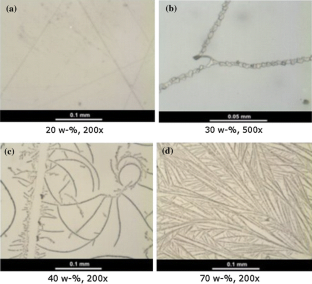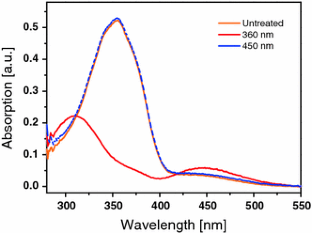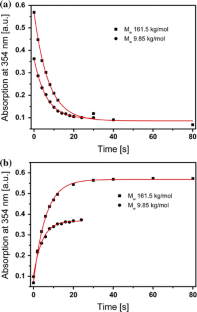 References
Weh K, Noack M, Ruhmann R, Hoffmann K, Toussaint P, Caro J (1998) Chem Eng Technol 21:5

Barrett CJ, Mamiya JI, Yager KG, Ikeda T (2007) Soft Matter 3:1249

Yin R, Xu W, Kondo M, Yen C, Mamiya J, Ikeda T, Yu Y (2009) J Mater Chem 19:3141. doi:10.1039/b904973h

Koerner H, White TJ, Tabiryan NV, Bunning TJ, Vaia RA (2008) Mater Today 11:34

Evans RA, Hanley TL, Skidmore MA, Davis TP, Such GK, Yee LH, Ball GE, Lewis DA (2005) Nat Mater 4(3):249

Kawata S, Kawata Y (2000) Chem Rev 100:1777

Willner I, Rubin S (1996) Angew Chem Int Ed 35:367

Yesodha SK, Sadashiva Pillai CK, Tsutsumi N (2004) Prog Polym Sci 29:45

Paik CS, Morawetz H (1972) Macromolecules 5:171

Bohm N, Materny A, Kiefer W, Steins H, Muller MM, Schottner G (1996) Macromolecules 29:2599

Yager K, Barrett CJ (2009) Smart light-responsive materials, 1st edn. Wiley, New Jersey

Viswanathan NK, Kim DY, Bian S, Williams J, Liu W, Li L, Samuelson L, Kumar J, Tripathy SK (1999) J Mater Chem 9:1941

Andruzzi L, Altomare A, Ciardelli F, Solaro R, Hvilsted S, Ramanujam PS (1999) Macromolecules 32(2):448

Zhang Y, Cheng Z, Chen X, Zhang W, Wu J, Zhu J, Zhu X (2007) Macromolecules 40:4809

Lagugne-Labarthet F, Buffeteau T, Sourisseau C (1998) J Phys Chem B 102:2654

Yager KG, Barrett CJ (2006) J Photochem Photobiol A 182:250

Janus K, Koshets IA, Sworakowski J, Nespurek S (2002) J Mater Chem 12:1657

Barrett C, Natansohn A, Rochon P (1995) Chem Mater 7:899

Meerholz K, Bitmer R, De Nardin Y, Bräuchle C, Hendrickx E, Volodin BL, Kippelen B, Peyghambarian N (1997) Adv Mater 9(13):1043

Cox AM, Blackburn RD, West PD, King TA, Wade FA, Leigh DA (1996) Appl Phys Lett 68(20):2801

Carlen CR, McGee DJ (1998) Opt Commun 152:342

Priimagi A, Cattaneo S, Ras RHA, Valkama S, Ikkala O, Kauranen M (2005) Chem Mater 17:5798

Rau H (1990) In: Rebek J (ed) Photochemistry and photophysics. CRC Press, Boca Raton, p 119

Tawa K, Kamada K, Sakaguchi T, Ohta K (2000) Polymer 41:3235

Takele H, Jebril S, Strunskus T, Zaporojchenko V, Adelung R, Faupel F (2008) Appl Phys A 92:345

Zaporojtchenko V, Strunskus T, Greve H, Schürmann U, Takele H, Hanisch C, Chakravadhanula VSK, Ni N, Gerber A, Quandt E, Podschun R, Faupel F (2008) Polym Polym Comp 16:471

Bornholdt C (2008) Ligandgetriebener lichtinduzierter Spin-Crossover in Einzelmolekülen bei Raumtemperatur, Dissertation Christian-Albrechts-University of Kiel, Germany

Weill A, Dechenaux E (1988) Polym Eng Sci 28:945

Sworakowski J, Janus K, Nespurek S (2005) Adv Colloid Interface Sci 116:97
Acknowledgements
The authors want to thank the DFG for funding this project as part of the collaborative research center 677-Function by switching (project C1). Furthermore, we want to thank Dipl.-Ing. Stefan Rehders for his support in any technical question.
Electronic supplementary material
Below is the link to the electronic supplementary material.
About this article
Cite this article
Pakula, C., Hanisch, C., Zaporojtchenko, V. et al. Optical switching behavior of azobenzene/PMMA blends with high chromophore concentration. J Mater Sci 46, 2488–2494 (2011). https://doi.org/10.1007/s10853-010-5097-9
Received:

Accepted:

Published:

Issue Date:

DOI: https://doi.org/10.1007/s10853-010-5097-9
Keywords
PMMA

Switching Time

Azobenzene

Switching Behavior

White Light Illumination