Abstract
The structural, elastic, electronic and optical properties of Zn1−x Mg x Se ternary mixed crystals are investigated by utilizing the first-principles plane-wave pseudopotential method within the LDA approximations. Some basic physical properties, such as lattice constant, bulk modulus, second-order elastic constants (C ij ), Shear modulus, Young's modulus, Poison's ratio, Lamé constants and the electronic band structures, are calculated. We have, also, predicted the optical properties such as dielectric functions, refractive index and energy loss function of these ternary mixed crystals. Our results agree well with the available data in the literature.
This is a preview of subscription content, log in to check access.
Access options
Buy single article
Instant access to the full article PDF.
US$ 39.95
Price includes VAT for USA
Subscribe to journal
Immediate online access to all issues from 2019. Subscription will auto renew annually.
US$ 199
This is the net price. Taxes to be calculated in checkout.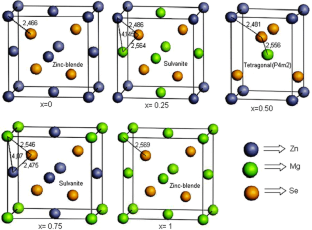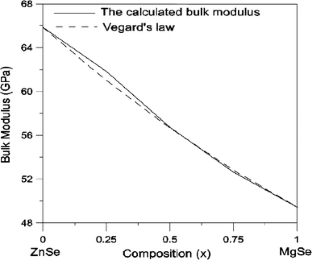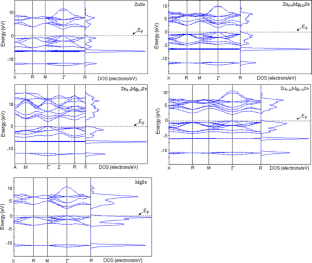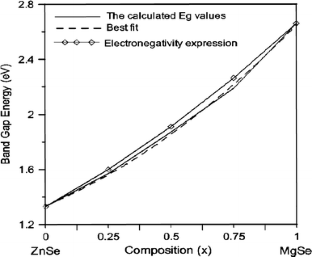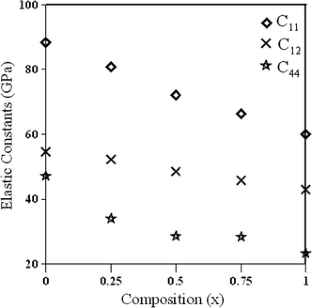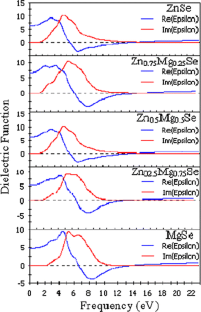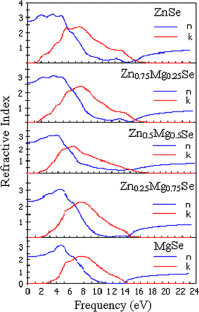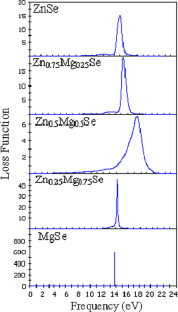 References
1.

Firszt F, Meczynska H, Legowski S, Paszkowicz W (2004) J Alloys Compd 371:107

2.

Eisen Y, Shor A (1998) J Cryst Growth 184–185:1302

3.

Hannachi L, Bouarissa N (2008) Superlattices Microstruct 44:794

4.

Derkowska B, Essaidi Z, Sahraoui B, Marasek A, Firszt F, Kujawa M (2009) Opt Mater 31:518

5.

Derkowska B, Firszt F, Sahraoui B, Marasek A, Kujawa M (2008) Opto-electronics Rev 16:8

6.

Derkowska B, Wojdyla M, Plociennik P, Sahraoui B, Bala W (2004) Opto-electronics Rev 12:405

7.

Firszt F, Legowski S, Meczynska H, Huang CT, Hsu HP, Huang YS (2008) J Korean Phys Soc 53:13

8.

Varshney D, Sharma P, Kaurav N, Shah S, Singh RK (2005) J Phys Soc Jpn 74:382

9.

Benkaboua F, Aouraga H, Certierb M, Kobayasic T (2003) Physica B 336:275

10.

Polit JJ, Sheregii EM, Burattini E, Marcelli A, Cestelli Guidi M, Calvani P, Nucara A, Piccinini M, Kisiel A, Konior J, Sciesinska E, Sciesinski J, Mycielski A (2004) J Alloy Compd 371:172

11.

Segall MD, Lindan PJD, Probert MJ, Pickard CJ, Hasnip PJ, Clark SJ, Payne MC (2002) J Phys Condens Mater 14:2717

12.

Zhu W, Xiao H, Comput J (2008) J Comput Chem 29:176

13.

Ceperley DM, Alder BJ (1980) J Phys Rev Lett 45:566

14.

Perdew JP, Zunger A (1981) Phys Rev B 23:5048

15.

Troullier N, Martins JL (1991) Phys Rev B 43:1993

16.

Hernández Calderón I (2002) Semiconductor materials and their applications, vol 12. Taylor and Francis, New York, p 113

17.

Lee S-G, Chang KJ (1995) J Phys Rev B 52:1918

18.

Vérié C (1997) Mater Sci Eng B 43:60

19.

Reddy RR, Nazeer Aharnmed Y, Abdul Azeem P, Rama Gopal K, Sasikala Devi B, Rao TVR (2003) Def Sci J 53:239

20.

Rabah M, Abbar B, Al-Douri Y, Bouhafs B, Sahraoui B (2003) Mater Sci Eng B 100:163

21.

Duman S, Bağcı S, Tütüncü HM, Srivastava GP (2006) Phys Rev B 73:205201

22.

Okuyama H, Kishita Y, Ishibashi A (1998) Phys Rev B 57:2257

23.

El Haj Hassan F, Javad Hashemifar S, Akbarzadeh H (2006) Phys Rev B 73:195202

24.

Khenata R, Bouhemadou A, Sahnoun M, Reshak Ali H, Baltache H, Rabah M (2006) Comput Mater Sci 38:29

25.

Van Camp PE, Van Doren VE (1997) Phys Rev B 55:775

26.

Fleszar A (2001) Phys Rev B 64:245204

27.

Drief F, Tadjer A, Mesri D, Aourag H (2004) Catal Today 89:343

28.

Clark SJ, Segall MD, Pickard CJ, Hasnip PJ, Matt I, Probert J, Refson K, Payne MC (2005) Z Kristallogr 220:567

29.

Ashcroft NW, Mermin ND (1976) Solid state physics. Saunders College, Philadelphia

30.

Nye JF (1957) Physical properties of crystals. Clarendon, Oxford

31.

Martin RM (1970) Phys Rev B 1:4005

32.

Rached D, Benkhettou N, Soudini B, Abbar B, Sekkal N, Driz M (2003) Phys Stat Sol B 240:565

33.

Marinelli F, Dupin H, Lichanot A (2000) J Phys Chem Solids 61:1707

34.

Anil TV, Menon CS, Kumar SK, Jayachandran KP (2004) J Phys Chem Solids 65:1053

35.

Chung TY, Ohz JH, Lee SG, Jeong JW, Chang KJ (1997) Semicond Sci Technol 12:701

36.

Born M, Huang K (1956) Dynamical theory of crystal lattices. Claredon, Oxford

37.

Shein IR, Ivanovskii AL (2008) Physica C 468:2224

38.

Kitamura M, Muramutsu S, Harrison WA (1992) Phys Rev B 46:1351

39.

Fu H, Li D, Peng F, Gao T, Cheng X (2008) Comput Mater Sci 44:774

40.

Shein IR, Ivanovskii AL (2008) J Phys Condens Matter 20:415218

41.

Sun J, Wang HT, Ming NB (2004) Appl Phys Lett 84:4544

42.

Surucu G, Colakoglu K, Deligoz E, Korozlu N, Ciftci YO (2010) Solid State Commun 150:1413

43.

Korozlu N, Colakoglu K, Deligoz E (2009) J Phys Condens Matter 21:175406

44.

Korozlu N, Colakoglu K, Deligoz E (2010) Phys Status Solidi B 247:1214

45.

Hu JM, Huang SP, Xie Z, Hu H, Cheng WD (2007) J Phys Condens Matter 19:496215

46.

Adachi S, Taguchi T (1991) Phys Rev B 43:9569
Acknowledgements
This work is supported by Gazi University Research-Project Unit under Project No: 05/2008-42.
About this article
Cite this article
Surucu, G., Colakoglu, K., Deligoz, E. et al. Electronic, elastic and optical properties on the Zn1−x Mg x Se mixed alloys. J Mater Sci 46, 1007–1014 (2011). https://doi.org/10.1007/s10853-010-4864-y
Received:

Accepted:

Published:

Issue Date:
Keywords
ZnSe

Bulk Modulus

Dielectric Function

Mixed Crystal

MgSe