Abstract
Fracture toughness measurements on bcc iron (Armco-iron), which is subjected to severe plastic deformation (SPD), were performed. Through high pressure torsion, an ultrafine grain structure was obtained and with subsequent heat treatments the grain size varied between 300 nm and 5 μm. The combination of SPD and individual heat treatments allows for a systematic study of the ductile to brittle transition (DBT) in the fracture behaviour as a function of grain size. Additionally, the influence of different crack plane orientations was taken into account. The results show that the DBT moves for smaller grain sizes (<1 μm) to higher transition temperatures. Furthermore, large differences in the absolute toughness values for a given temperature for the different crack plane orientations and grain sizes were determined. The findings can be related to a change in the crack path from transcrystalline fracture for grain sizes larger than 1 μm to intercrystalline-dominated fracture for grain sizes smaller than 1 μm.
Access options
Buy single article
Instant access to the full article PDF.
US$ 39.95
Tax calculation will be finalised during checkout.
Subscribe to journal
Immediate online access to all issues from 2019. Subscription will auto renew annually.
US$ 119
Tax calculation will be finalised during checkout.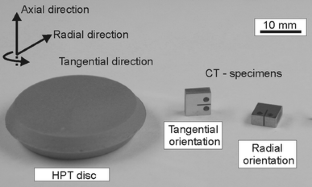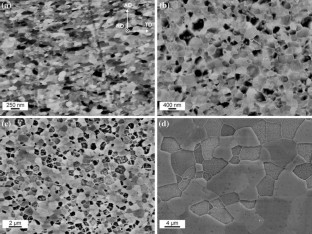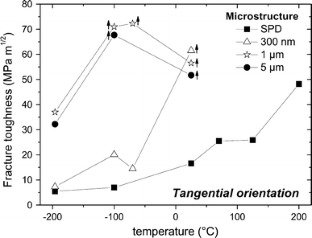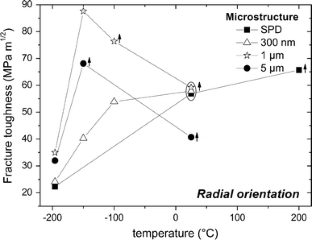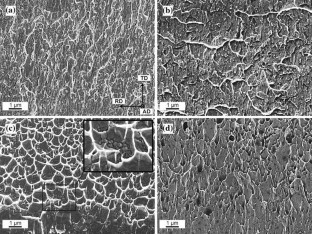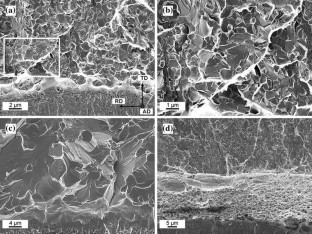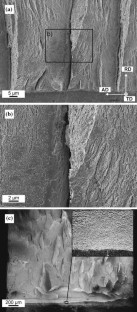 References
1.

Griffith AA (1920) Philos Trans R Soc Lond 221:163

2.

Rice JR, Thomson R (1974) Phil Mag 29:73

3.

Chen JH, Wang Q, Wang GZ, Li Z (2003) Acta Mater 51:1841

4.

Meyers MA, Mishra A, Benson DJ (2006) Prog Mater Sci 51:427

5.

Valiev RZ, Islamgaliev RK, Alexandrov IV (2000) Prog Mater Sci 45:103

6.

Zhilyaev AP, Langdon TG (2008) Prog Mater Sci 53:893

7.

Suresh S (1985) Eng Frac Mech 21:453

8.

Hohenwarter A, Bachmaier A, Gludovatz B, Scheriau S, Pippan R (2009) Int J Mater Res (formerly Z.Metallkunde) 100:1653

9.

Vorhauer A, Pippan R (2004) Scripta Mater 51:921

10.

Xu C, Horita Z, Langdon TG (2008) Acta Mater 56:5168

11.

Vorhauer A, Pippan R (2008) Metall Mater Trans A 39:417

12.

Song R, Ponge D, Raabe D (2005) Acta Mater 53:4881

13.

Inoue T, Yin F, Kimura Y, Tsuzaki K, Ochiai S (2009) Metall Mater Trans A 41:341

14.

Hohenwarter A, Pippan R (2010) Mater Sci Eng A 527:2649

15.

Morries JW (2008) Science 320:1022

16.

Latapie A, Farkas D (2004) Phys Rev 69:134110-1

17.

Hertzberg RW (1996) Deformation and fracture mechanics of engineering materials. Wiley, New York
Acknowledgement
The work was partly supported by the Austrian Science Fund FWF in the framework of Research Network S 10402 N16.
About this article
Cite this article
Hohenwarter, A., Kammerhofer, C. & Pippan, R. The ductile to brittle transition of ultrafine-grained Armco iron: an experimental study. J Mater Sci 45, 4805–4812 (2010). https://doi.org/10.1007/s10853-010-4635-9
Received:

Accepted:

Published:

Issue Date:
Keywords
Fracture Toughness

Severe Plastic Deformation

Linear Elastic Fracture Mechanic

Cleavage Fracture

DBTT