Abstract
Fe3Co7 alloy nanowire arrays have been fabricated by direct current electrodeposition of Fe2+ and Co2+ into anodic aluminum oxide (AAO) templates. The phase structure and magnetic properties of the nanowires were studied by transmission electron microscopy (TEM), scanning electron microscopy (SEM), X-ray diffraction (XRD), and vibrating sample magnetometer (VSM). Magnetic measurements show that the coercivity and remanence of the as-deposited Fe3Co7 Alloy nanowires increase dramatically after heat-treatment at 773 K for 2 h, and the nanowire arrays exhibit uniaxial magnetic anisotropy with easy magnetization direction along the nanowire axes owing to the large shape anisotropy. The great difference between practical coercivity and ideal coercivity was also discussed in detail.
Access options
Buy single article
Instant access to the full article PDF.
US$ 39.95
Tax calculation will be finalised during checkout.
Subscribe to journal
Immediate online access to all issues from 2019. Subscription will auto renew annually.
US$ 119
Tax calculation will be finalised during checkout.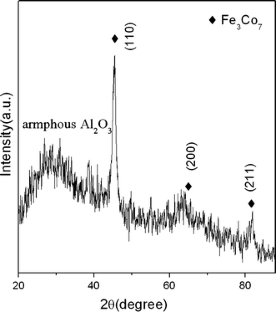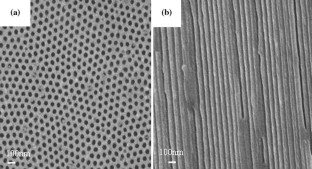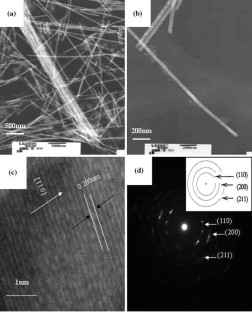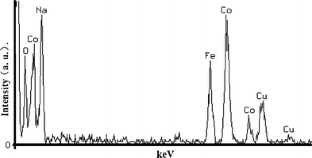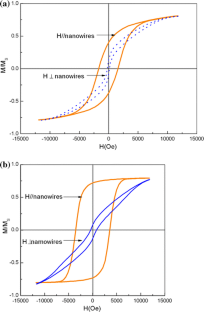 References
1.

Chu SZ, Inoue S, Wada K, Kanke Y, Kurashima K (2005) J Electrochem Soc 152:C42

2.

Tang H, Chang JC, Shan YY et al (2009) J Mater Sci 44:563. doi:10.1007/s10853-008-3071-6

3.

Tien LC, Pearton SJ, Norton DP (2008) J Mater Sci 43:6925. doi:10.1007/s10853-008-2988-0

4.

Nourmohammadi A, Bahrevar MA, Schulze S et al (2008) J Mater Sci 43:4753. doi:10.1007/s10853-008-2665-3

5.

Xu JX, Xu Y (2008) J Mater Sci 43:4163. doi:10.1007/s10853-006-1222-1

6.

Zhang DW, Chen CH, Zhang J et al (2008) J Mater Sci 43:1492. doi:10.1007/s10853-007-2274-6

7.

Yuan XY, Wu GS, Xie T (2004) Solid State Commun 130:429

8.

Guo Y, Qin DH, Ding JB, Li HL (2003) Appl Surf Sci 218:107

9.

Qin D-H, Peng Y, Cao L, Li H-L (2003) Chem Phys Lett 374:661

10.

Xua Y, Xue DS, Gao DQ, Fu JL, Fan XL, Guo DW, Gao B, Sui WB (2009) Electrochim Acta. doi:10.1016/j.electacta.2009.05.012

11.

Xian WW, Guo XZ, Wang D (2007) J Anhui Norm Univ Nat Sci 30:282

12.

Qin DH, Cao L, Sun QY, Huang Y, Li HL (2002) Chem Phys Lett 358:484

13.

Guo Y, Qin DH, Li HL (2005) J Lanzhou Univ Nat Sci 41:56

14.

Yue GH, Wang LS, Wang X, Chen YZ, Peng DL (2009) J Appl Phys 105:074312. doi:10.1063/1.3103775

15.

Shao I, Chen MW, Cammarata RC, Searson PC, Prokes SM (2007) J Electrochem Soc 154:D572

16.

Martin CR (1994) J Sci 266:1961

17.

Masuda H, Hasegawa F, Ono S (1997) J Electrochem Soc 144:127

18.

Skomski R, Coey JMD (1999) Permanent magnetism. IOP, Bristol

19.

Yuan DF (1994) Magnetic physics. UESTC, Chengdu

20.

Chaure NB, Coey JMD (2006) J Magn Magn Mater 303:232
Acknowledgements
This work is supported by Doctoral Fund of Ministry of Education of China, (Project No. 20060080005). And this work is partly supported by Tianjin Natural Science Foundation of China with No. 09JCZDJC22800.
About this article
Cite this article
Yang, W., Cui, C., Sun, J. et al. Fabrication and magnetic properties of Fe3Co7 alloy nanowire arrays. J Mater Sci 45, 1523–1527 (2010). https://doi.org/10.1007/s10853-009-4116-1
Received:

Accepted:

Published:

Issue Date:
Keywords
Anodic Aluminum Oxide

Vibrate Sample Magnetometer

Nanowire Array

Anodic Aluminum Oxide Template

Oxalic Acid Solution