Abstract
The need for protecting human or devices from harm and for keeping something from being detected by other instruments is spawning a world of attention in the development of novel electromagnetic (EM) wave absorption materials. An ideal EM wave absorber is necessary to have light weight, thin thickness, high EM wave absorption, broad width, tunable absorption frequency, and multi-functionality. This article introduces the EM wave absorption mechanism and reviews the development of polymer-based nanocomposites for EM wave absorption, in which polymers act as absorbing components or/and matrixes. And we also summarize the approaches to design the ideal absorber, including introduction of nanostructure, and simultaneous action of both dielectric and magnetic materials with special structure by directly mixing, core–shell or multilayer structure.
Access options
Buy single article
Instant access to the full article PDF.
USD 39.95
Price excludes VAT (USA)
Tax calculation will be finalised during checkout.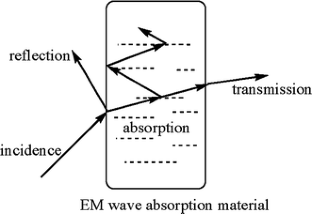 References
Hu CX (2004) Stealth coating technology. Chemical Industry Press, Beijing

Liu SH, Liu JM, Dong XL (2006) Electromagnetic wave interference shielding and absorption materials. Chemical Industry Press, Beijing

Qiu JX, Wang Y, Gu MY (2007) J Mater Sci 42:166. doi:10.1007/s10853-006-0919-5

Yoshida S, Sato M, Sugawara E, Shimada Y (1999) J Appl Phys 85:4636

Yoshida S, Ando S, Shimada Y, Suzuki K, Nomura K (2003) J Appl Phys 93:6659

Moučka R, Lopatin AV, Kazantseva NE, Vilčáková J, Sáha P (2007) J Mater Sci 42:9480. doi:10.1007/s10853-007-2081-0

Liu ZF, Bai G, Huang Y, Li FF, Ma YF, Guo TY, He XB, Lin X, Gao HJ, Chen YS (2007) J Phys Chem C 111:13696

Liu ZF, Bai G, Huang Y, Ma YF, Du F, Li FF, Guo TY, Chen YS (2007) Carbon 45:821

He YF, Gong RZ, Cao H, Wang X, Zheng Y (2007) Smart Mater Struct 16:1501

Phang SW, Daika R, Abdullah MH (2005) Thin Solid Films 477:125

Chandrasekhar P, Naishadham K (1999) Synth Met 105:115

Håkansson E, Amiet A, Nahavandi S, Kaynak A (2007) Eur Polym J 43:205

Phang SW, Hino T, Abdullah MH, Kuramoto N (2007) Mater Chem Phys 104:327

Mizobuchi H, Kawai T, Yoshino K (1995) Solid State Commun 96:925

Wan MX, Fan JH (1998) J Polym Sci Part A: Polym Chem 36:2749

Abbas SM, Dixit AK, Chatterjee R, Goel TC (2005) Mater Sci Eng B 123:167

He YF, Gong RZ, Nie Y, He HH, Zhao ZS (2005) J Appl Phys 98:084903

Dai DS, Shi FQ, Chen YQ, Chu SL (1976) Ferromagnetics. Science Press, Beijing

Ellwood WB, Legg VE (1937) J Appl Phys 8:351

Liu JR, Itoh M, Machida K (2006) Appl Phys Lett 88:062503

Roshen W (1991) IEEE Trans Magn 27:4407

Morgan SP Jr (1949) J Appl Phys 20:352

Foster K, Littmann MF (1985) J Appl Phys 57:4203

Yamada S, Otsuki E (1997) J Appl Phys 81:4791

Li HR (1990) Introduction to dielectric physics. Chengdu University of Technology Press, Chengdu

Gentner JO, Gerthsen P, Schmidt NA, Send RE (1978) J Appl Phys 49:4485

Zhang XF, Dong XL, Huang H, Lv B, Lei JP, Choi CJ (2007) J Phys D Appl Phys 40:5383

Yusoff AN, Abdullah MH, Ahmad SH, Jusoh SF, Mansor AA, Hamid SAA (2007) J Appl Phys 92:876

Deng LW, Zhou KS, Jiang JJ, Feng ZQ (2008) J Cent South Univ: Sci Technol 39:59

Guo ZH, Park S, Hahn HT, Wei SY, Moldovan M, Karki AB, Young DP (2007) J Appl Phys 101:09M511

Xue KH, Bao JC (2006) Nano chemistry: the chemical construction and applications of nanosystems. Chemical Industry Press, Beijing

Bregar VB (2004) IEEE Trans Magn 40:1679

Njuguna J, Pielichowski K, Alcock JR (2007) Adv Eng Mater 9(10):835

Chen XP, Zhuang J, Chi YH, Yang DM, Han GZ, Deng Y (2005) Chin J Inorg Chem 21(3):337

Chen X, Wang G, Duan Y, Liu S (2007) J Phys D Appl Phys 40(6):1827

Liu JR, Itoh M, Machida K (2003) Appl Phys Lett 83(19):4017

Liu JR, Itoh M, Machida K (2003) Chem Lett 32(4):394

Naito Y, Suetake K (1971) IEEE Trans Microw Theory Tech 19(1):65

Liu JR, Itoh M, Jiang J, Machida K (2004) J Magn Magn Mater 277(3):251

Liu JR, Itoh M, Machida K (2005) J Alloy Compd 389(1–2):265

Liu JR, Itoh M, Horikawa T, Itakura M, Kuwano N, Machida K (2004) J Phys D Appl Phys 37(19):2737

Itoh M, Liu JR, Horikawa T, Machida K (2006) J Alloy Compd 408–412:1400

Che RC, Peng LM, Duan XF, Chen Q, Liang XL (2004) Adv Mater 16(5):401

Lee CC, Chen DH (2007) Appl Phys Lett 90:193102

Duan YP, Yang Y, Ma H, Liu SH, Cui XD, Chen HF (2008) J Phys D Appl Phys 41(12):125403

Lee SE, Kang JH, Kim CG (2006) Compos Struct 76(4):397

Chattopadhyay DK, Raju KVSN (2007) Prog Polym Sci 32(3):352

Chen YJ, Cao MS, Wang TH, Wan Q (2004) Appl Phys Lett 84(17):3367

Feng XB, Liao G, Du JH, Dong LM, Jin KJ, Jian XG (2008) Polym Eng Sci 48(5):1007

Ruan S, Xu B, Suo H, Wu F, Xiang S, Zhao M (2000) J Magn Magn Mater 212(1):175

Makeiff DA, Huber T (2006) Synth Met 156(7–8):497

Wang ZZ, Bi H, Liu J, Sun T, Wu XL (2008) J Magn Magn Mater 320(16):2132

Ohlan A, Singh K, Chandra A, Dhawan SK (2008) Appl Phys Lett 93(5):053114

Tellakula RA, Varadan VK, Shami TC, Mathur GN (2004) Smart Mater Struct 13(5):1040
About this article
Cite this article
Huo, J., Wang, L. & Yu, H. Polymeric nanocomposites for electromagnetic wave absorption. J Mater Sci 44, 3917–3927 (2009). https://doi.org/10.1007/s10853-009-3561-1
Received:

Accepted:

Published:

Issue Date:

DOI: https://doi.org/10.1007/s10853-009-3561-1
Keywords
Reflection Loss

Magnetic Loss

Wave Absorption

Eddy Current Loss

Maximum Reflection Loss