Abstract
The vibrational properties of Na atoms and of Na coadsorbed with CO on Ni(111) have been studied by high-resolution electron energy loss spectroscopy. Loss measurements showed a significant weakening of the alkali–substrate bond as a function of the alkali coverage. Moreover, we found that coadsorbed CO molecules dramatically influence the vibrational properties of Na adatoms. The Na–Ni stretching frequency (22 meV) measured on the Na/Ni(111) system shifted down to 13 meV for the (Na + CO)/Ni(111) surface. This unexpected result was ascribed to a charge transfer from Na to CO. Present findings give new insights on the nature of the alkali–substrate and alkali–CO bond.
Access options
Buy single article
Instant access to the full article PDF.
USD 39.95
Price excludes VAT (USA)
Tax calculation will be finalised during checkout.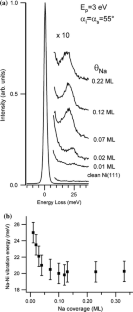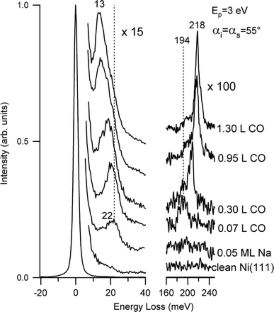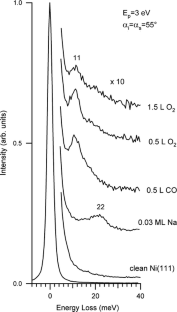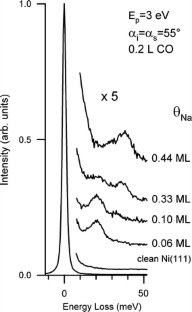 References
Diehl RD, Mc Grath R (1997) J Phys Condens Matter 9:951

Diehl RD, Mc Grath R (1996) Surf Sci Rep 23:43

Ertl G, Weiss M, Lee S (1979) Chem Phys Lett 60:391

Whitman LJ, Ho W (1988) J Chem Phys 89:7621

Gurney RW (1985) Phys Rev B 47:479

Ishida H (1988) Phys Rev B 38:8006

Ishida H (1990) Phys Rev B 42:10899

Riffe DM, Wertheim GK, Citrin PH (1990) Phys Rev Lett 64:571

Liu PL, Hu P (2001) J Am Chem Soc 123:12596

Toomes RL, King DA (1996) Surf Sci 349:19

Hoffmann FM, de Paola RA (1984) Phys Rev Lett 52:1697

Wimmer E, Fu CL, Freeman AJ (1985) Phys Rev Lett 55:2618

Lang ND, Holloway S, Norskov JK (1985) Surf Sci 150:24

Bertel E, Roos P, Lehmann J (1995) Phys Rev B 52:R14384

Wilke S, Cohen MH (1997) Surf Sci Lett 380:L446

Feibelman PJ, Hamann DR (1984) Phys Rev Lett 52:61

Stolbov S, Rahman TS (2006) Phys Rev Lett 96:186801

Lindgren SA, Svensson C, Wallden L (1990) Phys Rev B 42:1467

Borisova SD, Rusina GG, Eremeev SV, Benedek G, Echenique PM, Sklyadneva IYu, Chulkov EV (2006) Phys Rev B 74:165412

Chiarello G, Cupolillo A, Giallombardo C, Agostino RG, Formoso V, Pacile' D, Papagno L, Colavita E (2003) Surf Sci 536:33

Davis R, Woodruff DP, Schaff O, Fernandez V, Schindler K-M, Hofmann PH, Weiss K-U, Dippel R, Fritzsche V, Bradshaw AM (1995) Phys Rev Lett 74:1621

Hasselström I, Föhlisch A, Denecke R, Nilsson A, de Groot FMF (2000) Phys Rev B 62:11192

He P, Jacobi K (1997) J Chem Phys 106:3417

Klunker C, Steimer C, Hannon JB, Giese M, Ibach H (1999) Surf Sci 420:25
About this article
Cite this article
Politano, A., Agostino, R.G., Colavita, E. et al. Vibrational measurements of Na/Ni(111) and (Na + CO)/Ni(111). J Mater Sci 43, 3447–3451 (2008). https://doi.org/10.1007/s10853-007-2281-7
Received:

Accepted:

Published:

Issue Date:

DOI: https://doi.org/10.1007/s10853-007-2281-7
Keywords
Loss Measurement

Electronic Polarizability

Vibrational Property

Alkali Atom

Substrate Bond