Abstract
Tb-substituted (Nd,Tb)2Fe14B/Fe3B nanocomposite ribbons have been synthesized by melt spinning of Nd3Tb1Fe76Cu0.5Nb1B18.5 alloys. Tb substitution has significantly enhanced the value of coercivity and Curie temperature. Highest value of coercivity has been obtained as 4.76 kOe for the sample annealed at 953 K for 10 min. Curie temperature of Tb substituted sample, Nd3Tb1Fe76Cu0.5Nb1B18.5 is 549 K while Curie temperature of the sample without Tb, Nd4Fe76Cu0.5Nb1B18.5 is 535 K. Recoil hysteresis loops measured along the major demagnetization curve are steep having small recoil loop area. Temperature dependence of coercivity, remanent ratio and maximum energy product have been measured for the sample annealed at 893 K and 923 K for 10 min. At 5 K, coercivity and maximum energy product of the sample annealed at 893 K for 10 min are 5.2 kOe and 11.5 MGOe respectively and the sample annealed at 923 K for 10 min are 6 kOe and 13.1 MGOe respectively.
Access options
Buy single article
Instant access to the full article PDF.
US$ 39.95
Tax calculation will be finalised during checkout.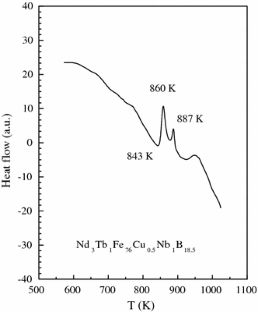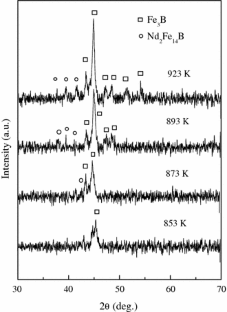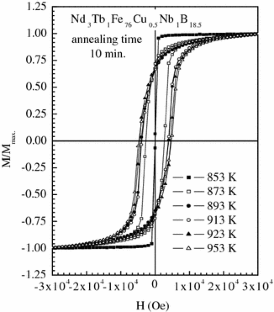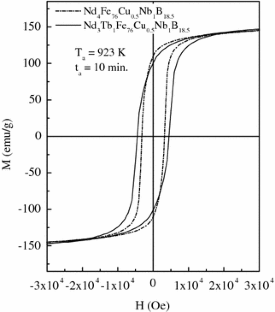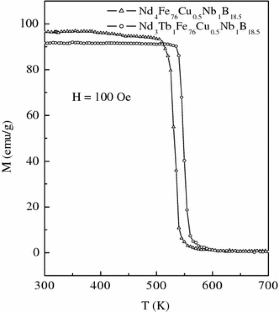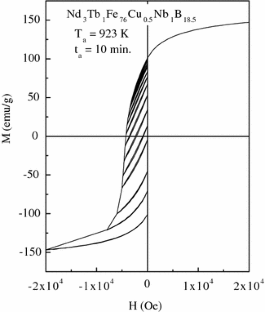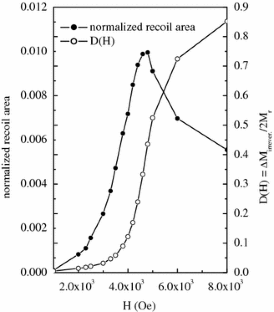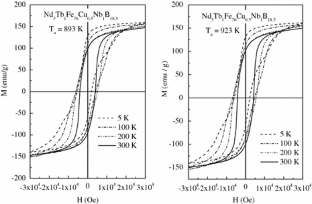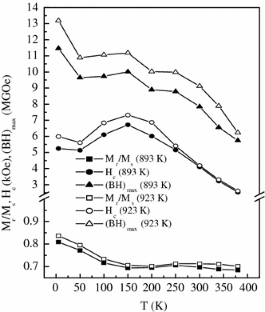 References
1.

Kneller EF, Hawig R (1991) IEEE Trans Magn 27:3588

2.

Sagawa M, Fujimura S, Yamamoto H, Matsuura Y (1984) IEEE Trans Magn Mag-20:1584

3.

Jin ZQ, Okumura H, Hadjipanayis GC (2001) IEEE Trans Magn 37:2564

4.

Harland CL, Lewis L-H, Chen Z, Ma B-M (2004) J Magn Mag Mater 271:53

5.

Kang K, Lewis LH, Jiang JS, Bader SD (2005) J Appl Phys 98:113906

6.

Withanawasam L, Hadjipanayis GC, Krause RF (1994) J Appl Phys 75:6646

7.

Givord D, Tenaud P, Viadieu T (1986) J Appl Phys 60:3263

8.

Givord D, Li HS, Perrier R (1984) Solid State Commun 51:857

9.

Hadjipanayis GC, Hall C, Kim A (1987) IEEE Trans Magn 23:2533

10.

Hadjipanayis GC, Withanawasam L, Krause RF (1995) IEEE Trans Magn 31:3596
Acknowledgments
The authors acknowledge with deep sense of gratitude the support provided by Prof. Per Nordblad, Solid State Physics, Dept. of Eng. Sci., Uppsala University, Sweden. Financial support provided by the International Program for Physical Sciences, Uppsala University, Sweden is acknowledged. The authors acknowledge kind help provided by Prof. N. X. Phuc, Director Institute of Materials Science, Vietnamese Academy of Science and Technology. The authors also acknowledge the kind support provided by Dr. S. I. Bhuiyan, Chairman, Bangladesh Atomic Energy Commission and Engr. Rezaul Bari, Director, Atomic Energy Centre, Dhaka.
About this article
Cite this article
Hoque, S.M., Hakim, M.A., Khan, F.A. et al. Effect of Tb substitution on the magnetic properties of exchange-biased Nd2Fe14B/Fe3B. J Mater Sci 42, 9415–9420 (2007). https://doi.org/10.1007/s10853-007-1884-3
Received:

Accepted:

Published:

Issue Date:
Keywords
Hysteresis Loop

Remanence

Hard Phase

Anisotropy Field

Spin Reorientation