Abstract
The cutting behaviour of beard hair has been investigated quantitatively and qualitatively. High speed cutting tests were conducted on beard hair samples using a purpose built cutting rig (provided by Gillette, UK) to determine the cutting forces. High speed digital video photography was used to record the cutting process. In parallel with these tests, low speed cutting tests were undertaken within a scanning electron microscope (SEM) to gain a better understanding of the cutting process. Results from the high speed cutting tests showed that the peak cutting stresses are influenced strongly by moisture (the cutting stress for 'wet' samples is reduced by about 30% as compared to dry samples) while the effects on the cutting stress of other variables (subject age, blade approach angle and sample ageing due to prolonged storage) appeared to be less noticeable. The angle of cut was affected by the distance of the initial contact point (between the hair and the blade) from the base of the hair with the line of cut shifting towards the hair axis with increasing distance from the base. Qualitative observations from video-recordings and still images taken during the cutting tests, conducted in-situ within the SEM as well as the high speed cutting rig, showed four main cutting mechanisms of hair, which are documented in this paper. The distance from the initial contact point to the base of the hair and the moisture level were the parameters which controlled the mechanism of failure. Qualitative observations of the sort reported here are a necessary pre-cursor to the development of finite element models to simulate a cutting operation.
Access options
Buy single article
Instant access to the full article PDF.
USD 39.95
Price includes VAT (USA)
Tax calculation will be finalised during checkout.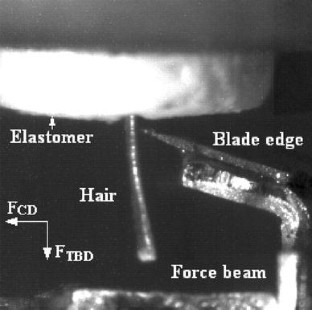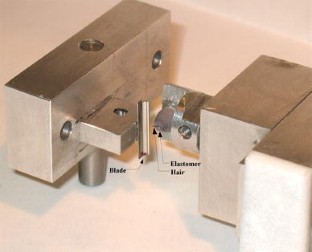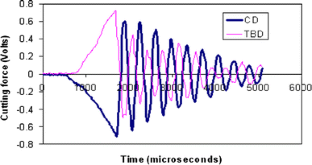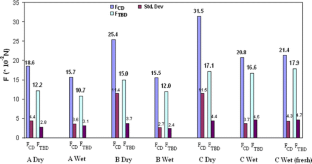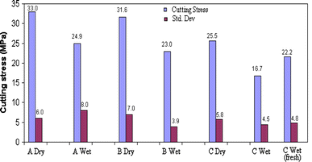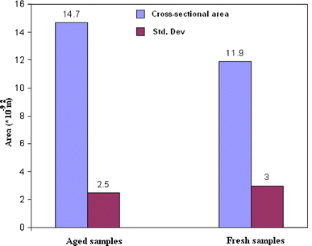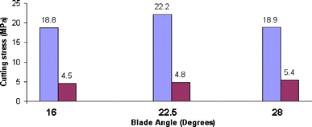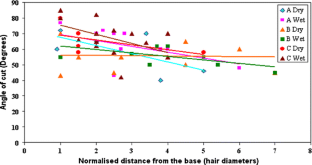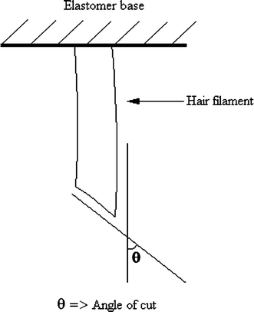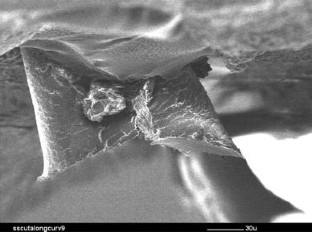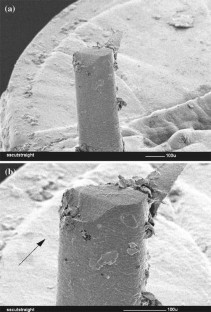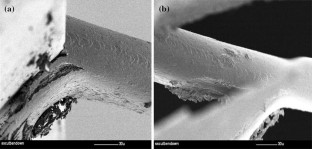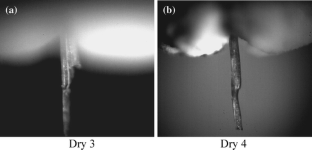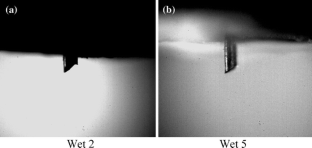 References
1.

Thozhur SM, Crocombe AD, Smith PA, Mullier M, Cowley K (2006) J Mat Sci 41(4):1109

2.

Dawber RPR (1986) Bioeng Skin 2:1

3.

Dawber R (1996) Clin Dermatol 14:105

4.

Jones LN (2001) Clin Dermatol 19:95

5.

Swift JA (1991) Intl J Cosmet Sci 13:143

6.

Swift JA (1997) AIM J EXS 78:149

7.

Watanabe H, Yahagi K. (1992) Jpn J Tribol 37(4):427

8.

Feughelman M (1997) Cosmet Sci Technol Ser 17:1

9.

Feughelman M (1982) J Soc Cosmet Chem 33:385

10.

Sakai M, Nagase S, Okada T, Satoh N, Tsujii K (2000) Bull Chem Soc Jpn 73:2169

11.

Feughelman M (1964) Textile Res J 34:539

12.

Feughelman M (1994) Textile Res J 64(4):236

13.

Deem D, Rieger MM (1976) J Soc Cosmet Chem 27:579

14.

Trusty PA (1994) PhD thesis (University of Surrey)
Acknowledgements
The authors would like to acknowledge the sponsorship offered by The Gillette Company to facilitate the research work discussed in this paper and the co-operation extended by the organisation through granting access to the high-speed cutting rig/video-recording apparatus.
About this article
Cite this article
Thozhur, S.M., Crocombe, A.D., Smith, P.A. et al. Cutting characteristics of beard hair. J Mater Sci 42, 8725–8737 (2007). https://doi.org/10.1007/s10853-006-1338-3
Received:

Accepted:

Published:

Issue Date:
Keywords
Hair Sample

Scalp Hair

Blade Angle

Cutting Test

Hair Surface