Abstract
Geopolymerization is a developing field of research for utilizing solid waste and by-products. It provides a mature and cost-effective solution to many problems where hazardous residue has to be treated and stored under critical environmental conditions. Geopolymer involves the silicates and aluminates of by-products to undergo process of geopolymerization. It is environmentally friendly and need moderate energy to produce. This review presents the work carried out on the chemical reaction, the source materials, and the factor affecting geopolymerization. Literature demonstrates that certain mix compositions and reaction conditions such as Al2O3/SiO2, alkali concentration, curing temperature with curing time, water/solid ratio and pH significantly influences the formation and properties of a geopolymer. It is utilized to manufacture precast structures and non-structural elements, concrete pavements, concrete products and immobilization of toxic metal bearing waste that are resistant to heat and aggressive environment. Geopolymers gain 70% of the final strength in first 3–4 h of curing.
Access options
Buy single article
Instant access to the full article PDF.
USD 39.95
Price excludes VAT (USA)
Tax calculation will be finalised during checkout.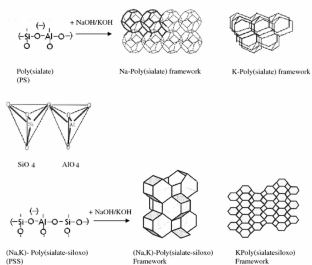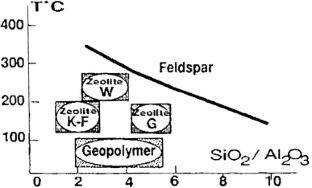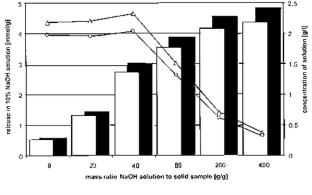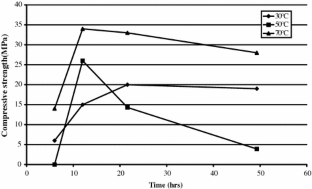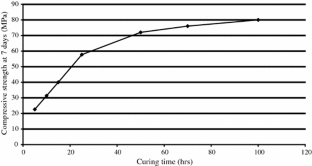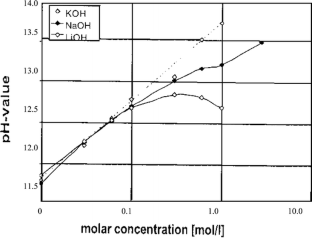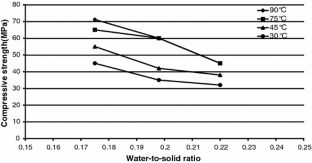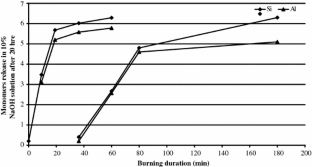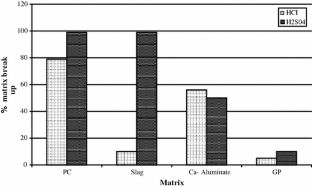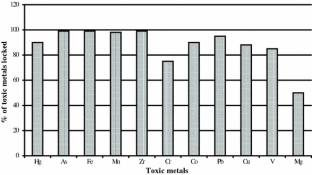 References
Woolard CD, Petrus K, Van Der Horst M (2000) ISSN 0378-4738-Water SA 26:531

Hardjito D, Wallah SE, Sumajouw DMJ, Rangan BV (2004) ACI Mater J 101:1

Baldwin G, P.E. Rushbrook, Dent CG (1982) The testing of hazardous waste to assess their suitability for landfill disposal. Harwell report, AERE-R10737, November 1982

Wiles CC (1988) Standard handbook of hazardous waste treatment and disposal. McGraw Hills, New York, p 7.85

Hermann E, Kunze C, Gatzweiler R, Kiebig G, Davitovits J (1999) In: Proceedings of Geopolymers, p 211

Buchwald A, Schulz M (2005) Cement Concrete Res 35:968

Li Z, Ding Z, Zhang Y (2004) In: International workshop on sustainable development and concrete technology. Beijing, p 55

Davitovits J (1991) J Therm Anal 37:1633

Xu H, Van Deventer JSJ (2000) Int J Miner Process 59:247

Xiong CJ, Ban CH, Pei X, Fang Z (2004) In: International workshop on sustainable development and concrete technology. Beijing, p 299

Hos JP, Mccormick PG (2002) J Mater Sci 37:2311

Alonso S, Palomo A (2001) Mater Lett 47:55

Van Jaarsveld JGS, Van Deventer JSJ, Lukey GC (2002) Chem Eng J 89:63

Van Jaarsveld JSG, Van Deventer JSJ, Lorenzen L (1998) Metal Mater Trans B 29:283

Davidovits J, Sawyer JL (1985) US Patent, No. 4509985

Van Jaarsveld JGS, Van Deventer JSJ, Lorenzen L (1997) Miner Eng 10:659

Xu H, Van Deventer JSJ, (2002) Cement Concrete Res 32:1705

Van Jaarsveld JGS, Van Deventer JSJ, Lukey GC (2003) Mater Lett 57:1272

Phair JW, Van Deventer JSJ, Smith JD (2004) Appl Sci 19:432

Van Jaarsveld JGS, Van Deventer JSJ, Schwartzman A (1999) Miner Eng 12:75

Phair JW, Van Deventer JSJ (2001) Miner Eng 14:289

Phair JW, Van Deventer JSJ, Smith JD (2000) Eng Chem Res 39:2925

Xu H, Van Deventer JSJ (2002) Miner Eng 15:1131

Feng D, Tan H, Van Deventer JSJ (2004) J Mater Sci 39:571

Lee WKW, Van Deventer JSJ (2002) Ind Eng Chem Res 41:4550

Phair JW, Smith JD, Van Deventer JSJ (2003) Mater Lett 57:4356

Yip CK, Van Deventer JSJ (2003) J Mater Sci 38:3851

Rees C, Lukey GC, Van Deventer JSJ (2004) In: International symposium of research students on material science and engineering. December 2004, IIT Chennai India

Duxson P, Lukey GC, Van Deventer JSJ (2005) Ind Eng Chem Res 44:832

Hardjito D, Wallah SE, D.M.J Sumajouw, Rangan BV (2003) In: George Hoff Symposium, ACI, Las Vegas USA

Palomo A, Glasser FP (1992) Brit Ceram Trans J 91:107

Davitovits J, Davitovits M, Davitovits N (1994) US Patent, No. 5,342,595

Sabir BB, Wild S, Bai J (2001) Cement Concrete Res 23:441

Jimenez AF, Palomo A (2003) Fuel 82:2259

Terzano R, Spagnuolo M, Medicu L, Vekemans B, Vincze L, Janssens K, Ruggiero P (2005) Environ Sci Technol 39:6280

Sumajouw DMJ, Hardjito D, Wallah SE, Rangan BV (2004) In: Green Processing 2004. The Australian Institute of Mining and Metallurgy, Fremantle, Western Australia, p 237

Hewlette PC (ed) (1998) In: Lea's Chemistry of Cement and Concrete, 4th ed. Butterworth Heinmann, New Delhi, p 480

Papadakis VG (2000) Cement Concrete Res 30:1647

Moropoulou A, Cakmak A, Labropoulos KC, Van Grieken R, Torfs K (2004) Cement Concrete Res 34:1

Conner JR (1990) Chemical fixation and solidification of hazardous waste. Van Nostrand Reinhold, New York, p 335

Spencer RD (ed) (1993) In: Chemistry of cement solidified waste forms. Lewis publishers, New York, p 3

Palomo A, Grutzeck MW, Blanco MT (1999) Cement Concrete Res 29:1323

Gourley JT (2003) In: CRC for sustainable resource proceeding materials conference

Kaps CH, Buchwald A (2002) In: Geopolymer 2002, Melbourne, Australia

Wu Z, Naik TR (2004) In: ACI International spring Washington, DC 2004 centennial convention Report No. CBU-2004-06

El-Hosiny F (2002) Ceram-Silikaty 46:63

Brooks JJ (2002) ACI Mater J 99:591

Lange LC, Hills CD, Poole AB (1996) Waste Manage 16:757

Yang CGC, Chen SY (1994) J Hazard Mater 39:317

Mangialardi T, Paolini AE, Polettini A, Sirini P (1999) J Hazard Mater B 70:53

Lombardi F, Mangialardi T, Piga L, Sirini P (1998) Waste Manage 18:99

Swanepoel JC, Syrtdom CA (2002) Appl Geochem 17:1143

Wang K, Shah SP, Mishulovich A (2004) Cement Concrete Res 34:299

Puertas F, Martinez-Ramirez S, Alonso S, Vazquez T (2000) Cement Concrete Res 30:1625

Atkins M, Glasser FP, Jack JJ (1995) Waste Manage 15:127

Kirschner A, Harmuth H (2004) Ceram-Silikaty 48:117

Palomo A, Alonso S, Jimenez AF (2004) J Am Soc 87:1141

Bakharev T (2005) Cement Concerete Res 35:1224

Ramlochan T, Zacarias P, Thoas MDA, Hooton RD (2003) Cement Concrete Res 33:807

Cioffi R, Maffucci L, Santoro L (2003) Resour Conserv Recy 40:27

Martinez-Ramirez S, Palomo A (2001) Cement Concrete Res 31:1581

Palomo A, Lopez de la Fuente JI (2003) Cement Concrete Res 33:281

Cheng TW, Chin JP (2003) Miner Eng 16:205

Rahier H, Simons W, Van Mele B (1997) J Mater Sci 32:2237

Gasteiger HA, Frederik WJ, Streise RC (1992) Ind Eng Chem Res 31:1183

Poon CS, Azhar S, Anson M, Wong YL (2003) Cement Concrete Comp 25:83

Querol X, Alastuey A, Turiel JLF, Soler AL (1995) Fuel 74:1226

Yip CK, Lukey GC, Van Deventer JSJ (2005) Cement Concrete Res 35:1688

Roy A, Schilling PJ, Eaton HC. US Patent, No. 5435843

Courard L, Darimont A, Schouterden M, Ferauche F, Willem X, Degeimbre R (2003) Cement Concrete Res 33:1473

Zang S, Gong K, Lu J (2004) Mater Lett 53:1292

Hardjito D, Wallah SE, Sumajouw DMJ, Rangan BV (2004) In: Seventh CANMET/ACI international conference on recent advances in concrete technology. May 2004 Las Vegas USA

Palomo A, Jimenez AF, Criado M (2004) Mater Construct 54:77

Mohammadi T, Pak A (2003) Sep Purif Technol 30:241

Madani A, Aznar A, Sanz J, Serratosa JM (1990) J Phys Chem-US 94:760

Hanzlicek T, Vondrakova MS (2002) Ceram-Silikaty 46:97

Palomo A, Palacios A (2003) Cement Concrete Res 33:289

Wallah SE, Hardjito D, Sumajouw DMJ, Rangan BV (2004) In: International conference on fiber composites, high-performance concretes and smart material. ICFRC, Chennai

Hardjito D, Wallah SE, Sumajouw DMJ, Rangan BV (2004) In: 18th Australasian conference on the mechanics of structures and materials (ACMSM)1-3. Perth Australia

Davitovits J (1994) Concrete Int 16:53

Bai J, Wild S, Sabir BB (2002) Cement Concrete Res 32:1813

Rowles M, Conner B (2003) J Mater Chem 13:1161

Alonso S, Palomo A (2001) Cement Concrete Res 31:25

Brough AR, Katz A, Sun GK, Struble LJ, Kirkpatrick RJ, Young JF (2001) Cement Concrete Res 31:1437

Puertas F, Jimenez AF, Blanco-Varela MT (2004) Cement Concrete Res 34:139

La Lglesia A, Gonzalez MV, Dufour J (2002) Environ Prog 21:105
About this article
Cite this article
Khale, D., Chaudhary, R. Mechanism of geopolymerization and factors influencing its development: a review. J Mater Sci 42, 729–746 (2007). https://doi.org/10.1007/s10853-006-0401-4
Received:

Accepted:

Published:

Issue Date:

DOI: https://doi.org/10.1007/s10853-006-0401-4
Keywords
Zeolite

Compressive Strength

Portland Cement

Geopolymer

Sodium Silicate