Abstract
The molecular microencapsulation process, through the formation of the inclusion complex with β-cyclodextrin (β-CD), shows numerous environmental and industrial cost advantages, such as, stability improvement of the active substance, synthesis of water-based products, option of commercializing the final product either in solid state or in solution and avoidance of the undesired side-effects derived from the use of insecticides. Furthermore, the inclusion complexes have other advantages that involve controlled and specific release of active component in the medium. In this work the synthesis of the inclusion complex formed by β-CD and the acetamiprid (ACET) nicotinoid insecticide ((E)-N1-[(6-chloro-3-pyridyl)methyl]-N2-cyano-N1-methyl-acetamidine) was done and their molecular structure was studied in solid state and in solution, by means of experimental techniques. The 2:2 stoichiometry found in solid state, a structure based on dimmers classified as a channel type, is similar to that found in solution (1:1 stoichiometry). In both cases, the nitrile and chloropyridine groups of the insecticide molecules are oriented toward primary rim and secondary rim of the β-CD molecule, respectively.
This is a preview of subscription content, log in to check access.
Access options
Buy single article
Instant access to the full article PDF.
US$ 39.95
Price includes VAT for USA
Subscribe to journal
Immediate online access to all issues from 2019. Subscription will auto renew annually.
US$ 199
This is the net price. Taxes to be calculated in checkout.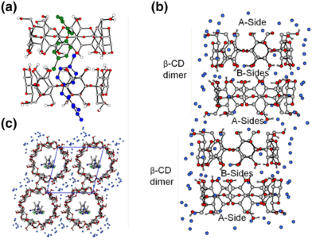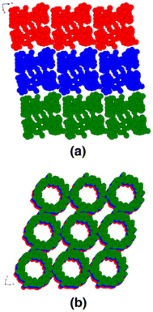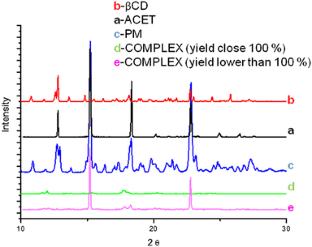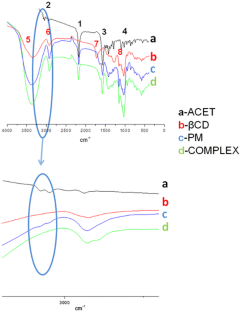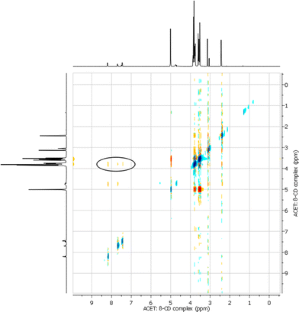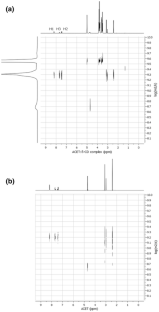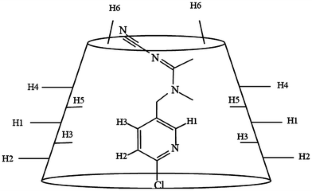 References
1.

Fitzgerald, J.: Laboratory bioassays and field evaluation of insecticides for the control of Anthonomus rubi, Lygus rugulipennis and Chaetosiphon fragaefolii, and effects on beneficial species, in UK strawberry production. Crop Prod. 23, 801–809 (2004)

2.

Blacquière, T., Smagghe, G., van Gestel, C.A.M., Mommaerts, V.: Neonicotinoids in bees: a review on concentrations, side-effects and risk assessment. Ecotoxicology 21, 973–992 (2012)

3.

www.ec.europa.eu. Accessed 22 Dec 2015

4.

Rivas, I.P., Gil-Alegre, M.E., Torres-Suárez, A.I.: Development and validation of a fast high-performance liquid chromatography method for the determination of microencapsulated pyrethroid pesticides. Anal. Chim. Acta 557, 245–251 (2006)

5.

Filippa, M., Sancho, M.I., Gasull, E.: Encapsulation of methyl and ethyl salicylates by beta-cyclodextrin HPLC, UV-vis and molecular modeling studies. J. Pharm. Biom. Anal. 48, 969–973 (2008)

6.

Szejtli, J., Osa, T.: Comprehensive Supramolecular Chemistry. Elsevier Science, Oxford (1996)

7.

Szejtli, J.: Cyclodextrins and their Inclusion Complexes. Kiado, Budapest (1982)

8.

Szejtli, J.: Cyclodextrins Technology. Kluwer, Dordrecht (1988)

9.

Yan, C., Li, X., Xiu, Z., Hao, C.: A quantum-mechanical study on the complexation of b-cyclodextrin with quercetin. J. Mol. Struct. 764, 95–100 (2006)

10.

Douhal, A.: Cyclodextrin Materials Photochemistry, Photophysics and Photobiology. Elsevier, Oxford (2006)

11.

Dugas, H., Penney, C.: Bioorganic Chemistry Frontiers, vol. 2. Springer-Verlag, New York (1999)

12.

Torres, Z.V.: Organic Chemistry in Confining Media. Springer, New York (2013)

13.

Liu, L., Guo, Q.X.: The driving forces in the inclusion complexation of cyclodextrins. J. Incl Phenom. Macrocycl. Chem. 42, 1–14 (2002)

14.

Alonso, M.L., Laza, J.M., Alonso, R.M., Jiménez, R.M., Vilas, J.L., Fañanás, R.: Advantages of biocides:β-cyclodextrin inclusion complexes against active components for pesticide industry. Int. J. Environ. Anal. Chem. 92, 963–978 (2012)

15.

Alonso, M.L.: Microencapsulación de pesticidas, Ph.D thesis, Univeristy of the Basque Country (2011)

16.

Scher, H.B.: Microencapsulated Pesticides. Controlled Release Pesticides. Marcel Dekker, New York (2009)

17.

Saenger, W., Jacob, J., Gessler, K., Steiner, T., Hoffmann, D., Sanbe, H., Koizumi, K., Smith, S.M., Takaha, T.: Structures of the common cyclodextrins and their larger analogues-beyond the doughnut. Chem. Rev. 98, 91787–91802 (1998)

18.

He, Y., Fu, P., Shen, X., Gao, H.: Cyclodextrin-based aggregates and characterization by microscopy. Micron 39, 495–516 (2008)

19.

Mentzafos, D., Mavridis, I.M., Le Bas, G., Tsoucaris, G.: Structure of the 4-tert-butylbenzyl alcohol-beta-cyclodextrin complex. Common features in the geometry of beta-cyclodextrin dimeric complexes. Acta Cryst. B 47(5), 746–757 (1991)

20.

Tsorteki, F., Bethanis, K., Pinotsis, N., Giastas, P., Mentzafos, D.: Inclusion compounds of plant growth regulators in cyclodextrins. V. 4-chlorophenoxyacetic acid encapsulated in β-cyclodextrin and heptakis(2,3,6-tri-O-methyl)-β- cyclodextrin. Acta Cryst. B 61, 207–217 (2005)

21.

Bethanis, K., Tzamalis, P., Tsorteki, F., Kokkinou, A., Christoforides, E., Mentzafos, D.: Structural study of the inclusion compounds of thymol, carvacrol and eugenol in β-cyclodextrin by X-ray crystallography. J. Incl. Phenom. Macrocycl. Chem. 77, 1–4 (2013)

22.

Kokkinou, A., Yannakopoulou, K., Mavridis, I.M., Mentzafosa, D.: Structure of the complex of cyclodextrin with naphthyloxyacetic acid in the solid state and in aqueous solution. Carbohydr. Res. 332, 85–94 (2001)

23.

Wang, E.J., Lian, Z.X., Cai, J.: The crystal structure of the 1:1 inclusion complex of β-cyclodextrin with benzamide. Carbohydr. Res. 342, 767–771 (2007)

24.

Blake, A.J., Clegg, W., Cole, J.M., Evans, J.S.O., Main, P., Parsons, S., Watkin, D.J.: Crystal Structure Analysis Principles and Practice. Oxford University, New York (2008)

25.

Malpezzi, L., Fronza, G., Fuganti, C., Mele, A., Bruckner, S.: Crystal architecture and conformational properties of the inclusion complex, neohesperidin dihydrochalcone-cyclomaltoheptaose (beta-cyclodextrin), by X-ray diffraction. Carbohydr. Res. 339, 2117–2125 (2004)

26.

Yap, K.L., Liu, X., Thenmozhiyal, J.C., Ho, P.C.: Characterization of the 13-cis-retinoic acid/cyclodextrin inclusion complexes by phase solubility, photostability, physicochemical and computational analysis. Eur. J. Pharm. Sci. 25, 49–56 (2005)

27.

Raju, R.K., Hillier, I.H., Burton, N.A., Vincent, M.A., Doudou, S., Bryce, R.A.: The effects of perfluorination on carbohydrate-pi Interactions: computational studies of the interaction of benzene and hexafluorobenzene with fucose and cyclodextrin. Phys. Chem. Chem. Phys. 12, 7959–7967 (2010)

28.

Brett, T.J., Alexander, J.M., Stezowski, J.J.: Chemical insight from crystallographic disorder-structural studies of supramolecular photochemical systems. Part 2.1 The β-cyclodextrin– 4,7-dimethylcoumarin inclusion complex: a new β-cyclodextrin dimer packing type, unanticipated photoproduct formation, and an examination of guest influence on β-CD dimer packing. J. Chem. Soc. 2, 1095–1103 (2000)

29.

Morales, A., Strppe, J., Meléndez, E.: Host-guest between niobencene dichloride and α-, β-, and γ-cyclodextrins: preparation and characterization. J. Incl. Phenom. Macrocycl. Chem. 60, 263–270 (2008)

30.

Farcas, A., Jarroux, N., Farcas, A.M., Harabagiu, V., Guegan, P.: Synthesis and Characterization of Furosemide complex in Cyclodextrin. Dig. J. Nanomater. Biostruct. 1, 55–60 (2006)

31.

Ficarra, R., Tommasini, S., Raneri, D., Calabro, M.L., Di Bella, M.R., Rustichelli, C., Gamberini, M.C., Ficarra, P.: Study of flavonoids β-cyclodextrins inclusion complexes by NMR, FT-IR, DSC, X-ray investigation. J. Pharm. Biomed. Anal. 29, 1005–1014 (2002)

32.

Anguiano-Igea, F.J., Otero-Espinar, L., Vila-Jato, J.: Interaction of clofibrate with cyclodextrin in solution: phase solubility, 1H NMR and molecular modelling studies. Eur. J. Pharm. Sci. 5, 215–221 (1997)

33.

Herrera, A., Martinez, R.: Tablas para la determinación estructural por métodos espectroscópicos. Springer-Verlag, Barcelona (2000)

34.

Zhao, R., Tan, T., Sandström, C.: NMR studies on puerarin and its interaction with beta-cyclodextrin. J. Biol. Phys. 37(4), 387–400 (2011)

35.

Jahed, V., Zarrabi, A., Bordbar, A.K., Hafezi, M.S.: NMR (1H, ROESY) spectroscopic and molecular modelling investigations of supramolecular complex of β-cyclodextrin and curcumin. Food Chem. 165, 241–246 (2014)
Acknowledgments
Authors thank the Basque Country Government for financial support (Project IT789-13). They also thank the technicians of SGIkers for a generous allocation of SXRD measurements, financed by the national program for the promotion of human resources within the national plan of scientific research, development and innovation, "Ministerio de Ciencia e Innovación", Fondo Social Europeo (FSE)" and "Gobierno Vasco, Dirección de Politica Cientifica". And finally, authors thank the Cambridge Crystallographic Data Centre (CCDC) by the number of Crystallographic Deposition, 1046865.
About this article
Cite this article
Alonso, M.L., Sebastián, E., Felices, L.S. et al. Structure of the β-cyclodextrin: acetamiprid insecticide inclusion complex in solution and solid state. J Incl Phenom Macrocycl Chem 86, 103–110 (2016). https://doi.org/10.1007/s10847-016-0645-9
Received:

Accepted:

Published:

Issue Date:
Keywords
Acetamiprid (ACET)

β-cyclodextrin (β-CD)

Single crystal and powder X-ray diffraction (XRD)

Fourier transform infrared spectroscopy (FTIR)

1D and 2D Nuclear magnetic resonance spectroscopy (NMR)