Abstract
The complexation of the oestrogenic mycotoxin zearalenone (ZEN) and its metabolites α- and β-zearalenol (ZOLs) with native β-cyclodextrins (β-CD) and modified hydroxypropyl-β-CD and dimethyl-β-CD was studied by fluorescence spectroscopy, nuclear magnetic resonance spectroscopy and electrospray-mass spectrometry. The formation of the inclusion complex was confirmed by NMR studies of zearalenone:β-CD solution. NMR, ESI-MS and fluorescence data are in agreement with the formation of a 1:1 complex between zearalenone and β-CD, characterized by the deep insertion of the phenolic moiety inside the cavity of the CD from its secondary side. The complexes formed between the guests and native β-CD are characterized by high stability constants (>104), as measured by fluorescence titrations.
Access options
Buy single article
Instant access to the full article PDF.
US$ 39.95
Tax calculation will be finalised during checkout.
Subscribe to journal
Immediate online access to all issues from 2019. Subscription will auto renew annually.
US$ 119
Tax calculation will be finalised during checkout.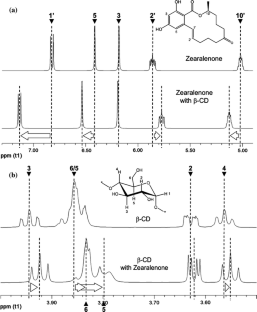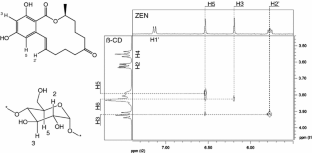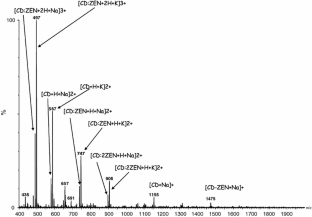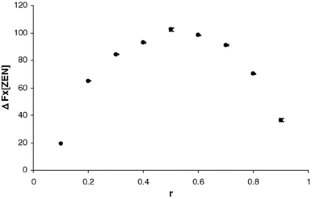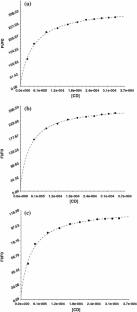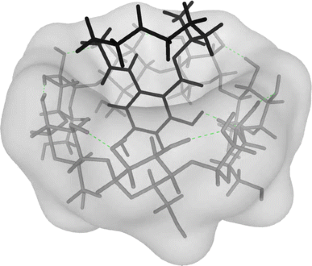 References
1.

Betina, V.: Structure-activity relationships among mycotoxins. Chem. Biol. Interact 71, 105–146 (1989). doi:10.1016/0009-2797(89)90030-6

2.

Hussein, H.S., Brasel, J.M.: Toxicity, metabolism, and impact of mycotoxins on humans and animals. Toxicology 167, 101–134 (2001). doi:10.1016/S0300-483X(01)00471-1

3.

Kuiper-Goodman, T., Scott, P.M., Watanabe, H.: Risk assessment of the mycotoxin zearalenone. Regul. Toxicol. Pharmacol 7, 253–306 (1987). doi:10.1016/0273-2300(87)90037-7

4.

Krska, R., Welzig, E., Berthiller, F., Molinelli, A., Mizaikoff, B.: Advances in the analysis of mycotoxins and its quality assurance. Food Addit. Contam 22, 345–353 (2005). doi:10.1080/02652030500070192

5.

Sforza, S., Dall'Asta, C., Marchelli, R.: Recent advances in mycotoxin determination in food and feed by hyphenated chromatographic techniques/mass spectrometry. Mass Spectrom. Rev 25, 54–76 (2006). doi:10.1002/mas.20052

6.

Goryacheva, I.Y., De Saeger, S., Eremin, S.A., Van Peteghem, C.: Immunochemical methods for rapid mycotoxin detection: evolution from single to multiple analyte screening: a review. Food Addit. Contam 24, 1169–1183 (2007). doi:10.1080/02652030701557179

7.

Pons, A., Lavigne, V., Landais, Y., Darriet, P., Dubourdieu, D.: Distribution and organoleptic impact of sotolon enantiomers in dry white wines. J. Agric. Food. Chem 56, 1606–1610 (2008). doi:10.1021/jf072337r

8.

Yuan, C., Jin, Z., Xu, X., Zhuang, H., Shen, W.: Preparation and stability of the inclusion complex of astaxanthin with hydroxypropyl-β-cyclodextrin. Food Chem 109, 264–268 (2008). doi:10.1016/j.foodchem.2007.07.051

9.

Blanch, G.P., del Castillo, M.L., del Mar Caja, M., Pérez-Méndez, M., Sánchez-Cortés, S.: Stabilization of all-trans-lycopene from tomato by encapsulation using cyclodextrins. Food Chem 105, 1335–1341 (2007). doi:10.1016/j.foodchem.2007.04.060

10.

Lucas-Abellán, C., Fortea, M.I., Gabaldón, J.A., Núñez-Delicado, E.: Complexation of resveratrol by native and modified cyclodextrins: determination of complexation constant by enzymatic, solubility and fluorimetric assays. Food Chem 111, 262–267 (2008). doi:10.1016/j.foodchem.2008.03.073

11.

López-Nicolás, J.M., García-Carmona, F.: Rapid, simple and sensitive determination of the apparent formation constants of trans-resveratrol complexes with natural cyclodextrins in aqueous medium using HPLC. Food Chem 109, 868–875 (2008). doi:10.1016/j.foodchem.2008.01.022

12.

Karathanos, V.T., Mourtzinos, I., Yannakopoulou, K., Andrikopoulos, N.K.: Study of the solubility, antioxidant activity and structure of inclusion complex of vanillin with β-cyclodextrin. Food Chem 101, 652–658 (2007). doi:10.1016/j.foodchem.2006.01.053

13.

Chen, X., Chen, R., Guo, Z., Li, C., Li, P.: The preparation and stability of the inclusion complex of astaxanthin with β-cyclodextrin. Food Chem 101, 1580–1584 (2007). doi:10.1016/j.foodchem.2006.04.020

14.

Maragos, C.M., Appell, M., Lippolis, V., Visconti, A., Catucci, L., Pascale, M.: Use of cyclodextrins as modifiers of fluorescence in the detection of mycotoxins. Food Addit. Contam 25, 164–171 (2008). doi:10.1080/02652030701564555

15.

Galaverna, G., Dall'Asta, C., Corradini, R., Dossena, A., Marchelli, R.: Cyclodextrins as selectors for mycotoxin recognition. World Mycotoxin J 1(4), 397–406 (2008). doi:10.3920/WMJ2008.1022

16.

Seidel, V., Poglits, E., Schiller, K., Lindner, W.: Simultaneous determination of ochratoxin A and zearalenone in maize by reversed-phase high-performance liquid chromatography with fluorescence detection and β -cyclodextrin as mobile phase additive. J. Chromatogr. A 635, 227–235 (1993). doi:10.1016/0021-9673(93)80365-F

17.

Chiavaro, E., Dall'Asta, C., Galaverna, G., Biancardi, A., Gambarelli, E., Dossena, A., Marchelli, R.: New reversed-phase liquid chromatographic method to detect aflatoxins in food and feed with cyclodextrins as fluorescence enhancers added to the eluent. J. Chromatogr. A 937, 31–40 (2001). doi:10.1016/S0021-9673(01)01300-0

18.

Bohs, B., Seidel, V., Lindner, W.: Analysis of selected mycotoxins by capillary electrophoresis. Chromatographia 41, 631–637 (1995)

19.

Maragos, C.M., Appell, M.: Capillary electrophoresis of the mycotoxin zearalenone using cyclodextrin-enhanced fluorescence. J. Chromatogr. A 1142, 252–257 (2007). doi:10.1016/j.chroma.2006.12.085

20.

Huang, C.Y.: Determination of binding stoichiometry by the continuous variation method: the Job plot. Methods Enzymol 87, 509–525 (1982). doi:10.1016/S0076-6879(82)87029-8

21.

Benesi, H.A., Hildebrand, L.H.: A spectrophotometric investigation of the interaction of iodine with aromatic hydrocarbons. J. Am. Chem. Soc 71, 2703–2707 (1949). doi:10.1021/ja01176a030

22.

Connors, K.A.: Binding Constants: The Measurements of Molecular Complex Stability, p. 350. Wiley, USA (1987)

23.

Sideris, E.E., Valsami, G.N., Koupparis, M.A., Macheras, P.E.: Determination of association constants in cyclodextrin/drug complexation using the Scatchard plot: application to β-cyclodextrin-anilinonaphthalenesulfonates. Pharm. Res 9, 1568–1574 (1992). doi:10.1023/A:1015808307322

24.

Cordier, C., Gruselle, M., Jaouen, G., Hughes, D.W., McGlinchey, M.J.: Structures of zearalenone and zearalanone in solution: a high-field NMR and molecular modeling study. Magn. Reson. Chem 28, 835–845 (1990). doi:10.1002/mrc.1260281002

25.

Krska, R., Welzig, E., Josephs, R.D., Kandler, W., Pettersson, H., MacDonald, S., Charlton, A., Brereton, P., Hametner, C., Berner, D., Zoellner, P.: Purity assessment of crystalline zearalenone. J. AOAC Int 86, 722–728 (2003)

26.

Danikiewicz, W.: Mass spectrometry of CyDs and their complexes. In: Dodziuk, H. (ed.) Cyclodextrins and Their Complexes, pp. 257–276. Weinheim, Wiley-VCH Verlag (2006)

27.

Sforza, S., Galaverna, G., Corradini, R., Dossena, A., Marchelli, R.: ESI-mass spectrometry analysis of unsubstituted and disubstituted β -cyclodextrins: fragmentation mode and identification of the AB, AC, AD regioisomers. J. Am. Soc. Mass Spectrom 14, 124–135 (2003). doi:10.1016/S1044-0305(02)00853-X

28.

Cunniff, J.B., Vouros, P.: False positives and the detection of cyclodextrin inclusion complexes by electrospray mass spectrometry. J. Am. Soc. Mass Spectrom 6, 437–447 (1995). doi:10.1016/1044-0305(95)00053-G
About this article
Cite this article
Dall'Asta, C., Faccini, A., Galaverna, G. et al. Complexation of zearalenone and zearalenols with native and modified β-cyclodextrins. J Incl Phenom Macrocycl Chem 64, 331–340 (2009). https://doi.org/10.1007/s10847-009-9572-3
Received:

Accepted:

Published:

Issue Date:
Keywords
Zearalenone

Zearalenols

Cyclodextrins

Inclusion complexes

Binding constants