Abstract
Nowadays, the transformations taking place in female entrepreneurship at the national and international levels and the importance of such entrepreneurship for economic growth and poverty alleviation underscore the need for more global and diversified analysis of female entrepreneurial activities. The literature however regarding international comparisons of female entrepreneurship practices remains limited and becomes even more limited when exploring such practices beyond the developed countries context. To this end, this paper examined the impact of five gender-related variables on the extent of female entrepreneurial activities in 44 developed and developing countries. Among its five focused variables, the paper found female education, extent of female economic activities, female earnings ratio, and fertility rate to be significant in all estimations with two different dependent variables representing female entrepreneurial activities. The remaining focus variable related to gender empowerment was found to be significant with one of the two dependent variables. Among its contributions, the paper explored gender entrepreneurship from an international perspective and extended the analysis of the topic beyond the main stream Anglo-Saxon context. It also highlighted the variations in results with regards to developed and developing countries environment. Understanding factors that could influence the development of female entrepreneurial activities and exploring their potential variability across stages of economic development could also be useful for policy makers exploring effective incentive structure to promote gender entrepreneurship in their respective countries.
Access options
Buy single article
Instant access to the full article PDF.
USD 39.95
Price excludes VAT (USA)
Tax calculation will be finalised during checkout.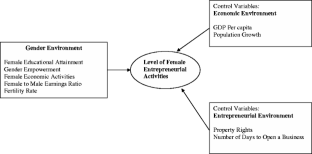 Notes
Million Dollar Firms By the Numbers. 2008. Report Underwritten by OPEN from American Express and the Jana Matthews Group. Available from the Center for Women's Business Research

Lessons from the Trenches: Learning from $1 Million Plus Women Entrepreneurs. Report Underwritten by OPEN from American Express and The Jana Matthews Group. Available from the Center for Women's Business Research

It should be noted here that one might point out that this hypothesis is a little obvious since the relationship between educational attainment and entrepreneurial activities is likely to be positive irrespective of the gender status. This hypothesis, however, brings another added value which is to see whether the spillover effect of female education in a given society improves the involvement of women in the work force including entrepreneurs.

Note that the PRIGHT variable reported in the "Index of Economic Freedom" gives a highest score of 1 for countries with high property rights and a lowest score of 4 for countries with low property rights, e.g., Australia and Croatia, respectively. In order to simplify the analysis, we reverse the ranking by making the lowest score = 1 and the highest score = 4. It should be emphasized however that the overall results remain the same regardless of the ordering of the scores.

Given that the additional estimations performed as robustness checks did not change the reported results in the text in any significant way, we did not report all these results for the sake of brevity. The results however are available from the author upon request.
References
Acs Z, Arenius P, Hay M, Minniti M (2004) Global entrepreneurship monitor. Babson College, London Business School, and the Kauffman Center for Entrepreneurial Leadership, London

Ahl H (2006) Why research on women entrepreneurs needs new directions. Entrep Theory Pract 30(5):595–621

Almus M, Nerlinger EA (1999) Growth of new technology based firms: which factors matter? Small Bus Econ 13(2):141–154

Appleton S, Hoddinott J, Krishnan P (1999) The gender wage gap in three African countries. Econ Dev Cult Change 47(2):289–313

Arenius P, DeClercq D (2005) A network-based approach on opportunity recognition. Small Bus Econ 24(3):249–265

Arenius P, Minniti M (2005) Perceptual variables and nascent entrepreneurship. Small Bus Econ 24(3):233–247

Audretsch DB, Fritsch M (1994) The geography of firm births in Germany. Reg Stud 28(4):359–365

Bardasi E, Blackden M, Guzman C (2007) Gender, entrepreneurship, and competitiveness in Africa—the Africa competitiveness report. World Bank, Washington, DC

Bartik TJ (1989) Small business start-ups in the United States: estimates of the effects of characteristics of states. South Econ J 55:1004–1018

Basu A, Goswami A (1999) South Asian entrepreneurship in Great Britain: factors influencing growth. Int J Entrep Behav Res 5(5):251

Bates T (1990) Entrepreneur human capital inputs and small business longevity. Rev Econ Stat 72(4):551–559

Baughn CC, Chua B-L, Neupert KE (2006) The normative context for women's participation in entrepreneurship: a multicountry study. Entrep Theory Pract 30(5):687–708

Beneria L (2001) Changing employment patterns and the informalization of jobs: general trends and gender dimensions. International Labour Office, Geneva

Berg N (1997) Gender, place and entrepreneurship. Entrep Reg Dev 9(4):259–268

Bird B, Brush C (2002) A gendered perspective on organizational creation. Entrep Theory Pract 26(3):41–66

Birley S (1989) Female entrepreneurs: are they really different? J Small Bus Manage 27(1):7–31

Blumenberg E (1998) Gender equity planning: inserting women into local economic development. J Plan Lit 13(2):131–146

Boden RJ (1999) Flexible working hours, family responsibilities, and female self-employment. Am J Econ Sociol 58(1):71–83

Borjas G, Bronars S (1989) Consumer discrimination and self-employment. J Polit Econ 97(3):581–605

Brockhaus RH, Nord WR (1979) An exploration of factors affecting the entrepreneurial decision: personal characteristics vs. environmental conditions. IN: Proceedings of the Thirty Ninth Annual Meeting of the Academy of Management, pp 364–368

Browne K (2001) Female entrepreneurship in the Caribbean: a multisite, pilot investigation of gender and work. Human Organ 60(4):326–342

Brush CG (1990) Women and enterprise creation: barriers and opportunities. Enterprising women: local initiatives for job creation. OECD, Paris

Brush CG (1992) Research on women business owners: past trends, a new perspective and future directions. Entrepren Theor Pract 16(Summer):5–30

Brush CG, VanderWerf P (1992) A comparison of methods and sources for obtaining estimates of new venture performance. J Bus Venturing 7(2):157–170

Busenitz LW, Lau CM (1996) A cross-cultural cognitive model of new venture creation. Entrep Theory Pract 20(4):25–39

Buttner HE, Moore DP (1997) Women's organizational exodus to entrepreneurship: self reported motivations and correlates with success. J Small Bus Manage 35(1):34–46

Caputo RK, Dolinsky A (1998) Women's choice to pursue self-employment: the role of financial and human capital of household members. J Small Bus Manage 36:8–17

Carr D (1996) Two paths to self-employment? women's and men's self-employment in the United States, 1980. Work Occup 23:26–53

Carree MA, Van Stel AJ, Thurik AR, Wennekers ARM (2002) Economic development and business ownership: an analysis using data of 23 OECD countries in the period 1976–1996. Small Bus Econ 19(3):271–290

Carter N (1997) Entrepreneurial processes and outcomes: the influence of gender. In: Reynolds PD, White SB (eds) The entrepreneurial process: economic growth, men, women, and minorities. Quorum, Westport, pp 163–177

Carter S, Marlow S (2003) Accounting for change: professionalism as a challenge to gender disadvantage in entrepreneurship. In: Butler J (ed) New perspectives on women entrepreneurs. Information Age, Greenwich, pp 181–202

Carter S, Weeks J (2002) Special issue: gender and business ownership—international perspectives on theory and practice. Int J Entrep Innov 3(2):81–82

Casson MC (1991) The entrepreneur: an economic theory. Gregg Revivals, London

Casson MC (2005) Entrepreneurship and the theory of the firm. J Econ Behav Organ 58:327–348

Cetindamar D (2005) Policy issues for Turkish entrepreneurs. Int J Entrepren Innovat Manag 5(3, 4):187–205

Clark K, Drinkwater S (2000) Pushed out or pulled in? Self-employment among ethnic minorities in England and Wales. Labour Econ 7(5):603–628

Coleman S (2002) Constraints faced by women small business owners: evidence from the data. J Dev Entrep 7(2):151–175

Connely R (1992) Self-employment and providing child care. Demography 29(1):17–29

Cooper AC, Gascon EJ (1992) Entrepreneurs, process of founding, and new-firm performance. In: Sexton DL, Kassadra JD (eds) The state of art of entrepreneurship. PWS Kent, Boston

Cowling M, Taylor M (2001) Entrepreneurial women and men: two different species? Small Bus Econ 16(3):167–175

Daily CM, Trevis CS, Dalton DR (1999) Entrepreneurial ventures as an avenue to the top? Assessing the advancement of female CEOs and directors in the Inc. 100. J Dev Entrep 4(1):19–32

Dana LY (1987) Entrepreneurship and venture creation: an international comparison of five commonwealth nations. In: Churchill NC, Hornaday JA, Kirchhoff BA, Krasner OJ, Vesper KH (eds) Frontiers of entrepreneurship research. Babson College, Wellesley, pp 573–583

Dana LY (1990) Saint Martin/Sint Maarten: a case study of the effects of culture on economic development. J Small Bus Manage 28(4):91–98

Dasgupta T, Roy A, Chattopadhyay RN (2006) Gender entrepreneurship in a rural scenario: a case study of South West Midnapore, West Bengal. J Soc Sci 12(2):151–158

Davidsson P, Henrekson M (2002) Determinants of the prevalence of start-ups and high-growth firms. Small Bus Econ 19(2):81–104

Davidsson P, Honig B (2003) The role of social and human capital among nascent Entrepreneurs. J Bus Venturing 18(3):301–331

Davidsson P, Lindmark L, Olofsson C (1994) New firm formation and regional development in Sweden. Reg Stud 38(4):395–410

DeCarlo JF, Lyons PR (1979) A comparison of selected personal characteristics of minority and non-minority female entrepreneurs. In: Proceedings of the 39th Annual Meeting of the Academy of Management, pp 369–373

Desai S (2009) Measuring entrepreneurship in developing countries. United Nations University World Institute for Development Economics Research. Research Paper No. 2009/10

Devine TJ (1994) Characteristics of self employed women in the United States. Mon Labor Rev 117:20–34

Dolinski A, Caputo R, Pasumarty K, Quazi H (1993) The effect of education on business ownership: a longitudinal study of women. Entrep Theory Pract 18(1):43–53

Droucopoulos V, Thomadakis S (1993) The share of small and medium-sized enterprise in Greek manufacturing. Small Bus Econ 5(3):187–197

Ducheneaut B (1997) Entrepreneurship and higher education. From real-life context to pedagogical challenge. Paper presented at the Internationalizing Entrepreneurship Education and Training Conference. Monterey Bay (California, USA)

Dunn T, Holtz-Eakin D (1995) Capital market constraints, parental wealth and the transition to self-employment among men and woman. NLS Discussion Paper, Report: NLS 96-29. US Department of Labor, Bureau of Labor Statistics, Office of Economic Research, Washington, DC

Eddleston K, Powell G (2008) The role of identity in explaining sex differences in business owners' career satisfier preferences. J Bus Venturing 23:244–256

Edwards LN, Field-Hendrey E (1996) Home-based workers: data from the 1990 census of population. Mon Labor Rev 119(11):3–14

Egeln J, Licht G, Steil F (1997) Firm foundations and the role of financial constraints. Small Bus Econ 9(2):137–150

Evans DS, Jovanovic B (1989) An estimated model of entrepreneurial choice under liquidity constraints. J Polit Econ 97:808–827

Evans DS, Leighton LS (1989) Some empirical aspects of entrepreneurship. Am Econ Rev 79(3):519–535

Fagenson E, Marcus E (1991) Perceptions of the sex-role stereotypic characteristics of entrepreneurs: women's evaluations. Entrep Theory Pract 15(4):33–47

Fogel G (2001) An analysis of entrepreneurial environment and enterprise development in Hungary. J Small Bus Manage 39(1):103–109

Grilo I, Irigoyen JM (2006) Entrepreneurship in the EU: to wish and not to be. Small Bus Econ 26(4):305–318

Guesnier B (1994) Regional variations in new firm formation in France. Reg Stud 28:347–358

Harrison B, Bluestone B (1988) The great U-turn: corporate restructuring and the polarizing of America. Basic Books, New York

Haynes G, Rowe B, Walker R, Hong G (2000) The differences in financial structure between women and men owned family businesses. J Fam Econ Iss 21(3):209–226

Hisrich RD, Brush CG (1984) The woman entrepreneur: Management skills and business problems. J Small Bus Manage 22:31–37

Hisrich RD, Brush CG (1985) Women and minority entrepreneurs: a comparative analysis. Frontiers of entrepreneurship research. Babson College, Wellesley, pp 566–586

Hisrich RD, Brush CG, Good D, De Souza G (1996) Some preliminary findings on performance in entrepreneurial ventures: does gender matter? Frontiers of entrepreneurship research. Babson College, Wellesley

Hofstede G (1998) Masculinity and femininity: the taboo dimension of national cultures. Sage, Thousand Oaks

Holtz-Eakin D, Joulfaian D, Rosen HS (1994) Sticking it out: entrepreneurial survival and liquidity constraints. J Polit Econ 102(1):53–75

Hosken F (1994) WIN News 20(4):12

Hughes KD (1999) Gender and self-employment in Canada: assessing trends and policy issues. Canadian Policy Research Networks, Ottawa

Hundley G (2001) Why women earn less than men in self-employment. J Labor Res 22(4):817–829

Hurley AE (1999) Incorporating feminist theories into sociological theories of entrepreneurship. Women Manage Rev 14(2):54–62

Illeris S (1986) New firm creation in Denmark: the importance of the cultural background. In: Keeble B, Wever E (eds) New firms and regional development in Europe. Croom Helm, Beckerham

ILO (2008) Global employment trends for women. International Labour Office, Geneva

Jackson M (1998) Women start own firms in frustration. Denver Post, Feb 25, C.03, Denver, CO

Keeble D, Walker S (1994) New firms, small firms and dead firms: spatial patterns and determinants in the United Kingdom. Reg Stud 28(4):411–4427

Kreide R (2003) Self employment of women and welfare-state policies. Rev Int Sociol 13(1):205–218

Kuhn PJ, Schuetze HJ (2001) Self-employment dynamics and self-employment trends: a study of Canadian men and women, 1982–1998. Can J Econ 34(3):760–784

Langowitz NS, Minniti M (2007) The entrepreneurial propensity of women. Entrep Theory Pract 31(3):341–364

Lee SS, Osteryoung JS (2001) A comparison of determinants for business start-up in the U.S. and Korea. J Small Bus Manage 39(2):193–200

Lerner M, Brush CG, Hisrich R (1997) Israeli women entrepreneurs: an examination of factors affecting performance. J Bus Venturing 12:315–339

Light IH (1980) Ethnic enterprises in America. University of California Press, Berkeley

Lingelbach D, De la Viña L, Ase P (2005) What's distinctive about growth-oriented entrepreneurship in developing countries? UTSA College of Business Center for Global Entrepreneurship. Working Paper No. 1

Luk STK (1996) Success in Hong Kong: factors self-reported by successful small business owners. J Small Bus Manage 34:68–74

Manolova T, Aimin Y (2002) Institutional constraints and entrepreneurial responses in a transforming economy. Int Small Bus J 20(2):163–184

Marlow S, Patton D (2005) All credit to men? Entrepreneurship, finance, and gender. Entrep Theory Pract 29(6):717–735

Maume DJ (1999) Glass ceilings and glass escalators. Occupational segregation and race and sex differences in managerial promotions. Work Occup 26(4):483–509

McKernan SM (2002) The impact of microcredit programs on self employment profits. Do noncredit program aspects matter. Rev Econ Stat 84(1):93–115

Mescon T, Stevens GE (1982) Women as entrepreneurs: a preliminary study of female realtors in Arizona. Ariz Bus 7:9–13

Min PG (1984) From white-collar occupations to small business: Korean immigrants occupational adjustment. Sociol Q 25(Summer):333–352

Minniti M, Arenius P (2003) Women in entrepreneurship. The entrepreneurial advantage of nations. First Annual Global Entrepreneurship Symposium

Minniti M, Allen IE, Langowitz N (2005) Global entrepreneurship monitor report on women and entrepreneurship. Babson College, The Centre for Women's Leadership, and London Business School, London

Moore DP, Buttner EH (1997) Women entrepreneurs: moving beyond the glass ceiling. Sage, Thousand Oaks

Mueller SL (2004) Gender gaps in potential for entrepreneurship across countries and cultures. J Dev Entrep 9(3):199–220

Mueller SL, Thomas AS, Jaeger AM (2001) National entrepreneurial potential: the role of culture, economic development, and political history. Adv Int Manag 14:221–257

Neter J, Wasserman W, Kutner M (1985) Applied linear statistical models. Irwin, Homewood

Noorderhaven GN, Koen IC, Beugelsdijk S (2002) Organizational culture and network embeddedness. Tilburg University centre discussion paper, pp 2002–2091

OECD (2002) OECD employment outlook. OECD, Paris

Orhan M, Scott D (2001) Why women enter into entrepreneurship: an explanatory model. Women Manage Rev 16(5/6):232

Orser B, Hogarth-Scott S (2003) Opting for growth: gender dimensions of choosing enterprise development. Can J Admin Sci 19(3):284–300

Orser BJ, Riding AL, Manley K (2006) Women entrepreneurs and financial capital. Entrep Theory Pract 30(5):643

Parker SC, Mirjam VP (2003) Explaining entrepreneurial performance: the effects of education and financial capital constraints. Working paper, University of Amsterdam, Amsterdam

Pennings JM (1982) Organizational birth frequencies: an empirical investigation. Adm Sci Q 27:120–144

Powell GN, Eddleston K (2008) The paradox of the contended female business owner. J Vocat Behav 73(1):24–36

Psacharopoulos G, Tzannatos Z (1989) Female labor force participation: an international perspective. World Bank Res Obs 4(2):187–201

Renzulli LA, Aldrich H, Moody H (2000) Family matters: gender, networks, and entrepreneurial outcomes. Soc Forces 79:523–546

Reynolds PD, Miller B (1989) Race, gender, and entrepreneurship: participation in new firm start-ups. Presented at American Sociological Association annual meetings.

Reynolds PD, Miller B, Wilbur MR (1995) Explaining regional variation in business births and deaths: U.S. 1976–88. Small Bus Econ 7:389–407

Robinson PB, Sexton EA (1994) The effect of education and experience on self-employment success. J Bus Venturing 9:141–156

Roomi MA, Parrott G (2008) Barriers to development and progression of women entrepreneurs in Pakistan. J Entrep 17(1):59–72

Santarelli E, Piergiovanni R (1995) The determinants of firm start-up and entry in Italian producer services. Small Bus Econ 7(3):221–231

Scheela W, Van Hoa TT (2004) Women entrepreneurs in a transition economy: the case of Vietnam. Int J Manag Decis Mak 5(1):1–20

Shim S, Eastlick MA (1998) Characteristics of Hispanic female business owners: an exploratory study. J Small Bus Manage 36(3):18–34

Sigh SP, Reynolds RG, Muhammad S (2001) A gender-based performance analysis of micro and small enterprises in Java, Indonesia. J Small Bus Manage 39(2):174

Stokes J, Riger S, Sullivan M (1995) Measuring perceptions of the working environment for women in corporate settings. Psychol Women Q 19:533–549

Storey DJ (1999) Six steps to heaven: evaluating the impact of public policies to support small business in developed economies. In: Sexton DL, Landström H (eds) Handbook of entrepreneurship. Blackwell, Oxford, pp 176–194

Syal P, Dhameja SK (2003) Entrepreneurship—key to women empowerment. www.techno-preneur.net/timeis/technology/SciTechJune03/entrepreneurship_womenempowerment

Tambunan T (2009) Women entrepreneurship in Asian developing countries: their development and main constraints. J Dev Agric Econ 1(2):027–040

Taniguchi H (2002) Determinants of women's entry into self-employment. Soc Sci Q 83(3):875

Uhlaner LM, Thurik AR (2007) Postmaterialism influencing total entrepreneurial activity across nations. J Evol Econ 17(2):161–185

Uhlaner LM, Thurik AR, Hutjes J (2002) Post-materialism: a cultural factor influencing entrepreneurial activity across nations, ERIM Report ERS-2002-62- STR. Erasmus Research Institute for Management, Rotterdam

Van der Sluis J, Van Praag M, Vijverberg W (2005) Entrepreneurship selection and performance: a meta analysis of the impact of education in developing economies. World Bank Econ Rev 19(2):225–261

Verheul I (2005) Is there a (fe)male approach? understanding gender differences in entrepreneurship. Ph.D. Thesis, Erasmus Research Institute of Management (ERIM)

Verheul I, Uhlaner L, Thurik R (2005) Business accomplishments, gender and entrepreneurial self-image. J Bus Venturing 20:483–518

Verheul I, Van Stel A, Thurik R (2006) Explaining female and male entrepreneurship at the country level. Entrep Reg Dev 18(2):151–183

Vermeulen ME, Minor CW (1998) Context of career decisions: women reared in a rural community. Career Dev Q 46:230–245

Weiler S, Bernasek A (2001) Dodging the glass ceiling? Networks and the new wave of women entrepreneurs. Soc Sci J 38(1):85–104

Wennekers ARM, Uhlaner LM, Thurik R (2002) Entrepreneurship and its conditions: a macro perspective. Int J Entrep Educ 1(1):25–64

Wennekers S, Van Stel A, Thurik R, Reynolds P (2005) Nascent entrepreneurship and economic development. Small Bus Econ 24(3):293–309

White H (1980) A heteroskedasticity-consistent covariance matrix estimator and a direct test for heteroskedasticity. Econometrica 48:817–838

Williams DR (2004) Effects of childcare activities on the duration of self-employment in Europe. Entrep Theory Pract 28:467–486

Williams JE, Satterwhite RC, Best DL (1999) Pan-cultural gender stereotypes revisited: the Five Factor Model. Sex Roles 40:513–525

World Bank (2001) Engendering development through gender equality in rights, resources, and voice. A World Bank Policy Research Report

Youkyoung M, Jaesoen J (2001) Women's employment policies in OECD Countries. Womens Stud Forum 17:135
Additional information
I would like to thank the editor and the two anonymous reviewers for their feedbacks. The paper has benefited substantially from their insightful comments and suggestions.
About this article
Cite this article
Kobeissi, N. Gender factors and female entrepreneurship: International evidence and policy implications. J Int Entrep 8, 1–35 (2010). https://doi.org/10.1007/s10843-010-0045-y
Published:

Issue Date:

DOI: https://doi.org/10.1007/s10843-010-0045-y
Keywords
Entrepreneurship

Gender

International