Abstract
France, for a century, thought of herself as a great industrial nation. This country not only saw a source of prosperity and quality jobs for its citizens but also always considered technological autonomy and industrial power as an attribute of sovereignty. For the classical economist, deindustrialization is a fact of development: the more economies grow and become more sophisticated, the more they produce and consume services, and the more industrial activities migrate to emerging countries. However, in France, the attachment to industry and to an active industrial policy remained strong even as the country gradually embarked on European construction and had to respond to globalization and new technological waves. France has long successfully pursued an industrial policy of major projects. European integration, the ever closer union, the development of regulatory authorities for competition, and state aids led France to dismantle its public intervention apparatus. The introduction of the euro further deprived France of its devaluation power to correct relative competitiveness losses. Thus, France is a pure case of a voluntarist country subjected to the test of globalization intermediated by the European Union whose long-term effects on deindustrialization can be judged.
Access options
Buy single article
Instant access to the full article PDF.
US$ 39.95
Tax calculation will be finalised during checkout.
Subscribe to journal
Immediate online access to all issues from 2019. Subscription will auto renew annually.
US$ 79
Tax calculation will be finalised during checkout.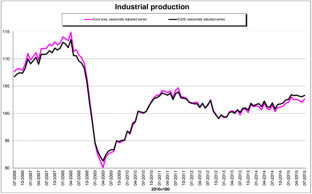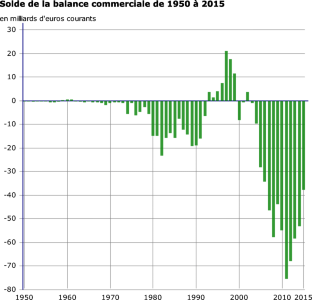 Notes
1.

In 2008, according to UNCTAD, for the 15 largest French multinationals, over 60% of their assets and 60% of employment were located outside France. The same year, for the 13 large German multinationals, 46% of total assets were located abroad, 14 points lower than the French multinational.
References
Aghion P (2018) Un an de Macron, le compte n'y est pas. Alternatives Economiques. June

Artus P (2013) France: what should we expect from the tax credit for competitiveness and employment? Natixis, October

Buigues P-A. & Sekkat K. (2011). Public subsidies to business: an international comparison. Journal of Industry, Competition and Trade, 2011, vol. 11, issue 1, 1–24

Buigues P-A. & Sekkat K. (2009) Industrial policy in Europe, Japan and the USA. Palgrave Macmillan

Cohen E (2007) Industrial policies in France: the old and the new. Journal of Industry, Competition and Trade, 2007 7(3):213–227

Cohen E & Buigues P-A (2015)., Le décrochage industriel, Fayard, 2015

CEPII (2019). L'étonnante atonie des exportations françaises. La lettre du CEPII, N°395, Janvier 2019

Cour des Comptes (2013) L'évolution et les conditions de maîtrise du crédit d'impôt en faveur de la recherche July 2013

Eurostat, (2013) High-technology versus low-technology manufacturing

Eurostat, (2011) High-tech statistics

France Stratégie (2018) Rapport 2018: Crédit d'Impôt pour la compétitivité et l'emploi

France Stratégie (2017). Evaluation de la politique des pôles de compétitivité Février

Gallois L. (2012) Pacte pour la compétitivité de l'industrie française, La Documentation française Novembre

Gouvernement (2014). La Nouvelle France Industrielle: 34 plans de la nouvelle France Industrielle Septembre

Institut de l'Entreprise (2012).Pôles de compétitivité: Transformer l'essai Policy Paper, Novembre 2012

McKinsey Global Institute (2012) Manufacturing the future: the next area of global growth and innovation, November

Mittelstaedt JD, Harben G, Ward W (2003) How big is big enough? Firm Size as a Barrier to Exporting Journal of Small Business Management 41(1):67–83

Pisani-Ferry J. (2018). La méthode Macron doit changer. Journal du Dimanche, 1 Septembre

Porter M (1998) Clusters and the new economics of competition Harvard

Rodrik D (2016) Premature deindustrialization. Journal of Economic Growth, 33 21(1):1

Sénat (2019) Pôles de compétitivité: Bilan et Perspective Février

UNCTAD (2018). World investment report
Additional information
Publisher's Note
Springer Nature remains neutral with regard to jurisdictional claims in published maps and institutional affiliations.
About this article
Cite this article
Buigues, PA., Cohen, E. The Failure of French Industrial Policy. J Ind Compet Trade 20, 249–277 (2020). https://doi.org/10.1007/s10842-019-00325-0
Received:

Revised:

Accepted:

Published:

Issue Date:
Keywords
Public support

Business

Subsidies

Public procurement

Competitivity
JEL Classification