Abstract
The bush-cricket genus Lluciapomaresius Barat, 2012 is endemic to the Iberian Peninsula. It includes at least seven species, most of which are narrow endemics restricted to single or few mountain ranges across the Peninsula. All of them are currently included under different categories in the IUCN red list. One of the species listed as data deficient is Pantel's Saddle Bush-cricket L. panteli (Navàs 1899), an iconic species of the Montsant Natural Park. Up to now, it was thought to be restricted to few square kilometres in the Montsant range, in southern Catalonia (north-east Iberian Peninsula). The species was at some point suspected extinct, but it was rediscovered in 2000. More recently, a new species, L. nisae Olmo-Vidal 2017, was described based on specimens found in neighbouring Llaberia range, about 20 km south from Montsant. In this study, we present new data based on a systematic sampling of Lluciapomaresius across known and nearby locations in Montsant, Llaberia and surrounding ranges. The records and collected specimens allow us to provide a better delimitation of the actual distribution range and to conduct a detailed morphological study to shed light on the degree of differentiation of populations in different parts of the range, further supported by DNA sequence data of mitochondrial and nuclear genes. Our results show that L. nisae is a synonym of L. panteli as judged by the small genetic and morphological variability, better interpreted as the result of local differentiation of populations following post-glacial isolation. We further confirm the extremely small ranges and isolation of the Lluciapomaresius populations and propose to move the species towards the EN (endangered) category in the IUCN Red List. Additional research on the still unknown aspects of its biology and ecology is needed to implement reasoned and effective conservation measures that ensure its survival.
Access options
Buy single article
Instant access to the full article PDF.
US$ 39.95
Tax calculation will be finalised during checkout.
Subscribe to journal
Immediate online access to all issues from 2019. Subscription will auto renew annually.
US$ 79
Tax calculation will be finalised during checkout.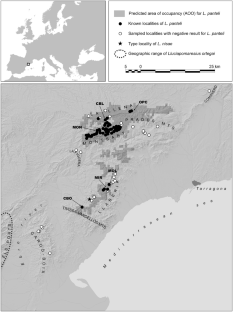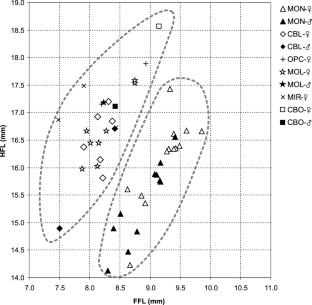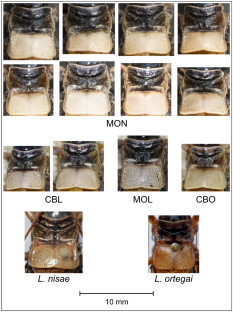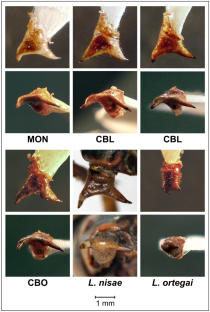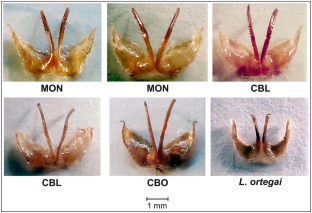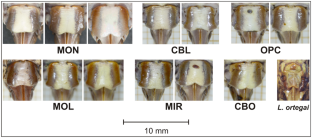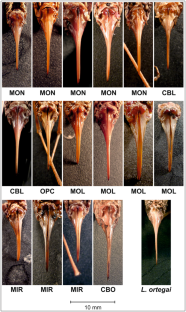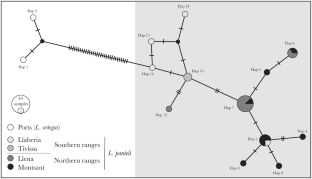 References
Allegrucci G, Massa B, Trasatti A, Sbordoni V (2013) A taxonomic revision of western Eupholidoptera bush crickets (Orthoptera: Tettigoniidae): testing the discrimination power of DNA barcode. Syst Entomol 39(1):7–23

Barat J (2004) Descripción de Steropleurus eclipticus sp. n. (Orthoptera: Tettigoniidae: Ephippigerinae) del Sistema Ibérico, Zaragoza (España). Bol Soc Entomol Aragonesa 34:1–7

Barat J (2007) Revisión taxonómica de los Ephippigerinae (Orthoptera: Tettigonioidea: Bradyporidae) de la Península Ibérica e Islas Baleares. I. Géneros: Callicrania Bolívar, 1898. Neocallicrania Pfau, 1996; Platystolus Bolívar, 1878 y Synephippius Navàs, 1905. Bol Soc Entomol Aragonesa 40:55–118

Barat J (2012) Revisión preliminar de los géneros de Ephippigerini Brunner von Wattenwyl, 1878 (Orthoptera: Tettigoniidae: Bradyporinae). Bol Soc Entomol Aragonesa 50:1–71

Bolívar I (1878) Analecta orthopterologica. An Soc Esp Hist Nat 7:423–470

Cardoso P (2017) red—an R package to facilitate species red list assessments according to the IUCN criteria. Biodivers Data J 5:e20530–e20514. https://doi.org/10.3897/BDJ.5.e20530

Cardoso P, Borges PAV, Triantis KA, Ferrández MA, Martín JL (2011) Adapting the IUCN Red List criteria for invertebrates. Biol Conserv 144(10):2432–2440. https://doi.org/10.1016/j.biocon.2011.06.020

Clement M, Posada D, Crandall KA (2000) TCS: a computer program to estimate gene genealogies. Mol Ecol 9(10):1657–1659

Drummond AJ, Suchard MA, Xie D, Rambaut A (2012) Bayesian phylogenetics with BEAUti and the BEAST 1.7. Mol Biol Evol 29:1969–1973

Elith J, Phillips S, Hastie T, Dudík M, Chee YE, Yates CJ (2011) A statistical explanation of MaxEnt for ecologists. Divers Distrib 17:43–57. https://doi.org/10.1111/j.1472-4642.2010.00725.x

Excoffier L, Lischer HEL (2010) Arlequin suite ver 3.5: a new series of programs to perform population genetics analyses under Linux and Windows. Mol Ecol Resour 10:564–567

Ferreira S, Grosso JM, Soares P (2007) New and interesting grasshopper and cricket (Orthoptera) records from the fauna of Peneda-Gerês National Park (north-western Portugal). Bol Soc Entomol Aragonesa 40:309–312

Folmer O, Black M, Hoeh W, Lutz R, Vrijenhoek R (1994) DNA primers for amplification of mitochondrial cytochrome c oxidase subunit I from diverse metazoan invertebrates. Mol Mar Biol Biotechnol 3:294–299

Gangwere SK, de Viedma MG, Llorente V (1985) Libro rojo de los ortópteros ibéricos. Ministerio de Agricultura, Pesca y Alimentación, Madrid

Geller J, Meyer C, Parker M, Hawk H (2013) Redesign of PCR primers for mitochondrial cytochrome c oxidase subunit I for marine invertebrates and application in all-taxa biotic surveys. Mol Ecol Resour 13:851–861

Herrera L (1982) Catálogo de los Ortópteros de España. Dr. W. Junk, The Hague.

Hudson RR (2000) A new statistic for detecting genetic differentiation. Genetics 155:2011–2014

Hudson RR, Slatkin M, Maddison WP (1992) Estimation of levels of gene flow from DNA sequence data. Genetics 132:583–589

Kaya S, Çiplak B (2016) Budding speciation via peripheral isolation: the Psorodonotus venosus (Orthoptera, Tettigoniidae) species group example. Zool Scr 45(5):521–537

Kearse M, Moir R, Wilson A, Stones-Havas S, Cheung M, Sturrock S, Buxton S, Cooper A, Markowitz S, Duran C, Thierer T, Ashton B, Meintjes P, Drummond A (2012) Geneious basic: an integrated and extendable desktop software platform for the organization and analysis of sequence data. Bioinformatics 28(12):1647–1649

Köhler G, Samietz J, Schielzeth H (2017) Morphological and colour morph clines along an altitudinal gradient in the meadow grasshopper Pseudochorthippus parallelus. PLoS ONE 12(12):e0189815. https://doi.org/10.1371/journal.pone.0189815

Kumar S, Stecher G, Tamura K (2016) MEGA7: molecular evolutionary genetics analysis version 7.0 for bigger datasets. Mol Biol Evol 33(7):1870–1874

Lanfear R, Calcott B, Ho SYW, Guindon S (2012) PartitionFinder: combined selection of partitioning schemes and substitution models for phylogenetic analyses. Mol Biol Evol 29(6):1695–1701

Leray M, Yang JY, Meyer CP, Mills SC, Agudelo N, Ranwez V, Boehm JT, Machida RJ (2013) A new versatile primer set targeting a short fragment of the mitochondrial COI region for metabarcoding metazoan diversity: application for characterizing coral reef fish gut contents. Front Zool 10:34

Librado P, Rozas J (2009) DnaSP v5: a software for comprehensive analysis of DNA polymorphism data. Bioinformatics 25:1451–1452

Meyer CP (2003) Molecular systematics of cowries (Gastropoda: Cypraeidae) and diversification patterns in the tropics. Biol J Lin Soc 79:401–459

Miranda MJ, Barranco P (2005) Os ortópteros da bacia do Rio Sabor (Trás-os-Montes e Alto Douro, Portugal) (Insecta, Orthoptera). Bol Soc Entomol Aragonesa 37:173–200

Navàs L (1899) Una excursión al Montsant (provincia de Tarragona). Actas Soc Esp Hist Nat 28:45–48

Navàs L (1925) Mis excursiones del verano de 1925. Brotéria 22:131–140

Olmo-Vidal JM (2002) Atles dels ortòpters de Catalunya. Generalitat de Catalunya. Departament de Medi Ambient, Barcelona

Olmo-Vidal JM (2017) Lluciapomaresius nisae, a new species of Ephippigerini (Orthoptera: Tettigoniidae: Bradyporinae) from the northeast of the Iberian Peninsula. Zootaxa 4221(1):123–130

Pantel J (1896) Les Orthoptères du "Sitio" dans la Sierra de Cuenca. An Soc Esp Hist Nat 25:59–118

Papadopoulou A, Anastasiou I, Vogler AP (2010) Revisiting the insect mitochondrial molecular clock: the mid-aegean trench calibration. Mol Biol Evol 27(7):1659–1672

Pardo JE, Gómez R, del Cerro A (1993) Orthopteroidea de los sistemas montañosos de Castilla-La Mancha (España). II. Ensifera. Zool Baetica 4:113–148

Peinado MV (1984) Tettigonioideos españoles (Ephippigerinae). Universidad Complutense ed, Madrid

Peinado MV (1990) Inventario preliminar de los Ephippigerinae paleárticos. Géneros Steropleurus Bol. y Uromenus Bol. (Orthoptera, Tettigoniidae). Bolm Soc Port Entomol 123(IV–21):257–276

Peinado MV, Mateos J (1985) Contribución al conocimiento de los Ephippigerinae (Orthoptera: Tettigonioidea) del Sistema Central. Actas del II Congreso Ibérico de Entomología (Lisboa) (Supl. nº1 ao Bolm. Soc Port Entomol 1985:395–408

Peinado MV, Mateos J (1988) Steropleurus de la Comunidad Autónoma de Madrid (Orthoptera, Tettigoniidae). Estudio preliminar. Bol Grupo Entomol Madrid 3:67–84

Pfau HK, Pfau B (2015) On the bioacoustics of the Iberian Ephippigerini (Orthoptera, Tettigoniidae, Bradyporinae). Bull Soc Entomol Suisse 88:105–154

Phillips SJ, Dudik M, Schapire RE (2017) Maxent software for modeling species niches and distributions. 3.4.1. http://biodiversityinformatics.amnh.org/open_source/maxent/. Accessed 8 Jan 2018

Pinedo MC (1988) Los Tettigoniidae de las Sierras de Guadarrama, Gredos y zonas adyacentes (Orthoptera). Eos 64:229–242

Presa JJ, García M, Clemente M, Barat J, Barranco Vega P, Correas J, Ferreira S, Hochkirch A, Lemos P, Odé B, Olmo Vidal J, Prunier F (2016) Lluciapomaresius panteli. The IUCN Red List of Threatened Species 2016: e.T68427395A75339687. https://doi.org/10.2305/IUCN.UK.2016-3.RLTS.T68427395A75339687.en. Accessed 29 June 2017

Ragge DR, Reynolds WJ (1998) The songs of the grasshoppers and crickets of Western Europe. Harley Books, Colchester

Rosa-García R (2004) Nuevos datos de Steropleurus asturiensis (Bolívar, 1898) (Orthoptera, Ephippigerinae) para Asturias (N. O. de la Península Ibérica). Bol Soc Entomol Aragonesa 35:275

Schmidt GH, Martinho AP, Paiva MR (2009) The saltopteran fauna of Portugal: new records and biogeographical aspects (Orthopteroidea). Fragmenta Entomol 41(1):15–67

Shapiro LH, Strazanac JS, Roderick GK (2006) Molecular phylogeny of Banza (Orthoptera: Tettigoniidae), the endemic katydids of the Hawaiian Archipelago. Mol Phylogenet Evol 41(1):53–63

Simon C, Frati F, Beckenbach A, Crespi B, Liu H, Flook P (1994) Evolution, weighting, and phylogenetic utility of mitochondrial gene sequences and a compilation of conserved polymerase chain reaction primers. Ann Entomol Soc Am 87(6):651–701

Verdú JR, Galante E (eds) (2005) Libro Rojo de los Invertebrados de España. Dirección General de Conservación de la Naturaleza, Madrid

Verdú JR, Numa C, Galante E (eds) (2011) Atlas y Libro Rojo de los Invertebrados Amenazados de España. vol I (Especies Vulnerables). Dirección General de Medio Natural y Política Forestal. Ministerio de Medio Ambiente, Medio rural y Marino, Madrid

Vidal A (2014) Seguiment de la Somereta del Montsant. Direcció General del Medi Natural i Biodiversitat. Generalitat de Catalunya, Barcelona

White TJ, Bruns T, Lee S, Taylor J (1990) Amplification and direct sequencing of fungal ribosomal RNA genes for phylogenetics. In: Innis M, Gelfand D, Swinsky J White TJ PCR protocols: a guide to methods and applications. Academic Press, London
Acknowledgements
We are indebted to Neus Miró and David Iturria for their support and to all the people who contributed sightings of Pantel's Saddle Bush-cricket, especially the volunteers who participated in the fieldwork. Additional thanks to Pedro Cardoso for his help in running the R analysis. We would also like to thank Glòria Masó for her kindness to let us study the holotype of L. niase and provide us with photographs. This work has been funded by the Diputació de Tarragona with Grants 8004330008-2016-0005574 and 8004330008-2017-0001118. Funding for molecular studies was provided by project 2014SGR1604 from the Catalan Government.
Ethics declarations
Conflict of interest
The work does not involve any conflict of interest.
Ethical approval
To obtain the data presented in the manuscript it has been necessary to involve animals. These have been used either for measuring morphometric characters or for molecular analysis of DNA. I declare that, despite invertebrates not being included in the current legislation on the protection of animals in scientific research, we have followed the regulations established in the Directive 2010/63/EU of the European Parliament and of the Council, of 22 September 2010, on the protection of animals used for scientific purposes, as well as in the Real Decreto 53/2013, de 1 de febrero, por el que se establecen las normas básicas aplicables para la protección de los animales utilizados en experimentación y otros fines científicos, incluyendo la docencia. That means that we have followed, when possible, the 'Three Rs' rules enshrined in these documents: to refine the procedures so that the degree of suffering is kept to a minimum. To reduce the number of animals used in research to the minimum required for meaningful results. To replace the use of live animals by non-animal alternatives. The application of these rules in our particular research has entailed the following: (1) To comply with the first 'R' (refinement): (a) Biometric measurements have been carried out by means of an innovative procedure based on a calibrated imaging system, avoiding any manipulation which could lead to stress and suffering. This procedure involves only a slight anaesthesia followed by several photographs and the releasing of the individual in the location where it was collected and (b) The individuals used for molecular analyses have been euthanized after anaesthesia, because although the procedure can be performed on a separate member of the animal we have considered that this could cause stress and suffering when the mutilated individual was released in the environment. (2) To comply with the second 'R' (reduction): the number of euthanized animals has been the minimum to achieve significant results through its DNA analysis. In fact, for some populations the number of individuals used has been even smaller because we were not able to collect more specimens. (3) It has not been possible to comply with the third 'R' (replacement) as a consequence of the nature of the research.
Electronic supplementary material
Below is the link to the electronic supplementary material.
About this article
Cite this article
Solé, J., Arnedo, M.A., Barat, J. et al. Range, population structure and morphological characterization of the small range endemic bush-cricket Lluciapomaresius panteli (Orthoptera: Tettigoniidae: Bradyporinae). J Insect Conserv 22, 659–674 (2018). https://doi.org/10.1007/s10841-018-0092-6
Received:

Accepted:

Published:

Issue Date:
Keywords
Tettigoniidae

Montsant

Small range endemism

Fragmented and isolated habitats

Threatened species

Speciation