Abstract
Paved roadways, spanning 6.6 million kilometres across the continental United States, are often bordered by natural or restored habitats and could provide opportunities for pollinator conservation. Because insects are frequently killed by auto traffic, roadside habitats may be ecological traps that kill more pollinators than they produce. Here we compare insect traffic mortality when roadsides are bordered by woodlots, meadows, or lawns. We also compare study sites with and without restored medians to examine the impact of creating habitat that can only be accessed by crossing traffic. We confined our study to high speed roads (70–90 km h−1) with heavy traffic volume. Both habitat type and the presence of a vegetated median affect vehicle strikes fatal to insects. Insect mortality in general, and its effect on bees and butterflies in particular, was consistently lower when roads were bordered by woodlots than when they were bordered by lawn or meadows. Which roadside habitats were associated with the highest insect mortality depended on the taxon in question and the presence or absence of a vegetated median. Butterfly and dragonfly mortality was highest on roads with meadow medians, while bee mortality was highest on roadsides with lawn medians. Across most site comparisons, vegetated medians significantly elevated fatal insect-vehicle strikes. Regardless of the habitat bordering roadsides, insect mortality was unacceptably high for areas being considered for conservation. We suggest four research directions that may lead to reduced insect mortality in roadside habitats.
This is a preview of subscription content, log in to check access.
Access options
Buy single article
Instant access to the full article PDF.
US$ 39.95
Price includes VAT for USA
Subscribe to journal
Immediate online access to all issues from 2019. Subscription will auto renew annually.
US$ 99
This is the net price. Taxes to be calculated in checkout.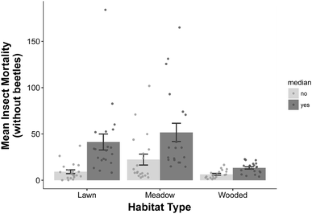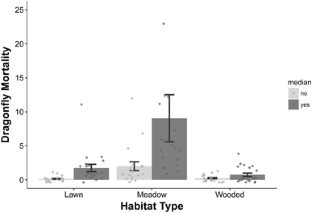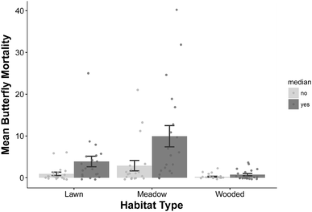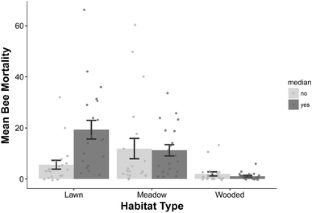 References
Barthelmess EL, Brooks MS (2010) The influence of body-size and diet on road-kill trends in mammals. Biodivers Conserv 19(6):1611–1629. https://doi.org/10.1007/s10531-010-9791-3

Baxter-Gilbert JH, Riley JL, Neufeld CJ, Litzgus JD, Lesbarrères D (2015) Road mortality potentially responsible for billions of pollinating insect deaths annually. J Insect Conserv 19(5):1029–1035

Berenbaum M (2015) Road worrier. Am Entomol 61(1):5–8

Bouchard J, Ford AT, Eigenbrod FE, Fahrig L (2009) Behavioral responses of northern leopard frogs (Rana pipiens) to roads and traffic: implications for population persistence. Ecol Soc 14(2):23. http://www.ecologyandsociety.org/vol14/iss2/art23/

Calvert AM, Bishop CA, Elliot RD, Krebs EA, Kydd TM, Machtans CS, Robertson GJ (2013) A synthesis of human-related avian mortality in Canada. Avian Conserv Ecol 8(2):11. https://doi.org/10.5751/ACE-00581-080211

Forman RT, Alexander LE (1998) Roads and their major ecological effects. Annu Rev Ecol Syst 29:207–231. https://doi.org/10.1146/annurev.ecolsys.29.1.207

Furness AN (2014) Why shouldn't the dragonfly cross the road? The influence of roadway construction and vehicle speed on the behavior, mortality, and conservation of adult dragonflies (Odonata: Anisoptera). Thesis, University of South Dakota

Hill DB, Webster TC (1995) Apiculture and forestry (bees and trees). Agrofor Syst 29(3):313–320

Hothorn T, Bretz F, Westfall P (2008) Simultaneous inference in general parametric models. Biom J 50(3):346–363. https://doi.org/10.1002/bimj.200810425

Lande R (1988) Genetics and demography in biological conservation. Science 241:1455–1460

Langevelde FV, Dooremalen CV, Jaarsma C (2008) Traffic mortality, analysis and mitigation. In: Hong SK, Nakagoshi N, Fu B, Morimoto Y (eds) Landscape ecological applications in man-influenced areas. Springer, Dordrecht, pp 253–272

McKenna DD, McKenna KM, Malcolm SB, Berenbaum MR (2001) Mortality of Lepidoptera along roadways in central Illinois. J Lepid Soc 55(2):53–68

Munguira MN, Thomas JA (1993) Use of road verges by butterfly and burnet populations, and the effect of roads on adult dispersal and mortality. Biol Conserv 64(2):316–329

Munoz PT, Torres FP, Megías AG (2014) Effects of roads on insects: a review. Biodivers Conserv 24(3):659–682. https://doi.org/10.1007/s10531-014-0831-2

O'Hara RB, Kotze DJ (2010) Do not log transform count data. Methods Ecol and Evol 1(2):118–122

R Core Team (2017) R: a language and environment for statistical computing. R Foundation for Statistical Computing. Vienna, Austria. https://www.R-project.org/

Rao RSP, Girish MS (2007) Road kills: assessing insect casualties using flagship taxon. Curr Sci 92:830–837

Ries L, Debinski DM, Wieland ML (2001) Conservation value of roadside prairie restoration to butterfly communities. Conserv Biol 15(2):401–411. https://doi.org/10.1046/j.1523-1739.2001.015002401.x

Skórka P (2016) The detectability and persistence of road-killed butterflies: an experimental study. Biol Conserv 200:36–43

Skórka P, Lenda M, Moron D, Kalarus K, Tryjanowski P (2013) Factors affecting road mortality and the suitability of road verges for butterflies. Biol Conserv 159:148–157. https://doi.org/10.1016/j.biocon.2012.12.028

United States Federal Highway Administration, Office of Highway Policy Information (2013) Highway statistics. http://www.fhwa.dot.gov/policyinformation/statistics/2013/vmt421c.cfm Accessed 26 Jul 2016

Venables WN, Ripley BD (2002) Modern applied statistics with S, 4th edn. Springer, New York

Wheeler SM, Beatley T (eds) (2009) The sustainable urban development reader, 2nd edn. Routledge, New York, NY

Wilson EO (1987) The little things that run the world (the importance and conservation of invertebrates. Conserv Biol 1(4):344–346
Acknowledgements
We thank the Allen Family Fellowship and The University of Delaware Undergraduate Research program for financial support; and Dr. Charles Bartlett, Emily Baisden, Adam Mitchell, Grace Savory-Burke, and Kimberley Shropshire for help with insect identification; William Morrisey and Grace Clampit for help gathering samples along roadsides; and The Maryland Department of Transportation Transit Authority for granting us permission to sample along state roads.
Funding
Funding for undergraduate studies of William A. Keilson is from Paul G. Allen Family Foundation.
Ethics declarations
Conflict of interest
There is no conflict of interest.
Research involving human and animal participants
No animals were harmed by this study. Insects and animals that died on roads were not a result of this study's manipulation, rather we looked for animal and insects that were already killed by existing traffic.
Electronic supplementary material
Below is the link to the electronic supplementary material.
About this article
Cite this article
Keilsohn, W., Narango, D.L. & Tallamy, D.W. Roadside habitat impacts insect traffic mortality. J Insect Conserv 22, 183–188 (2018). https://doi.org/10.1007/s10841-018-0051-2
Received:

Accepted:

Published:

Issue Date:
Keywords
Pollinators

Roadside restoration

Insect traffic mortality

Bees

Butterflies