Abstract
The Lord Howe Island stick insect (Dryococelus australis) is one of the world's rarest insects. However, the opportunity to reintroduce the species to Lord Howe Island, and commence the path to recovery, may occur within the next 5 years. Understanding the insect's host plant and habitat preferences on Lord Howe Island is critical to maximising the likelihood of reintroduction success. However, very little ecological information was documented before the species became extinct on the island in the 1930s. Here we examine the Lord Howe Island stick insect's preference for potential host plants, a key aspect of habitat suitability. We conducted preference trials using 15 common plant species found on Lord Howe Island. Both nymphs and adults consumed some but not all of these plant species. Nymphs were able to survive on 7 of these 15 plants for the duration of the 26-day trials although failed to survive on some of the plants most preferred by adults. Overall, these data reveal that there are numerous plants on Lord Howe Island that the stick insect can consume, though their suitability varies with different developmental stages of the insect. These data are encouraging for any future reintroduction attempts and would greatly aid the selection and monitoring of release sites.
Access options
Buy single article
Instant access to the full article PDF.
USD 39.95
Price excludes VAT (USA)
Tax calculation will be finalised during checkout.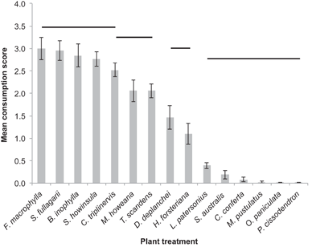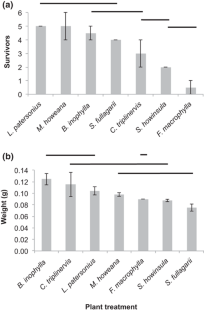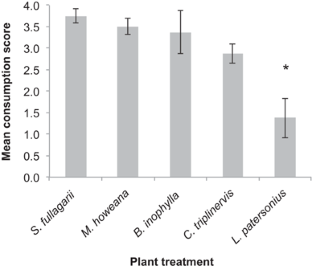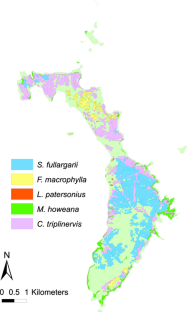 References
Armstrong DP, Castro I, Griffiths R (2007) Using adaptive management to determine requirements of re-introduced populations: the case of the New Zealand hihi. J Appl Ecol 44:953–962

Auld TD, Hutton I (2004) Conservation issues for the vascular flora of Lord Howe Island. Cunninghamia 8:490–500

Australian Government Bureau of Meteorology (2017) Climate of Lord Howe Island. http://www.bom.gov.au/nsw/lord_howe/climate.shtml Accessed 13 Jun 2017

Batson WG, Gordon IJ, Fletcher DB, Manning AD (2015) Translocation tactics: a framework to support the IUCN Guidelines for wildlife translocations and improve the quality of applied methods. J Appl Ecol 52:1598–1607

Beck BB (1994) Reintroduction of captive-born animals. In: Olney PJS, Mace GM, Feistner ATC (eds) Creative conservation: interactive management of wild and captive animals. Chapman & Hall, London, pp 265–286

Bedford GO (1978) Biology and ecology of the Phasmatodea. Annu Rev Entomol 23:125–149

Bernays EA (1986) Diet-induced head allometry among foliage-chewing insects and its importance for graminivores. Science 231:495–497

Bernays EA, Chapman RF (1970) Experiments to determine the basis of food selection by Chorthippus parallelus (Zetterstedt) (Orthoptera: Acrididae) in the field. J Anim Ecol 39:761–776

Blüthgen N, Metzner A, Ruf D (2006) Food plant selection by stick insects (Phasmida) in a Bornean rain forest. J Trop Ecol 22:35–40

Boucher S, Varady-Szabo H (2005) Effects of different diets on the survival, longevity and growth rate of the Annam stick insect, Medauroidea extradentata (Phasmatodea: Phasmatidae). J Orthopt Res 14:115–118

Bragg PE (2001) Phasmids of Borneo. Natural History Publications (Borneo), Kota Kinabula

Buckley TR, Attanayake D, Bradler S (2009) Extreme convergence in stick insect evolution: phylogenetic placement of the Lord Howe Island tree lobster. Proc R Soc Lond B 276:1055–1062

Carlile N, Priddel D, Honan P (2009) The recovery programme for the Lord Howe Island Phasmid (Dryococelus australis) following its rediscovery. Ecol Manag Restor 10:S124–S128

Cleave R, Pearce K, Courtney P, van Weerd H (2013) A conservation program for the Lord Howe Island Stick Insect (Dryococelus australis) at Melbourne Zoo. Int Zoo News 60:244–252

Clissold FJ, Sanson GD, Read J, Simpson SJ (2009) Gross vs. net income: how plant toughness affects performance of an insect herbivore. Ecology 90:3393–3405

Craig TP, Ohgushi T (2002) Preference and performance are correlated in the spittlebug Aphrophora pectoralis on four species of willow. Ecol Entomol 27:529–540

Department of Environment and Climate Change (NSW) (2007) Lord Howe Island biodiversity management plan. Department of Environment and Climate Change (NSW), Sydney

ESRI (Environmental Systems Research Institute) (2011) ArcMap 10.2.2. Redlands, California

Fischer J, Lindenmayer DB (2000) An assessment of the published results of animal relocations. Biol Conserv 96:1–11

Green P (1994) Flora of Australia. vol 49. Oceanic Islands 1. Australian Government Publishing Service, Canberra

Griffith B, Scott JM, Carpenter JW, Reed C (1989) Translocation as a species conservation tool: status and strategy. Science 245:477–480

Gripenberg S, Mayhew PJ, Parnell M, Roslin T (2010) A meta-analysis of preference-performance relationships in phytophagous insects. Ecol Lett 13:383–393

Gurney AB (1947) Notes on some remarkable Australasian walkingsticks, including a synopsis of the genus Extatosoma (Orthoptera: Phasmatidae). Ann Entomol Soc Am 40:373–396

Honan P (2008) Notes on the biology, captive management and conservation status of the Lord Howe Island stick insect (Dryococelus australis) (Phasmatodea). J Insect Conserv 12:399–413

Hsiung C-C, Panagopoulos D (1998) Preliminary observations on the effects of food plant on the stick insect Eurycantha calcarata Lucas (Cheleutoptera: Phasmatidae). J Orthopt Res 7:93–98

Hutton I (2010a) A field guide to the plants of Lord Howe Island. Ian Hutton, Sydney

Hutton I (2010b) A field guide to the ferns of Lord Howe Island. Ian Hutton, Sydney

IUCN/SSC (2013) Guidelines for reintroductions and other conservation translocations. IUCN Species Survival Commission, Gland

JMP (1989–2007) Version 13. SAS Institute Inc., Cary

Junker RR, Itioka T, Bragg PE, Blüthgen N (2008) Feeding preferences of phasmids (Insecta: Phasmida) in a Bornean dipterocarp forest. Raffles Bull Zool 56:445–452

Knisley CB, Hill JM, Scherer AM (2005) Translocation of threatened tiger beetle Cicindela dorsalis dorsalis (Coleoptera: Cicindelidae) to Sandy Hook, New Jersey. Ann Entomol Soc Am 98:552–557

Lea A (1916) Notes on the Lord Howe Island phasma, and on an associated longicorn beetle. Proc Roy Soc S Aust 40:145–147

Lord Howe Island Board (2009) Draft Lord Howe Island rodent eradication plan. Lord Howe Island Board, Lord Howe Island

Lord Howe Island Board (2017) Lord Howe Island rodent eradication project—NSW species impact statement. Lord Howe Island Board, Lord Howe Island

Malishev M, Sanson GD (2015) Leaf mechanics and herbivory defence: how tough tissue along the leaf body deters growing insect herbivores. Austral Ecol 40:300–308

Pickard J (1983) Vegetation of Lord Howe Island. Cunninghamia 1:133–265

Priddel D, Carlile N, Humphrey M, Fellenberg S, Hiscox D (2003) Rediscovery of the 'extinct' Lord Howe Island stick-insect (Dryococelus australis (Montrouzier)) (Phasmatodea) and recommendations for its conservation. Biodivers Conserv 12:1391–1403

Raupp MJ (1985) Effects of leaf toughness on mandibular wear of the leaf beetle, Plagiodera versicolora. Ecol Entomol 10:73–79

Rentz DCF (1996) Grasshopper country: the abundant orthopteroid insects of Australia. University of New South Wales Press, Sydney

Schoonhoven LM, van Loon JJA, Dicke M (2005) Insect-plant biology. 2nd edn. Oxford University Press, New York

Seddon PJ, Soorae PS, Launay F (2005) Taxonomic bias in reintroduction projects. Anim Conserv 8:51–58

Seow-Choen F (2005) A pocket guide: phasmids of Peninsular Malaysia and Singapore. Natural History Publications (Borneo), Kota Kinabula

Sheringham P, Richards P, Gilmour P, Kemmerer E (2016) A systematic flora survey, floristic classification and high-resolution vegetation map of Lord Howe Island. Unpublished report for Lord Howe Island Board

Stanley Price MR, Soorae PS (2003) Reintroductions: whence and whither? Int Zoo Yearb 38:61–75

Tay EP, Seow-Choen F (1996) Relationship of plant families and stick-insects in Peninsular Malaysia and Singapore. In: Turner IM, Diong CH, Lim SSL, Ng PKL (eds) Biodiversity and the dynamics of ecosystems (DIWPA series). DIWPA, Kyoto, pp 181–190

Thatcher CA, van Manen FT, Clark JD (2006) Identifying suitable sites for Florida panther reintroduction. J Wildl Manag 70:752–763

Wolf CM, Garland T Jr, Griffith B (1998) Predictors of avian and mammalian translocation success: reanalysis with phylogenetically independent contrasts. Biol Conserv 86:243–255

Wolf CM, Griffith B, Reed C, Temple SA (1996) Avian and mammalian translocations: update and reanalysis of 1987 survey data. Conserv Biol 10:1142–1154
Acknowledgements
We thank the Lord Howe Island Board for permission to conduct the research (Permit No. LHIB 05/13), with special thanks to Hank Bower and Christo Haselden for their advice and assistance. We are also very grateful to Ian Hutton, Scott Meier, Paul Gadsby and Melanie Tan for sharing their knowledge of the vegetation on Lord Howe Island.
Ethics declarations
Conflict of interest
The authors declare that they have no conflict of interest.
About this article
Cite this article
McGrath, S.J., Cleave, R.J., Elgar, M.A. et al. Determining host plant preferences for the critically endangered Lord Howe Island stick insect (Dryococelus australis) to assist reintroduction. J Insect Conserv 21, 791–799 (2017). https://doi.org/10.1007/s10841-017-0002-3
Received:

Accepted:

Published:

Issue Date:

DOI: https://doi.org/10.1007/s10841-017-0002-3
Keywords
Insect performance

Habitat preference

Phasmid

Development

Survival