Abstract
The hops azure (Celastrina humulus Scott & D. Wright 1998) is a rare butterfly found along the Front Range of Colorado. Data on the prevalence of the butterfly and its preferred habitats are lacking. To describe the habitat of C. humulus at the southern part of its range, explore what factors impact C. humulus detectability, and estimate C. humulus habitat use along a riparian area known to support it, we conducted an occupancy analysis along the largest riparian system at the U.S. Air Force Academy (USAFA) in Colorado, USA. We used environmental and site-specific covariates to model the probability of detection and the probability of occupancy. Probability of detecting C. humulus was influenced by the amount of cloud cover during sampling, while the probability of occupancy was influenced by the total area of the host plant (wild hops) at the site. Probability of detection was higher during the first visit (69 %) than the second visit (64 %), and the probability of occupancy was higher (77 %) than assumed (30 %). Despite the host plant being patchily distributed throughout the butterfly's range, the riparian areas at USAFA had a high prevalence of both wild hops and C. humulus. We use the project findings to develop future sampling efforts for the butterfly along tributaries at other locales within the butterfly's range.
This is a preview of subscription content,
to check access.
Access this article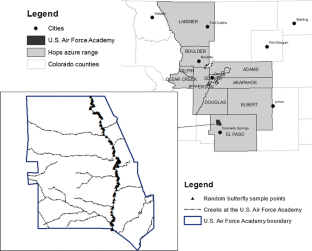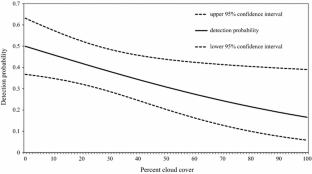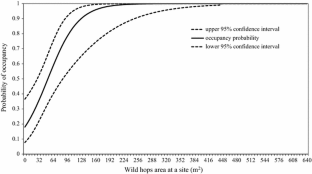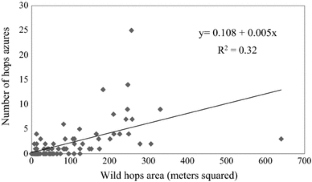 References
Anderson DR (2001) The need to get the basics right in wildlife field studies. Wildl Soc Bull 29:1294–1297

Anderson AN, Majer JD (2004) Ants show the way down under: invertebrates as bioindicators in land management. Front Ecol Environ 2:291–298

Bailey LL, Hines JE, Nichols JD, Mackenzie DI (2007) Sampling design trade-offs in occupancy studies with imperfect detection: examples and software. Ecol Appl 17(1):281–290

Blair RB (1999) Birds and butterflies along an urban gradient: surrogate taxa for assessing biodiversity? Ecol Appl 9:164–170

Bried JT, Pellet J (2012) Optimal design of butterfly occupancy surveys and testing if occupancy converts to abundance for sparse populations. J Insect Conserv 16:489–499

Bried JT, Murtaugh JE, Dillon AM (2012) Local distribution factors and sampling effort guidelines for the rare frosted elfin butterfly. Northeast Nat 19:673–684

Burnham KP, Anderson DR (2002) Model selection and multimodel inference: a practical information-theoretic approach. Springer, New York

Chu JP, Sportiello M (2008) Lepidoptera of North America: butterfly research in Boulder County, Colorado, 2004–2007. Contributions of the G. P. Gillette Museum of Arthropod Diversity. Colorado State University, Fort Collins

Clark JA, May RM (2002) Taxonomic bias in conservation research. Science 297:191–192

Fernández-Chacón A, Stefanescu C, Genovart M, Nichols JD, Hines JE, Páramo F, Turco M, Oro D (2014) Determinants of extinction-colonization dynamics in Mediterranean butterflies: the role of landscape, climate and local habitat features. J Anim Ecol 83:276–285

Fisher MS (2009) The butterflies of Colorado—Part 4 Riodinidae and Lycaenidae: the metalmarks, coppers, hairstreaks, and blues. Lepidoptera of North America. Gillette Museum of Arthropod Diversity, Fort Collins

Guillera-Arroita G, Ridout MS, Morgan BJT (2010) Design of occupancy studies with imperfect detection. Methods Ecol Evol 1:131–139

Haddad NM, Hudgens B, Damiani C, Gross K, Kuefler D, Pollock K (2008) Determining optimal population monitoring for rare butterflies. Conserv Biol 22:929–940

Hampton R, Small E, Haunold A (2001) Habitat and variability of Humulus lupulus var. lupuloides in upper Midwestern North America. J Torrey Bot Soc 128:35–46

Hardy PB, Sparks TH, Isaac NJB, Dennis RLH (2007) Specialism for larval and adult consumer resources among British butterflies: implications for conservation. Biol Conserv 138:440–452

Isaac NJB, Cruickshanks KL, Weddle AM, Rowcliffe JM, Brereton TM, Dennis RLH, Shuker DM, Thomas CD (2011) Distance sampling and the challenge of monitoring butterfly populations. Methods Ecol Evol 2:585–594

Knutson RL, Kwilosz JR, Grundel R (1999) Movement patterns and population characteristics of the Karner blue butterfly (Lycaeides melissa samuelis) at Indiana Dunes National Lakeshore. Nat Areas J 19:109–120

Krauss J, Steffan-Dewenter I, Tscharntke T (2004) Landscape occupancy and local population size depends on host plant distribution in the butterfly Cupido minimus. Biol Conserv 120:355–361

Kremen C, Colwell RK, Erwin TL, Murphy DD, Noss RF, Sanjayan MA (1993) Terrestrial arthropod assemblages: their use in conservation planning. Conserv Biol 7:796–808

Kuby M, Harner J, Gober P (2007) The disappearing front range: urban sprawl in Colorado. In: Kuby M, Harner J, Gober P (eds) Human geography in action, 4th edn. Wiley, Hoboken, pp 303–332

Longcore T, Lam CS, Kobernus P, Polk E, Wilson JP (2010) Extracting useful data from imperfect monitoring schemes: endangered butterflies at Sun Bruno Mountain, San Mateo County, California (1982–2000) and implications for habitat management. J Insect Conserv 14:335–346

MacKenzie DI, Royle JA (2005) Designing occupancy studies: general advice and allocating survey effort. J Appl Ecol 42:1105–1114

MacKenzie DI, Nichols JD, Lachman GB, Droege S, Royle JA, Langtimm CA (2002) Estimating site occupancy rates when detection probabilities are less than one. Ecology 83:2248–2255

MacKenzie DI, Nichols JD, Sutton N, Kawanishi K, Bailey LL (2005) Improving inferences in population studies of rare species that are detected imperfectly. Ecology 86:1101–1113

Maes D, Vanruesel W, Talloen W, Van Dyck H (2004) Functional conservation units for the endangered Alcon Blue butterfly Maculinea alcon in Belgium (Lepidoptera: Lycaenidae). Biol Conserv 120:233–245

Maleque MA, Maeto K, Ishii HT (2009) Arthropods as bioindicators of sustainable forest management, with a focus on plantation forests. Appl Entomol Zool 44:1–11

New TR (ed) (2012) Insect conservation: past, present, and prospects. Springer, New York

New TR, Pyle RM, Thomas JA, Thomas CD, Hammond PC (1995) Butterfly conservation management. Annu Rev Entomol 40:57–83

Niemelä J (1997) Invertebrates and boreal forest management. Conserv Biol 11:601–610

Oostermeijer JGB, van Swaay CAM (1998) The relationship between butterflies and environmental indicator values: a tool for conservation in a changing landscape. Biol Conserv 86:271–280

Otto CR, Bailey LL, Roloff GJ (2013) Improving species occupancy estimation when sampling violates the closure assumption. Ecography 36:1299–1309

Pivnick KA, McNeil JM (1987) Diel patterns of activity of Thymelicus lineola adults (Lepidoptera: Hesperiidae) in relation to weather. Ecol Entomol 12:197–207

Pocewicz A, Morgan P, Eigenbrode SD (2009) Local and landscape effects on butterfly density in northern Idaho grasslands and forests. J Insect Conserv 13:593–601

Pollard E (1977) A method for assessing changes in the abundance of butterflies. Biol Conserv 12(2):115–134

Pollard E (1991) Monitoring butterfly numbers. In: Goldsmith FB (ed) Monitoring for conservation ecology. Springer, Dordrecht, pp 87–111

Pratt GF, Wright DM, Pavulaan H (1994) The various taxa and hosts of the North American Celastrina (Lepidoptera: Lycaenidae). Proc Entomol Soc Wash 96:566–578

Royle JA, Nichols JD (2003) Estimating abundance from repeated presence-absence data or point counts. Ecology 84:777–790

Sandercock BK, Beissinger SR (2002) Estimating rates of population change for a neotropical parrot with ration, mark-recapture and matrix methods. J Appl Stat 29:589–607

Sanford MP, Murphy DD, Brussard PF (2011) Distinguishing habitat types and the relative influences of environmental factors on patch occupancy for a butterfly metapopulation. J Insect Conserv 15(6):775–785

Schorr RA (2012) Using a temporal symmetry model to assess population change and recruitment in the Preble's meadow jumping mouse (Zapus hudsonius preblei). J Mammal 93:1273–1282

Scott JA (1992) Host plant records for butterflies and skippers (mostly from Colorado) 1959–1992, with new life histories and notes on oviposition, immatures, and ecology. Papilio 6:1–171

Scott JA, Wright D (1998) A new Celastrina from the eastern slope of Colorado. Papilio 9:1–4

Smith JM, Oliphant JM, Hummer KE (2006) Plant exploration for native hop in the American southwest. Plant Genet Resour Newsl 147:1–9

Thompson JN, Pellmyr O (1991) Evolution of oviposition behavior and host preference in Lepidoptera. Annu Rev Entomol 36:65–89

Wikström L, Milberg P, Bergman K-O (2009) Monitoring of butterflies in semi-natural grasslands: diurnal variation and weather effects. J Insect Conserv 13:203–211
Acknowledgments
We thank the Odell Brewing Company, U.S. Fish and Wildlife Service, and USAFA for championing conservation of the C. humulus and providing funding for this study. We thank Odell Brewing Company and Linda Hamilton for supporting the Colorado State University honors students that conducted this study. We thank E. Vavra for her assistance in the field. We thank L. L. Bailey and J. Sueltenfuss for their help in sampling and analysis. We thank P. Opler and B. Kondratieff for their insights into C. humulus ecology.
About this article
Cite this article
Puntenney, C.P., Schorr, R.A. Patch occupancy and habitat of the hops azure (Celastrina humulus), a rare North American endemic butterfly: insights for monitoring and conservation. J Insect Conserv 20, 215–222 (2016). https://doi.org/10.1007/s10841-016-9855-0
Received:

Accepted:

Published:

Issue Date:

DOI: https://doi.org/10.1007/s10841-016-9855-0
Keywords