Abstract
The butterfly fauna of south central Washington State, USA is characterized by shrub-steppe specialists adapted to hot, dry summers and cold winters. However, the shrub-steppe ecosystem has diminished at an alarming rate due to extensive agricultural development fostered by access to an abundant water supply from the Cascade Mountains. This has resulted in loss and fragmentation of habitat for ~50 species of butterflies which are now in decline. Viticulture is a major agricultural industry in south central Washington and has transitioned in recent years to a sustainable, low pesticide-input enterprise. Current viticultural pest management research is focused on restoration of shrub-steppe habitat and native plants to enhance and sustain beneficial arthropod populations (predators and parasitoids) for pest control. Butterfly populations were surveyed during 2012–13 in a pair of vineyards (habitat-enhanced, conventional) in each of four viticultural regions [Columbia gorge (CG), Walla Walla valley (WWV), Yakima valley (YV), Wahluke slope (WS)] in south-central Washington. The habitat-enhanced sites supported a significantly greater number of flowering plant species (mostly native) than conventional vineyard sites. Twenty nine butterfly species were recorded from the habitat-enhanced vineyards with only nine of these recorded from the conventional vineyards. Overall, there were double the number of species in habitat-enhanced vineyards [mean (±SE) 5.62 ± 0.85] compared to conventional vineyards (2.75 ± 0.75) although this was not statistically significant. A significantly greater number of species occurred in the CG and WWV habitat-enhanced vineyards (10.5 ± 0.5) compared to the conventional vineyards (3.5 ± 0.0) in these regions. Smaller numbers of butterfly species occurred in YV and WS vineyards with no significant differences between habitat-enhanced and conventional sites. Butterfly abundance was significantly greater in habitat-enhanced vineyards (20.37 ± 5.34 individuals/visit) compared to conventional vineyards (5.5 ± 0.9) with greatest differences in the CG and WWV vineyards. The pest management strategy of restoring native plants and habitats in a low pesticide-input crop like wine grapes in central Washington may have substantial benefits for butterfly abundance, diversity and conservation. Many of the flowering native perennials important in attracting and sustaining endemic biological control agents, are also larval hosts and/or nectar sources for threatened shrub-steppe butterflies.
Access options
Buy single article
Instant access to the full article PDF.
USD 39.95
Price excludes VAT (USA)
Tax calculation will be finalised during checkout.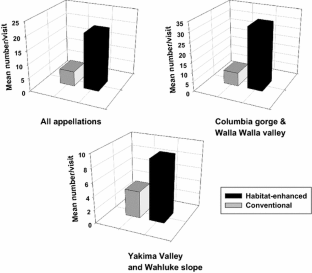 References
Benito G, O'Connor JE (2003) Number and size of last-glacial floods Missoula floods in the Columbia river valley between the Pasco basin, Washington and Portland, Oregon. Geol Soc Am Bull 115:624–638

Cone WW, Wright LC, Conant MM (1990) Management of insect pest populations in a developing cool-climate grape industry. In: Bostanian NJ, Wilson LT, Dennehy TJ (eds) Monitoring and integrated management of arthropod pests of small fruit crops. Intercept Ltd, Hampshire

Daubenmire R (1956) Climate as a determinant of vegetation distribution in eastern Washington and northern Idaho. Ecol Monogr 26:131–154

Desneux N, Decourtye A, Delpuech JM (2007) The sublethal effects of insecticides on beneficial arthropods. Ann Rev Ent 52:81–106

Gillespie M, Wratten SD (2012) The importance of viticultural landscape features and ecosystem service enhancement for native butterflies in New Zealand vineyards. J Insect Conserv 16:13–23

Gregutt P (2007) Washington wines and wineries: the essential guide. University of California Press, Oakland

James DG (2013) Beneficial arthropods. In: Moyers MM, O'Neal SD (eds) Field guide for integrated pest management in Pacific Northwest vineyards. A Pacific Northwest extension publication PNW644, Washington State University

James DG (2014) Pest management in Washington State vineyards. In farming with native beneficial insects. In: Mader EL, Hopwood J, Morandin L, Vaughan M, Black SH (eds) The xerces society guide. Storey Publishing, North Adams

James DG, Nunnallee DN (2011) Life histories of Cascadia butterflies. Oregon State University Press, Corvallis, p 447

James DG, Seymour L, Lauby G, Buckley K (2013). Beauty with benefits: naturescaping Washington vineyards to sustain biological control and provide butterfly habitat. In: Proceedings of the International Symposium on Biological Control of Arthropods, Pucon, Chile, pp 195–197

James DG, Seymour L, Lauby G, Buckley K (2014) Beneficial insects attracted to native flowering buckwheats (Eriogonum Michx) in Central Washington. Environ Entomol 43:942–948

James DG, Lauby G, Seymour L, Buckley K (in press). Beneficial insects associated with stinging nettle (Urtica dioica Linnaeus) in Central Washington State. Pan Pacific Ent 91

Perdue A (2013). Comparing California, Washington wine. Great Northwest Wine http://www.greatnorthwestwine.com/2013/02/09/california-washington-wine/

Pyle RM (1974) Watching Washington butterflies. Seattle Audobon Soc

Pyle RM (2002) The butterflies of Cascadia. Seattle Audobon Soc

Schmitt T, Augenstein B, Finger A (2008) The influence of changes in viticulture management on the butterfly (Lepidoptera) diversity in a wine growing region of southwestern Germany. Eur J Entomol 105:249–255

Wooten G (2003) Shrub-steppe conservation prioritization in Washington State. Kettle range conservation group. http://www.kettlerange.org/steppeweb/
Acknowledgments
We gratefully acknowledge the cooperation of the wine grape growers who participated in this study and allowed us access to their properties. Funding was provided by Western Sustainable Agriculture Research and Education (WSARE), the Northwest Center for Small Fruits Research (NCSFR) and the Washington Association of Wine Grape Growers (WAWGG).
About this article
Cite this article
James, D.G., Seymour, L., Lauby, G. et al. Beauty with benefits: butterfly conservation in Washington State, USA, wine grape vineyards. J Insect Conserv 19, 341–348 (2015). https://doi.org/10.1007/s10841-015-9761-x
Received:

Accepted:

Published:

Issue Date:

DOI: https://doi.org/10.1007/s10841-015-9761-x
Keywords