Abstract
As pre-hibernating larvae of the marsh fritillary (Euphydryas aurinia) have limited mobility essential resources need to be available at a very local scale. We surveyed larval webs (2011–2013), the host plant devil's bit scabious (Succisa pratensis) (2012), and derived variables from digital orthophotos and digital elevation models (Normalized Differenced Vegetation Index, accumulated sun hours, slope, aspect) to explain the presence–absence and abundance of larval webs at three different spatial grain sizes (5 × 2.5 m, 10 × 10 m, 25 × 25 m) across seven study sites in northern Jutland, Denmark. Two-component hurdle models indicated that host plant abundance was the only important predictor of presence–absence and abundance of larval webs across the seven sites. The strength of the host plant effect on larval web prevalence increased when enlarging spatial grain size. For presence–absence (and less for abundance), the effect of host plants on larval webs varied across study sites. Using mixed effects models, we additionally analysed presence–absence of larval webs (in 1 × 1 m plots) in relation to detailed host plant measurements (abundance and size), vegetation height, and environmental variables (soil temperature, air temperature and soil moisture) across four of the sites. This showed that larval webs were located in the densest parts of the host plant patches. Given the low mobility of pre-hibernating larvae (<0.5 m), our results suggest that females select dense parts within large patches of host plants as oviposition sites. Future management should concentrate on establishing large patches of the larval host plant.
Access options
Buy single article
Instant access to the full article PDF.
USD 39.95
Price excludes VAT (USA)
Tax calculation will be finalised during checkout.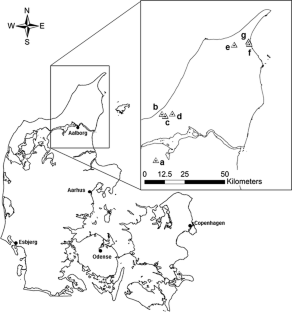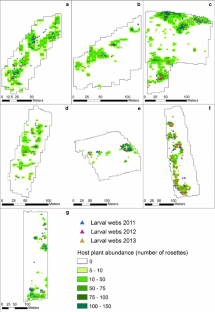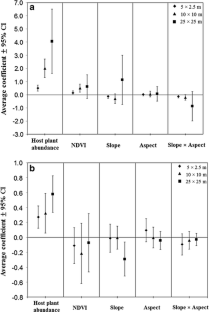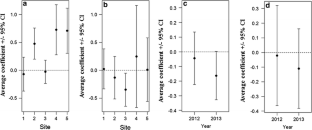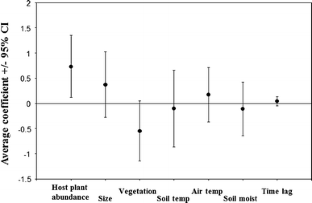 References
Anthes N, Fartmann T, Hermann G, Kaule G (2003) Combining larval habitat quality and metapopulation structure—the key for successful management of pre-alpine Euphydryas aurinia colonies. J Insect Conserv 7:175–185. doi:10.1023/a:1027330422958

Betzholtz PE, Ehrig A, Lindeborg M, Dinnétz P (2007) Food plant density, patch isolation and vegetation height determine occurrence in a Swedish metapopulation of the marsh fritillary Euphydryas aurinia (Rottemburg, 1775) (Lepidoptera, Nymphalidae). J Insect Conserv 11:343–350. doi:10.1007/s10841-006-9048-3

Bini LM et al (2009) Coefficient shifts in geographical ecology: an empirical evaluation of spatial and non-spatial regression. Ecography 32:193–204. doi:10.1111/j.1600-0587.2009.05717.x

Botham MS et al (2011) The effects of habitat fragmentation on niche requirements of the marsh fritillary, Euphydryas aurinia, (Rottemburg, 1775) on calcareous grasslands in southern UK. J Insect Conserv 15:269–277. doi:10.1007/s10841-010-9344-9

Burnham KP, Anderson DR (2002) Model selection and multimodel inference: a practical information-theoretic approach, 2nd edn. Springer, New York

COWI A/S (2010) http://www.cowi.dk/menu/service/Geografiskinformationogit/Kortoggeodataprodukter/Ortofotos/TidligereudgaverafDDOland/Pages/tidligereudgaverafddo.aspx. Accessed 15 Nov 2012

Dennis RLH (2010) A resource-based view for habitat conservation. Wiley, Oxford

Directive C (92/43/EEC) Council Directive 92/43/EEC of 21 May 1992 on the conservation of natural habitats and of wild fauna and flora

Ellis S, Wainwright D, Berney F, Bulman C, Bourn N (2011) Landscape-scale conservation in practice: lessons from northern England UK. J Insect Conserv 15:69–81. doi:10.1007/s10841-010-9324-0

ESRI (2013) ArcGIS Desktop: Release 10.1. Redlands, Ca: Environmental Systems Research Institute

Fisher NI (1995) Statistical analysis of circular data. Cambridge University Press, Cambridge

Forsberg R (2007) Luftbåren laserscanning til støtte af klima-og miljøovervågning. Perspektiv 12:31–39

Fowles AP, Smith RG (2006) Mapping the habitat quality of patch networks for the marsh fritillary Euphydryas aurinia (Rottemburg, 1775) (Lepidoptera, Nymphalidae) in Wales. J Insect Conserv 10:161–177. doi:10.1007/s10841-006-6291-6

Fredshavn J, Nielsen KE, Ejrnæs R, Nygaard B, Skov F, Strandberg B, Johannsen VK (2009) Overvågning af terrestriske naturtyper. DCE—Nationalt Center for Miljø og Energi, Aarhus University, Denmark

Gutierrez D, Thomas CD, Leon-Cortes JL (1999) Dispersal, distribution, patch network and metapopulation dynamics of the dingy skipper butterfly (Erynnis tages). Oecologia 121:506–517. doi:10.1007/s004420050957

Herben T, Munzbergova Z, Milden M, Ehrlen J, Cousins SAO, Eriksson O (2006) Long-term spatial dynamics of Succisa pratensis in a changing rural landscape: linking dynamical modelling with historical maps. J Ecol 94:131–143. doi:10.1111/j.1365-2745.2005.01063.x

Hess AN, Falkowski MJ, Webster CR, Storer AJ, Pocewicz A, Martinuzzi S (2013) Employing lidar data to identify butterfly habitat characteristics of four contrasting butterfly species across a diverse landscape. Remote Sens Lett 4:354–363. doi:10.1080/2150704x.2012.734932

Hill JK, Thomas CD, Lewis OT (1996) Effects of habitat patch size and isolation on dispersal by Hesperia comma butterflies: implications for metapopulation structure. J Anim Ecol 65:725–735. doi:10.2307/5671

Klapwijk MJ, Lewis OT (2014) Spatial ecology of host-parasitoid interactions: a threatened butterfly and its specialised parasitoid. J Insect Conserv 18:437–445. doi:10.1007/s10841-014-9653-5

Konvicka M, Hula V, Fric Z (2003) Habitat of pre-hibernating larvae of the endangered butterfly Euphydryas aurinia (Lepidoptera : Nymphalidae): what can be learned from vegetation composition and architecture? Eur J Entomol 100:313–322

Kudrna O, Harpke A, Lux K, Pennersoft J, Schweiger O, Settele J, Wiemers M (2011) Distribution atlas of butterflies in Europe. Gesellschaft für Schmetterlingsschutz, Halle

Kuussaari M, van Nouhuys S, Hellmann JJ, Singer MC (2004) Larval biology of checkerspots. In: Ehrlich PR, Hanski I (eds) On the wings of checkerspots: a model system for population biology. Oxford University Press, New York, pp 138–160

Legendre P, Legendre L (2012) Spatial structure, spatial dependence, spatial correlation. Numerical ecology, vol 24, 3rd edn. Elsevier, Amsterdam, pp 8–21

Liu W, Wang Y, Xu R (2006) Habitat utilization by ovipositing females and larvae of the Marsh fritillary (Euphydryas aurinia) in a mosaic of meadows and croplands. J Insect Conserv 10:351–360. doi:10.1007/s10841-006-9009-x

Mason DC, Anderson GQA, Bradbury RB, Cobby DM, Davenport IJ, Vandepoll M, Wilson JD (2003) Measurement of habitat predictor variables for organism-habitat models using remote sensing and image segmentation. Int J Remote Sens 24:2515–2532. doi:10.1080/014311602100100848

Milner-Gulland EJ, Fryxell JM, Sinclair ARE (2011) Animal migration: a synthesis. Oxford University Press, Oxford

Pennekamp F, Monteiro E, Schmitt T (2013) The larval ecology of the butterfly Euphydryas desfontainii (Lepidoptera: Nymphalidae) in SW-Portugal: food plant quantity and quality as main predictors of habitat quality. J Insect Conserv 17:195–206. doi:10.1007/s10841-012-9497-9

Porter K (1981) The population dynamics of small colonies of the butterfly Euphydryas aurinia. Oxford University, Oxford

Porter K (1992) Eggs and egg-laying. In: Dennis RLH (ed) The ecology of butterflies in Britain. Oxford University, Oxford, pp 46–72

Potts JM, Elith J (2006) Comparing species abundance models Ecological Modelling 199:153–163. doi:10.1016/j.ecolmodel.2006.05.025

R Development Core Team (2012) R: a language and environment for statistical computing. R foundation for statistical computing. Vienna, Austria

Rosenkranz B, Frederiksen P (2011) National Survey and Cadastre—Denmark, technical report series number 12. http://www.kms.dk

Schielzeth H (2010) Simple means to improve the interpretability of regression coefficients. Methods Ecol Evol 1:103–113. doi:10.1111/j.2041-210X.2010.00012.x

Schtickzelle N, Choutt J, Goffart P, Fichefet V, Baguette M (2005) Metapopulation dynamics and conservation of the marsh fritillary butterfly: population viability analysis and management options for a critically endangered species in Western Europe. Biol Conserv 126:569–581. doi:10.1016/j.biocon.2005.06.030

Sigaard P, Pertoldi C, Madsen AB, Sogaard B, Loeschcke V (2008) Patterns of genetic variation in isolated Danish populations of the endangered butterfly Euphydryas aurinia. Biol J Linn Soc 95:677–687. doi:10.1111/j.1095-8312.2008.01078.x

Stefanescu C, Penuelas J, Sardans J, Filella I (2006) Females of the specialist butterfly Euphydryas aurinia (Lepidoptera : Nymphalinae : Melitaeini) select the greenest leaves of Lonicera implexa (Caprifoliaceae) for oviposition. Eur J Entomol 103:569–574

Stoltze M (1996) Danske dagsommerfugle. Gyldendal, Aalborg

Thomas CD (1985) Specializations and polyphagy of Plebejus argus (Lepidoptera, Lycaenidae) in North-Wales. Ecol Entomol 10:325–340. doi:10.1111/j.1365-2311.1985.tb00729.x

Wahlberg N, Klemetti T, Hanski I (2002) Dynamic populations in a dynamic landscape: the metapopulation structure of the marsh fritillary butterfly. Ecography 25:224–232. doi:10.1034/j.1600-0587.2002.250210.x

Warren MS (1994) The UK status and suspected metapopulation structure of a threatened European butterfly, the marsh fritillary Eurodryas aurinia. Biol Conserv 67:239–249. doi:10.1016/0006-3207(94)90615-7

Wiegand T, Naves J, Garbulsky MF, Fernandez N (2008) Animal habitat quality and ecosystem functioning: exploring seasonal patterns using NDVI. Ecol Monogr 78:87–103. doi:10.1890/06-1870.1

Wind P (2010) Den danske rødliste. Danmarks Miljøundersøgelser. http://redlist.dmu.dk

Zimmermann K, Fric Z, Jiskra P, Kopeckova M, Vlasanek P, Zapletal M, Konvicka M (2011) Mark-recapture on large spatial scale reveals long distance dispersal in the Marsh Fritillary Euphydryas aurinia. Ecol Entomol 36:499–510. doi:10.1111/j.1365-2311.2011.01293.x

Zuur A, Ieno E, Walker N, Saveliev A, Smith G (2009) Mixed effects models and extensions in ecology with R. Springer New York. doi:10.1007/978-0-387-87458-6_1
Acknowledgments
We thank Ib Krag Petersen for GPS and GIS assistance during the early phase of the project, and the field assistants Mette Kjær, Susan Hangstrup, Morten Swayne, Claus Bo Popenda Pedersen and Leif Pedersen for help with data collection. We also thank Flemming Helsing-Nielsen, Einar Flensted-Jensen, Anne Eskildsen, Marie Vissing, Joseph J. Bowden, Emil S. Brandtoft and Oskar Liset Pryds Hansen who all have contributed to the detailed surveys of larval webs. J.Y.B. received partial fundings from the CIRCE project under AU Ideas program.W.D.K. acknowledges support from an University of Amsterdam starting grant and T.T.H. acknowledges funding from 15. Juni Fonden.
Appendix 1
Appendix 1
See Fig. 7.
About this article
Cite this article
Tjørnløv, R.S., Kissling, W.D., Barnagaud, JY. et al. Oviposition site selection of an endangered butterfly at local spatial scales. J Insect Conserv 19, 377–391 (2015). https://doi.org/10.1007/s10841-014-9747-0
Received:

Accepted:

Published:

Issue Date:

DOI: https://doi.org/10.1007/s10841-014-9747-0
Keywords