Abstract
Across its European range, the Euphydryas aurinia complex (Annex II of the Habitats Directive) includes a series of distinct populations. At least 3 taxa occur in Italy, each showing slight morphological differences and distinct eco-ethological features. For the first time, we compared metapopulation dynamics of E. (a.) glaciegenita inhabiting a site in the NW Alps (2,100–2,300 m) with E. (a.) provincialis occurring in the Mediterranean biogeographical region in hilly dry grasslands (700 m). To describe patterns of dispersal, we applied the virtual migration model (VMM) to data collected using Mark-Release-Recapture (MRR). We used parameters of survival and migration to explore metapopulation characteristics. In particular we investigated the relative role of connectivity and patch quality in affecting migration rates. We observed differences between the two metapopulation systems, with the "Alpine" population occurring at higher altitude and in more open habitats, showing lower dispersal propensity. In contrast, even though the "Mediterranean" population is more prone to disperse, migration appears to have higher costs. Dispersal abilities affect metapopulation dynamics, which are at the basis of long-term perspectives of survival for butterfly populations. We discuss our results in the framework of conservation and management options for habitats occupied by these Italian taxa of the E. aurinia complex.
Access options
Buy single article
Instant access to the full article PDF.
USD 39.95
Price includes VAT (USA)
Tax calculation will be finalised during checkout.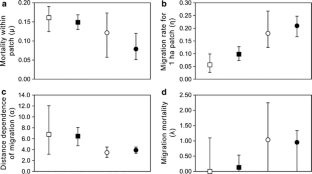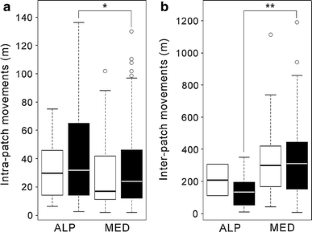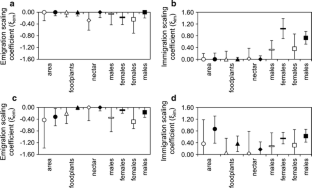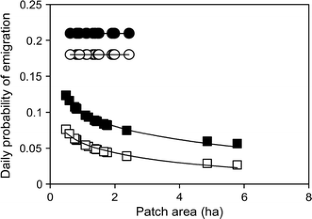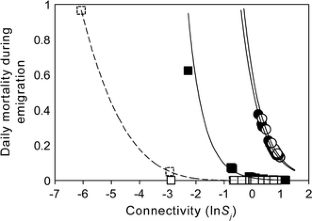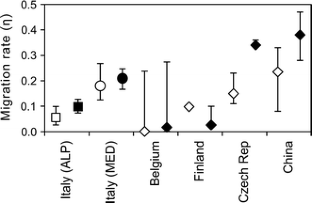 References
Altwegg R, Collingham YC, Erni B, Huntley B (2013) Density-dependent dispersal and the speed of range expansions. Divers Distrib 19:60–68

Anthes N, Fartmann T, Hermann G, Kaule G (2003) Combining larval habitat quality and metapopulation structure—the key for successfully management of pre-alpine Euphydryas aurinia colonies. J Insect Conserv 7:175–185

Asher J, Warren M, Fox R, Harding P, Jeffcoate G, Jeffcoate S (2001) The millennium atlas of butterflies in Britain and Ireland. Oxford University Press, Oxford

Baguette M, Van Dyck H (2007) Landscape connectivity and animal behavior: functional grain as a key determinant for dispersal. Land Ecol 22:1117–1129

Balletto E and Cassulo L (1995) Lepidoptera Hesperioidea, Papilionoidea. In: Minelli A, Ruffo S, La Posta S (eds) Checklist delle specie della fauna italiana. Calderini, Bologna and Ministero per l'Ambiente, Roma. pp 11

Balletto E, Bonelli S, Cassulo L (2007) Insecta Lepidoptera Papilionoidea (Rhopalocera). In: Ruffo S, Stoch F (eds) Checklist and distribution of the Italian fauna. Ministero dell'Ambiente. Memorie del Museo civico di Storia naturale di Verona, 2nd Serie, Sezione Scienze della Vita, pp 259–263

Balletto E, Cassulo L, Bonelli S (2014a) Annotated Checklist of the Italian Butterflies and Skippers (Papilionoidea, Hesperiioidea). Zootaxa 1:1–114

Balletto E, Bonelli S, Zilli A (2014b) Lepidotteri. In: Genovesi P et al. (eds) Specie e habitat di interesse comunitario in Italia: distribuzione, stato di conservazione e trend. Rapporti ISPRA

Barton K (2013) MuMIn: Multi-model inference. R package version 1.9.13. http://CRAN.R-project.org/package=MuMIn

Bonelli S, Cerrato C, Loglisci N, Balletto E (2011) Population extinctions in the Italian diurnal Lepidoptera: an analysis of possible causes. J Insect Conserv 15:879–890

Bonelli S, Vrabec V, Witek M, Barbero F, Patricelli D, Nowicki P (2013) Selection against dispersal in isolated butterfly metapopulations. Popul Ecol 55:469–478

Bowler DE, Benton TG (2005) Causes and consequences of animal dispersal strategies: relating individual behaviour to spatial dynamics. Biol Rev Camb Philos Soc 80:205–225

Braun-Blanquet J (1932) Plant Sociology. New York

Brook BW (2008) Demographic versus genetics in conservation biology. In: Carroll SP, Fox CW (eds) Conservation biology. Oxford University Press, pp 35–49

Burnham KP, Anderson DR (2004) Multimodel inference: under-standing AIC and BIC in model selection. Sociol Methods Res 33:261–304

Calabrese JM, Fagan WF (2004) A comparison-shopper's guide to connectivity metrics. Front Ecol Environ 2:529–536

Casacci LP, Barbero F, Balletto E (2013) The "Evolutionarily Significant Unit" concept and its applicability in biological conservation. It J Zool. doi:10.1080/11250003.2013.870240

Dennis RLH, Bardell P (1996) The impact of extreme weather events on local populations of Hipparchia semele (L.) (Nymphalidae) and Plebejus argus (L.) (Lycaenidae): hindsight, inference and lost opportunities. Ent Gaz 47:211–225

Descimon H, Mallet J (2009) Bad species. In: Settele J, Shreeve TG, Konvicka M, Van Dyck H (eds) Ecology of butterflies in Europe. Cambridge University Press, Cambridge, pp 219–249

Franzén M, Nilsson SG (2012) Climate-dependent dispersal rates in metapopulations of burnet moths. J Insect Conserv 16:941–947

Fric Z, Hula V, Klimova M, Zimmermann K, Konvicka M (2010) Dispersal of four fritillary butterflies within identical landscape. Ecol Res 25:543–552

Goodwin BJ (2003) Is landscape connectivity a dependent or independent variable? Landsc Ecol 18:687–699

Greene CM, Stamps JA (2001) Habitat selection at low population densities. Ecology 82:2091–2100

Hanski I, Alho J, Moilanen A (2000) Estimating the parameters of survival and migration of individuals in metapopulations. Ecology 81:239–251

IUCN (2013) IUCN Red List of Threatened Species. Version 2013.2. www.iucnredlist.org

Junker M, Wagner S, Gros P, Schmitt T (2010) Changing demography and dispersal behaviour: ecological adaptations in an alpine butterfly. Oecologia 164:971–980

Matter SF, Doyle A, Illerbrun K, Wheeler J, Roland J (2011) An assessment of direct and indirect effects of climate change for populations of the Rocky Mountain Apollo butterfly (Parnassius smintheus Doubleday). Insect Sci 18:385–392

Mennechez G, Petit S, Schtickzelle N, Baguette M (2004) Modelling mortality and dispersal: consequences of parameter generalisation on metapopulation dynamics. Oikos 106:243–252

Mikheyev AS, Mcbride CS, Muelleret UG et al (2013) Host-associated genomic differentiation in congeneric butterflies: now you see it, now you do not. Mol Ecol 22:4753–4766

Mitikka V, Heikkinen RK, Luoto M, Araujo MB, Saarinen K, Poyry J, Fronzek S (2008) Predicting range expansion of the map butterfly in Northern Europe using bioclimatic models. Biodivers Conserv 17:623–641

Nowicki P, Vrabec V, Binzenhöfer B, Feil J, Zakšek B, Hovestadt T, Settele J (2014) Butterfly dispersal in inhospitable matrix: rare, risky, but long-distance. Landsc Ecol 29:401–412

Peñuelas J, Sardans J, Stefanescu C, Parella T, Filella I (2006) Lonicera implexa leaves bearing naturally laid eggs of the specialist herbivore Euphydryas aurinia have dramatically greater concentrations of iridoid glycosides than other leaves. J Chem Ecol 32:1925–1933

Petit S, Moilanen A, Hanski I, Baguette M (2001) Metapopulation dynamics of the bog fritillary butterfly: movements between habitat patches. Oikos 92:491–500

R Core Team (2012) R: a language and environment for statistical computing. R Foundation for Statistical Computing, Vienna, Austria. http://www.R-project.org/

Rabasa SG, Gutiérrez D, Escudero A (2007) Metapopulation structure and habitat quality in modelling dispersal in the butterfly Iolana iolas. Oikos 116:793–806

Schtickzelle N, Choutt J, Goffart P, Fichefet V, Baguette M (2005) Metapopulation dynamics and conservation of the marsh fritillary butterfly: population viability analysis and management options for a critically endangered species in Western Europe. Biol Conserv 126:569–581

Schtickzelle N, Mennechez G, Baguette M (2006) Dispersal depression with habitat fragmentation in the bog fritillary butterfly. Ecology 87:1057–1065

Sinama M, Dubut V, Costedoat C et al (2011) Challenges of microsatellite development in Lepidoptera: Euphydryas aurinia (Nymphalidae) as a case study. Eur J Entomol 108:261–266

Singer MC, Wee B (2005) Spatial pattern in checkerspot butterfly-host plant association at local, metapopulation and regional scales. Ann Zool Fenn 42:347–361

Stefanescu C, Penuelas J, Sardan J, Filella I (2006) Females of the specialist butterfly Euphydryas aurinia (Lepidoptera: Nymphalidae: Melitaeini) select the greenest leaves of Lonicera implexa (Caprifoliaceae) for oviposition. Eur J Entomol 103:569–574

Stevens VM, Turlure C, Baguette M (2010a) A meta-analysis of dispersal in butterflies. Biol Rev Camb Phil Soc 85:625–642

Stevens VM, Pavoine S, Baguette M (2010b) Variation within and between closely related species uncovers high intra-specific variability in dispersal. PLoS ONE 5:e11123

Švitra G, Sielezniew M (2010) The first observation of Euphydryas aurinia (Lepidoptera, Nymphalidae) developing on Gentiana cruciata in Lithuania. Polish J Entomol 79:195–201

Travis JM, French DR (2000) Dispersal functions and spatial models: expanding our dispersal toolbox. Ecol Lett 3:163–165

Travis JM, Mustin K, Bartoń KA et al (2012) Modelling dispersal: an eco-evolutionary framework incorporating emigration, movement, settlement behaviour and the multiple costs involved. Met Ecol Evol 3:628–641

Turlure C, Baguette M, Stevens VM, Maes D (2011) Species-and sex-specific adjustments of movement behavior to landscape heterogeneity in butterflies. Behav Ecol 22:967–975

van Swaay C, Wynhoff I, Verovnik R, Wiemers M, López Munguira M, Maes D, Sasic M, Verstrael T, Warren M, Settele J (2010) Euphydryas aurinia. In: IUCN 2013. IUCN red list of threatened species. Version 2013.2. www.iucnredlist.org

Wahlberg N (2000) Comparative descriptions of the immature stages and ecology of five Finnish melitaeine butterfly species (Lepidoptera: Nymphalidae). Entomol Fenn 11:167–174

Wahlberg N, Klemetti T, Selonen V, Hanski I (2002) Metapopulation structure and movements in five species of checkerspot butterflies. Oecologia 130:33–43

Walters RJ, Hassall M, Telfer MG, Hewitt GM, Palutikof JP (2006) Modelling dispersal of a temperate insect in a changing climate. Proc R Soc B 273:2017–2023

Wang R, Wang Y, Chen J, Lei G, Xu R (2004) Contrasting movement patterns in two species of chequerspot butterflies, Euphydryas aurinia and Melitaea phoebe, in the same patch network. Ecol Entomol 29:367–374

Wickman PO, Rutowski RL (1999) The evolution of mating dispersion in insects. Oikos 84:463–472

Zimmermann M, Aubert J, Descimon H (1999) Systématique moléculaire des Mélitées. Cr Accad Sci Paris (Sciences de la vie) 322:429–439

Zimmermann M, Wahlberg N, Descimon H (2000) Phylogeny of Euphydryas Checkerspot Butterflies (Lepidoptera: Nymphalidae) based on mitochondrial DNA sequence data. Ann ent Soc Amer 93:347–355
Acknowledgments
We would like to thank authorities of the Gran Paradiso National Park and Capanne di Marcarolo Natural Park for financial support and for giving permissions to perform this research. The work was carried out with the authorization (prot. 0039115/PNM, 20/06/2013) by the Italian Ministry of the Environment MATTM and within the project 'A multitaxa approach to study the impact of climate change on the biodiversity of Italian ecosystems' of the Italian Ministry of Education, University and Research (MIUR). F. Barbero was partially supported by Italian Ministry of Education, University and Research (MIUR). Authors are also very grateful to Emanuel Rocchia and Eleonora Rossi, for their fundamental help in the fieldwork.
About this article
Cite this article
Casacci, L.P., Cerrato, C., Barbero, F. et al. Dispersal and connectivity effects at different altitudes in the Euphydryas aurinia complex. J Insect Conserv 19, 265–277 (2015). https://doi.org/10.1007/s10841-014-9715-8
Received:

Accepted:

Published:

Issue Date:
Keywords
Butterfly conservation

Connectivity

Emigration propensity

Mark-recapture

Species complex

Virtual migration model