Abstract
Projects involving citizen scientists have greatly increased over the last decade and understanding errors associated with such projects has been identified as an important step. NatureWatch NZ is a biodiversity recording system accessible to members of the public. The "NZ wasps, ants, bees and parasitoids (Hymenoptera) project" was initiated within NatureWatch NZ in December 2012, and comparisons were analysed between these records and the known Hymenoptera fauna of the New Zealand region. Over the course of 1 year 25 members contributed 360 records from 186 taxa, including the discovery of several introduced species new to New Zealand. There was a strong geographical bias to the records, with the majority being based around the major cities. Aculeates (stinging wasps) were significantly over-represented in the NatureWatch records. Only half (55 %) of taxa were identified to species level, with a further 28 % at genus level, and 17 % identified above genus level (family, order). Furthermore, the majority (65 %) of taxa were recorded only once, and only a few taxa were recorded >5 times (top records were "Ichneumonidae", "Hymenoptera", Anthidium manicatum, and Apis mellifera). It is probable that these same biases also exist for many other taxonomic groups in projects operated by citizen scientists lacking set protocols. Caution should be exercised on the subsequent use, compilation, and analysis of citizen science, especially without prior examination of records and potential biases.
This is a preview of subscription content, log in to check access.
Access options
Buy single article
Instant access to the full article PDF.
US$ 39.95
Price includes VAT for USA
Subscribe to journal
Immediate online access to all issues from 2019. Subscription will auto renew annually.
US$ 99
This is the net price. Taxes to be calculated in checkout.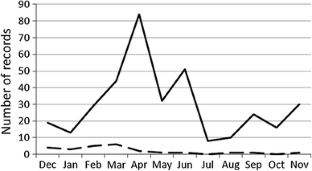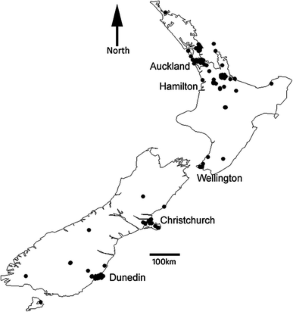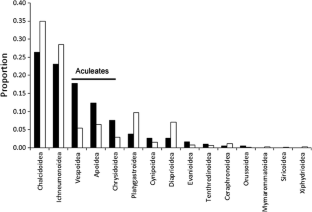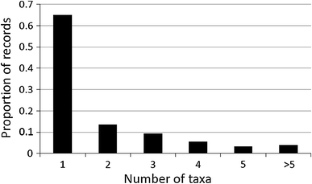 References
Berry JA (2010) Order Hymenoptera: sawflies, wasps, ants, and bees. In: Gordon DP (ed) New Zealand inventory of biodiversity. Volume 2. Kingdom Animalia. Chaetognatha, Ecdysozoa, Ichnofossils. Canterbury University Press, Christchurch, pp 350–359

Cohn JP (2008) Citizen science: can volunteers do real research? Bioscience 58:192–197

Dennis RLH, Thomas CD (2000) Bias in butterfly distribution maps: the influence of hot spots and recorder's home range. J Insect Conserv 4:73–77

Dennis RLH, Sparks TH, Hardy PB (1999) Bias in butterfly distribution maps: the effects of sampling effort. J Insect Conserv 3:33–42

Dennis RLH, Shreeve TG, Isaac NJB, Roy DB, Hardy PB, Fox R, Asher J (2006) The effects of visual apparency on bias in butterfly recording and monitoring. Biol Conserv 128:486–492

Dickinson JL, Zuckerber B, Bonter DN (2010) Citizen science as an ecological research tool: challenges and benefits. Ann Rev Ecol Evol Syst 41:149–172

Fitzpatrick M, Preisser E, Ellison A, Elkinton J (2009) Observer bias and the detection of low-density populations. Ecol Appl 19:1673–1679

Isaac NJB, Cruickshanks KL, Weddle AM, Rowcliffe JM, Brereton TM, Dennis RLH, Shuker DM, Thomas CD (2011) Distance sampling and the challenge of monitoring butterfly populations. Methods Ecol Evol 2:585–594

Lester PJ, Brown SDJ, Edwards ED, Holwell GI, Pawson S, Ward DF, Watts CH (2014) Critical issues facing New Zealand entomology. N Z Entomol 37. doi:10.1080/00779962.2014.861789

New TR (2009) Insect species conservation. Cambridge University Press, Cambridge, p 272

Shaw MR, Hochberg ME (2001) The neglect of parasitic Hymenoptera in insect conservation strategies: the British fauna as a prime example. J Insect Conserv 5:253–263

Silvertown J (2009) A new dawn for citizen science. Trends Ecol Evol 24:67–471

Thorpe S (2013a) Cheiloneurus flaccus (Walker, 1847) (Hymenoptera: Encyrtidae), new to New Zealand. Biodivers Data J 1:e958

Thorpe S (2013b) Scutellista caerulea (Fonscolombe, 1832) (Hymenoptera: Pteromalidae), new to New Zealand for the second time! Biodivers Data J 1:e959

Ward DF (2012) More than just records: analysing natural history collections for biodiversity planning. PLoS One 7:e50346. doi:10.1371/journal.pone.0050346

Ward DF, Early JW, Schnitzler F-R, Hitchmough RA, Stringer IAN (2012) The conservation status of New Zealand Hymenoptera. N Z Entomol 35:116–119
Acknowledgments
Thanks to all the NatureWatch NZ contributors of the Hymenoptera project. Thanks to the two anonymous reviewers for improving the manuscript. This work was supported by the MBIE through funding of the "Defining New Zealand's Land Biota" programme. The project and its details are available to view at http://naturewatch.org.nz/projects/nz-wasps-ants-bees-and-parasitoids-hymenoptera (registration required).
About this article
Cite this article
Ward, D.F. Understanding sampling and taxonomic biases recorded by citizen scientists. J Insect Conserv 18, 753–756 (2014). https://doi.org/10.1007/s10841-014-9676-y
Received:

Accepted:

Published:

Issue Date:
Keywords
Conservation

Public

Hymenoptera

New Zealand

Observation