Abstract
Light pollution has been proposed as a factor in the decline of Lampyris noctiluca because it has the potential to interfere with reproductive signaling and has been shown to impact the ability of males to locate light lures in a suburban environment. To compare and test the replicability of this effect in a natural setting and population, imitation females were set out under light polluted and control conditions at varying light pollution intensities in an undisturbed British chalk grassland. Very low levels of light pollution were found to interfere with phototaxis: no males were attracted at either 0.3 or 0.18 lux background lighting versus 33 males collected at paired dark controls. These background illumination levels are much lower than that of 1.5 lux which is recommended by local city councils in Britain to light footpaths. A survey of female L. noctiluca numbers and distribution showed a trend towards female clumping that was not statistically significant. We also found no evidence of light interfering with female signaling behavior.
This is a preview of subscription content, log in to check access.
Access options
Buy single article
Instant access to the full article PDF.
US$ 39.95
Price includes VAT for USA
Subscribe to journal
Immediate online access to all issues from 2019. Subscription will auto renew annually.
US$ 99
This is the net price. Taxes to be calculated in checkout.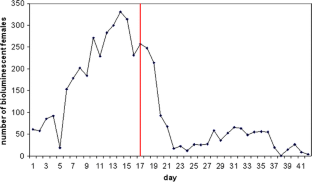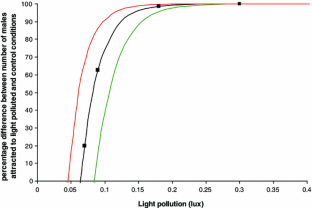 References
Alexander KNA (1992) The glow-worm, Lampyris noctiluca (L.), in Gloucestershire and its conservation. Glos Nat 5:1–5

Booth D, Stewart AJA, Osorio D (2004) Colour vision in the glow-worm Lampyris noctiluca (L.) (Coleoptera: Lampyridae): evidence for a green–blue chromatic mechanism. J Exp Biol 207:2373–2378

Branham MA, Wenzel JW (2003) The origin of photic behavior and the evolution of sexual communication in fireflies (Coleoptera: elateroidea). Cladistics 19:1–22

Critchley CNR, Burke MJW, Stevens DP (2004) Conservation of lowland semi-natural grasslands in the UK: a review of botanical monitoring results from agri-environment schemes. Biol Conserv 115:263–278

Day JC (2011) Parasites, predators and defense of fireflies and glow-worms. Lampyrid 1:70–100

Driesig H (1975) Environmental control of the daily onset of luminescent activity in glow-worms and fireflies (Coleoptera: Lampyridae). Oecologia 18:85–99

Eisenbeis G (2006) Artificial night lighting and insects: attraction of insects to streetlamps in a rural setting in Germany. In: Rich C, Longcore T (eds) Ecological consequences of artificial night lighting. Island Press, Washington DC, pp 281–304

Gardiner T (2006) Effect of survey start time on counts of the Glow-worm Lampyris noctiluca (Col.: Lampyridae). Entomol Rec J Var 118:184–185

Gardiner T (2007a) Short-term changes (2001-2005) in glow-worm Lampyris noctiluca L. (Coleoptera: Lampyridae) abundance in Essex. Br J of Entomol Nat Hist 20:1–7

Gardiner T (2007b) Optimum survey dates for detecting glow-worms Lampyris noctulica Linnaeus (Lampyridae) in Essex. Coleopt 16:12–13

Gardiner T (2007c) The decline of the glow-worm Lampyris noctiluca in Epping Forest. Essex Nat 24:90–92

Gardiner T, Pye M, Field R (2002) Glow-worms Lampyris noctiluca L. (Coleoptera: Lampyridae) in Essex: results of the 2001 Essex glow-worm survey. Essex Nat 19:151–159

Grafen A, Hails R (2003) Modern statistics for the life sciences. Oxford University Press, Oxford

Hickmott W, Tyler J (2011) Seasonal variation in female display period of the glow-worm Lampyris noctiluca L. (Coleoptera:Lampyridae). Lampyrid 1:14–21

Horne J (2011) Unfit or unlucky? a sexual difference in the timing of adult emergence in the glow-worm Lampyris nocitiluca L. (Coleoptera; Lanpyridae). Lamprid 1:9–13

Ineichen S, Rüttimann B (2012) Impact of artificial light on the distribution of the common European glow-worm, Lampyris noctiluca (Coleoptera: Lampyridae). Lampyrid 2:31–36

Lloyd JE (2006) Stray light, fire flies and fireflyers. In: Rich C, Longcore T (eds) Ecological consequences of artificial night lighting. Island Press, Washington, D. C., pp 345–364

Longcore T, Rich C (2004) Ecological light pollution. Front Ecol Environ 2:191–198

Rydell J (1992) Exploitation of insects by bats around street lamps in Sweden. Funct Ecol 6:744–750

Sala-Newby GB, Thomson CM, Campbell AK (1996) Sequence and biochemical similarities between the luciferases of the glow-worm Lampyris noctiluca and the firefly Photinus pyralis. Biochem J 313:761–767

Schwalb HH (1961) Contributions to the domestic Lampyridae Lampyris noctiluca GEOFFR and Phausis Splendidula LEC. and experimental analysis of their predatory and sexual behavior (Translation). Zool Jahrb 88:399–550

Stone EL, Jones G, Harris S (2009) Street lighting disturbs commuting bats. Curr Biol 19:1123–1127

The Institute of Lighting Engineers (Great Britain) (2005) The outdoor lighting guide. Taylor and Francis, Abingdon

Tyler J (1986) The ecology and conservation of the glow-worm, Lampyris noctiluca (L.) in Britain. Atala 10–12:17–19

Tyler J (1994) Glow-worms. Herald Press, Stratford-upon-Avon

Tyler J (2002) The glow-worm. Lakeside Printing Ltd., Sevenoaks

Tyler J (2004) Luminescence on the world wide web: the UK glow-worm Survey website. Lumin 19:358

Tyler J (2011) A study of the male flight season in the glow-worm Lampyris noctiluca (L.) (Coleoptera: Lampyridae). Lampyrid 1:32–38

Vickery JA, Tallowin JR, Feber RE, Asteraki EJ, Atkinson PW, Fuller RJ, Brown VK (2001) The management of lowland neutral grasslands in Britain: effects of agricultural practices on birds and their food resources. J Appl Ecol 38:647–664

Yoon TJ, Kim DG, Kim SY, Jo SI, Bae YJ (2010) Light-attraction flight of the giant water bug, Lethocerus deyrolli (Hemiptera: Belostomatidae), an endangered wetland insect in East Asia. Aquat Insects 32(3):195–203
Acknowledgments
We would like to thank the School of Biological Sciences and the University of Southampton, in particular Dr. Lex Kraaijeveld for statistical advice, John Tyler, Dr. Alan Stewart and Robin Scagell for initial advice regarding the feasibility of studies, and Robin Scagell again for information on glow-worm sites and for the loan of his GPS system. We would also like to thank Dr. John Day, Karen Parker, Kathy Lavoie, anonymous reviewers for manuscript suggestions, and Mike Adams for his enlightening information on street lamps and council policies.
About this article
Cite this article
Bird, S., Parker, J. Low levels of light pollution may block the ability of male glow-worms (Lampyris noctiluca L.) to locate females. J Insect Conserv 18, 737–743 (2014). https://doi.org/10.1007/s10841-014-9664-2
Received:

Accepted:

Published:

Issue Date:
Keywords
Lampyris noctiluca

Glow-worm

Light pollution

Phototaxis

Distribution