Abstract
The larval distribution of herbivorous insects play an important role in their development and hence future fitness. Here we study larval distribution of the critically endangered Sinai Baton Blue butterfly, Pseudophilotes sinaicus, which feeds exclusively on the buds and flowers of a single host plant, also endangered, the near-endemic Sinai thyme, Thymus decussatus. We studied the larval distribution over 131 plants, recording the size, quality and phenological stage of the plants along with the presence of beneficiaries. Larvae were found on plants with a high number of flowers, a relatively advanced flowering phenology and tending ants. This highlights the importance of the vitality and quality of the host plant to the spatial distribution of the Sinai Baton Blue. Future conservation plans might concentrate on improving the quality and quantity of the host plant in order to increase resources for this narrowly endemic species.
Access options
Buy single article
Instant access to the full article PDF.
US$ 39.95
Tax calculation will be finalised during checkout.
Subscribe to journal
Immediate online access to all issues from 2019. Subscription will auto renew annually.
US$ 79
Tax calculation will be finalised during checkout.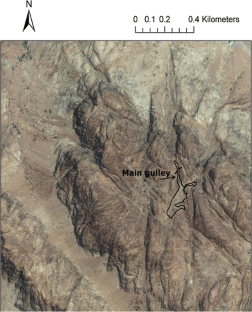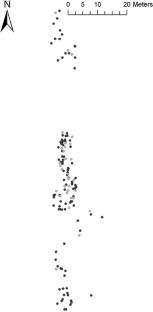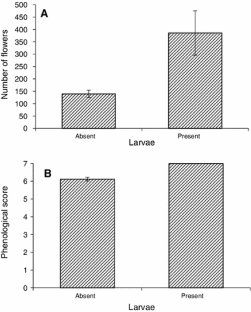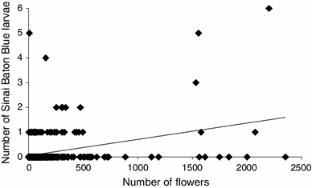 References
Anthes N, Fartmann T, Hermann G (2008) The Duke of Burgundy butterfly and its dukedom: larval niche variation in Hamearis lucina across Central Europe. J Insect Conserv 12:3–14

Bauerfeind SS, Fischer K (2009) Effects of larval starvation and adult diet-derived amino acids on reproduction in a fruit-feeding butterfly. Entomol Exp Appl 130:229–237

Berenbaum M, Feeny P (2008) Chemical mediation of host-plant specialization: the Papilionid paradigm. In: Tilmon K (ed) Specialization, speciation, and radiation: the evolutionary biology of herbivorous insects. University of California Press Ltd, Berkeley

Boggs CL, Freeman KD (2005) Larval food limitation in butterflies: effects on adult resource allocation and fitness. Oecologia 144:353–361

Collier N (2007) Identifying potential evolutionary relationships within a facultative lycaenid-ant system: ant association, oviposition and butterfly-ant conflict. Insect Sci 14(5):401–409

Craig T, Itami J (2008) Evolution of preference and performance relationships. In: Tilmon K (ed) Specialization, speciation, and radiation: the evolutionary biology of herbivorous insects. University of California Press Ltd, Berkeley

Davies Z, Wilson RJ, Coles S, Thomas CD (2006) Changing habitat associations of a thermally constrained species, the silver-spotted skipper butterfly, in response to climate warming. J Anim Ecol 75:247–256

Dennis R, Hodgson J, Grenyer R, Shreeve T, Roy D (2004) Host plants and butterfly biology. Do host-plant strategies drive butterfly status? Ecol Entomol 29:12–26

Development Core Team R (2012) R: a language and environment for statistical computing. R Foundation for Statistical Computing, Vienna

Ehrlich PR, Hanski I (eds) (2004) On the wings of checker spots: a model system for population biology. Oxford University Press, New York

Fiedler K (1995) Lycaenid butterflies and plants—is myrmecophily associated with particular hostplant preferences. Ethol Ecol Evol 7:107–132

Fiedler K, Hölldobler B, Seufert P (1996) Butterflies and ants: the communicative domain. Experientia 52:14–24

Fronhofer EA, Kubisch A, Hilker FM, Hovestadt T, Poethke HJ (2012) Why are metapopulations so rare? Ecology 93(8):1967–1978

Fürst MA, Nash DR (2010) Host ant independent oviposition in the parasitic butterfly Maculinea alcon. Biol Lett 6(2):174–176

Gibbs M, Lace LA, Jones MJ, Moore AJ (2004) Intraspecific competition in the speckled wood butterfly Pararge aegeria: effect of rearing density and gender on larval life history. J Insect Sci 4:1–6

Gilbert F, Rashad S, Kamel M, Ismail AED, James M, Zalat S (2010) Monitoring of the endemic Sinai Baton Blue butterfly Pseudophilotes sinaicus in the St Katherine Protectorate, South Sinai. Egypt J Biol 12:18–26

Gripenberg S, Mayhew PJ, Parnell M, Roslin T (2010) A meta-analysis of preference-performance relationships in phytophagous insects. Ecol Lett 13:383–393

Hellmann J (2002) The effect of an environmental change on mobile butterfly larvae and the nutritional quality of their hosts. J Anim Ecol 71:925–936

Hodgson JA, Thomas CD, Wintle BA, Moilanen A (2009) Climate change, connectivity and conservation decision-making: back to basics. J Appl Ecol 46:964–969

Hodgson JA, Moilanen A, Wintle BA, Thomas CD (2011) Habitat area, quality and connectivity: striking the balance for efficient conservation. J Appl Ecol 48:148–152

Hoyle M, James M (2005) Global warming, human population pressure, and viability of the world's smallest butterfly. Conserv Biol 19:1113–1124

James M (2006a) Metapopulations and the Sinai Baton Blue (Pseudophilotes sinaicus Nakamura): an introduction. Egypt J Biol 8:7–16

James M (2006b) Interactions among species in a tri-trophic system: the influence of ants on the distribution of the Sinai Baton Blue butterfly. Egypt J Biol 8:17–26

James M (2006c) Demographic processes in a local population: seasonal dynamics of the Sinai Baton Blue butterfly. Egypt J Biol 8:27–38

James M (2006d) Immigration and emigration in the Sinai Baton Blue butterfly: estimates from a single patch. Egypt J Biol 8:39–50

James M (2006e) Intra-patch movement in the Sinai Baton Blue butterfly: influence of micro-habitat and individual characteristics. Egypt J Biol 8:51–66

James M (2006f) The natural history of the Sinai Baton Blue: the smallest butterfly in the world. Egypt J Biol 8:67–83

James M, Gilbert F, Zalat S (2003) Thyme and isolation for the Sinai Baton Blue butterfly (Pseudophilotes sinaicus). Oecologia 134:445–453

MacKenzie DI, Nichols JD, Royle JA, Pollock KH, Bailey LL, Hines JE (2005) Occupancy estimation and modelling—inferring patterns and dynamics of species occurrence. Elsevier, New York

Mphosi MS, Foster SP (2010) Female preference and larval performance of sunflower moth, Homoeosoma electellum, on sunflower pre-breeding lines. Entomol Exp Appl 134:182–190

Musche M, Anton C, Worgan A, Settele J (2006) No experimental evidence for host ant related oviposition in a parasitic butterfly. J Insect Behav 19(5):631–643

Pueyo Y, Kefi S, Alados CL, Rietkerk M (2008) Dispersal strategies and spatial organization of vegetation in arid ecosystems. Oikos 117:1522–1532

Quiring DT, Mckinnon ML (1999) Why does early-season herbivory affect subsequent budburst? Ecology 80:1724–1735

Reynolds JF, Kemp PR, Ogle K, Fernandez RJ (2004) Modifying the 'pulse-reserve' paradigm for deserts of North America: precipitation pulses, soil water, and plant responses. Oecologia 141:194–210

Roy D, Thomas JA (2003) Seasonal variation in the niche, habitat availability and population fluctuations of a bivoltine thermophilous insect near its range margin. Oecologia 134:439–444

Sato T, Shinkaji N, Amano H (2004) Effects of larval density on larval survivorship and imaginal fecundity of Dacne picta (Coleoptera: Erotylidae). Appl Entomol Zool 39:591–596

Shepherd A (2010) Conservation of the Sinai Baton Blue butterfly; the role of ants. University of Nottingham, MRes

Singer MC, Lee JR (2000) Discrimination within and between host species by a butterfly: implications for design of preference experiments. Ecol Lett 3:101–105

Strausz M, Fiedler K, Franzén M, Wiemers M (2012) Habitat and host plant use of the Large Copper Butterfly Lycaena dispar in an urban environment. J Insect Conserv 1–13

Thomas JA, Simcox DJ, Hovestadt T (2011) Evidence-based conservation of butterflies. J Insect Conserv 15:241–258

Thompson K (2013) Assessing the conservation status of the Sinai Baton Blue (Pseudophilotes sinaicus). Ph.D. Thesis, University of Nottingham

Thompson K, Gilbert F (2013) The effects of grazing on the endangered Sinai thyme (Thymus decussatus) in a hyper-arid environment. J Arid Environ 99:14–22

Trager MD, Daniels JC (2009) Ant tending of Miami Blue butterfly larvae (Lepidoptera: Lycaenidae): partner diversity and effects on larval performance. Fla Entomol 92:474–482

Warren MS (1987) The ecology and conservation of the heath fritillary butterfly, Mellicta athalia. I. Host selection and phenology. J Appl Ecol 24:467–482

Wise MJ, Partelow JM, Everson KJ, Anselmo MK, Abrahamson WG (2008) Good mothers, bad mothers, and the nature of resistance to herbivory in Solidago altissima. Oecologia 155:257–266

Zuur AF, Ieno EN, Walker NJ, Saveliev AA, Smith GM (2009) Mixed effects models and extensions in ecology with R, 2nd edn. Springer, New York
About this article
Cite this article
Thompson, K., Shepherd, A. & Gilbert, F. Plant quality and the presence of beneficiaries govern the larval distribution of the critically endangered Sinai Baton Blue butterfly (Pseudophilotes sinaicus). J Insect Conserv 18, 189–195 (2014). https://doi.org/10.1007/s10841-014-9628-6
Received:

Accepted:

Published:

Issue Date:
Keywords
Larval niche

Habitat quality

Arid environment

Resource level

Egypt

Thymus decussatus