Abstract
The European honey bee exploits floral resources efficiently and may therefore compete with solitary wild bees. Hence, conservationists and bee keepers are debating about the consequences of beekeeping for the conservation of wild bees in nature reserves. We observed flower-visiting bees on flowers of Calluna vulgaris in sites differing in the distance to the next honey-bee hive and in sites with hives present and absent in the Lüneburger Heath, Germany. Additionally, we counted wild bee ground nests in sites that differ in their distance to the next hive and wild bee stem nests and stem-nesting bee species in sites with hives present and absent. We did not observe fewer honey bees or higher wild bee flower visits in sites with different distances to the next hive (up to 1,229 m). However, wild bees visited fewer flowers and honey bee visits increased in sites containing honey-bee hives and in sites containing honey-bee hives we found fewer stem-nesting bee species. The reproductive success, measured as number of nests, was not affected by distance to honey-bee hives or their presence but by availability and characteristics of nesting resources. Our results suggest that beekeeping in the Lüneburg Heath can affect the conservation of stem-nesting bee species richness but not the overall reproduction either of stem-nesting or of ground-nesting bees. Future experiments need control sites with larger distances than 500 m to hives. Until more information is available, conservation efforts should forgo to enhance honey bee stocking rates but enhance the availability of nesting resources.
Access options
Buy single article
Instant access to the full article PDF.
US$ 39.95
Tax calculation will be finalised during checkout.
Subscribe to journal
Immediate online access to all issues from 2019. Subscription will auto renew annually.
US$ 79
Tax calculation will be finalised during checkout.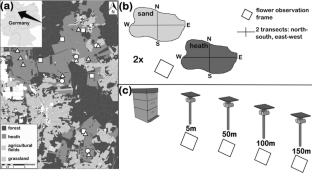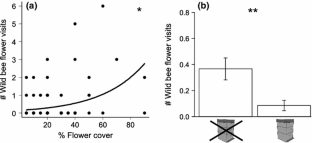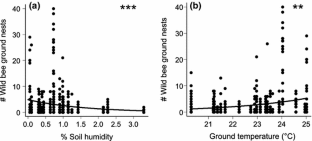 References
Badano EI, Vergara CH (2011) Potential negative effects of exotic honey bees on the diversity of native pollinators and yield of highland coffee plantations. Agric Forest Entomol 13(4):365–372

Bates D, Maechler M (2010) Package lme4: Linear mixed-effects models using S4 classes. http://cran.r-project.org/web/packages/vegan/index.html

Beekman M, Ratnieks F (2000) Long-range foraging by the honey bee Apis mellifera L. Funct Ecol 14(4):490–496

Crane E (1990) Bees and beekeeping: science, practice and world resources. Heinemann Newnes, Oxford

Dray S, Dufour A-B (2007) The ade4 package: implementing the duality diagram for ecologists. J Stat Softw 22(4):1–20

ESRI (2011) ArcGIS Desktop: Release 10. Environmental Systems Research Institute, Redlands

Evertz S (1995) Interspezifische konkurrenz zwischen honigbienen (Apis mellifera) und solitären wildbienen (hymenoptera aculeata). Natur und Landschaft 70:165–172

Forup ML, Memmott J (2005) The relationship between the abundances of bumblebees and honeybees in a native habitat. Ecol Entomol 30(1):47–57

Giurfa M, Núñez JA (1992) Honeybees mark with scent and reject recently visited flowers. Oecol 89(1):113–117

Goulson D (2003) Effects of introduced bees on native ecosystems. Annu Rev Ecol Evol Syst 34:1–26

Goulson D, Sparrow KR (2009) Evidence for competition between honeybees and bumblebees; effects on bumblebee worker size. J Insect Conserv 13(2):177–181

Jauker F, Diekötter T, Schwarzbach F, Wolters V (2009) Pollinator dispersal in an agricultural matrix: opposing responses of wild bees and hoverflies to landscape structure and distance from main habitat. Landscape Ecol 24(4):547–555

Minckley RL, Roulston T (2006) Incidental mutualisms and pollen specialization among bees. In: plant-pollinator interactions: from specialization to generalization. The University of Chicago Press, Chicago and London, pp 69–98

Oksanen J, Kindt R, Legendre P, O'Hara B, Stevens MHH, Oksanen MJ, Suggests M (2007) The vegan package. Community ecology package. http://cran.r-project.org/web/packages/vegan/index.html

Paini DR, Williams MR, Roberts JD (2005) No short-term impact of honey bees on the reproductive success of an Australian native bee. Apidologie 36(4):613–621

Pinkus-Rendon MA, Parra-Tabla V, Meléndez-Ramírez V (2005) Floral resource use and interactions between Apis mellifera and native bees in cucurbit crops in Yucatan Mexico. Can Entomol 137(4):441–449

Potts SG, Willmer P (1997) Abiotic and biotic factors influencing nest-site selection by Halictus rubicundus, a ground-nesting halictine bee. Ecol Entomol 22(3):319–328

Potts SG, Vulliamy B, Roberts S, O'Toole C, Dafni A, NE'Eman G, Willmer P (2005) Role of nesting resources in organising diverse bee communities in a Mediterranean landscape. Ecol Entomol 30(1):78–85

R Development Core Team (2012) R: A language and environment for statistical computing. R Foundation for Statistical Computing, Vienna

Schaffer WM, Zeh DW, Buchmann SL, Kleinhans S, Schaffer MV, Antrim J (1983) Competition for nectar between introduced honey bees and native North American bees and ants. Ecology 64(3):564–577

Steffan-Dewenter I, Tscharntke T (2000) Resource overlap and possible competition between honey bees and wild bees in central Europe. Oecol 122(2):288–296

Stout JC, Goulson D (2001) The use of conspecific and interspecific scent marks by foraging bumblebees and honeybees. Anim Behav 62(1):183–189

Stout JC, Goulson D, Allen JA (1998) Repellent scent-marking of flowers by a guild of foraging bumblebees (Bombus spp.). Behav Ecol Sociobiol 43(4):317–326

Thomson D (2004) Competitive interactions between the invasive European honey bee and native bumble bees. Ecology 85(2):458–470

Vázquez DP, Aizen MA (2004) Asymmetric specialization: a pervasive feature of plant-pollinator interactions. Ecology 85(5):1251–1257

Von Frisch K (1967) The dance language and orientation of bees. Harvard University Press, Cambridge

Walther-Hellwig K, Fokul G, Frankl R, Büchler R, Ekschmitt K, Wolters V (2006) Increased density of honeybee colonies affects foraging bumblebees. Apidologie 37(5):517–532

Wells H, Wells PH (1983) Honey bee foraging ecology: optimal diet, minimal uncertainty or individual constancy? J Anim Ecol 52(3):829–836

Yokoi T, Fujisaki K (2011) To forage or not: responses of bees to the presence of other bees on flowers. Ann Entomol Soc Am 104(2):353–357
Acknowledgments
We acknowledge the "VNP Lüneburger Heide" for providing maps with honey-bee hive distribution and the LK Heidekreis for the permission to conduct our study in the nature reserve. We thank T. Bräutigam and Y. Wagner for help with data collection and M. Pereira Peixoto and T. Niemeyer are greatly acknowledged for the help with the construction of the trap nests. C. Brittain is acknowledged for language corrections and C. Schüepp and I. Steffan-Dewenter for helpful comments. A.H. is supported by the German Federal Environmental Foundation (Deutsche Bundesstiftung Umwelt).
Electronic supplementary material
Below is the link to the electronic supplementary material.
About this article
Cite this article
Hudewenz, A., Klein, AM. Competition between honey bees and wild bees and the role of nesting resources in a nature reserve. J Insect Conserv 17, 1275–1283 (2013). https://doi.org/10.1007/s10841-013-9609-1
Received:

Accepted:

Published:

Issue Date:
Keywords
Andrena fuscipes
Colletes succinctus
Apis mellifera
Heriades truncorum

Heath