Abstract
The survival of many species may be dependent on their ability to exist in human-altered landscapes within metapopulations; in turn, metapopulation persistence is dictated by the ability of individuals to move effectively among patches to promote recolonization. The Taylor's checkerspot butterfly (Euphydryas editha taylori) is a species that does not naturally occur in fragmented landscapes, yet it is now restricted to a handful of small isolated prairie habitats. Current recovery plans aim to establish a stable metapopulation; however, to date little is known about the species' ability to move across the landscape. In 2010 and 2011, we conducted marking, tracking and boundary surveys to explore the movement dynamics of adults within two sites in Oregon, USA. Over the survey period, we marked 136 male butterflies, tracked 174 individuals and observed the behavior of 1,576 individual butterflies at site boundaries. Our study revealed a significant sex-bias in the movement dynamics of the Taylor's checkerspot in both suitable habitat and surrounding matrix. Males were highly motile, whereas females appeared sedentary, rarely moving from their natal site. The limited dispersal behavior of females indicates that populations cannot persist naturally in a metapopulation and thus are at high risk of extinction. Based on our findings, we recommend that managers take proactive measures to increase or enable dispersal (including translocation) to existing and/or restored sites.
Access options
Buy single article
Instant access to the full article PDF.
USD 39.95
Price excludes VAT (USA)
Tax calculation will be finalised during checkout.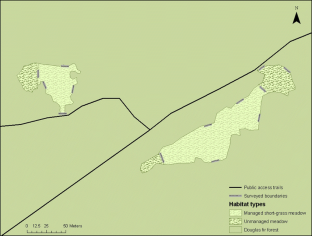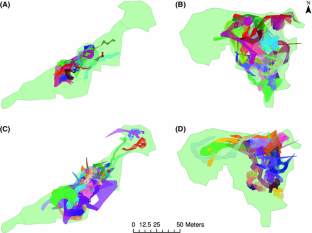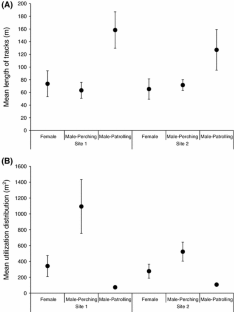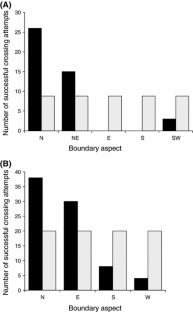 References
Batschelet E (1965) Statistical methods for the analysis of problems in animal orientation and certain biological rhythms. The American Institute of Biological Sciences Monograph, Washington, DC

Bélisle M (2005) Measuring landscape connectivity: the challenge of behavioral landscape ecology. Ecology 86:1988–1995

Bennett VJ, Betts M, Smith WP (2012) Evidence for mate guarding behavior in the Taylor's checkerspot butterfly. J Insect Behav 25:183–196

Bergman KO (2001) Population dynamics and the importance of habitat management for conservation of the butterfly Lopinga achine. J Appl Ecol 38:1303–1313

Bergman KO, Landin J (2002) Population structure and movements of a threatened butterfly (Lopinga achine) in a fragmented landscape in Sweden. Biol Conserv 108:361–369

Beyer HL (2004) Hawth's Analysis Tools for ArcGIS. http://www.spatialecology.com/htools. Accessed 14 Aug 2011

Black SH, Vaughan DM (2005) Species profile: Euphydryas editha taylori. In: Shepherd MD, Vaughan DM, Black SH (eds) Red list of pollinator insects of North America. The Xerces Society for Invertebrate Conservation, Portland, OR. CD ROM Version 1 (2005)

Boughton DA (1999) Empirical evidence for complex source-sink dynamics with alternative states in a butterfly metapopulation. Ecology 80:2727–2739

Bruckmann SV, Krauss J, Steffan-Dewenter I (2010) Butterfly and plant specialists suffer from reduced connectivity in fragmented landscapes. J Appl Ecol 47:799–809

Buchholz R (2007) Behavioural biology: an effective and relevant conservation tool. Trends Ecol Evol 22:401–407

Campbell JW, Hanula JL, Waldrop TA (2007) Observations of Speyeria diana (Diana Fritillary) utilizing forested areas in North Carolina that have been mechanically thinned and burned. Southeast Nat 6:179–182

Cassel-Lundhagen A, Sjogren-Gulve P (2007) Limited dispersal by the rare scarce heath butterfly—potential consequences for population persistence. J Insect Conserv 11:113–121

Conover WJ, Iman RL (1981) Rank transformations as a bridge between parametric and nonparametric statistics. Am Stat 35:124–129

Delattre T, Burel F, Humeau A, Stevens VM, Vernon P, Baguette M (2010) Dispersal mood revealed by shifts from routine to direct flights in the meadow brown butterfly Maniola jurtina. Oikos 119:1900–1908

Doak P (2000) Population consequences of restricted dispersal for an insect herbivore in a subdivided habitat. Ecology 81:1828–1841

Dover J, Settele J (2009) The influences of landscape structure on butterfly distribution and movement: a review. J Insect Conserv 13:3–27

Fronhofer EA, Kubisch A, Hilker FM, Hovestadt T, Poethke HJ (2012) Why are metapopulations so rare? Ecology 93:1967–1978

Getz WM, Saltz D (2008) A framework for generating and analyzing movement paths on ecological landscapes. P Natl Acad Sci USA 105:19066–19071

Getz WM, Wilmers CC (2004) A local nearest-neighbor convex-hull construction of home ranges and utilization distributions. Ecography 27:489–505

Getz WM, Fortmann-Roe S, Cross PC, Lyons AJ, Ryan SJ, Wilmers CC (2007) LoCoH: nonparametric kernel methods for constructing home ranges and utilization distributions. PLoS One 2:e207. doi:10.1371/journal.pone.0000207

Hanski I (1998) Metapopulation dynamics. Nature 396:41–49

Hanski I (2011) Eco-evolutionary spatial dynamics in the Glanville fritillary butterfly. Proc Natl Acad Sci USA 108:14397–14404

Hovestadt T, Binzenhöfer B, Nowicki P, Settele J (2011) Do all inter-patch movements represent dispersal? A mixed kernal study of butterfly mobility in fragmented landscapes. J Appl Ecol 80:1070–1077

Konvicka M, Kuras T (1999) Population structure, behaviour and selection of oviposition sites of an endangered butterfly, Parnassius mnemosyne, in Litovelske Pomoravi, Czech Republic. J Insect Conserv 3:211–223

Korosi A, Orvossy N, Batary P, Kover S, Peregovits L (2008) Restricted within-habitat movement and time-constrained egg laying of female Maculinea rebeli butterflies. Oecologia 156:455–464

Leidner AK, Haddad NM (2011) Combining measures of dispersal measures to identify conservation strategies in fragmented landscapes. Conserv Biol 25:1022–1031

Liu Q, Yang J, Yang X, Zhao J, Yu H (2010) Foraging habitats and utilization distributions of black-necked cranes wintering at the Napahai Wetland, China. J Field Ornithol 81:21–30

Marini OJ, Martins RP (2010) Nymphalid butterfly dispersal among forest fragments at Serra da Canastra National Park, Brazil. J Insect Conserv 14:401–411

Moorcroft PR, Lewis MA (2006) Mechanistic home range analysis. Monographs in population biology, vol 43. Princeton University Press, Princeton, NJ, pp 1–172

Niitepold K, Mattila ALK, Harrison PJ, Hanski I (2011) Flight metabolic rate has contrasting effects on dispersal in the two sexes of the Glanville fritillary butterfly. Oecologia 165:847–854

Öckinger E, Smith HG (2008) Do corridors promote dispersal in grassland butterflies and other insects. Landscape Ecol 23:27–40

Perrin N, Mazalov V (2000) Local competition, inbreeding, and the evolution of sex-biased dispersal. Am Nat 155:116–127

Ranius T, Nilsson SG, Franzen M (2011) How frequent is metapopulation structure among butterflies in grasslands? Occurrence patterns in a forest-dominated landscape in southern Sweden. Ecoscience 18:138–144

Ross D (2009) Draft Benton County Taylor's checkerspot butterfly management plan. Prepared for Benton County Natural Areas and Parks

Saccheri I, Kuussaari M, Kankare M, Vikman P, Fortelius W, Hanski I (1998) Inbreeding and extinction in a butterfly metapopulation. Nature 392:491–494

Schtickzelle N, Choutt J, Goffart P, Fichefet V, Baguette M (2005) Metapopulation dynamics and conservation of the marsh fritillary butterfly: population viability analysis and management options for a critically endangered species in Western Europe. Biol Conserv 126:569–581

Schultz CB (1998) Dispersal behavior and its implications for reserve design in a rare Oregon butterfly. Conserv Biol 12:284–292

Schultz CB, Russell C, Wynn L (2008) Restoration, reintroduction and captive propagation efforts for at-risk butterflies: a review. Israel J Ecol Evol 54:41–61

Schultz CB, Dzurisin J, Russell C (2009) Captive rearing of Puget blue butterflies, Icaricia icarioides blackmorei, and implications for conservation. J Insect Conserv 13:309–315

Scott JA (1974) Mate-locating behavior of butterflies. Am Midl Nat 91:103–117

Shreeve TG, Dennis RLH (2011) Landscape scale conservation: resources, behaviour, the matrix and opportunities. J Insect Conserv 15:179–188

Smee M, Smyth W, Tunmore M, Ffrench-Constant R, Hodgson D (2011) Butterflies on the brink: habitat requirements for declining populations of the marsh fritillary (Euphydryas aurinia) in SW England. J Insect Conserv 15:153–163

Smith WP, Person DK (2007) Estimated persistence of northern flying squirrel populations in temperate rain forest fragments of Southeast Alaska. Biol Conserv 137:626–636

Stevens VM, Turlure C, Baguette M (2010) A meta-analysis of dispersal in butterflies. Biol Rev 85:625–642

Stevens VM, Trochet A, Van Dyck H, Clobert J, Baguette M (2012) How is dispersal integrated in life histories: a quantitative analysis using butterflies. Ecol Lett 15:74–86

Stinson DW (2005) Washington State status report for the Mazama pocket gopher, streaked horned lark, and Taylor's checkerspot. Washington Department of Fish and Wildlife, Olympia, pp 138+xii

Turlure C, Baguette M, Stevens VM, Maes D (2011) Species- and sex-specific adjustments of movement behavior to landscape heterogeneity in butterflies. Behav Ecol 22:967–975

Vaughn M, Black SH (2002) Petition to emergency list Taylor's (whulge) checkerspot butterfly (Euphydryas editha taylori) as an endangered species under the U.S. Endangered species act. The Xerces Society for Invertebrate Conservation, Portland, OR

Wahlberg N, Klemetti T, Hanski I (2002) Dynamic populations in a dynamic landscape: the metapopulation structure of the marsh fritillary butterfly. Ecography 25:224–232

Wang RJ, Wang YF, Chen JJ, Lei GC, Xu RM (2004) Contrasting movement patterns in two species of chequerspot butterflies, Euphydryas aurinia and Melitaea phoebe, in the same patch network. Ecol Entomol 29:367–374

Wood BC, Pullin AS (2002) Persistence of species in a fragmented urban landscape: the importance of dispersal ability and habitat availability for grassland butterflies. Biodiv Conserv 11:1451–1468

Zimmermann K, Zdenek F, Jiskra P, Kopeckova M, Vlasanek P, Zapletal M, Konvika M (2011) Mark-recapture on large spatial scale reveals long distance dispersal in the Marsh Fritillary, Euphydryas aurinia. Ecol Entomol 36:499–510
Acknowledgments
We thank the National Geographic/Waitt program for supporting this project and the Oregon State University's General Research Fund for funding additional data collection. Special thanks to Al Kitzman, superintendent of Benton County Natural Areas and Parks in Oregon and to private property owner Skip Rung, for providing the opportunity, and supporting and encouraging our research on the Taylor's checkerspot carried out at their sites. Many thanks to Diana Raper, Katelynn Karch, Aaron McAlexander, James Lafferty, and Susan Shirley for providing much needed assistance in data collection. Additional thanks to Diana Raper and Amanda Hale for providing feedback on manuscript drafts.
About this article
Cite this article
Bennett, V.J., Pack, S.M., Smith, W.P. et al. Sex-biased dispersal in a rare butterfly and the implications for its conservation. J Insect Conserv 17, 949–958 (2013). https://doi.org/10.1007/s10841-013-9577-5
Received:

Accepted:

Published:

Issue Date:

DOI: https://doi.org/10.1007/s10841-013-9577-5
Keywords