Abstract
Research was carried out in the city of Turin (Northern Italy) in order to assess the suitability of the urban environment for fireflies.The study started in 2007 with an artistic and scientific project promoted by Parco Arte Vivente (PAV—Park of living art). Citizens joining the project recorded 18 areas where they could observe fireflies, which were identified as Luciola italica L. (Coleoptera Lampyridae). All of the 18 areas recorded by citizens were then visited during the summer of 2009 and the abundance of L. italica was estimated using transects. In 12 sites the presence of the firefly was confirmed. The habitat structures of L. italica were woods interspersed with clearings in the urban districts in the hills, and parks along rivers in the lower and more populated part of the city. In sites where fireflies were observed, the level of illuminance measured was significantly lower than in areas where L. italica was absent. The analysis of the landscape around the study areas showed a negative correlation between the extent of urbanization and fireflies abundance. Survival of L. italica populations in the urban area of Turin is influenced by the extent of green areas and the level of artificial illumination. Parks lying among rivers preserve a level of darkness suitable for fireflies and are connected by woody strips growing along the banks of rivers, that probably function as ecological corridors.
Access options
Buy single article
Instant access to the full article PDF.
US$ 39.95
Tax calculation will be finalised during checkout.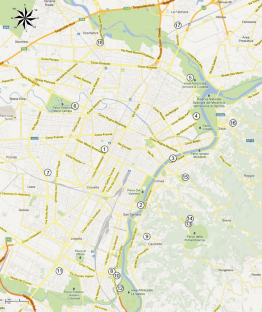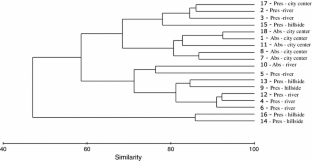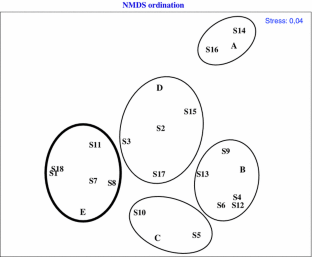 References
Audisio P, Liberti G, Nardi G, Poggi R (1995) Coleoptera Polyphaga VIII (Cantharoidea, Dermestoidea). In: Minelli A, Ruffo S, La Posta S (eds) Check list delle specie della fauna italiana. Calderini, Bologna, pp 1–17

Bonaduce A, Sabelli B (2006) The Lampyridae from the Nature Reserve Bosco della Fontana (Marmirolo, Mantua). Bollettino del Museo Civico di Storia Naturale di Verona 30:155–159

Brombin O (2009) The park of living art. Educational and formative activities. In: Cravero C, Bindi G, Brombin O, Gilardi P, Romano E, Salati V (eds) Growig out. Evolution of a park. Eventi & Progetti, Biella, pp 21–23

Brombin O, Camerini G (2009) Il progetto "Glow Up fra biologia e creatività. Biologi italiani 4:69–75

Bugnion E (1929) Ler ver-luisant provencal et la luciole nigoise. Mem Assoc Nat Nice et Alpes-marit., 1–131

Chalkias C, Petrakis M, Psiloglou B, Lianou M (2006) Modelling of light pollution in suburban areas using remotely sensed imagery and GIS. J Environ Manage 79:57–63

Cinzano P, Falchi F, Elvidge CD (2001) The first world atlas of the artificial night sky brightness. Mon Not R Astron Soc 328:689–707

Clarke KR (1993) Non-parametric multivariate analyses of changes in community structure. Aust J Ecol 18:117–143

Clarke KR, Warwick RM (1994) Change in marine communities: an approach to statistical analysis and interpretation. Plymouth Marine Laboratory, Plymouth

Cooper BC, Dickinson J, Philips T, Bonney R (2007) Citizen science as a tool for conservation in residential ecosystems. Ecol Soc 12:11

Cratsley CK, Lewis SM (2005) Seasonal variation in mate choice of Photinus ignitus fireflies. Ethology 11:89–100

Deichsel R (2006) Species change in an urban setting-ground and rove beetles (Coleoptera: Carabidae and Staphylinidae) in Berlin. Urban Ecosyst 9:161–178

Frank KD (1988) Impact of outdoor lighting on moths: an assessment. J Lepid Soc 42:63–93

Gardiner T (2009) Glowing, glowing, gone? The plight of the glow—worm in Essex. British Naturalists' Association

Gaublomme E, Hendrick F, Dhuyvetter H, Desender K (2008) The effects of forest patch size and matrix type on changes in carabid beetle assemblages in an urbanized landscape. Biol Conserv 141:2585–2596

Gibb H, Hochuli DF (2002) Habitat fragmentation in an urban environment: large and small fragments support different arthropod assemblages. Biol Conserv 106:91–100

Haila Y (2002) A conceptual genealogy of fragmentation research: from island biogeography to landscape ecology. Ecol Appl 12:321–334

Hunter MD (2002) Landscape structure, habitat fragmentation and the ecology of insects. Agr Forest Entomol 4:159–166

Ineichen S (2008) How fireflies in the arts can save natural fireflies. Cooperation between artists, naturalists and environmentalists in the Swiss Glowworm Project. In: Second circular international symposium on "diversity and conservation of fireflies". Botanic Garden, Chiang Mai, Thailand, 26th–30th Aug 2008

Ineichen S, Rüttimann B (2010) Impact of artificial light on mating of the Common Glow—worms Lampyris noctiluca (Coleoptera Lampyridae). In: The second international firefly symposium, Subang, Selangor, Malaysia, 2–5 Aug 2010

Lloyd JE (2006) Stray light, fireflies, and fireflyers. In: Rich C, Longcore T (eds) Ecological consequences of artificial night lighting. Island Press, USA, pp 345–364

Mariotti F (1996) El ritorno de las luciérnagas. Museo de Arte de Lima

McKinney ML (2008) Effects of urbanization on species richness: a review of plants and animals. Urban Ecosyst 11:161–176

Natori Y, Fukui W, Hisaka M (2005) Empowering nature conservation in Japanese rural areas: a planning strategy integrating visual and biological landscape perspectives. Landsc Urban Plan 70:315–324

Ockinger E, Smith HG (2008) Do corridors promote dispersal in grassland butterflies and other insects? Landsc Ecol 23:27–40

Pfeffer MJ, Wagenet LP (2007) Volunteer environmental monitoring, knowledge creation and citizen–scientist interaction. In: Pretty JN, Ball A, Benton T, Guivant JS, Lee DR, Pfeffer MJ, Ward H (eds) Sage handbook on environment and society. SAGE Publications, Los Angeles

Rudd H, Vala J, Schaefer V (2002) Importance of backyard habitat in a comprehensive biodiversity conservation strategy: a connectivity analysis of urban green spaces. Restor Ecol 10:368–375

Shinsaku K, Nakamura A, Nakamura K (2012) Demography of the Heike firefly Luciola lateralis (Coleoptera: Lampyridae) a representative species of Japan's traditional agricultural landscape. J Insect Conserv 16:819–827

Tabaru Y, Kouketsu T, Oba M, Okafuji S (1970) Effects of some organophosphorus insecticides against the larvae of Genji firefly, Luciola cruciata Motschulsky (Lampyridae:Coleoptera) and their prey, Japanese melanial snail, Semisulcospira bensoni Phillipi (Pleuroceridae: Mesogastropoda). Med Entomol Zool 21:178–181

Thancharoen A, Branham MA, Lloyd JE (2008) Building twilight sensors to study the effects of light pollution on fireflies. Am Biol Teach 2:6–12

Tyler J (2002) Glow—worms. Lakeside Press, Sevenoaks

Viviani VR, Rocha MY, Hagen O (2010) Fauna de besouros bioluminescentes (Coleoptera: Elateroidea: Lampyridae; Phengodidae, Elateridae) nos municípios de Campinas, Sorocaba-Votorantim e Rio Claro-Limeira (SP, Brasil): biodiversidade e influência da urbanização. Biota Neotrop 10:103–116
Acknowledgments
Thanks to Monica Masanta, Francesca Cattaneo, Valentina Bonomonte, Emanuela Romano, Valentina Salati, Stefan Ineichen, Francesco Mariotti, Gianluca Cosmacini, Piero Gilardi, Claudio Cravero, Tea Taramino, Sylvia Mazzoccoli. Anna Bonaduce, Bruno Sabelli, Dario Savini, Antonio Picchi. Thanks to the reviewers who helped improve the paper.
About this article
Cite this article
Picchi, M.S., Avolio, L., Azzani, L. et al. Fireflies and land use in an urban landscape: the case of Luciola italica L. (Coleoptera: Lampyridae) in the city of Turin. J Insect Conserv 17, 797–805 (2013). https://doi.org/10.1007/s10841-013-9562-z
Received:

Accepted:

Published:

Issue Date:
Keywords
Urban environment

Fireflies

Light pollution

Ecological corridors

Green areas

Po River