Abstract
Individual identification of animals is of paramount importance to analyze population size, dispersal, habitat preferences or behaviour. Especially for sensitive, threatened species, it is advisable to develop non-invasive recognition methods avoiding direct handling and tagging of the study subjects to be applied to procedures such as marking-recapture. Here we present an application of the I3S software for the individual recognition of the Rosalia longicorn Rosalia alpina based on the contour digitization of the spots present on the beetle's elytra. Classification performances to individual level tested on an overall sample of 290 images (one per subject) were 94.8 (both elytra), 94.5 (right elytron) and 95.2 % (left elytron). Since I3S leaves the final decision to the operator, such high classification performances may be refined further in the final step leading to a fully reliable identification. We found that the identification performance was statistically supported and that the influence of two main error sources (contour tracing and angle under which the images were taken) was negligible. Our approach minimizes the subjectivity of a qualitative manual comparison of images and greatly reduces the time taken to visually retrieve the image of an individual especially for large photo libraries. It may be successfully used in surveys covering large areas and involving many untrained operators such as volunteers or park rangers. We propose that I3S can be applied to other insect species presenting characteristic spot patterns. To our best knowledge, this is the first study using computer-aided identification of a terrestrial arthropod.
Access options
Buy single article
Instant access to the full article PDF.
US$ 39.95
Tax calculation will be finalised during checkout.
Subscribe to journal
Immediate online access to all issues from 2019. Subscription will auto renew annually.
US$ 79
Tax calculation will be finalised during checkout.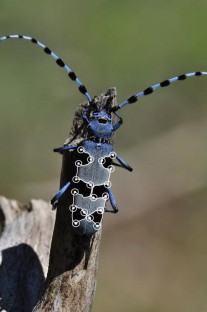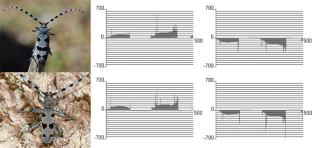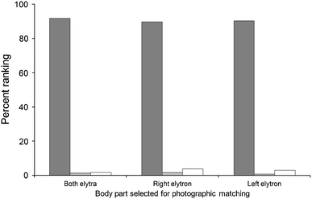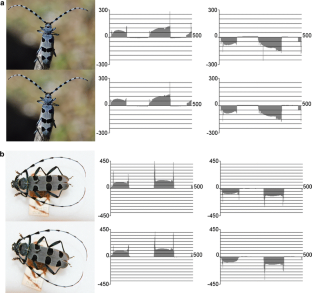 References
Anderson DR, Burnham KP, White GC (1985) Problems in estimating age-specific survival rates from recoveries of birds ringed as young. J Anim Ecol 54:89–98

Auckland JA, Debinski DM, Clark WR (2004) Survival, movement, and resource use of the butterfly Parnassius clodius. Ecol Entomol 29:139–149

Bairlein F, Schaub M (2009) Ringing and the study of mechanisms of migration. Ring Migr 24:162–168

Bancroft JS, Smith MT (2005) Dispersal and influences on movement for Anoplophora glabripennis calculated from individual mark-recapture. Entomol Exp Appl 116:83–92

Bosso L, Rebelo H, Garonna AP, Russo D (2012) Modelling geographic distribution and detecting conservation gaps in Italy for the threatened beetle Rosalia alpina. J Nat Conserv. http://dx.doi.org/10.1016/j.jnc.2012.10.003

Buckland ST, Goudie IBJ, Borchers DL (2000) Wildlife population assessment: past developments and future directions. Biometrics 56:1–12

Calvo B, Furness RW (1992) A review of the use and the effects of marks and devices on birds. Ring Migr 13:129–151

Campanaro A, Bardiani M, Spada L, Carnevali L, Montalto F, Antonini G, Mason F, Audisio P (2011) Linee Guida per il Monitoraggio e la Conservazione dell'Entomofauna Saproxilica. Quaderni Conservazione Habitat. http://www.minambiente.it/export/sites/default/archivio/allegati/biodiversita/entomofauna_saproxilica.zip Accessed 11 Dec 2012

den Hartog J, Reijns R (2011) I3S Contour Manual (2011). Interactive Individual Identification System version 3.0. http://www.reijns.com/i3s/download/I3SC.pdf. Accessed 15 Dec 2012

Dietz C, Dietz I, Ivanova T, Siemers B (2006) Effects of forearm bands on horseshoe bats (Chiroptera: Rhinolophidae). Acta Chiropterol 8:523–535

Drag L, Hauck D, Pokluda P, Zimmermann K, Cizek L (2011) Demography and dispersal ability of a threatened saproxylic beetle: a mark-recapture study of the rosalia longicorn (Rosalia alpina). PLoS One 6(6):e21345 doi:10.1371/journal.pone.0021345

Duelli P, Wermelinger B (2005) Der Alpenbock (Rosalia alpina). Ein seltener Bockkäfer als Flaggschiff Art. Merkblatt für die Praxis 39:1–8

Fischhoff IR, Sundaresan SR, Cordingley J, Rubenstein DI (2007) Habitat use and movements of plains zebra (Equus burchelli) in response to predation in danger from lions. Behav Ecol 18:725–729

Frisch AJ, Hobbs JA (2007) Photographic identification based on unique, polymorphic colour patterns: a novel method for tracking a marine crustacean. J Exp Mar Biol Ecol 351:294–299

Hiby L, Lovell P, Patil N, Samba Kumar N, Gopalaswamy AM, Ullas Karanth K (2009) A tiger cannot change its stripes: using a three-dimensional model to match images of living tigers and tiger skins. Biol Lett 5:383–386

Huffard CL, Caldwell RL, DeLoach N, Gentry DW, Humann P et al (2008) Individually unique body color patterns in Octopus (Wunderpus photogenicus) allow for photoidentification. PLoS One 3(11):e3732. doi:10.1371/journal.pone.0003732

IUCN (2009) IUCN red list of threatened species. Version 2009.2. www.iucnredlist.org. Accessed 11 Dec 2012

Jurc M, Ogris N, Pavlin R, Borkovic D (2008) Forest as a habitat of saproxylic beetles on Natura 2000 sites in Slovenia. Rev écol (Terre Vie) 63:53–66

Kelly MJ (2001) Computer-aided photograph matching in studies using individual identification: An example from Serengeti cheetahs. J Mammal 82:440–449

Lachat T, Ecker K, Duelli P, Wermelinger B (2013) Population trends of Rosalia alpina (L.) in Switzerland: a lasting turnaround? J Insect Conserv doi:10.1007/s10841-013-9549-9

Leather SR, Basset Y, Hawkins BA (2008) Insect conservation: finding the way forward. Insect Conserv Divers 1:67–69

Luce JM (1996) Rosalia alpina (Linnaeus, 1758). In: van Helsdingen PJ, Willemse L, Speight MCD (eds) Background information on invertebrates of the Habitats Directive and the Bern Convention. Part I—Crustacea, Coleoptera and Lepidoptera. Nat Environ 79:70–73

Mallet J, Longino JT, Murawski D, Murawski A, Simpson de Gamboa A (1987) Handling effects in Heliconius: where do all the butterflies go? J Anim Ecol 56:377–386

Marion WR, Shamis JD (1977) An annotated bibliography of bird marking techniques. Bird Banding 48:42–61

Martin-Smith KM (2011) Photo-identification of individual weedy sea dragons Phyllopteryx taeniolatus and its application in estimating population dynamic. J Fish Biol 78:1757–1768

Milner-Gulland EJ, Rowcliffe JM (2007) Conservation and sustainable use. A handbook of techniques. Oxford University Press, Oxford

Miththapala S, Seidensticker J, Phillips LG, Fernando SBU, Smallwood JA (1989) Identification of individual leopards (Panthera pardus kotiya) using spot pattern variation. J Zool 218:527–536

Mowat G, Slough BG, Rivard R (1994) A comparison of three live capturing devices for lynx, capture efficiency and injuries. Wildl Soc B 22:644–650

Murray DL, Fuller MR (2000) A critical review of the effects of marking on the biology of vertebrates. In: Boitani L, Fuller TK (eds) Research techniques in animal ecology: controversies and consequences. Columbia University Press, New York, pp 15–64

Nichols JD (1992) Capture-recapture models: using marked animals to study population dynamics. Bioscience 42:94–102

Nichols JD, Kaiser A (1999) Quantitative studies of bird movement: a methodological review. Bird Study 46(suppl.):S289–S298

Nichols JD, Pollock KH (1983) Estimation methodology in contemporary small mammals capture-recapture studies. J Mammal 64:253–260

North PM, Cormack RM (1981) On Seber's method for estimating age-specific bird survival rates from ringing recoveries. Biometrics 37:103–112

Nürnberger B (1996) Local dynamics and dispersal in a structured population of the whirligig beetle Dineutus assimilis. Oecologia 106:325–336

Pagola Carte S (2011) Seguimiento de la población de Rosalia alpina en el hayedo de trasmochos de Oieleku (LIC de Aiako Harria) (Acción E.7 del Proyecto Life+ "Maneyo y Conservación de los hábitats de Osmoderma eremita, Rosalia alpina y otros saproxílicos de interés comunitario en Gipuzkoa"). Dissertation, Donostia-SanSebastián p 57

Pennycuick CJ (1978) Identification using natural markings. In: Stonehouse B (ed) Animal markings: recognition marking of animals in research. Macmillan Publishers Limited, London, pp 147–159

Pradel R (1996a) Animal dispersal within subdivided populations: an approach based on monitoring individuals. Acta Oecol 17:475–483

Pradel R (1996b) Utilization of capture-mark-recapture for the study of recruitment and population growth rate. Biometrics 52:703–709

Ranius T, Hedin J (2001) The dispersal rate of a beetle, Osmoderma eremita, living in tree hollows. Oecologia 126:363–370

Russo D, Cistrone L, Garonna AP (2011) Habitat selection in the highly endangered beetle Rosalia alpina: a multiple spatial scale assessment. J Insect Conserv 15:685–693

Sacchi R, Scali S, Pellitteri-Rosa D, Pupin F, Gentilli A, Tettamanti S, Caviglioli L, Racina L, Maiocchi V, Galeotti P, Fasola M (2010) Photographic identification in reptiles: a matter of scales. Amphib Reptil 31:489–502

Samways MJ, McGeoch MA, New TR (2010) Insect conservation: a handbook of approaches and methods. Oxford University Press, United Kingdom

Schofield G, Katselidis KA, Dimopoulos P, Pantis JD (2008) Investigating the viability of photoidentification as an objective tool to study endangered sea turtle populations. J Exp Mar Biol Ecol 360:103–108

Schwarz CJ, Seber GAF (2001) Estimating animal abundance: review III. Stat Sci 14:1–134

Speed CW, Meekan MG, Bradshaw CJA (2007) Spot the match—wildlife photoidentification using information theory. Front Zool 4:2. doi:10.1186/1742-9994-4-2

Spendelow JA (1991) Postfledging survival and recruitment of known-origin Roseate Terns (Sterna dougalli) at Falkner Island, Connecticut. Colon Waterbirds 14:108–115

Townsend Peterson A (2003) Predicting the geography of species' invasions via ecological niche modeling. Q Rev Biol 4:419–433

Van Tienhoven AM, den Hartog JE, Reijns RA, Peddemors VM (2007) A computer-aided program for pattern-matching natural marks on the spotted ragged tooth shark Carcharias taurus (Rafinesque, 1810). J Appl Ecol 44:273–280

Walker TJ, Wineriter SA (1981) Marking techniques for recognizing individual insects. Fla Entomol 64:18–29

Wilson B, Hammond PS, Thompson PM (1999) Estimating size and assessing trends in a coastal bottlenose dolphin population. Ecol Appl 9:288–300

Zulandt-Schneider RA, Huber R, Moore PA (2001) Individual and status recognition in the crayfish, Orconectes rusticus: the effects of urine release on fight dynamics. Behaviour 138:137–153
Acknowledgments
Thanks go to Rome Zoological Museum for allowing us to take photographs of R. alpina specimens in their collection. Alessandro Franza and Benedetta Ciaccio kindly provided us with some photographs taken in the field of live R. alpina specimens (including that used for Fig. 1). DR was partly funded by the Abruzzo Lazio and Molise National Park.
About this article
Cite this article
Caci, G., Biscaccianti, A.B., Cistrone, L. et al. Spotting the right spot: computer-aided individual identification of the threatened cerambycid beetle Rosalia alpina . J Insect Conserv 17, 787–795 (2013). https://doi.org/10.1007/s10841-013-9561-0
Received:

Accepted:

Published:

Issue Date:
Keywords
Forest

Habitats Directive

Mark-recapture

Monitoring

Photoidentification

Population