Abstract
Butterflies are important components of biodiversity in grassland ecosystems and provide ecosystem services such as pollination. Although agricultural intensification has led to a scarcity of native grassland habitats within most agricultural landscapes of North America, fragmented remnants and semi-natural habitats may support diverse communities, including butterflies, as long as vital resources such as host plants are available. The United States Department of Agriculture's (USDA) Conservation Reserve Program practice CP33 Habitat Buffers for Upland Birds (USDA 2004) provides semi-natural grassland habitat in agricultural landscapes, but a knowledge gap exists about impacts of prescribed disturbance (e.g. burning or disking) on butterflies. We monitored butterfly habitat and butterfly communities on experimentally manipulated CP33 grassland buffers in Clay County, Mississippi from 2007 to 2009. Disturbance guild butterfly species richness did not differ among treatments. However, disturbance guild abundance was positively affected by disking in both the first and second growing seasons following disking, and the magnitude of this response varied between years. Effects of burning on disturbance guild abundance did not differ from the control treatment. There were no treatment differences for grassland guild butterfly abundance and species richness suggesting that periodic disturbance does not unduly impact grassland-associated butterflies in the southeastern US. Our results support current USDA practice standards that require periodic disturbance during the 10-year contract, but restrict the disturbance to 1/3 or 1/4 of grassland buffer area in a given year.
Access options
Buy single article
Instant access to the full article PDF.
US$ 39.95
Tax calculation will be finalised during checkout.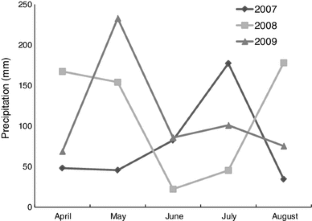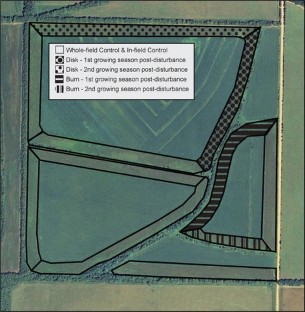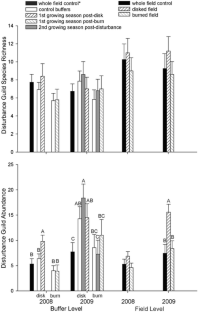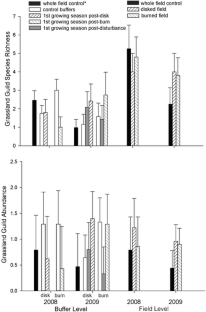 References
Bachand RR (ed) (2001) The American Prairie: Going, going, gone? A status report on the American prairie. National Wildlife Federation, Rocky Mountain Natural Resource Center, Boulder

Benson TJ, Dinsmore JJ, Hohman WL (2007) Responses of plants and arthropods to burning and disking of riparian habitats. J Wildl Manage 71:1949–1957

Bouseman JK, Sternburg JG, Wiker JR (2006) Field guide to the skipper butterflies of Illinois. Illinois Natural History Survey, Champaign

Carvell C, Meek WR, Pywell RF, Nowakowski M (2004) The response of foraging bumblebees to successional change in newly created arable field margins. Biol Conserv 118:327–339

Collins S, Gibson D (1990) Effects of fire on community structure in tallgrass and mixed-grass prairie. In: Collins SL, Wallace LL (eds) Fires in North American tallgrass prairies. University of Oklahoma Press, Norman, pp 81–98

Daily GC (ed) (1997) Nature's services: societal dependence on natural ecosystems. Island Press, Washington, DC

Dana RP (1991) Conservation management of the prairie skippers Hesperia dacotae and Hesperia ottoe: basic biology and threat of mortality during prescribed burning in spring. Minnesota Agricultural Experiment Station Bulletin, University of Minnesota, St. Paul, pp 594–1991

Davis JD, Hendrix SD, Debinski DM, Hemsley CJ (2008) Butterfly, bee and forb community composition and cross-taxon incongruence in tallgrass prairie fragments. J Insect Conserv 12:69–79

Davros NM, Debinski DM, Reeder KF, Hohman WL (2006) Butterflies and continuous conservation reserve program filter strips: landscape considerations. Wildl Soc B 34:936–943

Dietrich CH, Harper MG, Larimore RL, Tessene PA (1998) Insects and fire: too much of a good thing? Ill Nat Hist Survey Rep 349:5

Dinsmore SJ, Jackson LS, Ehresman BL, Dinsmore JJ (1995) Iowa wildlife viewing guide. Falcon Press, Helena

Dollar JG (2011) Responses of butterfly and forb communities to management of semi-natural grassland buffers. Ph.D. Dissertation. Mississippi State University

Doxon ED, Carroll JP (2007) Vegetative and invertebrate community characteristics of conservation reserve program fields relative to gamebirds in western Kansas. Am Midl Nat 158:243–259

Ekroos J, Heliola J, Kuussaair M (2010) Homogenization of lepidopteran communities in intensively cultivated agricultural landscapes. J Appl Ecol 47:459–467

Field RG, Gardiner T, Mason CF, Hill J (2005) Agri-environment schemes and butterflies: the utilization of 6 m grass margins. Biodivers Conserv 14:1969–1976

Glassberg J (1999) Butterflies through binoculars. Oxford University Press, New York

Greenfield KC, Chamberlain MJ, Burger LW, Kurzejeski EW (2003) Effects of burning and disking in conservation reserve program fields to improve habitat quality for northern bobwhite (Colinus virginianus). Am Midl Nat 149:344–353

Hale SL, Riffell S, Burger LW, Adams HL, Dollar JG (2011) Fire ant responses to management of native grass field buffers. Am Midl Nat 166:283–291

Hamrick R, Burger LW, Godwin D (2006) Mississippi's Conservation Reserve Program: CP33 – Habitat Buffers for Upland Birds. Mississippi bird monitoring and evaluation plan, 2006 annual report

Harper MG, Dietrich CH, Larimore RL, Tessene PA (2000) Effects of prescribed fire on prairie arthropods: an enclosure study. Nat Area J 20:325–335

Harper CA, Bates GE, Hansbrough MP, Gudlin MJ, Gruchy JP, Keyser PD (2007) Native warm-season grasses: identification, establishment and management for wildlife and forage production in the Mid-South. University of Tennessee Extension, Knoxville

Haufler JB (ed) (2005) Fish and wildlife benefits of farm bill conservation programs: 2000–2005 update. The Wildlife Society Technical Review 05-02, Bethesda, Maryland

Huntzinger M (2003) Effects of fire management practices on butterfly diversity in the forested western United States. Biol Conserv 113:1–12

Jones J, Coggin DS, Cummins JL, Hill J (2007) Restoring and managing native prairies: a handbook for Mississippi landowners. Wildlife Mississippi, Stoneville

Kery M, Plattner M (2007) Species richness estimation and determinants of species detectibility in butterfly monitoring programmes. Ecol Entomol 32:53–61

Krauss J, Steffan-Dewenter I, Tscharntke T (2003) How does landscape context contribute to effects of habitat fragmentation on diversity and population density of butterflies? J Biogeogr 30:889–900

Kremen C, Williams NM, Aizen MA, Gemmill-Herren B, LeBuhn G, Minckley R, Packer L, Potts SG, Roulston T, Steffan-Dewenter I, Vazquez DP, Winfree R, Adams L, Crone EE, Greenlead SS, Keitt TH, Klein AM, Regetz J, Ricketts TH (2007) Pollination and other ecosystem services produced by mobile organisms: a conceptual framework of the effects of land-use change. Ecol Lett 10:299–314

Kuussaari M, Heliola J, Poyry J, Saarinen K (2007a) Contrasting trends of butterfly species preferring semi-natural grasslands, field margins and forest edges in northern Europe. J Insect Conserv 11:351–366

Kuussaari M, Heliola J, Luoto J, Poyry J (2007b) Determinants of local species richness of diurnal Lepidoptera in boreal agricultural landscapes. Agr Ecosyst Environ 122:366–376

Littell RC, Milliken GA, Stroup WW, Wolfinger RD, Schabenberger O (2006) SAS systems for mixed models. SAS Institute, Cary

Lovell ST, Sullivan WC (2006) Environmental benefits of conservation buffers in the United States: evidence, promise, and open questions. Agric Ecosyst Environ 112:249–260

Marshall EJP, Moonen AC (2002) Field margins in northern Europe: their functions and interactions with agriculture. Agric Ecosyst Environ 89:5–21

Moran MD (2003) Arguments for rejecting the sequential Bonferroni in ecological studies. Oikos 100:403–405

New TR, Pyle RM, Thomas JA, Thomas CD, Hammond PC (1995) Butterfly conservation management. Annu Rev Entomol 40:57–83

Noss R, LaRoe III E, Scott J (1995) Endangered ecosystems of the United States: a preliminary assessment of loss and degradation. US Department of the Interior, National Biological Service. Biological Report 28, p 59

Ockinger E, Smith HG (2007) Semi-natural grasslands as population sources for pollinating insects in agricultural landscapes. J Appl Ecol 44:50–59

Olson DM, Wackers FL (2007) Management of field margins to maximize multiple ecological services. J Appl Ecol 44:13–21

Opler PA, Malikul V (1992) A field guild to Eastern butterflies. Houghton Mifflin Company, Boston

Panzer R (2002) Compatability of prescribed burning with the conservation of insects in small, isolated prairie reserves. Conserv Biol 16:1296–1307

Panzer R (2003) Importance of in situ survival, recolonization, and habitat gaps in the postfire recovery of fire-sensitive prairie insect species. Nat Area J 23:14–21

Panzer R, Schwartz MW (1998) Effectiveness of a vegetation-based approach to insect conservation. Conserv Biol 12:693–702

Peacock E, Schauwecker T (eds) (2003) Blackland prairies of the gulf coastal plain: nature, culture, and sustainability. University of Alabama Press, Tuscaloosa, p 349

Pollard E, Yates TJ (1993) Monitoring butterflies for ecology and conservation. Chapman & Hall, London

Rands SA, Whitney HM (2010) Effects of pollinator density-dependent preferences of field margin visitation in the midst of agricultural monocultures: a modeling approach. Ecol Model 221:1310–1316

Reeder KF, Debinski DM, Danielson BJ (2005) Factors affecting butterfly use of filter strips in Midwestern USA. Agric Ecosyst Environ 109:40–47

Ries L, Debinski DM, Wieland ML (2001) Conservation value of roadside prairie restoration to butterfly communities. Conserv Biol 15:401–411

Riffell SK, Gutzwiller KJ, Anderson SH (1996) Does repeated human intrusion cause cumulative declines in avian richness and abundance? Ecol Appl 6:492–505

Riffell SK, Keas BE, Burton TM (2003) Birds in North American Great Lakes coastal wet meadows: is landscape context important? Landscape Ecol 18:95–111

Samson F, Knopf F (1994) Prairie conservation in North America. Bioscience 44:418–421

Samways M (2007) Insect conservation: a synthetic management approach. Annu Rev Entomol 52:465–487

Schlicht DW, Orwig TT (1990) Sequential use of niche by prairie obligate skipper butterflies (Lepidoptera: Hesperidae) with implications for management. In: Smith, DD, Jacobs, CA (eds) Proceedings of the twelfth North American prairie conference: recapturing a vanishing heritage. University of Northern Iowa, Cedar Falls, IO, pp 137–139

Schultz CB, Crone EE (1998) Burning prairie to restore butterfly habitat: a modeling approach to management tradeoffs for the Fender's Blue. Restor Ecol 6:244–252

Scott JA (1986) The butterflies of North America. Stanford University Press, Stanford

Stoner KJL, Joern A (2004) Landscape vs. local habitat scale influences to insect communities from tallgrass prairie remnants. Ecol Appl 14:1306–1320

Summerville KS, Bonte AC, Fox LC (2007) Short-term temporal effects of community structure of Lepidoptera in restored and remnant tallgrass prairie. Restor Ecol 15:179–188

Swengel AB (1996) Effects of fire and hay management on abundance of prairie butterflies. Biol Conserv 76:73–85

Swengel SR, Swengel AB (1999) Correlations in abundance of grassland songbirds and prairie butterflies. Biol Conserv 90:1–11

Swengel AB, Swengel SR (2007) Benefit of permanent non-fire refugia for Lepidoptera conservation in fire-managed sites. J Insect Conserv 11:263–279

Taron DJ (1997) Insects. In: Packard S, Mutel CF (eds) The tallgrass restoration handbook for prairies, savannas, and woodlands. Society for Ecological Restoration, Washington, DC, pp 305–318

USDA (2004) Practice CP33 habitat buffers for upland wildlife. Farm Service Agency, Notice CRP-479, Washington, DC

USDA (2008) Food, Conservation, and Energy Act of 2008. Title II, Subtitle B–Conservation Reserve Program. http://www.fsa.usda.gov/Internet/FSA_File/2008fbcrpsummay.pdf. Accessed 22 Aug 2012

Van Swaay C, Warren M, Lois G (2006) Biotope use and trends of European butterflies. J Insect Conserv 10:189–209

Vogel JA, Debinski DM, Koford RR, Miller JR (2007) Butterfly responses to prairie restoration through fire and grazing. Biol Conserv 140:78–90

Vogel JA, Koford RR, Debinski DM (2010) Direct and indirect responses of tallgrass prairie butterflies to prescribed burning. J Insect Conserv 14:663–677

Weibull A-C, Bengtsson J, Nohlgren E (2000) Diversity of butterflies in the agricultural landscape: the role of farming system and landscape heterogeneity. Ecography 23:743–750

Weibull A-C, Ostman O, Granqvist A (2003) Species richness in agroecosystems: the effect of landscape, habitat and farm management. Biodivers Conserv 12:1335–1355

Wilkinson NI, Wilson JD, Anderson GQA (2012) Agri-environmental management for corncrake Crex crex delivers higher species richness and abundance across other taxonomic groups. Agric Ecosyst Environ 155:27–34
Acknowledgments
Our work would not have been possible without the cooperation of B. Bryan Farms and Prairie Wildlife, LLC. This research was funded by the USDA Natural Resources Conservation Service—Agricultural Wildlife Conservation Center (NRCS-AWCC). The Mississippi Agricultural and Forestry Experiment Station, the Forest and Wildlife Research Center and College of Forest Resources at Mississippi State University also provided support
Appendix
Appendix
Detected butterfly species and guild classification
Disturbance Guild American Lady (V. virginiensis), American Snout (Libytheana carinenta), Black Swallowtail (Papilio polyxenes), Common Checkered Skipper (Pyrgus communis), Checkered White (Pontia protodice), Clouded Sulphur/Orange Sulfur (C. philodice/C. eurytheme), Cloudless Sulphur (P. sennae), Common Buckeye (J. coenia), Southern Dogface (Zerene cesonia), Eastern Tailed-Blue (C. comyntas), Gray Hairstreak (Strymon melinus), Gulf Fritillary (Agraulis vanillae), Little Yellow (P. lisa), Long-tailed Skipper (Urbanus proteus), Monarch (Danaus plexippus), Pearl Crescent (Phyciodes tharos), Sleepy Orange (A. nicippe), Variegated Fritillary (Euptoieta claudia).
Grassland Guild Clouded Skipper (Lerema accius), Crossline Skipper (Polites origenes), Delaware Skipper (A. logan), Dun Skipper (Euphyes vestris), Eufala Skipper (Lerodea eufala), Fiery Skipper (Hylephila phyleus), Sachem (Atalopedes campestris), Silver-spotted Skipper (Epargyreus clarus), Silvery Checkerspot (Chlosyne nycteis), Southern Cloudywing (Thorybes bathyllus), Southern Skipperling (Copaeodes minima), Swarthy Skipper (Nastra lherminier), Tawny-Edged Skipper (Polites themistocles), Whirlabout (Polites vibex).
Forest Guild Eastern Tiger Swallowtail (Papilio glaucus), Giant Swallowtail (Papilio cresphontes), Great Purple Hairstreak (Atlides halesus), Hackberry Emperor (A. celtis), Horace's Duskywing (Erynnis horatius), Olive/Juniper Hairstreak (Callophrys gryneus gryneus), Pipevine Swallowtail (Battus philenor), Question Mark (Polygonia interrogationis), Red-banded Hairstreak (Calycopis cecrops), Red-spotted Purple (Limenitis arthemis), Spicebush Swallowtail (Papilio troilus), Tawny Emporer (Asterocampa clyton), Viceroy (Limenitis archippus).
About this article
Cite this article
Dollar, J.G., Riffell, S.K. & Burger, L.W. Effects of managing semi-natural grassland buffers on butterflies. J Insect Conserv 17, 577–590 (2013). https://doi.org/10.1007/s10841-012-9543-7
Received:

Accepted:

Published:

Issue Date:
Keywords
Butterflies

Disking

Grassland

Prescribed burning