Abstract
Livestock farming in the Eastern Cape, South Africa is a common land use practice that has affected the biodiversity of plants and animals in the region negatively. Indigenous populations of wild honey bee (Apis mellifera) colonies also may suffer. Recently, farmers in the Eastern Cape have been converting their farms to game reserves as ecotourism attractions and nature conservation lands. Consequently, the goal of this research was to determine if land use habits (livestock farming and conversion to game reserves) in the Eastern Cape affect honey bee colony population density and colony strength parameters. A series of indices were developed to compare the relative population densities of colonies in two or more areas by counting the number of foraging bees and number of bee lines established at feeding stations. Wild colonies on farms and reserves were located and sampled to determine land use effects on colony strength parameters including total area of comb in the colony, the area of comb containing stored honey, pollen, and brood, adult bee population, weight per bee, and the colony nest cavity volume ratio. When viewed collectively, the data indicated that land use practices have affected honey bee nesting dynamics in the Eastern Cape. Trends in the data suggested that colonies nesting on the reserves may occur in greater densities than those nesting on livestock farms, though they do not appear to be healthier. Hopefully, this work will be continued since honey bee conservation in areas where they are native is crucial to the health of agriculture and whole ecosystems globally.
Access options
Buy single article
Instant access to the full article PDF.
US$ 39.95
Tax calculation will be finalised during checkout.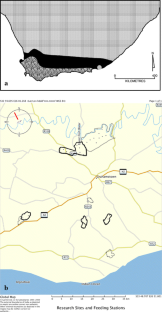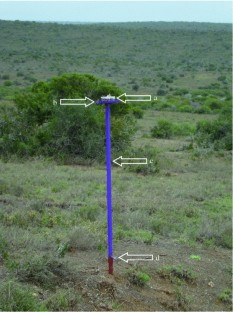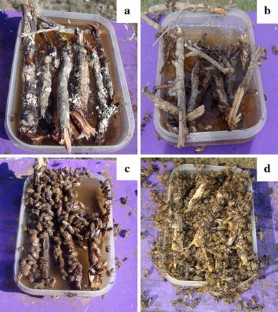 References
Apple Inc (2008) iPhoto user guide. Apple Inc, Cupertino

Baum KA, Rubink WL, Pinto MA, Coulson RN (2005) Spatial and temporal distribution and nest site characteristics of feral honey bee (Hymenoptera: Apidae) colonies in a coastal prairie landscape. Eviron Entomol 34:610–618

Dietemann V, Pirk CWW, Crewe R (2009) Is there a need for conservation of honeybees in Africa? Apidologie 40:285–295

Edgell GH (1949) The bee hunter. Harvard Univeristy Press, Cambridge

Ellis JD (2008) Cape honey bees, Apis mellifera capensis Escholtz. In: Capinera JL (ed) Encyclopedia of entomology, vol 1. Kluwer Academic Publishers, Dordrecht, pp 715–719

Fabricius C, Burger M (1996a) Do protected areas promote lizard diversity in xeric succulent thicket? Internal report, Eastern Cape Nature Conservation

Fabricius C, Burger M (1996b) Invertebrate diversity and land degradation in xeric succulent thicket: arachnids' anguish and weevil's woe. Internal report, Eastern Cape Nature Conservation

Fabricius C, Burger M, Allsopp N, Gerber G (1996a) Impacts of land use on the diversity of xeric succulent thicket vegetation: blame it on the bushclumps. Internal report, Eastern Cape Nature Conservation

Fabricius C, Palmer AR, Burger M (1996b) Landscape patchiness and the management of xeric succulent thicket: satellite imagery is on the SPOT. Internal report, Eastern Cape Nature Conservation

Garmin Ltd (2011) BaseCamp© help. Garmin Ltd, Southampton

Google Inc (2009) Google Earth user guide. Google Inc, Mountain View

Hepburn HR, Radloff SE (1998) Honeybees of Africa. Springer, Berlin

Hepburn HR, Radloff SE, Fuchs S (1998) Population structure and the interface between Apis mellifera capensis and Apis mellifera scutellata. Apidologie 29:333–346

Heydenrych B, Cowling R, Lombard A (1999) Strategic conservation interventions in a region of high biodiversity and high vulnerability: a case study from the Agulhas Plain at the southern tip of Africa. Oryx 33:256–269

Kerley GIH, Knight MH, DeKock M (1995) Desertification of subtropical thicket in the Eastern Cape, South Africa: ARE there alternatives? Environ Monit Assess 37:211–230

Langholz JA, Kerley GIH (2006) Combining conservation and development on private lands: an assessment of ecotourism-based private game reserves in the Eastern Cape. Centre for African Conservation Ecology Report No. 56

Le Roux JJ, Morgenthal TL, Malherbe J (2008) Water erosion prediction at a national scale for South Africa. Water SA 34:305–314

Lechmere-Oertel RG, Kerley GIH, Cowling RM (2005) Patterns and implications of transformation in semi-arid succulent thicket, South Africa. J Arid Envirion 62:459–474

Mangnall MJ, Crowe TM (2003) The effects of agriculture on farmland bird assemblages on the Agulhas Plain, Western Cape, South Africa. Afr J Ecol 3:266–276

Matson PA, Parton WJ, Power AG, Swift MJ (1997) Agricultural intensification and ecosystem properties. Science 277:504–509

Mills AJ, Cowling RM, Fey MV, Kerley GIH, Donaldson JS, Lechmere-Oertel RG, Sigwela AM, Skowno AL, Rundel P (2005) Effects of goat pastoralism on ecosystem carbon storage in semiarid thicket, Eastern Cape, South Africa. Aust Ecol 30:797–804

Mittermeier RA, Gil PR, Hoffman M, Pilgrim J, Brooks T, Mittermeier CG, Lamoreux J, Da Fonseca GAB (2004) Hotspots revisited: earth's biologically richest and most endangered Terrestrial ecoregions. Conservation International, Arlington

Moritz RFA (1984) Selection in small populations of the honeybee (Apis mellifera L). J Anim Breed Genet 101:394–400

Moritz RFA, Dietemann V, Crewe R (2008) Determining colony densities in wild honeybee populations. J Insect Conserv 12:455–459

Murray TE, Kuhlmann M, Potts SG (2009) Conservation ecology of bees: populations, species and communities. Apidologie 40:211–236

Naug D (2009) Nutritional stress due to habitat loss may explain recent honeybee colony collapses. Biol Conserv 142:2369–2372

Novacek MJ, Cleland EE (2001) The current biodiversity extinction event: scenarios for mitigation and recovery. Proc Natl Acad Sci USA 98:5466–5470

Oldroyd BP, Thexton EG, Lawler SH, Crozie RH (1997) Population demography of Australian feral bees (Apis mellifera). Oecologia 111:381–387

SAS Institute (2009) JMP® 8 user guide, 2nd edn. SAS Institute, Cary

Schneider SS (1989) Spatial foraging patterns of the African honey bee, Apis mellifera scutellata. J Insect Behav 2:505–521

Schneider SS, Hall HG (1997) Diet selection and foraging distances of African and European-African hybrid honey bee Colonies in Costa Rica. Insect Soc 44:171–187

Seeley TD (1983) The ecology of temperate and tropical honeybee societies. Am Sci 71:264–272

Seeley TD, Morse RA (1976) The nest of the honey bee (Apis mellifera L.). Insect Soc 23:495–512

Seeley TD, Seeley RH, Akratanakul P (1982) Colony defense strategies of the honeybees in Thailand. Ecol Monogr 52:42–63

Vandame R, Palacio MA (2010) Preserved honey bee health in Latin America: a fragile equilibrium due to low-intensity agriculture and beekeeping? Apidologie 41:243–255

Victor JE, Dold AP (2003) Threatened plants of the Albany Centre of Floristic Endemism, South Africa. S Afr J Sci 99:437–446

Visscher PK, Seeley TD (1989) Bee-lining as a research technique in ecological studies of honey bees. Am Bee J 129:536–539

Whitmore TC, Sayer JA (eds) (1992) Tropical deforestation and species extinction. Chapman & Hall, New York

Williams ES, Yuill T, Artois M, Fischer J, Haigh SA (2002) Emerging infectious diseases in wildlife. Rev Sci Tech OIE 21:139–157

Witt ABR, Samways MJ (2004) Influence of agricultural land transformation and pest management practices on the arthropod diversity of a biodiversity hotspot, the Cape Floristic Region, South Africa. Afr Entomol 12:89–95
Acknowledgments
This project was made possible by the cooperation of the University of Florida (Gainesville, FL, USA) and Rhodes University (Grahamstown, South Africa). We are grateful to University of Florida and Rhodes University faculty, staff, and students for providing resources necessary for conducting the research. We thank General Motors of South Africa, for the provision of a subsidized research 4 × 4 vehicle through Makana Meadery. We thank all the landowners, managers, employees of the study sites and Makana Meadery for allowing access and assistance during the field work phase of this project: Jennifer and Giles Gush, the Dell family, Mike Sparg, Hennie le Roux, Theo Harris, Ezra Schoonbee, Roger Hart, Charlene Bisset, Toast Rowan Seagers, Mirko Barnard, Coburs Delanga, Andy Ndyawe, Riaan Boucher, Phumlani Honi and Sindiswa Teyise. We also thank the laboratory of Dr. David De Jong at the University of São, Paulo, Brazil for confirming the identity of the test honey bees.
About this article
Cite this article
Vaudo, A.D., Ellis, J.D., Cambray, G.A. et al. The effects of land use on honey bee (Apis mellifera) population density and colony strength parameters in the Eastern Cape, South Africa. J Insect Conserv 16, 601–611 (2012). https://doi.org/10.1007/s10841-011-9445-0
Received:

Accepted:

Published:

Issue Date:
Keywords
Apis mellifera scutellata
Apis mellifera capensis

Wild honey bee colonies

Nesting dynamics

Population ecology