Abstract
The European bone-skippers Thyreophora cynophila and Centrophlebomyia furcata (Diptera: Piophilidae) had been considered as globally extinct or extinct in Europe, respectively, until their recent rediscovery in Spain. Improved hygienic conditions in livestock management and disposal of large carcasses (the preferred breeding sites for the bone-skippers) have been implicated as the main cause for their disappearance. The decline of many European avian scavenger populations in the last centuries has also been attributed to the same cause, which has promoted the creation of the commonly named 'vulture restaurants'. Although these supplementary feeding stations are important to support scavenging bird populations, the present work demonstrates that they provide a guaranteed supply of food for rare necrophagous species like the European bone-skippers which have recently been rediscovered.
Access options
Buy single article
Instant access to the full article PDF.
US$ 39.95
Tax calculation will be finalised during checkout.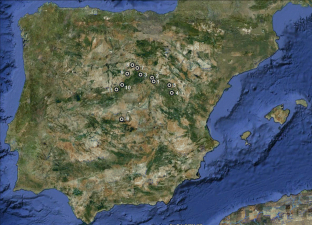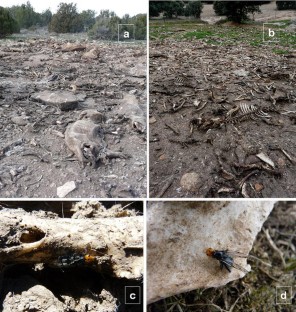 References
Anderson MD, Anthony A (2005) The advantages and disadvantages of vulture restaurants versus simply leaving livestock (and game) carcasses in the veldt. Vulture News 53:42–45

Antón Burgos FJ (2007) Trashumancia y turismo en España. Cuad Turismo 20:27–54

Baz A, Cifrián B, Martín-Vega D, Baena M (2010) Phytophagous insects captured in carrion-baited traps in central Spain. Bull Insectol 63:21–30

Braack LEO (1987) Community dynamics of carrion-attendant arthropods in tropical African woodland. Oecologia 72:402–409

Carles-Tolrá M, Rodríguez PC, Verdú J (2010) Thyreophora cynophila (Panzer, 1794): collected in Spain 160 years after it was thought to be extinct (Diptera: Piophilidae: Thyreophorina). Bol SEA 46:1–7

Courtney GW, Pape T, Skevington JH, Sinclair BJ (2009) Biodiversity of diptera. In: Footit RG, Adler PH (eds) Insect biodiversity: science and society. Wiley-Blackwell, Chichester, pp 185–222

Donázar JA, Cortés-Avizanda A, Carrete M (2010) Dietary shifts in two vultures after the demise of supplementary feeding stations: consequences of the EU sanitary legislation. Eur J Wildl Res 56:613–621

Fabricius JC (1794) Entomologia systematica emendata et aucta. vol 4, Copenhagen

Fontaine B, Bouchet P, van Achtherberg K et al (2007) The European union's 2010 target: putting rare species in focus. Biol Cons 139:167–185

Freidberg A (1981) Taxonomy, natural history and immature stages of the bone-skipper, Centrophlebomyia furcata (Fabricius) (Diptera: Piophilidae, Thyreophorina). Entomol Scand 12:320–326

Fundación CBD-Hábitat (2010) Guía para la alimentación de aves necrófagas con subproductos animales no destinados a consumo humano. Obra social caja Madrid. http://www.cbd-habitat.com/contenidos/informacion/Guia_alimentacion_para_aves_necrofagas.pdf. Accessed 10 July 2011

Gómez-Gómez A, Díaz-Aranda LM, Michelsen V (2009) Rediscovery of Centrophlebomyia furcata (Fabricius, 1794) (Diptera: Piophilidae) in Europe. Studia Dipterol 15(2008):237–241

Margalida A, Donázar JA, Carrete M, Sánchez-Zapata JA (2010) Sanitary versus environmental policies: fitting together two pieces of the puzzle of European vulture conservation. J Appl Ecol 47:931–935

Martín-Vega D, Baz A, Michelsen V (2010) Back from the dead: Thyreophora cynophila (Panzer, 1798) (Diptera: Piophilidae) 'globally extinct' fugitive in Spain. Syst Entomol 35:607–613

McAlpine JF (1977) A revised classification of the Piophilidae, including 'Neottiophilidae' and 'Thyreophoridae' (Diptera: Schizophora). Mem Entomol Soc Can 103:1–66

Olea PP, Mateo-Tomás P (2009) The role of traditional farming practices in ecosystem conservation: The case of transhumance and vultures. Biol Conserv 142:1844–1853

Panzer GWF (1798) Faunae Insectorum Germaniae oder Deutschlands Insecten H. 54(1794). Nürnberg

Paramonov SJ (1954) Notes on Australian Diptera (XIII–XV). Ann Mag Nat Hist 7:275–297

Ríos T (1902) Los insectos y la putrefacción de los cadáveres (III–IV). La Cínica Moderna 1(4):171–180

Robineau-Desvoidy JB (1830) Essai sur les myodaires. Mém Présentés par divers savans à l'Académia Royale des Sciences des l'Institut de France 2:1–813

Robineau-Desvoidy JB (1842) Note sur le Thyreophora cynophila. Ann Soc Entomol Fr 10:273

Ruiz M, Ruiz JP (1986) Ecological history of transhumance in Spain. Biol Conserv 37:73–86

Van Wieren SE (1995) The potential role of large herbivores in nature conservation and extensive land use in Europe. Biol J Linn Soc 56(Suppl):11–23

Vanpoucke S, Bourguignon L, Braet L, Dupont E, Raes D, Hubrecht F (2010) When death is life—Ecology, nature conservation, and forensic entomology. In: Proceedings of the 8th meeting of the European association for forensic entomology (Suppl.), Murcia, p 17
Acknowledgments
There have been many people who have contributed to this work. We acknowledge the invaluable assistance of Marco Antonio Nieto, curator of the Department of Zoology and Physical Anthropology of the University of Alcalá, whose skills in the management of carcasses have greatly facilitated our work. Others have facilitated access to the 'vulture restaurants'. In the province of Guadalajara, we are indebted to David Sánchez (Director) and Cristina García of the General Directorate of Protected Areas and Biodiversity, Juan Sanz, María García Olaya and Ana María Ballester of the Provincial Service of Protected Areas and Biodiversity of Guadalajara, and Vicente García, forestry agent. In the province of Segovia, we thank the efforts of Francisco Sánchez Aguado, Director of the Natural Park 'Hoces del Río Riaza'. El Espinar facilities could be visited through the kindness of José Aguilera, a member of the collective 'Campo Azálvaro' which provides food for vultures. Marisol Redondo, responsible biologist for the conservation of flora and fauna in 'Centro Montes y Aserradero de Valsaín', allowed us access and kindly accompanied us to the 'vulture restaurant' of Valsaín. Juan Francisco Sánchez Rodríguez facilitated access to the private estate 'El Castañar' in Toledo. We are also grateful to an anonymous reviewer for his comments and suggestions to improve the manuscript and to Tim Shreeve for his revision and corrections on English language. This work has been funded by the Spanish Ministerio de Ciencia y Tecnología (Research Project BOS2003-00400). The authors are members of the IUICP (Instituto Universitario de Investigación en Ciencias Policiales) of the University of Alcalá. DM-V works with a scholarship from the IUICP (Project IUICP/PI2010/001).
About this article
Cite this article
Martín-Vega, D., Baz, A. Could the 'vulture restaurants' be a lifeboat for the recently rediscovered bone-skippers (Diptera: Piophilidae)?. J Insect Conserv 15, 747 (2011). https://doi.org/10.1007/s10841-011-9429-0
Received:

Accepted:

Published:
Keywords
Thyreophora cynophila
Centrophlebomyia furcata

Carrion

Ecosystem function

Vulture restaurants