Abstract
Peat mining causes major degradation to bogs and natural regeneration of these sites is slow and often incomplete. Thus, restoration is an important tool for re-establishing natural ecosystem properties (although perhaps not the original species pool) in mined bogs. Because faunal recovery cannot be taken for granted following plant restoration, we assessed community assembly of higher flies (Diptera: Brachycera) in previously mined bogs 7 years after restoration. Species assemblages in restored sites were compared to those in nearby natural and abandoned mined sites. The three treatment types did not differ significantly in overall species composition, suggesting high resilience to disturbance. However, species richness and evenness were generally lower in abandoned sites than restored and natural sites, which had similar abundance distributions, indicating that restoration enhanced recovery of species diversity and community structure. Functional traits (trophic group, body size) provided a different insight into the status of restored sites. Trophic and small size-class (<5 mm) composition in restored sites were similar to those in abandoned sites. However, high species richness estimates indicated that predators and saprophages successfully colonized restored sites. Species assemblages were mostly affected by coverage of bare peat, Sphagnum mosses and ericaceous shrubs; trophic assemblages were affected by variables directly linked to feeding habits. Our results suggest that active restoration is needed for the renewal of high species and trophic diversity, although it is clear from environmental conditions and functional traits that the restored sites are not yet fully functioning peatlands 7 years after restoration.
Access options
Buy single article
Instant access to the full article PDF.
US$ 39.95
Tax calculation will be finalised during checkout.
Subscribe to journal
Immediate online access to all issues from 2019. Subscription will auto renew annually.
US$ 79
Tax calculation will be finalised during checkout.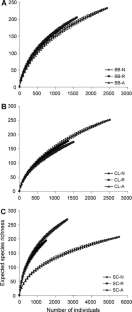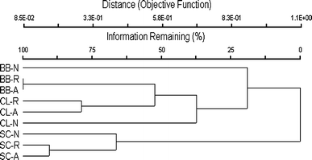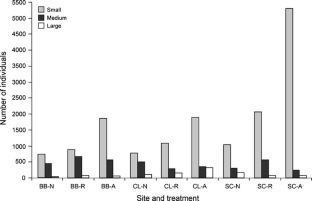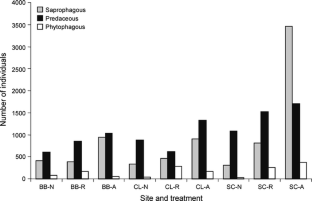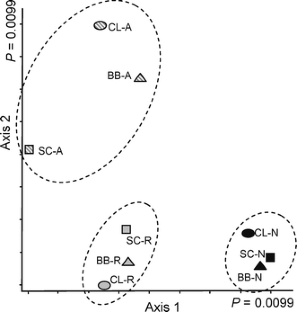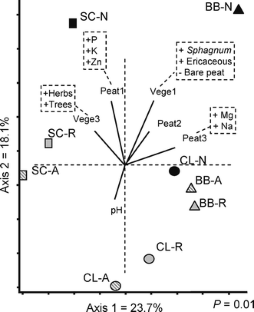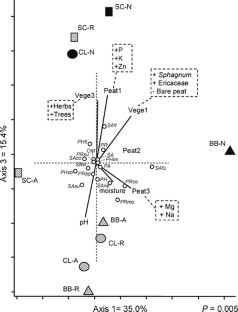 References
Andersen R, Francez A-J, Rochefort L (2006) The physicochemical and microbial status of a restored bog in Québec: Identification of relevant criteria to monitor success. Soil Biol Biochem 38:1375–1387

Armitage AR, Boyer KE, Vance RR, Ambrose AM (2006) Restoring assemblages of salt marsh halophytes in the presence of a rapidly colonizing dominant species. Wetlands 26:667–676

Barták M, Roháček J (1999) The species of the family Empididae (Diptera) of the six peat-bogs in the Šumava Mts (Czech Republic). Acta Univ Carol Biol 43:7–26

Beaulieu F, Wheeler TA (2001) Inventaire des espèces de brachycères (Diptera) des prés de laîches (Cyperaceae, Carex) de la Réserve nationale de faune du lac Saint-François, Québec. Fabreries 26:57–74

Blades DCA, Marshall SA (1994) Terrestrial arthropods of Canadian peatlands: synopsis of pan trap collections at four southern Ontario peatlands. In: Finnamore AT, Marshall SA (eds) Terrestrial arthropods of peatlands, with particular reference to Canada, vol 169. Mem Entomol Soc Canada, pp 221–284

Brady VJ, Cardinale BJ, Gathman JP, Burton TM (2002) Does facilitation of faunal recruitment benefit ecosystem restoration? An experimental study of invertebrate assemblages in wetland mesocosms. Restor Ecol 10:617–626

Brinson MM, Rheinhardt R (1996) The role of reference wetlands in functional assessment and mitigation. Ecol Appl 6:69–76

Brose U (2003) Bottom-up control of carabid beetle communities in early successional wetlands: mediated by vegetation structure or plant diversity? Oecologia 135:407–413

Brown SC, Smith K, Batzer D (1997) Macroinvertebrate responses to wetland restoration in northern New York. Environ Entomol 26:1016–1024

Brown JH, Ernest SKM, Parody JM, Haskell JP (2001) Regulation of diversity: maintenance of species richness in changing environments. Oecologia 126:321–322

Campbell DR, Lavoie C, Rochefort L (2002) Wind erosion and surface stability in abandoned milled peatlands. Can J Soil Sci 82:85–95

Campeau S, Rochefort L, Price JS (2004) On the use of shallow basins to restore cutover peatlands: plant establishment. Restor Ecol 12:471–482

Chirino C, Campeau S, Rochefort L (2006) Sphagnum establishment on bare peat: the importance of climatic variability and Sphagnum species richness. Appl Veg Sci 9:285–294

Colwell RK (2005) EstimateS: statistical estimation of species richness and shared species from samples, Version 7.5. Persistent url:http://purl.oclc.org/estimates

Death RG (1996) The effect of habitat stability on benthic invertebrate communities: the utility of species abundance distributions. Hydrobiologia 317:97–107

Desrochers A, Rochefort L, Savard JPL (1998) Avian recolonization of eastern Canadian bogs after peat mining. Can J Zool 76:989–997

Dufrêne M, Legendre P (1997) Species assemblages and indicator species: the need for asymmetrical approach. Ecol Monogr 67:345–366

Dunn RR (2004) Recovery of faunal communities during tropical forest regeneration. Conserv Biol 18:302–309

Elmqvist T, Folke C, Nyström M, Peterson G, Bengtsson J, Walker B, Norberg J (2003) Response diversity, ecosystem change, and resilience. Front Ecol Environ 1:488–494

Farkas MJ, Brust RA (1986) Pitcher-plant sarcophagids from Manitoba and Ontario. Can Entomol 118:1307–1308

Ferrar P (1987) A guide to the breeding habits and immature stages of Diptera Cyclorrhapha. Part 1. E.J. Brill, Leiden

Foote BA (1995) Biology of shore flies. Annu Rev Entomol 40:417–442

Gilbert F, Gonzalez A, Evans-Freke I (1998) Corridors maintain species richness in the fragmented landscapes of a microecosystem. Proc R Soc B 265:577–582

Goldsmith FB, Harrison CM, Morton AJ (1986) Description and analysis of vegetation. In: Moore PD, Chapman SB (eds) Methods in plant ecology. Blackwell, Oxford, pp 437–524

Gorham E (1990) Biotic impoverishment in northern peatlands. In: Woodwell GM (ed) The earth in transition: patterns and processes of biotic impoverishment. Cambridge University Press, Cambridge., pp 65–98

Gorham E, Rochefort L (2003) Peatland restoration: a brief assessment with special reference to Sphagnum bogs. Wetlands Ecol Manag 11:109–119

Gotelli NJ, Colwell RK (2001) Quantifying biodiversity: procedures and pitfalls in the measurement and comparison of species richness. Ecol Lett 4:379–391

Gotelli NJ, Entsminger GL (2001) EcoSim: null models software for ecology, Version 7.0. Acquired Intelligence Inc. & Kesey-Bear, Jericho, VT. http://garyentsminger.com/ecosim/index.htm

Holden J, Chapman PJ, Labadz JC (2004) Artificial drainage of peatlands: hydrological and hydrochemical process and wetland restoration. Prog Phys Geog 28:95–123

Hunter MD, Price PW (1992) Playing chutes and ladders: heterogeneity and the relative roles of bottom-up and top-down forces in natural communities. Ecology 73:724–732

Jansen A (1997) Terrestrial invertebrate community structure as an indicator of the success of a tropical rainforest restoration project. Restor Ecol 5:115–124

Keiper JB, Walton EW, Foote BA (2002) Biology and ecology of higher Diptera from fresh water wetlands. Annu Rev Entomol 47:207–232

Kumssa DB, van Aarde RJ, Wassenaar TD (2004) The regeneration of soil micro-arthropod assemblages in a rehabilitating coastal dune forest at Richards Bay, South Africa. Afr J Ecol 42:346–354

Laiho R, Silvan N, Càrcamo H, Vasander H (2001) Effects of water level and nutrients on spatial distribution of soil mesofauna in peatlands drained for forestry in Finland. Appl Soil Ecol 16:1–9

Laiho R, Vasander H, Penttilä T, Laine J (2003) Dynamics of plant-mediated organic matter and nutrient cycling following water-level drawdown in boreal peatlands. Glob Biogeochem Cycle 17:1053

Marshall SA (1994) Peatland Sphaeroceridae (Diptera) of Canada. In: Finnamore AT, Marshall SA (eds) Terrestrial arthropods of peatlands, with particular reference to Canada., vol 169. Mem Entomol Soc Canada, pp 173–179

Mazerolle MJ (2005) Peatlands and green frogs: a relationship regulated by acidity? Écoscience 12:60–67

Mazerolle MJ, Poulin M, Lavoie C, Rochefort L, Desrochers A, Drolet B (2006) Animal and vegetation patterns in natural and man-made bog pools: implications for restoration. Freshwater Biol 51:333–350

McCune B, Mefford MJ (2005) PC-ORD. Multivariate analysis of ecological data, version 4.36. MjM Software, Gleneden Beach, OR

Miller RM (1977a) Ecology of Lauxaniidae (Diptera: Acalyptratae). I. Old and new rearing records with biological notes and discussion. Ann Natal Mus 23:215–238

Miller RM (1977b) Taxonomy and biology of the Nearctic species of Homoneura (Diptera: Lauxaniidae). I. Subgenera Mallochomyza and Tarsohomoneura. Iowa State J Res 52:147–176

Moynahan OS, Zabinski CA, Gannon JE (2002) Microbial community structure and carbon-utilization diversity in a mine tailings revegetation study. Restor Ecol 10:77–87

Novak JA, Foote BA (1968) Biology and immature stages of fruit flies: Paroxyna albiceps (Diptera: Tephritidae). J Kansas Entomol Soc 41:108–119

Palmer MA, Ambrose RF, Poff NL (1997) Ecological theory and community restoration ecology. Restor Ecol 5:291–300

Pellerin S (2003) Des tourbières et des hommes: L'utilisation des tourbières dans la region de Rivière-du-Loup–L'Isle-Verte. Naturaliste Can 127:18–23

Pellerin S, Lavoie C (1999) Peatland fragments of southern Quebec: recent evolution of their vegetation structure. Can J Bot 78:255–265

Petchey OL, Gaston KJ (2006) Functional diversity: back to basics and looking forward. Ecol Lett 9:741–758

Peterson G, Allen CR, Holling CS (1998) Ecological resilience, biodiversity, and scale. Ecosystems 1:6–18

Prach K, Hobbs RJ (2008) Spontaneous succession versus technical reclamation in the restoration of disturbed sites. Restor Ecol 16:363–366

Quinty F, Rochefort L (2003) Peatland restoration guide, 2nd edn. Canadian Sphagnum Peat Moss Association and New Brunswick Department of Natural Resources and Energy Quebec, Quebec

Rochefort L (2001) Restauration écologique. In: Payette S, Rochefort L (eds) Écologie des tourbières du Québec-Labrador. Presses de l'Université Laval. Saint-Nicolas, Quebec., pp 141–158

Rochefort L, Quinty F, Campeau S, Johnson K, Malterer T (2003) North American approach to the restoration of Sphagnum dominated peatlands. Wetlands Ecol Manag 11:3–20

Rotheray GE, Hancock G, Hewitt S, Horsfield D, MacGowan I, Robertson D, Watt K (2001) The biodiversity and conservation of saproxylic Diptera in Scotland. J Insect Conserv 5:77–85

Ruiz-Jaen MC, Aide TM (2005) Restoration success: how is it being measured? Restor Ecol 13:569–577

Schouwenaars JM (1993) Hydrological differences between bogs and bog-relicts and consequences for bog restoration. Hydrobiologia 265:217–224

Scott TA, Wehtje W, Wehtje M (2001) The need for strategic planning in passive restoration of wildlife populations. Restor Ecol 9:262–271

Siemann E, Tilman D, Haarstad J, Ritchie M (1998) Experimental tests of the dependence of arthropod diversity on plant diversity. Am Nat 152:738–750

Silins U, Rothwell RL (1999) Spatial patterns of aerobic limit depth and oxygen diffusion rate at two peatlands drained for forestry in Alberta. Can J For Res 29:53–61

Silvan N, Laiho R, Vasander H (2000) Changes in mesofauna abundance in peat soils drained for forestry. Forest Ecol Manag 133:127–133

Spitzer K, Danks HV (2006) Insect biodiversity of boreal peat bogs. Annu Rev Entomol 51:137–161

Stanczak M, Keiper JB (2004) Benthic invertebrates in adjacent created and natural wetlands in northeastern Ohio, USA. Wetlands 24:212–218

Streever WJ, Portier KM, Crisman TL (1996) A comparison of dipterans from ten created and ten natural wetlands. Wetlands 16:416–428

Summerville KS, Bonte KC, Fox LC (2007) Short-term temporal effects on community structure of Lepidoptera in restored and remnant tallgrass prairies. Restor Ecol 15:179–188

Teskey HJ (1969) Larvae and pupae of some eastern North American Tabanidae (Diptera). Mem Entomol Soc Canada 63:5–152

Teskey HJ, Burger JF (1976) Further larvae and pupae of eastern North American Tabanidae (Diptera). Can Entomol 108:1085–1096

Tokeshi M (1993) Species abundance patterns and community structure. Adv Ecol Res 24:112–186

Tscharntke T, Klein AM, Kruess A, Steffan-Dewenter I, Thies C (2005) Landscape perspectives on agricultural intensification and biodiversity-ecosystem service management. Ecol Lett 8:857–874

Vasander JH, Laiho R (1995) Long-term effects of water level drawdown on the vegetation of drained pine mires in Southern Finland. J Appl Ecol 32:785–802

Waltz AEM, Covington WW (2004) Ecological restoration treatments increase butterfly richness and abundance: mechanisms of response. Restor Ecol 12:85–96

Watts CH, Clarkson BR, Didham RK (2008) Rapid beetle community convergence following experimental habitat restoration in a mined peat bog. Biol Conserv 141:568–579

West TL, Clough LM, Ambrose WG Jr (2000) Assessment of function in an oligohaline environment: Lessons learned by comparing created and natural habitats. Ecol Eng 15:303–321

Williams KS (1993) Use of terrestrial arthropods to evaluate restored riparian woodlands. Restor Ecol 1:107–116
Acknowledgments
We thank M. Poulin, S. Boudreau and L. Rochefort for help in selecting study sites, access to maps and ecological data and field support. The Peatland Ecology Research Group, Premier Horticulture and Nirom Peat Moss gave permission to collect in the study sites. H. Lalande analysed peat samples. M. Giroux, S. Brooks, J. Cumming, and J. Skevington verified Diptera. C. Buddle advised on analyses. Funding was provided by a Nature Discovery Fund grant and Fonds Québécois de la Recherche sur la Nature et les Technologies scholarship to AGT and a Natural Sciences and Engineering Research Council of Canada grant to TAW.
Electronic supplementary material
Below is the link to the electronic supplementary material.
About this article
Cite this article
Grégoire Taillefer, A., Wheeler, T.A. Community assembly of Diptera following restoration of mined boreal bogs: taxonomic and functional diversity. J Insect Conserv 16, 165–176 (2012). https://doi.org/10.1007/s10841-011-9403-x
Received:

Accepted:

Published:

Issue Date:
Keywords
Peatlands

Colonization

Trophic assemblages

Biodiversity

Environmental conditions