Abstract
Accurate data on dispersal ability are vital to the understanding of how species are affected by fragmented landscapes. However, three factors may limit the ability of field studies to detect a representative sample of dispersal events: (1) the number of individuals monitored, (2) the area over which the study is conducted and (3) the time over which the study is conducted. Using sub-sampling of mark-release-recapture data from a study on the endangered damselfly Coenagrion mercuriale (Charpentier), we show that maximum dispersal distance is strongly related to the number of recaptured individuals in the mark-release-recapture study and the length of time over which the study is conducted. Median dispersal distance is only related significantly to the length of the study. Spatial extent is not associated with either dispersal measure in our analysis. Previously consideration has been given to the spatial scale of dispersal experiments but we demonstrated conclusively that temporal scale and the number of marked individuals also have the potential to affect the measurement of dispersal. Based on quadratic relationships between the maximum dispersal distance, recapture number and length of study, we conclude that a previous study was of sufficient scale to characterise the dispersal kernel of C. mercuriale. Our method of analysis could be used to ensure that the results of mark-release-recapture studies are independent of levels of spatial and temporal investment. Improved confidence in dispersal estimates will enable better management decisions to be made for endangered species.
Access options
Buy single article
Instant access to the full article PDF.
US$ 39.95
Tax calculation will be finalised during checkout.
Subscribe to journal
Immediate online access to all issues from 2019. Subscription will auto renew annually.
US$ 79
Tax calculation will be finalised during checkout.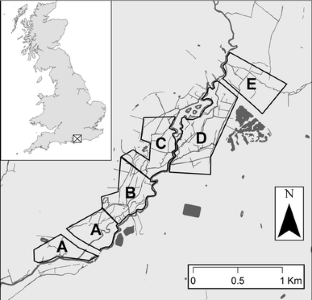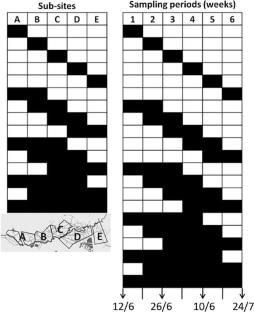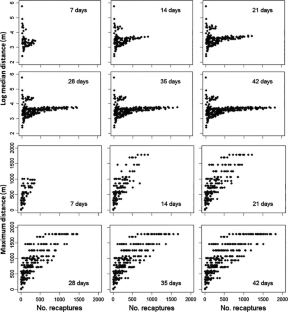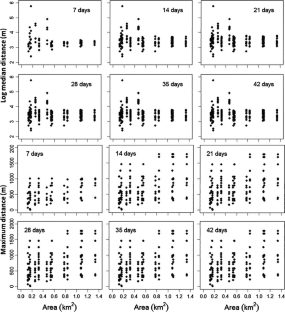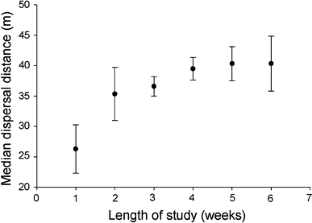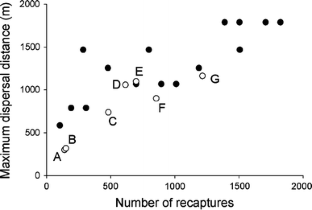 References
Allen KA, Thompson DJ (2009) Movement characteristics of the scarce blue-tailed damselfly, Ischnura pumilio. Insect Conserv Divers 3:5–14

Angelibert S, Giani N (2003) Dispersal characteristics of three odonate species in a patchy habitat. Ecography 26:13–20

Anholt BR (1990) Size-biased dispersal prior to breeding in a damselfly. Oecologia 83:385–387

Araújo MB, Cabezas M, Thuiller W, Hannah L, Williams PH (2004) Would climate change drive species out of reserves? An assessment of existing reserve-selection methods. Glob Change Biol 10:1618–1626

Baker M, Nur N, Geupel GR (1995) Correcting biased estimates of dispersal and survival due to limited study area: theory and an application using wrentits. Condor 97:663–674

Barrowclough GF (1978) Sampling bias in dispersal studies based on finite area. Bird-Banding 49:333–341

Baur B (1986) Patterns of dispersion, density and dispersal in alpine populations of the land snail Arianta arbustorum (L.) (Helicidae). Ecography 9:117–125

Beirinckx K, Van Gossum H, Lajeunesse MJ, Forbes MR (2006) Sex biases in dispersal and philopatry: insights from a meta-analysis based on capture-mark-recapture studies of damselflies. Oikos 113:539–547

Bohonak AJ (1999) Dispersal, gene flow, and population structure. Q Rev Biol 74:21–45

Bots J, Breuker CJ, Van Kerkhove A, Van Dongen S, De Bruyn L, Van Gossum H (2009) Variation in flight morphology in a female polymorphic damselfly: intraspecific, intrasexual, and seasonal differences. Can J Zool 87:86–94

Boudot J-P (2006) Coenagrion mercuriale. In: IUCN 2009. IUCN Red List of Threatened Species. Version 2009.1 www.iucnredlist.org, Accessed 26 Oct 2009

Burnham KP, Anderson DR (2002) Model selection and multimodel inference: a practical information-theoretic approach, 2nd edn. Springer-Verlag, New York

Cant ET, Smith AD, Reynolds DR, Osborne JL (2005) Tracking butterfly flight paths across the landscape with harmonic radar. Proc Royal Soc Biol Sci (B) 272:785–790

Conrad KF, Willson KH, Harvey IF, Thomas CJ, Sherratt TN (1999) Dispersal characteristics of seven odonate species in an agricultural landscape. Ecography 22:524–531

Conrad KF, Willson KH, Whitfield K, Harvey IF, Thomas CJ, Sherratt TN (2002) Characteristics of dispersing Ischnura elegans and Coenagrion puella (Odonata): age, sex, size, morph and ectoparasitism. Ecography 25:439–445

Corbet PS (1962) A biology of dragonflies. Witherby, London

Corbet PS (1999) Dragonflies: behaviour and ecology of odonata. Harley, Colchester

Diffendorfer JE, Gaines MS, Holt RD (1995) Habitat fragmentation and movements of three small mammals (Sigmodon, Microtus, and Peromyscus). Ecology 76:827–839

Doak DF, Mills LS (1994) A useful role for theory in conservation. Ecology 75:615–626

Franzén M, Nilsson SG (2007) What is the required minimum landscape size for dispersal studies? J Anim Ecol 76:1224–1230

Gibbons LK, Reed JM, Chew FS (2002) Habitat requirements and local persistence of three damselfly species (Odonata: Coenagrionidae). J Insect Conserv 6:47–55

Haas CA (1995) Dispersal and use of corridors by birds in wooded patches on an agricultural landscape. Conserv Biol 9:845–854

Hardersen S (2007) Telemetry of Anisoptera after emergence—first results (Odonata). Int J Odonatol 10:189–202

Hassall C, Thompson DJ (2008a) The impacts of environmental warming on Odonata: a review. Int J Odonatol 11:131–153

Hassall C, Thompson DJ (2008b) Latitudinal variation in morphology in two sympatric damselfly species with contrasting range dynamics (Odonata: Coenagrionidae). Eur J Entomol 105:939–944

Hayashi F, Nakane M (1989) Radio tracking and activity monitoring of the dobsonfly larva, Protohermes grandis (Megaloptera: Corydalidae). Oecologia 78:468–472

Hickling R, Roy DB, Hill JK, Fox R, Thomas CD (2006) The distributions of a wide range of taxonomic groups are expanding polewards. Glob Change Biol 12:1–6

Hunger H, Röske W (2001) Short-range dispersal of the southern damselfly (Coenagrion mercuriale) defined experimentally using UV fluorescent ink. Z Ökologie u Naturschutz 9:181–187

Jenkins DG, Brescacin CR, Duxbury CV, Elliott JA, Evans JA, Grablow KR, Hillegass M, Lyon BN, Metzger GA, Olandese ML, Pepe D, Silvers GA, Suresch HN, Thompson TN, Trexler CM, Williams GE, Williams NC, Williams SE (2007) Does size matter for dispersal distance? Glob Ecol Biogeogr 16:415

Koenig WD, Van Vuren D, Hooge PN (1996) Detectability, philopatry, and the distribution of dispersal distances in vertebrates. Trends Ecol Evol 11:514–517

Lerner J, Mackey J, Casey F (2007) What's in Noah's Wallet? Land conservation spending in the United States. Bioscience 57:419–423

Macdonald DW, Johnson DDP (2001) Dispersal in theory and practice: consequences for conservation biology. In: Clobert J, Danchin E, Dhondt AA, Nichols JD (eds) Dispersal. Oxford University Press, Oxford

Michiels NK, Dhondt AA (1991) Characteristics of dispersal in sexually mature dragonflies. Ecol Entomol 16:449–459

Opdam P, Wascher D (2004) Climate change meets habitat fragmentation: linking landscape and biogeographical scale levels in research and conservation. Biol Conserv 117:285–297

Parmesan C (2006) Ecological and evolutionary responses to recent climate change. Annu Rev Ecol Evol Syst 37:637–669

Purse BV, Hopkins GW, Day KJ, Thompson DJ (2003) Dispersal characteristics and management of a rare damselfly. J Appl Ecol 40:716–728

Riley JR, Smith AD, Reynolds DR, Edwards AS, Osborne JL, Williams IH, Carreck NL, Poppy GM (1996) Tracking bees with harmonic radar. Nature 379:29–30

Rink M, Sinsch U (2007) Radio-telemetric monitoring of dispersing stag beetles: implications for conservation. J Zool 272:235–243

Rouquette JR, Thompson DJ (2005) Habitat associations of the endangered damselfly, Coenagrion mercuriale, in a water meadow ditch system in southern England. Biol Conserv 123:225–235

Rouquette JR, Thompson DJ (2007) Patterns of movement and dispersal in an endangered damselfly and the consequences for its management. J Appl Ecol 44:692–701

Schneider C (2003) The influence of spatial scale on quantifying insect dispersal: an analysis of butterfly data. Ecol Entomol 28:252–256

Schultz CB (1998) Dispersal behavior and its implications for reserve design in a rare Oregon butterfly. Conserv Biol 12:284–292

Slatkin M (1985) Gene flow in natural populations. Annu Rev Ecol Syst 16:393–430

Smith TD, Allen J, Clapham PJ, Hammond PS, Katona S, Larsen F, Lien J, Mattila D, Palsbøll PJ, Sigurjónsson J, Stevick PT, ØIen N (1999) An ocean-basin-wide mark-recapture study of the north atlantic humpback whale (Megaptera novaeangliae). Marine Mammal Sci 15:1–32

Stettmer C (1996) Colonisation and dispersal patterns of banded (Calopteryx splendens) and beautiful demoiselles (C. virgo) (Odonata: Calopterygidae) in south-east German streams. Eur J Entomol 93:579–593

Støen O-G, Zedrosser A, Sæbø S, Swenson J (2006) Inversely density-dependent natal dispersal in brown bears Ursus arctos. Oecologia 148:356–364

Suhonen J, Honkavaara J, Rantala MJ (2010) Activation of the immune system promotes insect dispersal in the wild. Physiol Ecol 162:541–547

Sumner S, Lucas E, Barker J, Isaac N (2007) Radio-tagging technology reveals extreme nest-drifting behavior in a eusocial insect. Curr Biol 17:140–145

Taylor PD, Merriam G (1995) Wing morphology of a forest damselfly is related to landscape structure. Oikos 73:43–48

Thompson DJ (1991) Size-biased dispersal prior to breeding in a damselfly: conflicting evidence from a natural population. Oecologia 87:600–601

Thompson DJ, Purse BV (1999) A search for long-distance dispersal in the southern damselfly, Coenagrion mercuriale (Charpentier). J British Dragonfly Soc 15:46–50

Trakhtenbrot A, Nathan R, Perry G, Richardson DM (2005) The importance of long-distance dispersal in biodiversity conservation. Divers Distrib 11:173–181

Travis JMJ (2003) Climate change and habitat destruction: a deadly anthropogenic cocktail. Proc Royal Soc Biol Sci (Series B), 270: 467–473

Turchin P, Thoeny WT (1993) Quantifying dispersal of southern pine beetles with mark-recapture experiments and a diffusion model. Ecol Appl 3:187–198

Ward L, Mill PJ (2007) Long range movements by individuals as a vehicle for range expansion in Calopteryx splendens (Odonata: Zygoptera). Eur J Entomol 104:195–198

Waser PM, Jones WT (1983) Natal philopatry among solitary mammals. Q Rev Biol 58:355–390

Watts PC, Rouquette JR, Saccheri IJ, Kemp SJ, Thompson DJ (2004) Molecular and ecological evidence for small-scale isolation by distance in an endangered damselfly, Coenagrion mercuriale. Mol Ecol 13:2931–2945

Watts PC, Saccheri IJ, Kemp SJ, Thompson DJ (2006) Population structure and the impact of regional and local habitat isolation upon levels of genetic diversity of the endangered damselfly Coenagrion mercuriale (Odonata: Zygoptera). Freshw Biol 51:193–205

Watts PC, Rousset F, Saccheri IJ, Leblois R, Kemp SJ, Thompson DJ (2007) Compatible genetic and ecological estimates of dispersal rates in insect (Coenagrion mercuriale: Odonata: Zygoptera) populations: analysis of 'neighbourhood size' using a more precise estimator. Mol Ecol 16:737–751

Weatherhead PJ, Forbes MRL (1994) Natal philopatry in passerine birds: genetic or ecological influences? Behav. Ecol 5:426–433

Wikelski M, Moskowitz D, Adelham JS, Cochran J, Wilcove DS, May ML (2006) Simple rules guide dragonfly migration. Biol Lett 2:325–329

Woodroffe R, Ginsberg JR (1998) Edge effects and the extinction of populations inside protected areas. Science 280:2126–2128
Acknowledgments
The fieldwork was funded by the Natural Environment Research Council (NER/A/S/2000/01322) and the Environment Agency. We thank Tim Sykes for his enthusiasm and help at all stages of the project and Jim Rouquette for his project management skills. Dan Bert, Kath Allen, Tom Sherratt and Brett Sandercock provided valuable comments on the manuscript. Coenagrion mercuriale is protected under Schedule 5 of the UK Wildlife & Countryside Act (1981) and all work was carried out under licence from Natural England. CH was funded by a Government of Canada Postdoctoral Research Fellowship.
About this article
Cite this article
Hassall, C., Thompson, D.J. Study design and mark-recapture estimates of dispersal: a case study with the endangered damselfly Coenagrion mercuriale . J Insect Conserv 16, 111–120 (2012). https://doi.org/10.1007/s10841-011-9399-2
Received:

Accepted:

Published:

Issue Date:
Keywords
Damselfly

Dispersal

Dragonfly

Mark-release-recapture

Movement

Study design